This post may contain affiliate links. If you make a purchase through one of these links, we may receive a commission at no extra cost to you. Please read our affiliate disclosure and privacy policy for more information
Discovering the Otago Peninsula in New Zealand
In this article, you will read everything about our tour with ELM Wildlife Tours on the Otago Peninsula. Before we came to New Zealand, we promised ourselves we really wanted to see some wildlife there. New Zealand is not the country of the big mammals on land.
However, it is a country where you can find the most amazing birds and some fantastic marine life. Going through our Lonely Planet and internet searches, we learned there are a couple of places known for their wildlife. One of them is definitely the Otago Peninsula, near Dunedin.
Our search for the perfect tour on the Otago Peninsula
Of course, you can try to spot the wildlife yourself, but you probably won't have a lot of luck. Some of the beaches and places where the penguins, sea lions, seals, and birds are holding up are very remote. So you either won't be able to reach those places or you won't see them because you don't know their habits.
And even if you spot them, they will probably be from very far away. That's why we started looking for a wildlife tour.
We came across ELM Wildlife Tours and looked into their tours and company. They offer an award-winning wildlife tour, that allows you to spot the wild animals in their natural habitat with some very knowledgeable guides.
They put the animal in the first place, which is another reason why we wanted to book a tour instead of trying to spot them by ourselves. A lot of these species are endangered, so you don't want to bother them in their daily habits or destroy their natural environment. Guides know all about the animals and make sure they are protected and not overrun by tourists.
Our tour with ELM Wildlife Tours
On the day of our tour, they picked us up at the visitor center of Dunedin. They can also pick you up at your hotel, but we were camping more than 10 kilometers out of town. So we agreed on meeting them at their central point. On our way to the Otago Peninsula, which is a 40 minutes drive from Dunedin, our very friendly guides immediately gave us lots of information.
We learned all about the peninsula, the Dunedin weather, the different kinds of birds we came across, why so many birds are endangered in New Zealand and so much more. All the while enjoying the beautiful landscape! We sometimes still can't believe how breathtaking New Zealand actually is! After every corner, there is just another gem ready to be discovered.
The Royal Albatross Centre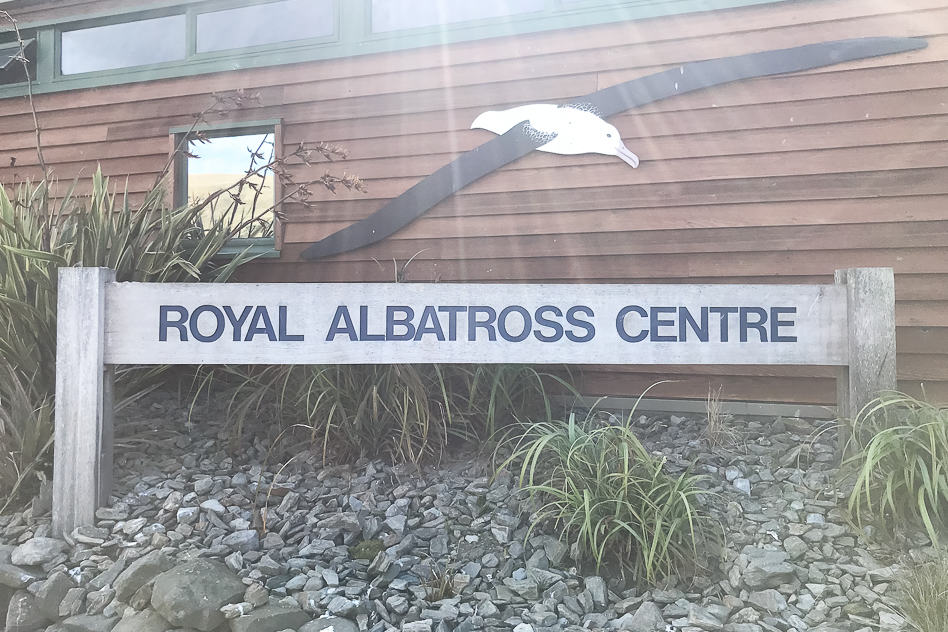 Our first stop with ELM Wildlife Tours was the Albatross Centre. The Otago Peninsula is the only place on earth where you can watch the albatross nest on the mainland. We could also book an Albatross Encounter tour, where they take you inside the center.
There you can watch the nesting albatrosses from behind tinted glass. Again so the wildlife doesn't get disturbed by the presence of humans. However, we didn't book this extra tour but are very excited to try and spot some albatrosses flying away from land oversea.
Especially the kids really want to see one! During our travels in Australia, they watched the Disney movie, The Rescuers Down Under. In that movie, an albatross has a major part. So since then, they were very motivated to see one!
Albatrosses need wind to fly! They cannot fly high or far without some wind carrying them. They are just too big and it has also to do with the way their wings are made. So we had to hope for some strong winds. As always, you can't force wildlife to pop out, so fingers crossed!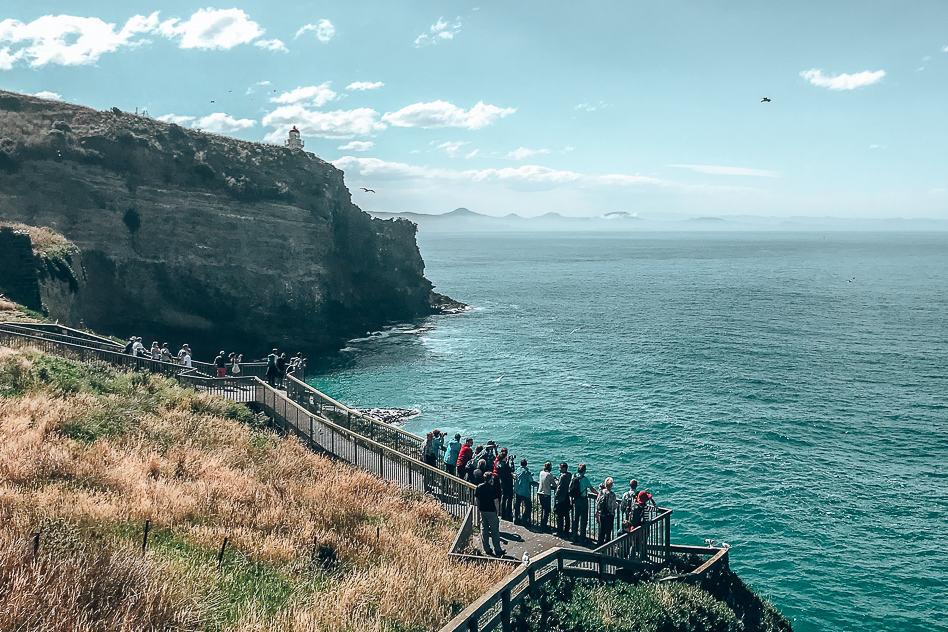 From the moment we arrived however, we immediately admired a huge royal albatross flying over the car park. Wow! It is amazing how big they are! They have a wingspan of almost 3 meters! We rushed out to the viewing platforms on top of some cliffs, but by then the wind had gone.
Still, the views were breathtaking and we saw lots of other birds! And after 15-20 minutes the wind got strong again and we saw 3 other royal albatrosses flying out to sea! After a quick visit to the albatross center, which was very interesting offering lots of information, everybody got back on the bus ready for the next animal encounter!
A seal colony relaxing and playing on the rocks
On our way to our next destination, we drove deeper into the Otago Peninsula, and it was in one worth breathtaking! Rolling green hills ending in a deep blue sea, cliffs and beaches, sheep and birds, … Everybody was quiet and amazed by so much beauty!
We drove all the way to the other end of the peninsula because ELM Wildlife Tours has exclusive access to a farm where the land ends in several beaches and rocky areas. And at those places live some wonderful animals, including seals, sea lions, and the endangered yellow-eyed penguin.
Our group splits in two because they don't want to disturb the animals too much with big groups and everybody should be able to see the wildlife this way. After descending a stairway, we reached some rocks where there were literally hundreds of fur seals!
While a lot of the older ones were off to catch food in the ocean, the little ones stayed behind on the rocks. We could have been there for hours, just watching the little ones play in the little pools between the rocks and some older ones rest in the sun. The smiles on our girls' faces said enough!
Some history of the wildlife in New Zealand
After saying goodbye to the seals, we headed to the other side of the farmland for our last spot. But first some information on this place. ELM Wildlife Tours agreed with the farmer to monitor this beach. In New Zealand, lots of native forests and plants were lost.
When the Europeans came, they cut down all the trees and plants for their farms and replaced them with grass for the sheep and cattle. Which was terrible for the native animals and birds, as they lost a lot of their natural habitat. The people of ELM Wildlife Tours recreated a piece of this natural habitat at the beach of this farm.
Another bad thing that happened so many years ago was the fact that the European brought a lot of animals with them that were nonendemic to New Zealand such as the possum, stoat, rabbit, and rat, … These animals have no natural enemies here, so they are everywhere.
This is terrible for the endemic wildlife as they either get killed or their food is eaten. Especially the many special birds in New Zealand who can not fly! That's why you find traps all over New Zealand to catch these foreign animals.
ELM Wildlife Tours does the same on this private beach. They recreated the natural habitat by planting back the original plants. They also placed a fence plus traps to keep the non-endemic animals out. The mean reason they do it here is that blue and yellow-eyed penguins live and nest on this beach and the hills next to it.
Especially the yellow-eyed penguin is endangered and needs every help it can get! So we felt privileged to enter this little piece of heaven created for the penguin!
Spotting and helping the penguins
While walking over the beach, we immediately spotted a yellow-eyed penguin, coming back from the sea and making its way over the beach to the shore and up the hill. Past some sleeping sea lions, we walked to the hidden shelter where we watched the penguins without them noticing us.
We saw 3 more come out of the waves. How amazing to see them jumping up the hill on their way to their nests, no idea how they do it with those small feet!
Suddenly one of our group noticed a yellow-eyed penguin laying close to the rocks on the beach. He was there the whole time and our guides immediately realized something was wrong. A penguin normally wouldn't stay there because it is too dangerous for them.
They go up the hill where it is safer. Normally the people from ELM Wildlife Tours try everything to avoid human contact with the penguins, but in this case, they intervened or the penguin would have died.
When they got closer they noticed he was injured by his leg, and after a little effort, they succeeded in catching him. You could tell it was hard for our guides, distressing the penguin, and chasing him while they normally would do everything to avoid this kind of interference.
But it was necessary for the penguin to get treated in order to heal. They will release him again when he is better. Our guides did an amazing job and can be proud of themselves. And we could experience once more how this company tries everything to help these endangered species survive! Especially for the kids, it was something to remember!
The sea lions wake up while the sun is setting
On our way back over the beach, some of the sea lions woke up, so we saw them good this time. Although you don't want to get too close to them! They can be fast and you'd rather not want a 200 kg animal chasing you. It is amazing how big they are when you get closer to them.
After admiring them for a while, it was time to go back to the bus.
Mum and dad walked up the steep hill, but the kids chose to go along with a smaller bus driving up the hill. While we drove back, we could enjoy the most amazing sunset over the Otago Peninsula! What a beautiful day it was and how lucky we were to see so much wildlife on this sunny day!
Our experiences with ELM Wildlife Tours
First of all, we would like to point out we only wrote down our true experiences and emotions. And we have to say, we can only recommend ELM Wildlife Tours! You'll spot some amazing wildlife and will see breathtaking landscapes. It will give you a feeling of how beautiful this little part of the world really is!
All are accompanied by the most friendly and knowledgeable guides! And of course, the fact that they put an amazing amount of effort into helping the wildlife to survive, making sure the impact of humans and tourists is as small as possible, should really convince you! We hope to come back one day and take another tour with them!
Save and share on Pinterest
Our other articles about New Zealand