This post may contain affiliate links. If you make a purchase through one of these links, we may receive a commission at no extra cost to you. Please read our affiliate disclosure and privacy policy for more information
The best adventure quotes for Instagram for your next trip
Are you an adventure lover, just like us? I bet you are, or you wouldn't be here! So you have your fantastic adventure pictures and now you're looking for the best adventure captions for Instagram? Look no further! We got your back!

Why are adventure quotes for Instagram so important though? Adventure photos are some of the most popular on Instagram, but what about the caption? A great caption can be the difference between a photo that gets lost in the feed and one that gets likes, comments, and shares.
Good travel adventure quotes can also inspire others to get out and explore the world for themselves.
Read more: our best travel captions for Instagram
When it comes to quotes about adventure, the options are endless. You can go for something like life adventure quotes, funny adventure quotes, adventure lovers quotes, or even adventure quotes for kids. Oh yes, and if you want to be brief, we also added a list of short adventure captions for Instagram.
No matter what you choose, make sure it reflects your personal style and adventurous spirit. But most importantly, don't forget to have fun and enjoy the ride!
If you love road trips, as we do, check out our best road quotes for Instagram. And if you're looking for inspiration for your next adventure, you might want to head over to our articles about one week in Iceland, a 10-day Costa Rica itinerary, and 2 weeks in Mexico (Yucatan road trip itinerary).
And now, let's dive into the best adventure Instagram captions.
Our favorite adventure captions for Instagram
1. "We must take adventures in order to know where we truly belong."
2. "Jobs fill your pocket. Adventures fill your soul." – Jaime Lyn Beatty
3. "Adventure is worthwhile in and of itself."
4. "I wanted real adventures to happen to myself. But real adventures, I reflected, do not happen to people who remain at home." – James Joyce
5. "Blessed are the curious, for they shall have adventures." – Lovelle Drachman
6. "If we were meant to stay in one place, we'd have roots instead of feet." – Rachel Wolchin
7. "Life is either a daring adventure or nothing at all." – Helen Keller
8. "What is life, but one grand adventure?"
9. "The biggest adventure you can ever take is to live the life of your dreams." – Oprah Winfrey
10. "Be brave, be wild, and stay forever hungry for adventure." – Erin Van Vuren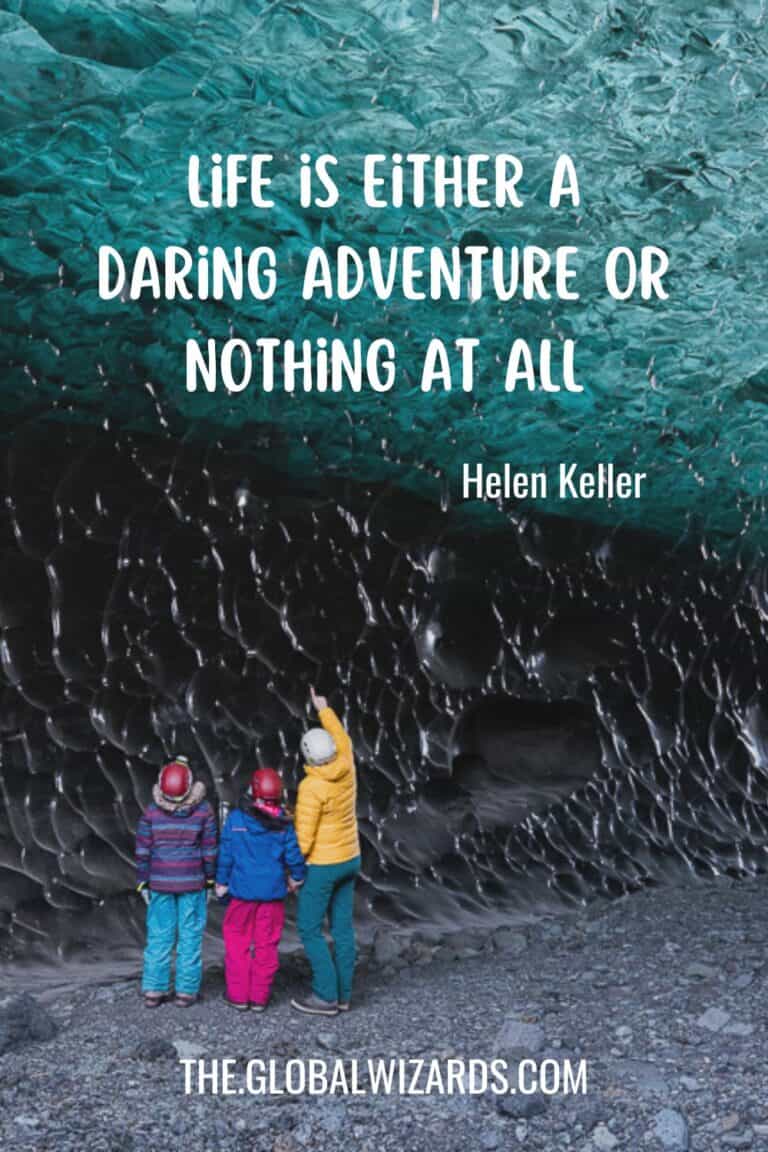 11. "Adventure begins at the end of the roads you know."
12. "We have nothing to lose and a world to see."
13. "I haven't been everywhere, but it's on my list." – Susan Sontag
14. "The tans will fade, but the memories will last forever."
15. "We live in a wonderful world that is full of beauty, charm, and adventure. There is no end to the adventures we can have if only we seek them with our eyes open." – Jawaharlal Nehru
16. "Adventure may hurt you, but monotony will kill you."
17. "Adventure is a path. Real adventure – self-determined, self-motivated, often risky – forces you to have firsthand encounters with the world. The world the way it is, not the way you imagine it. Your body will collide with the earth and you will bear witness. In this way you will be compelled to grapple with the limitless kindness and bottomless cruelty of humankind – and perhaps realize that you yourself are capable of both. This will change you. Nothing will ever again be black-and-white." – Mark Jenkins
18. "We travel not to escape life, but for life not to escape us." – Marina Richter
19. "If you think adventure is dangerous, try routine. It's lethal." – Paul Coelho
20. "Every man can transform the world from one of monotony and drabness to one of excitement and adventure." – Irving Wallace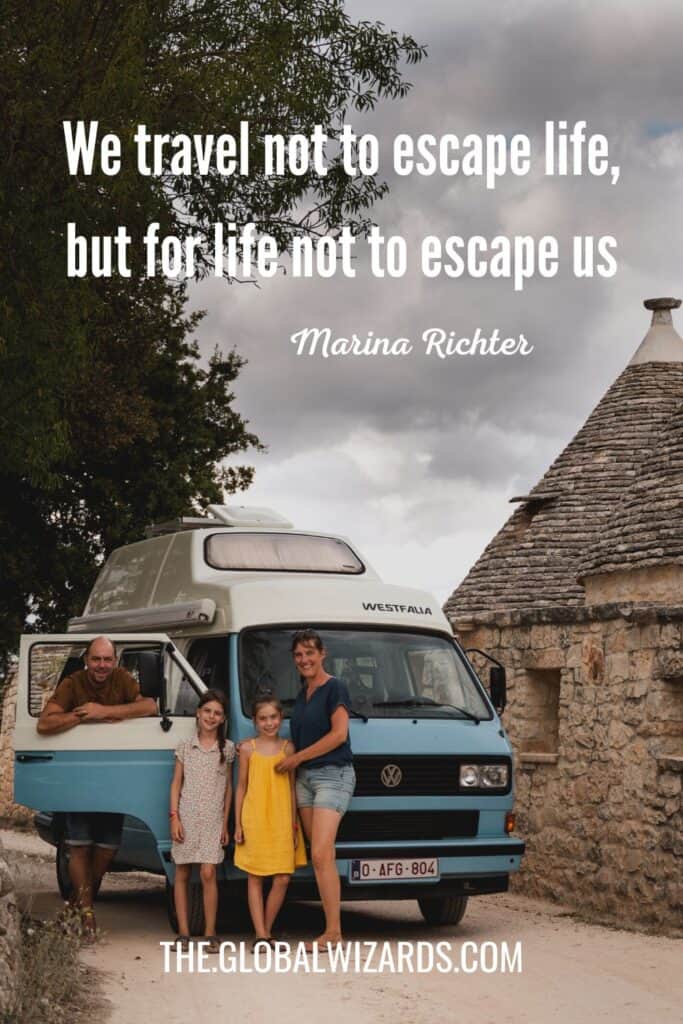 21. "Once a year, go someplace you've never been before." – Dalai Lama
22. "So shut up, live, travel, adventure, bless and don't be sorry." – Jack Kerouac
23. "It's a road trip! It is about adventure…It's not like we have somewhere to go." – John Green
24. "I was born to explore, have adventures, and watch sunsets!"
25. "I am not an adventurer by choice but by fate." – Vincent van Gogh
26. "Then one day, when you least expect it, the great adventure finds you." – Ewan Mcgregor
27. "All adventures, all memories, and all travels start with a blank page."
28. "The greatest adventure is what lies ahead." – J.R.R. Tolkien
Short adventure quotes
Sometimes you don't need a lot of words when you're looking for adventurous captions for Instagram. That's why we added this list of short adventure travel quotes!
29. "Adventure is out there." – Up
30. "I do believe it's time for another adventure."
31. "Committed to a life full of adventure."
32. "The journey starts now."
33. "Adventure more, worry less."
34. "Wander often, wonder always."
35. "Everyday is another adventure!" – Tracee Raptis
36. "Adventure is waiting for you."
37. "Run wild and free."
38. "Adventure is worthwhile." – Aesop
39. "Always say yes to new adventures."
40. "Life is an adventure, be an explorer."
41. "And so the adventure begins…"
42. "Explore the unseen. Adventure awaits."
43. "I've never met an adventure I didn't like."
44. "Work hard, travel harder."
45. "Committed to a life full of adventure."
46. "Adventure: the pursuit of life." – Jenny Radcliffe
Adventure with friends quotes
Being on the road with friends is the best feeling there is! Finding a caption for adventures with friends is not always easy though. How to put that amazing feeling of having someone beside you into words?
No worries! With this list of best quotes about adventures with friends, you're all set for your next post! Some of these adventure friend quotes are also perfect as couple adventure captions for Instagram, but we have a separate section on those at the end of this article.
47. "It doesn't matter where you are going it's who you have beside you."
48. "I get a friend to travel with me…I need somebody to bring me back to who I am. It's hard to be alone." – Leonardo DiCaprio
49. "Good friends follow you anywhere." – Winnie the Pooh
50. "Life is meant for good friends and great adventures."
51. "Good company in a journey makes the way seem shorter." – Izaak Walton
52. "Everyone needs a friend that will call and say: get dressed, we are going on an adventure."
53. "There is a whole world out there. Pack your backpack, your best friend, and go."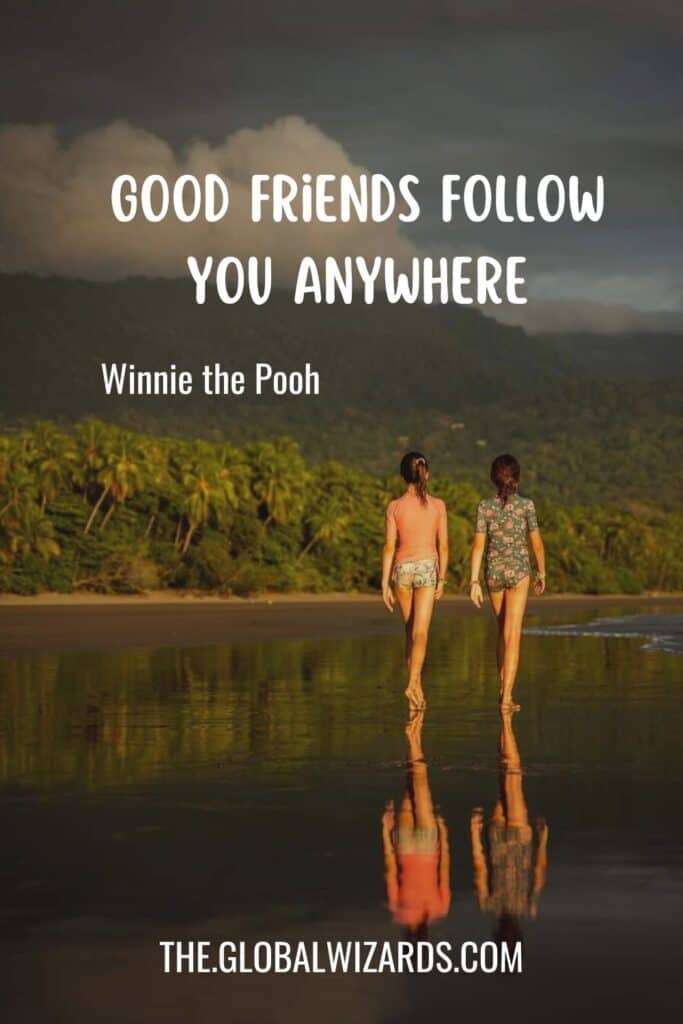 54. "Adventuring with the best."
55. "A good friend listens to your adventures. A best friend makes them with you."
56. "I don't know where I'm going, but I'm going. Are you coming with me?"
57. "As with any journey, who you travel with can be more important than your destination." – Anon
58. "Sometimes all you need is a great friend and a thirst for adventure."
59. "I would not wish any companion in the world but you." – William Shakespeare
60. "No road is long with good company." – Turkish Proverb
61. "It's not where you travel, it's who you travel with."
62. "As soon as I saw you, I knew an adventure was going to happen." – Winnie the Pooh
63. "A shared adventure is a better adventure!"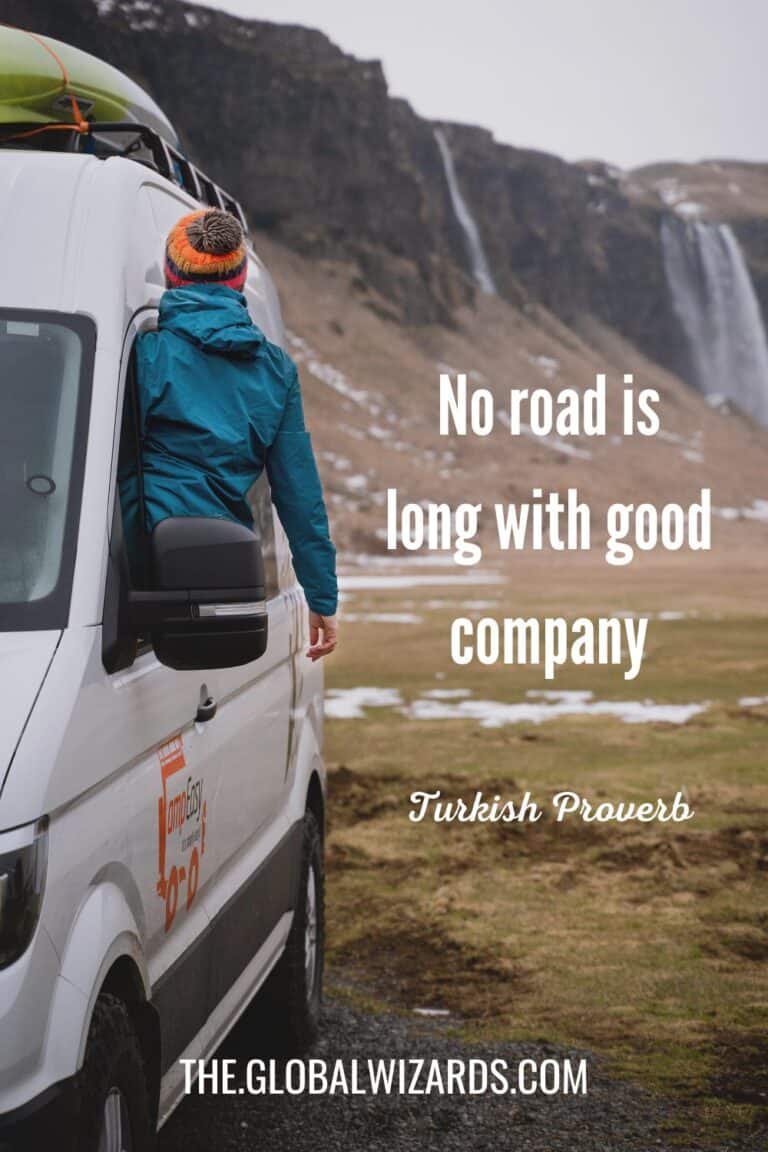 Funny adventure captions for Instagram
Quotes about adventure and adventure IG captions are meant to be enjoyed, so don't take them too seriously. This is exactly why we decided to add a list of funny quotes on adventure trips.
64. "Never met an adventure I didn't like."
65. "Out of office today. Catch me in the clouds."
66. "A plane ticket is an answer. Who cares what the question is."
67. "My wanderlust made me do it."
68. "I want someone to look at me the way I look at a travel magazine!"
69. "Well, we're not in the middle of nowhere, but we can see it from here." – Thelma & Louise
70. "Going for an adventure, be back never."
71. "No good story ever starts with: do you remember that incredible day at the office?!"
72. "Would you like an adventure now or would you like to have your tea first?" – James M. Barrie, Peter Pan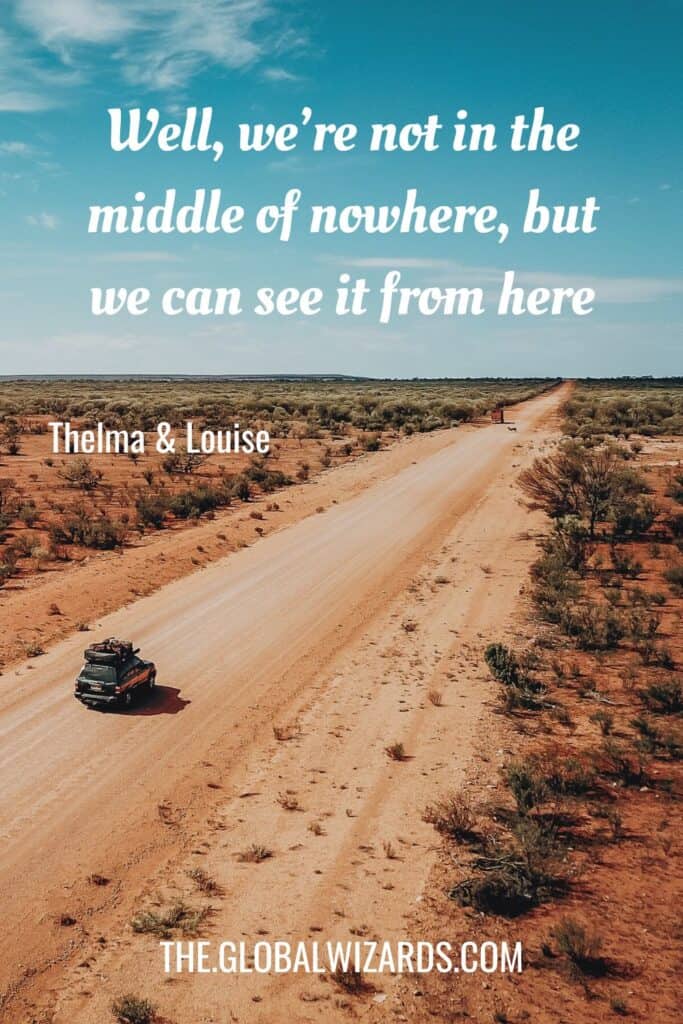 73. "Be strong, I whisper to my WiFi signal!"
74. "Adventure, yeah. I guess that's what you call it when everyone comes back alive." – Mercedes Lackey
75. "Life is short. Call in sick and book that last-minute flight."
76. "An adventure a day keeps the doctor away."
77. "Travelling is like a chocolate box. Don't matter what you get. All is good."
Adventure nature quotes
When you're looking for Instagram captions for adventure, the chances are real nature will be involved! Being out there in nature is what makes most adventurous so memorable. So check our list of nature adventure quotes to accompany your next adventure picture on Instagram.
78. "The mountains are calling and I must go." – John Muir
79. "The best view comes after the hardest climb."
80. "Leave the roads; take the trails." – Pythagoras
81. "In every walk with nature, one receives far more than he seeks." – John Muir
82. "Those who contemplate the beauty of the earth find reserves of strength that will endure as long as life lasts." –Rachel Carson
83. "I felt my lungs inflate with the onrush of scenery – air, mountains, trees, people. I thought this is what it is to be happy." – Sylvia Plath
84. "And into the forest, I go to lose my mind and find my soul." – John Muir
85. "My wish is to stay always like this, living quietly in a corner of nature." – Claude Monet
86. "To Walk Into Nature Is To Witness A Thousand Miracles." – Mary Davis
87. "Going to the mountains is like going home." –John Muir
88. "The air was soft, the stars so fine, the promise of every cobbled alley so great, that I thought I was in a dream." – Jack Kerouac
89. "I took a walk in the woods and came out taller than the trees." – Henry David Thoreau
90. "Between every two pines, there is a doorway to a new world." – John Muir
91. "Nothing Makes Me So Happy As To Observe Nature And To Paint What I See." – Henri Rousseau
92. "I only went out for a walk and finally concluded to stay out till sundown, for going out, I found, was really going in." – John Muir
Family adventures quotes
As we are a full-time travel family, so we know how it feels to go on an adventure with our kids. In one word, amazing! If you want some more words to describe it though, we've made this list of adventure together quotes for families and kids.
93. "Sharing adventures means enjoying them 100% more."
94. "Just a girl chasing her dreams and living her best adventures."
95. "Escape and breathe the air of new places together."
96. "Never go on trips with anyone you do not love." – Ernest Hemingway
97. "Happiness is planning a trip together."
98. "Two of the greatest gifts we can give our children are roots and wings." – Hodding Carter
99. "Build traditions of family vacations and trips and outings. These memories will never be forgotten by your children." – Ezra Taft Benson
100. "In life, it's not where you go – it's who you travel with." – Charles Schulz
101. "Babies: cry all flight long. Fall asleep during landing."
102. "The greatest legacy we can leave our children is happy memories." – Og Mandino
103. "Then I realized adventures are the best way to learn."
104. "The man who goes alone can start today, but he who travels with another must wait till that other is ready." – Henry David Thoreau
105. "Families who travel together, stay together."
106. "In the end, kids won't remember that fancy toy you bought them, they will remember the time you spent with them." – Kevin Heath
107. "A road trip is a way for the whole family to spend time together and annoy each other in interesting and new places." – Tom Lichtenheld
108. "My ideal travel companions are my family." – Pharrell Williams
109. "Life is a journey, we're just enjoying the ride."
110. "Each day of our lives we make deposits in the memory banks of our children." – Charles R. Swindoll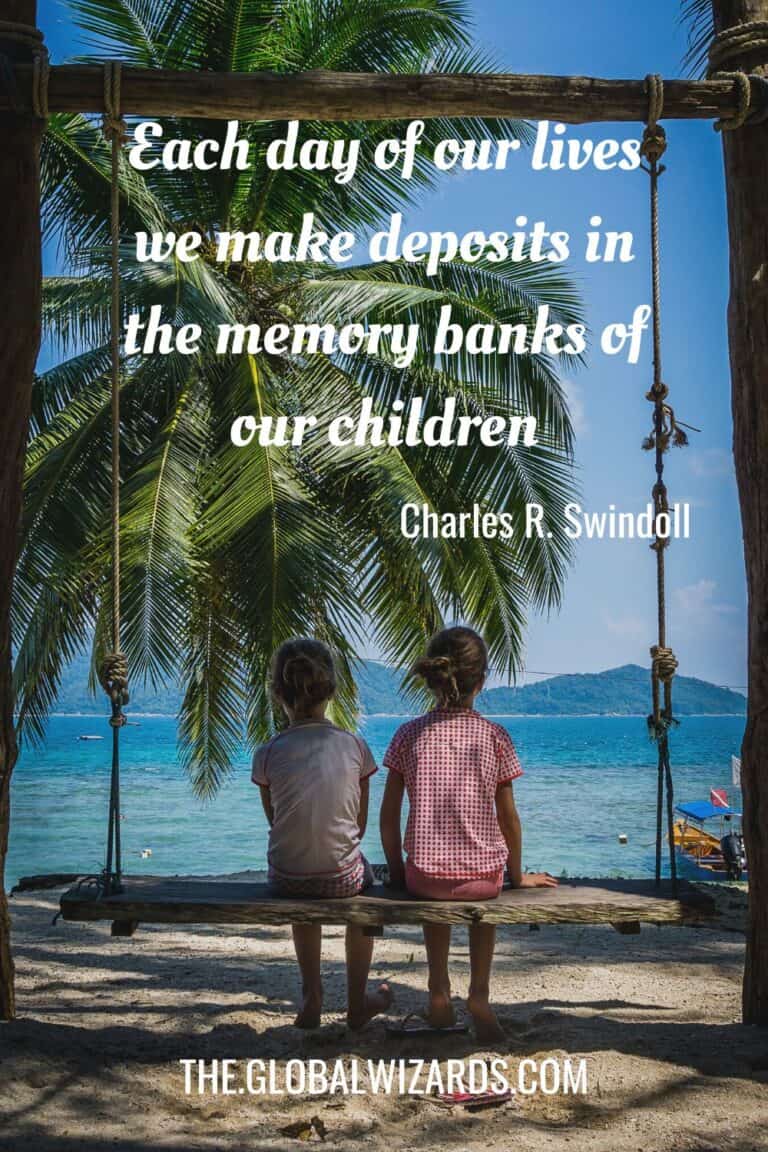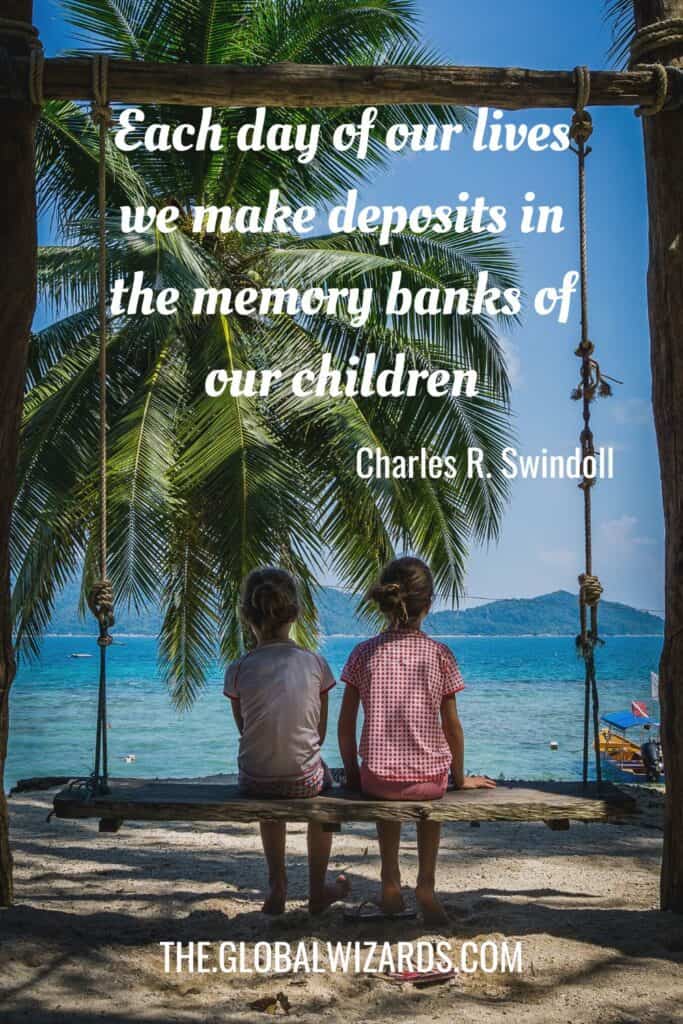 111. "Memories made together lasts a lifetime."
112. "At the end of the day, your feet should be dirty, your hair should be messy and your eyes sparkling." – Shanti
Inspiring adventure quotes
Looking for unique adventure quotes because you want to inspire other people to get out there and adventure themselves? We love inspirational quotes on new adventures and they are perfect for Instagram adventure captions as well.
113. "Wanderlust: a desire to travel, to understand one's very existence."
114. "We wander for distraction, but we travel for fulfillment." – Hilaire Belloc
115. "Fill your life with adventures, not things. Have stories to tell, not stuff to show."
116. "Adventure isn't hanging off a rope on the side of a mountain. Adventure is an attitude that we must apply to the day-to-day obstacles of life." – John Amat
117. "Go. Fly. Roam. Travel. Voyage. Explore. Journey. Discover. Adventure."
118. "Live life by the ABC's…adventure, bravery and creativity." – James Thurber
119. "Travelers are dreamers who make their desires for adventure a reality."
120. "One way to get the most out of life is to look upon it as an adventure." – William Feather
121. "If happiness is the goal – and it should be – then adventures should be top priority." – Richard Branson
122. "The danger of an adventure is worth a thousand days of comfort." – Paulo Coelho
123. "Don't let your anchor hold you down forever. Eventually, you'll have to sail to a new adventure."
124. "Life is a fatal adventure. It can only have one end. So why not make it as far-ranging and free as possible?" – Thornton Wilder
125. "Adventure is allowing the unexpected to happen to you. Exploration is experiencing what you have not experienced before." – Richard Aldington
126. "No, we don't need more sleep. It's our souls that are tired, not our bodies. We need nature. We need magic. We need adventure. We need freedom. We need truth. We need stillness. We don't need more sleep. We need to wake up and live." – Brooke Hampton
127. "Life isn't safe, remember. But life can be wonderful if you choose adventure rather than fear." – Chip Gaines
Couple adventure quotes and love captions for Instagram
Going on an adventure with your loved one, is there anything better than that? Love adventure quotes for couples are therefore very popular as romantic adventure captions for Instagram.
So here's our list of the best adventure with you quotes for your next romantic picture on Instagram.
128. "Oh darling, let's be adventurers."
129. "My favorite thing is going on adventures with you."
130. "Lost in the middle of nowhere with the one I love."
131. "The best trips, like best love affairs, never really end." – Pico Iyer
132. "Date someone who is a home and an adventure all at once."
133. "I would gladly live out of a suitcase if it meant I could see the world with you."
134. "I've fallen in love with adventures, so I begin to wonder if that's why I've fallen for you." – E. Grin
135. "Love is meant to be an adventure." – Gordon B. Hinckley
136. "Having the right person by your side makes a world of difference."
137. "Our journey isn't perfect but it's ours…and I'll stick with you till the end." – Srinivassan
138. "Nothing compares to the excitement of exploring every corner of the earth with the person you love most by your side." – Anon
139. "Actually, the best gift you could have given her was a lifetime of adventures." – Lewis Carroll
140. "Love is the food of life, travel is the dessert."
141. "You keep me safe, I'll keep you wild. "
142. "Love is being with you anywhere."
143. "You are and will always be my favorite adventure."
144. "What we find in a soulmate is not something wild to tame but something wild to run with." – Robert Brault
145. "Where you lead, I will follow." – Carole King
146. "The best things in life are the people we love, the places we've been, and the memories we've made along the way"
147. "Every heart seeks adventure. Some find it in the frost mountains resting along the horizon, some find it in the windy seashores, and some find it in the damp rain forests. While I've found my adventure in you." – Ankit Choubey
148. "We don't just get to grow old together. We get to grow up together. And that's the real adventure." – Mariya Jinwala
Other travel captions for Instagram
That's a wrap! We hope you liked our extensive list of Instagram captions for adventure. Looking for more Instagram caption ideas? Check or other articles:
Other articles that might interest you
Save on Pinterest for later
Do you want to remember this list of adventure captions for Instagram for later? Save it on Pinterest!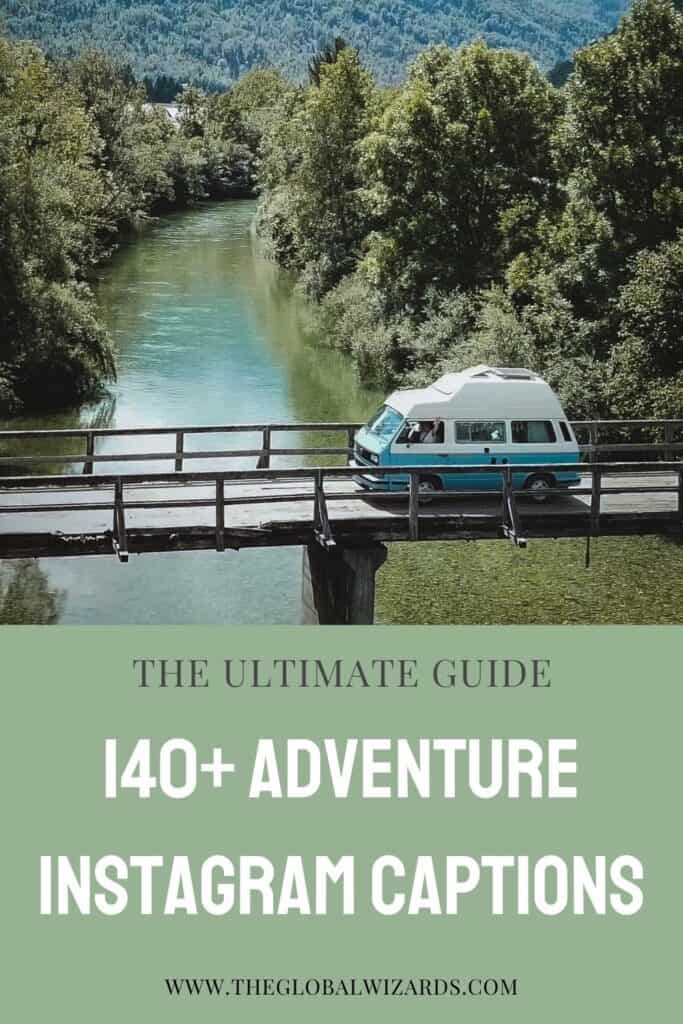 Adventure captions for Instagram