This post may contain affiliate links. If you make a purchase through one of these links, we may receive a commission at no extra cost to you. Please read our affiliate disclosure and privacy policy for more information
The power of community: How Boundless Life is changing the way families travel and live
Have you ever wanted to live and work abroad for a couple of months together with your family and other like-minded digital nomad families? Looking for a forward-thinking education for your kids while experiencing new cultures and broadening the perspectives of all family members?
We sure did! Being a digital nomad family ourselves, we have traveled all over the world while working online and homeschooling our kids. Although we love this life, we sometimes miss a community for our family and the option to send our girls to school.
But how to organize this? Where to start? The company Boundless Life now has created the perfect solution for this, both for experienced travelers and for families who want to try this for the very first time. When we heard of their concept, we were totally sold.
Boundless life offers the ultimate home away from home, where you can work remotely, have your kids in an experiment-based, less traditional school, and explore the local culture with other families in an amazing community.
Interested to learn more? We lived for 3 months in Syros, Greece together with Boundless Life and will share all about the concept and our experiences in this article. Or you can also book a call with Boundless Life to get more information.
What is Boundless Life
The goal of Boundless Life is to build communities in different locations around the world to empower families to be able to live abroad with their kids for a couple of months or longer.
A fantastic goal isn't it? But how does it actually work?
When you decide to sign up for Boundless Life, you can pick a destination and choose between a 3-month cohort or a 6-week summer cohort. There are also packages for 6 of 9 months and you can switch destinations between cohorts.
In every destination, Boundless Life provides 15-20 local apartments for families to live in. All accommodations are only 10-15 minutes of walking from the central co-working hub and the education center for the kids.
Besides that, they also have a fantastic local team that helps you out with anything you need. They also organize the most amazing experiences to create a community, explore the destination, or immerse yourself in the local way of life.
Let's dive in a little deeper.
The Boundless Life destinations
Boundless Life has four locations, as we speak, but they are continuously growing and expanding. Each location is carefully chosen for its unique character.
What we love the most is that they don't choose very touristy or obvious locations. Instead, they pick those cities that are amazing to live in all year round. Those places where you can get experience, live, and feel the local life.
We stayed for three months on the beautiful (but relatively unknown) Cycladic island of Syros in Greece. Further on in this article, you can read more about our experiences in Syros.
Here's a list of all the destinations so far.
Sintra, Portugal
Syros, Cyclades, Greece
Pistoia, Tuscany, Italy
Sanur, Bali, Indonesia
The Boundless Life apartments
Boundless Life offers 1 to 3-bedroom apartments. They are carefully chosen, fully furnished, and equipped with everything you might need.
All of the apartments are centrally located, within 15 minutes of walking from the co-working space, the education center (school), and the apartments of the other digital nomad families of your cohort.
We loved how the local team does everything to make you feel at home, away from home.
Before you arrive they ask you all kinds of questions to make sure they pick the perfect apartment for you. And they even adapt the accommodation to your particular needs as a family, for example with baby supplies.
When we arrived in Syros, they picked us up and took us to our beautiful apartment. They showed us around, answered our questions, and even provided a nice welcome basket and some basic food supplies to get us started.
What a wonderful, personal approach.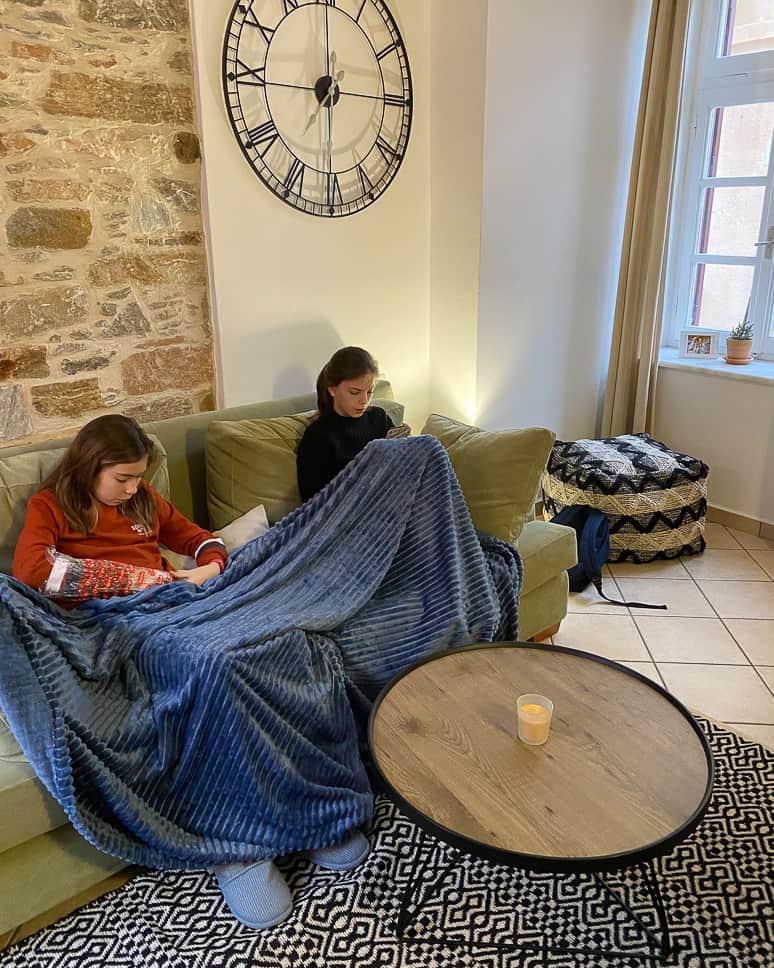 The Boundless Life education program
Part of the Boundless Life concept of digital nomad families living abroad is their amazing education program.
Boundless Life provides education for children between 1 and 12 years old, following one of the best education systems in the world, the transformational and experience-based Finnish schooling system.
It is not a traditional school but definitely also not an unschooling system. The older kids get language, math, local culture and so much more, but all in a less traditional, more experienced-based way. They also do lots of field trips where they visit local factories, organizations, or farms.
In each cohort, the kids work around a quest where they learn about one of the sustainable development goals of the UN. Our girls explored the 'Zero hunger' goal during their time in Syros.
Our girls loved their education center in Syros, located uphill and a 15-min walk from our apartment. Also, the education team was absolutely amazing! They are so friendly, helpful, knowledgeable, and kind to all the kids.
One of the things we loved most about their experience here, is how all ages between 1 and 12 years old work and play together. My girls have learned a lot by taking care of the younger kids. The connections and friendships that have been made here, are irreplaceable.
Besides the regular program, Boundless Life also provides the option to enroll your kids in extra-curricular activities.
Some of them are offered in all of the destinations, to create continuity, such as guitar lessons. Others are very typical for each destination such as sailing in Syros, surfing in Sintra, and painting in Tuscany.
Our girls enrolled in sailing and it has been a life-changing experience for them. Being able to learn how to sail on a Greek island is like the ultimate activity to them.
The Boundless Life co-working hub
Part of the Boundless Life package is the option to have 24/7 access to the co-working hub. This hub is centrally located in all the destinations, only a 10-15 minutes walk from the apartments or school.
In Syros, the beautifully restored co-working hub is located in the harbor. We loved coming here (after dropping off the kids at school) to work together with the other digital nomad families and the local team.
The high-speed internet, soundproof meeting pods, nice work areas, and overall vibe make it the ideal environment to be productive and manage your remote job or business.
Boundless Life also supplies coffee, tea, fruit, and cake in their hub. Besides that, they also provide some games and a nice sitting area for families who want to hang out here together on the weekends.
The Boundless Life community
Besides the fact Boundless provides accommodation, education, and a place to work, they first and foremost want to create a community for their digital nomad families.
To achieve that, the local team organizes all kinds of fun events and experiences. A lot of them are to discover more about the local culture or to explore the destination.
But some of them are mainly to get the families to bond and have a great time together. There are mom's and dad's lunches and nights out, weekly soccer games, yoga together, and so much more.
Of all the amazing things Boundless Life has to offer, this is definitely what we have valued the most. To be able to live together with like-minded families for 3 months, doing fantastic experiences together, making great friends along the road is something that can't be replaced by anything else.
Our Boundless Life experience in Syros
We stayed with Boundless Life for 3 months (January – March) on the beautiful Cycladic island of Syros in Greece.
In the previous chapters of this article, we've already shared how we felt about everything that Boundless Life is offering. We absolutely loved the experience and can't wait to hopefully attend another cohort somewhere in the future.
But how was Syros? What did we think about living on this island for 3 months in the winter? And would we recommend it?
To sum it up, living in Ermoupoli, the main town (and the capital of the Cyclades), and on Syros island, in general, was a dream.
First of all, the city is very much alive, even in wintertime (which is not the case on lots of other Cycladic islands). There are many lovely bars and restaurants, grocery stores everywhere, lots of activities and experiences for all ages, cats everywhere, and beautiful buildings, churches, and sights such as Asteria Beach.
Secondly, the town (and the whole island) is extremely safe. There is almost no crime and not too much traffic. Our kids walked home from school alone (conquering the many stairs) without us worrying about anything.
And last but not least, Ermoupoli is the hub to discover the rest of the island. You can easily grab a taxi from here to anywhere or rent a car. Syros island is beautiful for hiking, discovering the lovely little towns and churches, and enjoying one of the many beaches.
So yes, we can totally recommend living on Syros and staying here with Boundless Life. Also during the low season in the winter. The weather can be a bit cold sometimes but there are many nice days. There are almost no tourists but still, the island is alive!
Hopefully, this article was helpful to answer any of your questions about Boundless Life in general or living with them on Syros island in Greece. Do you have any more questions? Leave a comment and we'll happily share our experiences.
Happy travels!
Save this for later on Pinterest
No time to read everything now? Or do you want to remember this for later? Save this picture on your Pinterest.
Other articles that might interest you
Boundless Life in Syros: Living in Greece As a digital nomad family