This post may contain affiliate links. If you make a purchase through one of these links, we may receive a commission at no extra cost to you. Please read our affiliate disclosure and privacy policy for more information
Morocco itinerary 7 days: the best one-week itineraries
Morocco has been a destination for travelers since ancient times. Once you arrive, you enter a completely different world. It continues to capture visitors' imaginations with its bustling souks, vibrant culture, diverse landscape, and fascinating history.
In our opinion, you could easily stay in Morocco for two weeks or more. However, if you are limited in time, Morocco in 7 days will also be a fantastic experience!
Read more: 10 days in Morocco itinerary
A seven-day trip to Morocco will absolutely blow your mind. This stunning and diverse country has so much to offer, from the excellent hospitality of its people to the colorful markets, delicious food, and breathtaking landscapes.
When you plan your 7 days in Morocco, do your research so you know what to expect, from climate and dress-code norms to food specialties, and different customs.
Read more: Essential travel tips for Morocco, what to know before you go
There is so much to see in Morocco that is almost impossible to give you a single 1 week Morocco itinerary. That's why, in this article, we listed 3 of the best 7 days in Morocco itineraries for you. But first, let's dive into some other things you need to know before you go.
Read more: Morocco with kids
How to go to Morocco
Morocco is easily accessible from many Moroccan airports. The most popular, largest, and busiest airport in Morocco is Mohammed V International Airport, just outside Casablanca.
Other major tourist cities, such as Marrakech and Fez, but also Tangier and Rabat host international airports that can get you to Morocco quickly and easily. If cost is an issue, Casablanca airport is generally the cheapest place to fly.

But you don't have to limit yourself to flying. There are also ferries that depart from Spain, France, and Gibraltar regularly and can make for a more scenic experience or make it possible to take your own vehicle.
They usually arrive at Tangier port, allowing travelers to access the rest of Morocco with their car, a shuttle ride, or public transport.
What to pack for Morocco
If you're planning a trip to Morocco, it's important to consider what to wear and pack for Morocco. It all depends on the season you travel in and the activities you plan to do.
The temperatures vary from pleasant in spring and autumn to scorching hot in summer. In the evening and definitely winter it can be cold, especially in the Atlas mountains and desert.
That's why layers are a great idea so you are prepared for anything. Think lightweight fabrics, cotton, and linens, for the warmer days and a raincoat and sweater for the colder moments.
Layers also allow you to dress modestly, which is a sign of respect for the local Muslim culture. Try to cover your knees and shoulders at all times, especially for women.
If you want to know more, read our article on what to wear in Marrakech and Morocco (+ a Moroccan packing list). You can immediately download your Moroccan packing list here.
Rent a car and drive in Morocco
If you're looking for an incredible travel adventure, rent a car in Morocco and go on a road trip. For the 7-day itineraries, we suggest in this article, we advise you to rent a car and drive yourself. You'll get to enjoy your own schedule, discover hidden gems, and create everlasting memories.
However, if you don't feel like driving, you can do these itineraries with public transport or by booking tours.
When driving in Morocco, remember that speeding is a no-go as there are many police checks. In the mountains, roads can be narrow and winding. Also, a lot of rental cars are manual transmissions. If you are not used to this, make sure to check it when renting a car.
Additionally, almost no rentable cars come with a GPS system, so it's important to have a paper map or download a GPS app on your phone before starting off on your journeys around Morocco!
With this knowledge in mind, renting and driving a car in Morocco can be an enriching experience for travelers! If you want to learn more, we wrote an entire article about renting and driving a car in Morocco.
Where to stay in Morocco
Morocco is a beautiful and unique destination where you can find a range of unique accommodation options that will definitely add to the whole experience.
For those looking for an authentic Moroccan experience, a traditional riad is an ideal choice. It offers a chance to stay in traditional houses with luxurious features such as courtyards, plunge pools, and beautiful design details.
Those looking for adventure should check out the desert camps where you can immerse yourself in the amazing nature of Morocco. You'll be able to sleep under the stars while enjoying traditional meals and experiencing camel rides or hikes around the area.
No matter where you chose to stay, you're sure to enjoy some one-of-a-kind accommodation during your stay in Morocco! To help you choose, we wrote an entire article on the best places to stay in Morocco and a second one on the best riads in Marrakech.
7-day morocco itinerary: Tangier to Marrakech
Essentially, this 7 days Morocco itinerary is a shorter version of our 10-day Morocco itinerary. So if you have a bit more time to spend in this beautiful country, make sure to take a look at that article.
If you have only one week in Morocco and you have never been to this magical place before, this is the itinerary you should pick (if you ask us). Unless you want to surf, check the final itinerary for that.
In this one-week itinerary, you see the best of Morocco. We skip the big cities by the coast such as Casablanca and Rabat. In our opinion, the landscapes in this 7-day itinerary are way more beautiful.
Day 1: Tangier – Chefchaouen
Total distance: it is about 120 km (75 miles) from Tangier airport to Chefchaouen, which is a little more than two hours of driving. We advise you to rent your own car, but if you don't you can also take a bus or private transfer.
The medina of Tangier is terrific. However, since you only have 7 days in Morocco, we advise you to go directly to Chefchaouen after you arrive. A stop on the way could also be the medina of Tetouan, but again, that will give you less time to explore Chefchaouen.
After all, the whole reason why we start this trip in Tangier is that we want you to visit Chefchaouen. The blue city of Morocco is a true gem. Although quite busy with day trip tourists from Fez or Tangier, if you stay for the night, you get to discover how magical this city actually is.
Once you arrive, start to explore some of the highlights of Chefchaouen and try to catch the sunset by the Spanish mosque in the evening. After a delicious dinner, it's time to head to your hotel for the night. There are many accommodations in Chefchaouen to choose from.
TIP: We advise you to stay inside the medina of Chefchaouen. That way you are close to everything. Choose a place with a rooftop terrace overlooking the medina. We stayed in Casa Sanae, a basic but nice apartment in the medina with a nice breakfast on the terrace. Another great place is Dar Zambra.
Day 2: Chefchaouen – Meknes – Fez
Total distance: if you drive directly from Chefchaouen to Fez, it is about 200 km or 125 miles (a 3h30 drive). However, you can also visit Meknes and Volibilis on the way. Then the total drive is 260 km or 160 miles (a 4h30 drive). If you don't have a car, you can also take a bus or a private transfer.
Make sure you get up early and walk the blue streets of Chefchaouen before breakfast to capture the true magic of the medina. We were there before 8 am and were practically alone, besides some locals and many cats. After your breakfast, it is time to hit the road.
Since you have a complete day in Fez on day 3, we advise you to visit Meknes, Volubilis, and Moulay Idriss on your way. If you want to visit these places with a guide (or you don't have a car), you can also go to Fez immediately and book a day tour to Meknes and Volibilis from Fez.
Meknes is one of the imperial cities of Morocco and the old medina is a UNESCO world heritage site. Don't miss the Mausoleum of Moulay Ismail, the Royal Palace, or the Bab Mansour Gate.
Volubilis has the most well-known Roman ruins in Morocco, also protected by UNESCO.
Moulay Idriss only lies 22 km or 14 miles from Volubilis and is a holy city for Muslims.
For your accommodation in Fez, we advise you to pick one inside the medina. Make your stay even more special by choosing one of the many beautiful riads. We stayed in Riad Alassala, a true paradise hidden behind its high walls, with the most friendly staff and amazing rooms.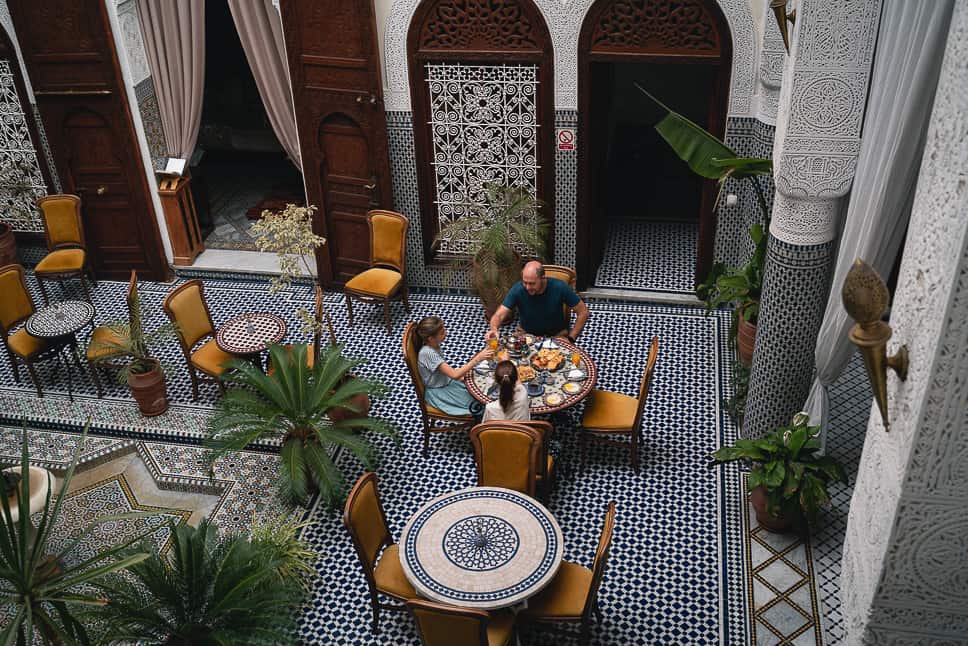 Day 3: Fez
There are few places in the world as culturally rich and uniquely vibrant as Fez. Which is why we are spending here an entire day. With a bustling medina (one of the biggest and oldest in the world) full of winding alleys and colorful souks, it feels as if you step back in time.
There's truly something for everyone here, from exploring local markets with endless products and herbs, relaxing with some mint tea on a terrace, or taking guided tours to explore the culture and architecture of the old medina.
We've written an entire article on the best things to do in Fez if you would want some more detailed information.
Day 4: Fez – Merzouga
Total distance: today it is a very long drive (7 or 8 hours) from Fez to Merzouga, 460 km or 286 miles. This is the longest drive of your 1 week in Morocco.
Don't be afraid this long drive will be boring though. We passed the beautiful forests of Ifrane National Park with its monkeys, the stunning landscapes of the Ziz river gorge and oasis, and the fossil area of Efroud.
TIP: If you don't have a car, you can book a 3-day tour from Fez to Marrakech, which will cover days 4-6 of this 7 days in Morocco itinerary. There are many tours to choose from. The difference usually lies in how luxurious the accommodations are or how big the groups are. Make sure to read the reviews.
Leave Fez early, so you arrive in Merzouga in time to go immediately to the desert and stay in one of the many (luxurious) desert camps. Usually, they take you on a camel ride to the camp, you eat there and can watch a traditional Berber music performance. We stayed at Beldi Camp, a truly fantastic place with the most delicious food and tastefully decorated tents.
Riding a camel while the sun is setting, watching a million stars over your tent at night, and seeing the sunrise in the morning, all will be a magical experience. In our article about discovering the Moroccan desert in Merzouga, you can find more information on how to organize your stay.
Day 5: Merzouga – Todra Gorge – Ait-Ben-Haddou
Total distance: Another long but beautiful drive today. From Merzouga, it takes you about 3 hours to drive to the Todra Gorge (190 km or 118 miles). From the Todra Gorge, it is another 2,5 hours to Aït-Ben-Haddou (170 km or 105 miles) unless you take a detour to the Dadès Gorge which adds 1,5 hours (85 km or 50 miles).
The Todra Gorge is an impressive canyon with towering red walls on both sides. Also the drive up to the canyon is amazing. It is definitely worth coming and visiting this area. Since you don't have a lot of time, park your car and walk through the gorge on foot to get a real feel of it.
TIP: Do you have more time than 7 days in Morocco, then we can highly advise you to stay here for the night. The area has some amazing walks that show you another side of Morocco. We wrote an article on the Todra Gorge and an amazing walk to do there.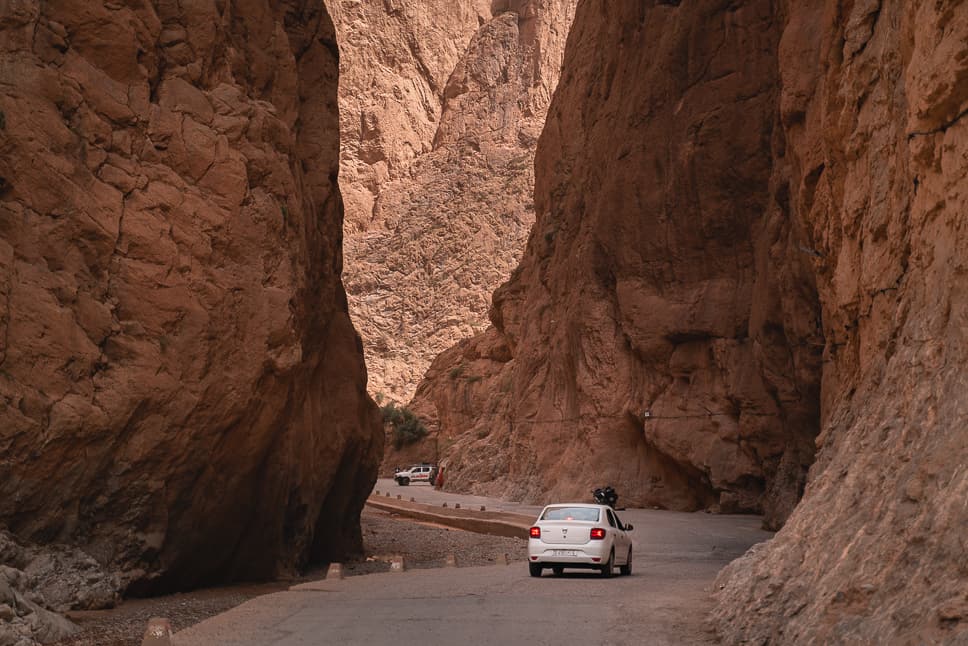 If you have time, you can also make a detour and drive inside the Dadès Gorge. The landscapes filled with small Berber villages are breathtaking. And don't miss the famous viewpoint over the winding roads of this valley. All the info is also in the article mentioned above.
Try to arrive in Ait-Ben-Haddou before sunset, so you get to experience this magical moment when the colors change between orange and red. There are a lot of places to stay in Ait-Ben-Haddou, but we advise you to pick a place on the other side of the river. We stayed at Dar Mouna La Source, which has lovely rooms, a pool, and a great terrace overlooking the old city.
Day 6: Ait-Ben-Haddou – Marrakech
Total distance: After visiting Ait-Ben-Haddou, we drive to Marrakech, which is only 180 km or 120 miles, but it takes you almost 4 hours because you cross the stunning Tizi n'Tichka pass.
Ait Ben Haddou is a small, centuries-old, fortified village (called ksar) and a must-see destination for anyone wishing to explore the region's culture and history. This UNESCO World Heritage site is one of the best-preserved ksars, known for its traditional mud-brick constructions.
Get up early in the morning, so you can watch the sunrise over the old city from your hotel or from the hill next to the ksar. After breakfast, start your visit early, so you avoid all the day trip tourists from Marrakech. Take your time to walk back in time and wander through the old streets and mud buildings. Check our article on what to do in Ait Ben Haddou for more information.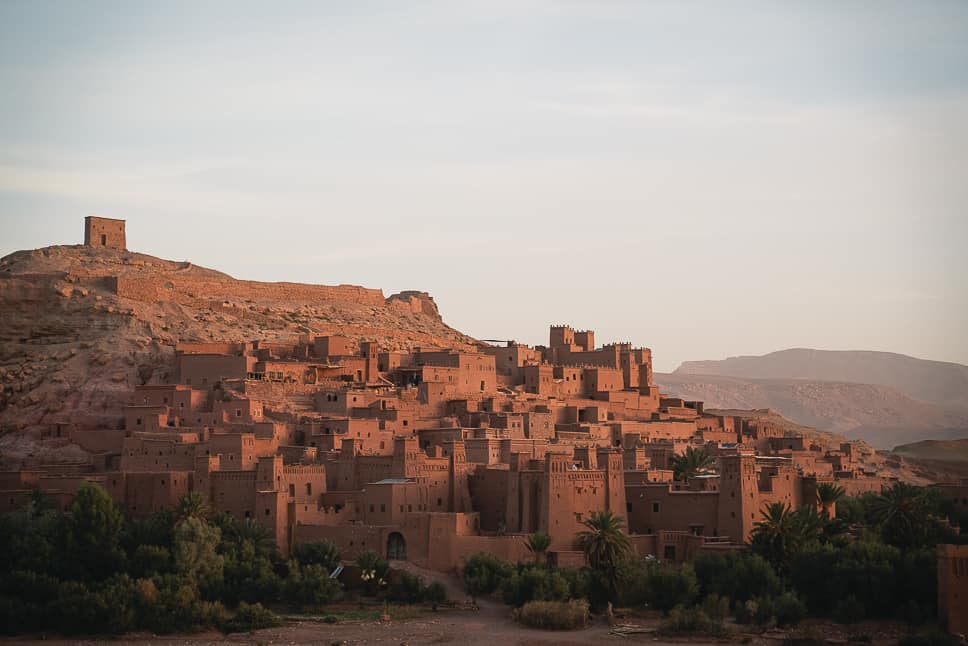 Around noon, start driving to Marrakech while enjoying the stunning scenery along the way. Once you arrive, park your car and head over to your accommodation. There are many beautiful places to stay in Marrakech. We stayed in Dar Justo, a beautiful riad, centrally located in the medina with its own restaurant and hammam.
TIP: As in all other cities, we advise you to stay inside the medina so you are close to all the highlights and the true vibe of the city. To make your stay even more special, choose a stay in a riad. We've written an article on the best riads in Marrakech.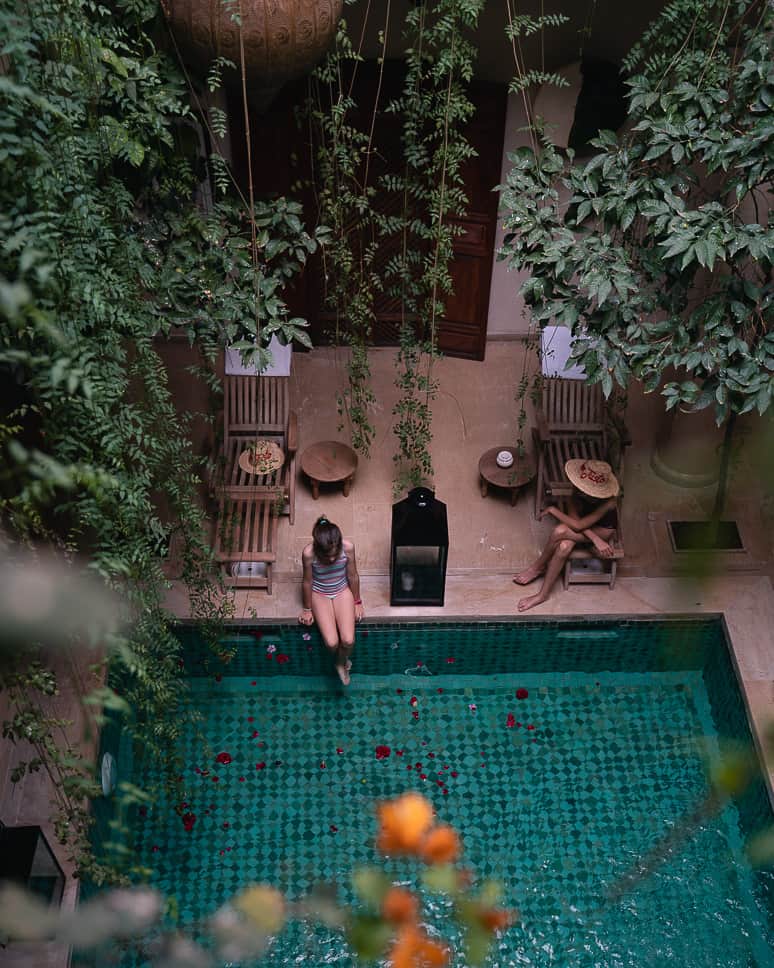 Day 7: Marrakech
This 7 days in Morocco itinerary ends in Marrakech. This is where you can return your car and fly back home. But not before you have visited this fantastic city.
The medina of Marrakech is a must-visit destination rich with culture and beauty. For centuries, people have come to this city to explore winding alleyways full of souks stocked with traditional products. Here you'll find everything from brightly colored ceramics and carpets to lanterns, spices, fresh fruit, and handmade jewelry.
Marrakech also has several stunning monuments including mosques, palaces, and lush gardens worthy of exploration. At night, restaurants and cafes offer sweet mint tea on their rooftop terraces among live music. In our article on what to do in Marrakech, you can find all the information you need.
If you have more time, you could easily stay here for 2 or more days. Or even plan a day tour to the high Atlas mountains and the Agafay desert, or the coastal town of Essaouira. Check our article on what to do in Essaouira for more information.

Was this 7 days in Morocco itinerary not for you? Check our next two itineraries for spending a week in Morroco.
One week morocco itinerary: the imperial cities
In this Morocco itinerary, you'll discover all four imperial cities of Morocco in 7 days. The imperial cities include Fes, Marrakesh, Rabat, and Meknes, all worth exploring because of their ancient architecture and culture that still exists today.
Whether you want to wander through the colorful souks, enjoy a traditional meal at one of the many restaurants, or get lost in the wonders of art and culture, visiting these imperial cities can be both inspiring and educational.
For this itinerary, you would need to fly to Fez and fly back home from Marrakech. You can also fly to Casablanca or Marrakech (and do a loop) but then you will need more time on the road.
Renting a car for this 7-day itinerary is a good option. However, since you have to go from one big city to the other, it is also quite easy to go by public transport or private transfer.
Day 1 – 3: Fez
Fez is an ancient imperial city in Morocco that is a UNESCO World Heritage site for its monument-filled medina. Fez's history dates back almost 1200 years and features an inspiring mix of Spanish, Berber, Arab, and African cultures.
Fez has many fascinating offers for visitors, from souks full of exotic spices, craftsmen, historic tanneries, and hidden alleyways to stunning buildings with the most amazing ancient decorations.
Read more: What to do in Fez, a complete guide
TIP: On the first day, we recommend you book a guide for half a day. That way you'll be able to see the most important highlights and better understand the structure of the bustling medina. Moreover, a guide makes sure you escape the hassle of pushy salesmen, especially around the tanneries.
On your second day, you can visit some more highlights, shop in the souks, enjoy a mint tea on one of the rooftop terraces and end the day by enjoying the sunset over the medina.
If you are staying in one of the many riads in Fez, you'll also want to reserve some time to relax in the courtyard or on the rooftop terrace. Maybe even to enjoy a hammam. We stayed at the amazing Riad Alassala, which we can highly recommend.
Day 3: Fez – Meknes and Volubilis – Rabat
Total distance: On day 3, you drive from Fez to Rabat, passing Meknes and Volubilis. From Fez to Meknes, it is about 60 km or 37 miles (1-hour drive). From Meknes to Rabat, it is another 150 km or 93 miles (almost a 2-hour drive).
Meknes is another imperial city in Morocco and an incredible place to visit. It is home to many religious monuments, ancient walls, and astounding architecture that reflect its fascinating history as the former capital of Morocco.
Visitors can explore this historic medina by wandering through its interesting souks and admiring its architectural wonders such as mosques, mausoleums, and tombs. Or even ride a carriage around the former palace of Sultan Moulay Ismail.
After Meknes, and if you still have time before going to Rabat, also visit the nearby cultural sites of Volubilis and Moulay Idriss. Volubilis lies only 30 km or 18 miles from Meknes and Moulay Idriss is right next to it.
In Volubilis, you can discover the best-preserved archeological Roman site in Morocco. You can find more information in this Lonely planet article.
Moulay Idriss is one of the most important pilgrimage towns for Muslims in Morocco. The beautiful medina with whitewashed houses is very picturesque. But surprisingly, it is not touristy at all, so you just might have this beautiful place to yourself.
If you don't feel like visiting these places yourself, you can also book a tour from Fez to Meknes and Volubilis and drive to Rabat afterward.
After this interesting day, it's time to head over to your accommodation in Rabat. Choose a riad or dar inside the medina of Rabat but make sure to check the reviews before you book as some of them are not the best. We can highly recommend Dar Shaeir, with fantastic rooms, decorations, friendly staff, and a stunning rooftop terrace overlooking the medina.
Day 3 – 5: Rabat
Rabat is the third imperial city we'll visit during this Morocco 7-day itinerary. The bustling, current capital of Morocco is an especially appealing destination for those who want to experience both traditional Arabic culture and modern Moroccan life.
Visitors have an array of options when it comes to spending their time in Rabat. There are modern attractions such as museums and galleries as well as the historic medina and some of the most impressive examples of ancient Islamic architecture.
Since you're spending two days here, you have time to take it all in and immerse yourself in this fantastic city. Stroll the markets and souks displaying handmade clothes and accessories, explore historical sites such as the Chellah ruins or Hassan Tower, and discover beautiful neoclassical buildings like Kasbah des Oudaias.
But don't forget to relax on the Rabat beach with its stretch of golden sand along the waterfront and taste the delicious cuisines that draw foodies from around the world.
Day 5: Rabat – Casablanca – Marrakech
Total distance: Rabat to Casablanca is a 1-hour drive from 87 km or 54 miles. Casablanca to Marrakech is another 240 km or 150 miles, which will take you almost 3 hours of driving.
For this imperial city's one-week itinerary in Morocco, we decided not to stay in Casablanca. Although the city is beautiful and worth a visit, it is not an imperial city and can also feel very busy and chaotic.
Historically, Casablanca has long been a hub for trade and commerce, making it a vibrant place with a mix of modern influences and Moroccan culture and one of Morocco's most bustling cities.
On your way from Rabat to Marrakech, we advise you to stop for half a day to get a feeling of the city. Consider exploring the old working-class neighborhood and local market of Habous or walk along the Corniche beachfront promenade.
But the true reason you need to stop here is to explore Casablanca's must-see Hassan II Mosque, one of the largest Mosques in Africa with breathtaking interior and exterior architecture. It is also one of the few mosques that you can visit as a non-Muslim.
After your visit to Casablanca, drive for another 3 hours to Marrakech. Marrakech is also the end destination for this trip, so you can choose to immediately turn in your car or wait until the last day and park it outside of the medina. Head over to your accommodation to enjoy your last two days in Marrakech.
TIP: As in all of the other cities, we advise you to stay inside the medina of Marrakech and preferably in a riad as that will only enhance your total travel experience in Morocco. We stayed in the beautiful Dar Justo, but you can find more information in our article about the best riads in the medina of Marrakech.
Day 6 – 7: Marrakech
Marrakech is the last of the four imperial cities we're visiting in this itinerary and a city not to be missed.
The bustling medina attracts travelers with its gorgeous historical sites like Koutoubia Mosque, Saadian Tombs, and the Ben Youssef Madrasa, all breathtaking reminders of Marrakech's legacy.
During your stay in Marrakech, you can explore the busy and colorful souks or Djemaa el-Fna square, enjoy a mint tea, take a leisurely stroll along Marjorelle Gardens or unwind with a hammam spa treatment.
We've talked about Marrakech before in this article, as our first 7 days in Morocco itinerary also ended in Marrakech. Go over to that section for more information about the city or read our complete guide to plan your visit to Marrakech.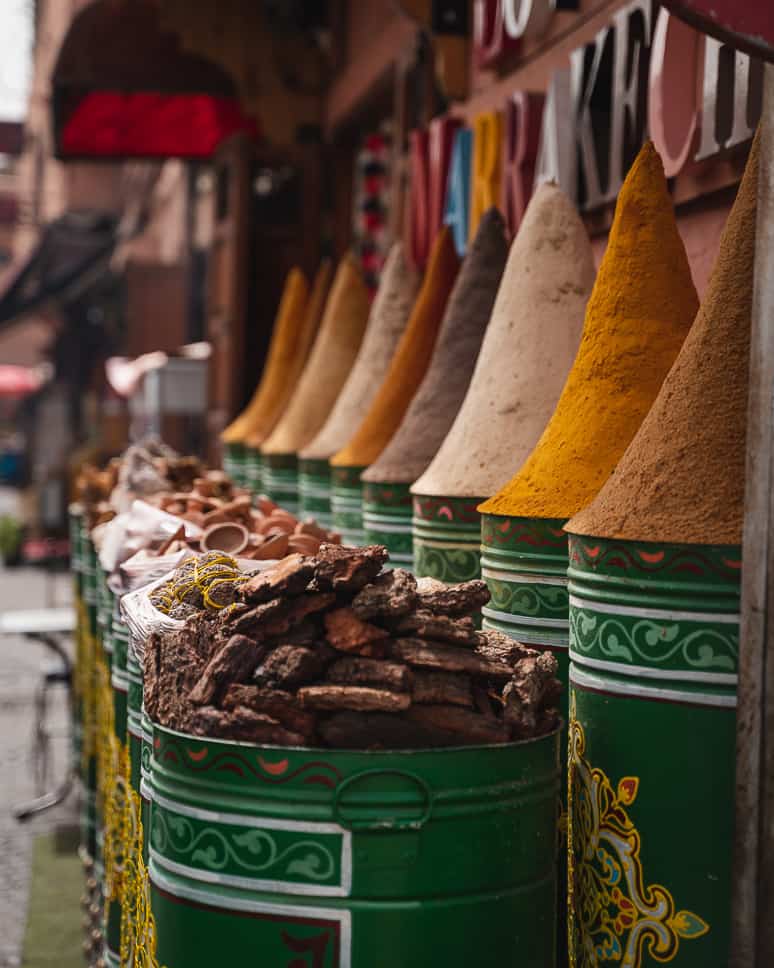 Still not found your perfect itinerary for 7 days in Morocco itinerary? We have a third one-week itinerary for you, starting and leaving in Marrakech with mountains, ocean, and surfing.
7 days in Morocco itinerary: From Marrakech to the mountains and the ocean
In this last itinerary, you cover less distance and explore the region around Marrakech. You'll be able to explore the bustling city of Marrakech itself, hike in the high Atlas mountains, or sleep in the desert and finish surfing or relaxing on the beach in Essaouira.
You can book a return flight to Marrakech for this trip, as we start and end it in this beautiful city. We also recommend you rent a car. As you are spending the first 3 days in Marrakech, you could decide to only rent it from day 3. A car will give you more freedom. However, it is not completely necessary.
If you prefer not to drive yourself, you can take public transport or private transfers to Imlil for the Atlas Mountains, the Agafay desert, and to Essaouira. Booking organized multi-day tours from Marrakech is another option.
Day 1 – 3: Marrakech
In each of our suggested Morocco 7 days itineraries, we added Marrakech. There is just no way of skipping this magical place when it is your first (or even second) visit to Morocco.
Don't get me wrong, it's touristy and there are many other amazing (sometimes more authentic) places in Morocco. But the city has the most fantastic buildings and gardens, mysterious streets and souks, colorful spices, and products, … It feels as if you walk into a 1001-night fairytale.
You can read more about the city in the itineraries above or in our articles about the best things to do in Marrakech. If you are looking for an amazing place to stay, check out our article on the best riads in Marrakech.
After two days of visiting Marrakech, it's time to explore the surrounding regions. Marrakech is an excellent hub for discovering the Atlas mountains, the Agafay desert, or the Atlantic coast.
Day 3 – 5: High Atlas Mountains and Agafay desert
Total distance: On day 3, we drive from Marrakech to Imlil in the high Atlas mountains. This drive is only 70 km or 43 miles but will take you about 1,5 hours. If you also want to visit the Agafay desert, it is a 1h45 drive from Imlil (80 km or 50 miles).
For the following two days, you have different options. If you are a mountain person, we highly advise you to go to Imlil for two nights. If you also want to see the Agafay desert, you can stay for one night in Imlil and one night in the desert. After that, you can drive to Essaouira.
If you don't want to drive, there are many multi-day tours leaving from Marrakech to both Imlil and the Agafay desert, depending on what you prefer.
Imlil and the high Atlas Mountains
Imlil is a picturesque Berber village nestled in the high Atlas Mountains of Morocco. It is the ideal spot for adventure seekers who are drawn to Toubkal, the highest mountain peak in North Africa. You can even hike to the summit of the Toubkal with a guide if you want.
Imlil is surrounded by lovely small Berber villages, terraced farms, and rustic wood and stone homes, all with ancient traditions still alive today. Of course, Imlil is also known for its hiking trails that lead deep into the valleys and across footbridges to other far-off villages.
We stayed at the fantastic Berber Family Lodge, situated in one of these villages. The views from the terrace are epic!
The Agafay desert
The Agafay desert is very popular with people visiting Marrakech since it is very close to the city. Although the place is amazing and feels like a desert (very dry and rocky), don't expect to see the golden sand dunes as can be found in Merzouga.
People mainly come here to spend a night in the desert, watching the stars and enjoying the remoteness of the place from one of the luxurious tent camps or unique accommodations. There are also a lot of activities such as camelback riding or quad biking.
Day 5 – 7: Essaouira – Marrakech
Total distance: From Imlil to Essaouira, it is a 4-hour drive and 240 km or 150 miles. From the Agafay desert to Essaouira it is a 2.5-hour drive and 170 km or 105 miles.
Essaouira, in our opinion, is one of the nicest little towns in Morocco. It has a lot of amazing highlights, making it attractive for tourists, but it feels more authentic and laid-back than Marrakech.
The picturesque coastal town offers visitors a lot of activities, ranging from visiting its colorful traditional medina full of historical sights to exploring its long beaches with sunset horseriding and surfing spots.
In our article about what to do in Essaouira, you can find more information to plan your trip. If you are totally into surfing, then you might also want to check out our article about the surfing village of Imsouane.
Essaouira is the perfect ending to one week in Morocco if you ask us. We think you will fall in love with it, just like we did. After your visit, drive back to Marrakech, return your rental car, and fly back home.
That's a wrap on our 7-day itineraries for Morocco. We hope they helped you in planning your next trip to Morocco. If you have any questions or remarks, let us know in the comments.
Happy travels!
Save on Pinterest for later
Other articles about Morocco that might interest you
Or check all of our articles about Morocco here.
7 days in Morocco Itinerary: 3 amazing one-week trips