This post may contain affiliate links. If you make a purchase through one of these links, we may receive a commission at no extra cost to you. Please read our affiliate disclosure and privacy policy for more information
Things to do in Essaouira
Essaouira has conquered our hearts and is one of our favorite places in Morocco (only 3 hour drive from Marrakech)! This lively, fully walled coastal city has a beautiful medina, long sandy beaches, an authentic harbor, and fishermen, but above all a very nice atmosphere that still feels traditional.
Essaouira used to be known as Mogador. Arabs, Africans, and Europeans came together here to trade. In the 1950s and 1960s, hippies and artists also came here. And you can still notice this melting pot of cultures and people when you walk around Essaouira.
Read more: Things to do in Marrakech, a complete guide.
You may have already seen the town because some films (such as Othello) and series (such as Game of Thrones) have been filmed there.
We recommend that you stay there for at least 2 days. We stayed 4 days in total and could have stayed longer. The atmosphere here feels more relaxed and calmer than the chaos of Marrakech.
In this article we provide an overview of the best sights of Essaouira, what to do on the beach, our favorite restaurants and accommodations and a few extra tips.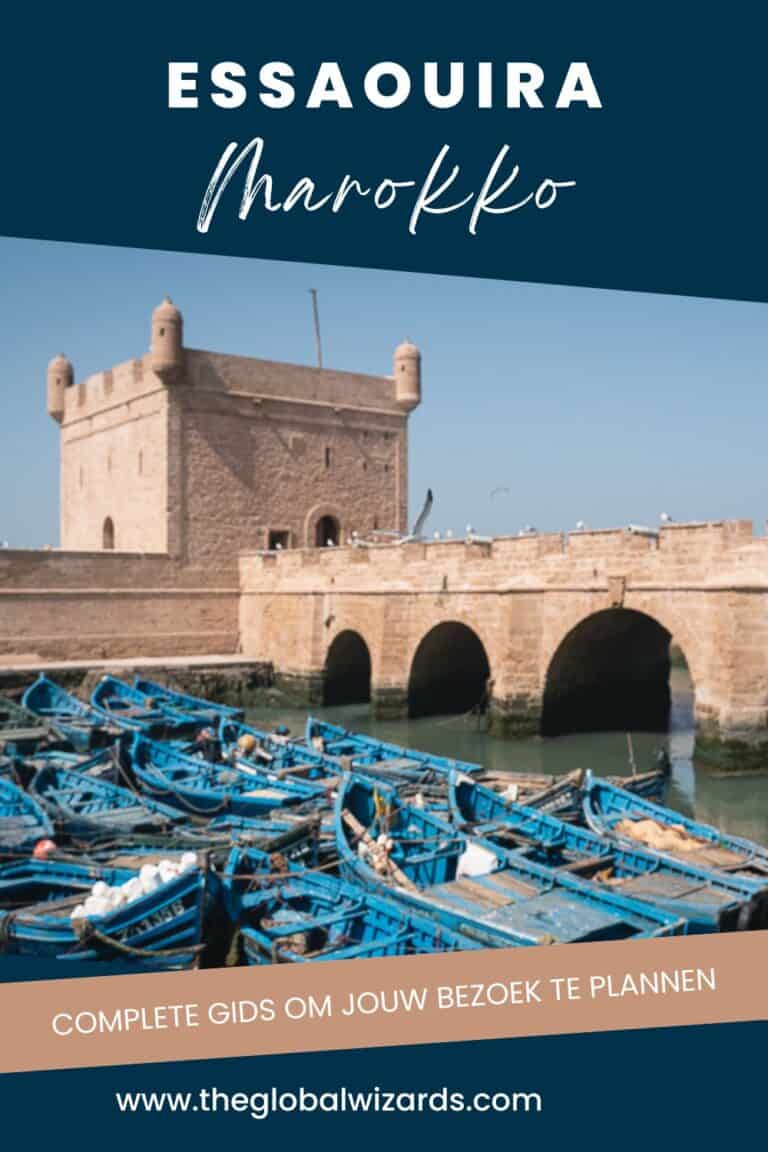 Stroll through the lively medina
The Medina of Essaouira is listed as a UNESCO World Heritage Site. And we well understand why. We found this one of the most pleasant medinas in Morocco, a lot quieter than the medina of Marrakech or the medina of Fez. The medina is also logically and clearly structured, so there is less chance of getting lost.
As soon as you enter the old city gates, you find yourself in the small streets with white and blue-washed houses, full of restaurants and colorful shops filled with food, household items, souvenirs, and works of art.
Read more: Morocco 10-Day itinerary
Within the medina, you can also visit the local fish market where the sellers enthusiastically try to sell their wares. Add some cats and seagulls (and the wonderful smell of fish;-)) and you know what to expect here. The Jewish quarter (Mellah), which is wonderfully quiet, is also nice to walk through.
TIP: You can safely discover the medina on your own. However, if you would like a little more explanation, book a city walk through Essaouira with a guide who will gladly show you the history, fun facts, and most beautiful places.
Shop in the souks and galleries
In the medina, you will find the souks or Moroccan market. Like everywhere in Morocco, it is nice to walk around and look for beautiful souvenirs.
As we mentioned earlier, the souks here are a lot more relaxed than in Marrakech or Fez. The locals also come here to do their shopping, so it is certainly not only aimed at tourists. Ideal for walking around quietly and seeing everything.
Typical here are the shops full of cosmetics, spices, and herbs, many of which also have medicinal properties. In addition, you will of course also find argan oil, carpets, leather bags, wooden souvenirs, and pottery, … If you want to cook yourself, you can also buy the ingredients very cheaply in the souks.
Watch the sunset from the ancient city wall, Skala de la Ville
To protect the city against invaders, these walls were built in the 18th and 19th centuries. You can take a nice walk on this rampart, where the cannons are still standing.
Enjoy the view over the ocean while the gulls fly close to your head and you sit quietly on the walls, especially at sunset; a beautiful moment.
Tasting fish at the fish market
Of course, Essaouira is known for eating fish. Of course you can go to one of the many restaurants for a delicious fish dish, but the stalls at the fish market are more fun.
Just next to the medina is this fish market where the local fishermen trade their fresh fish. You will also find some food stalls, with simple tables where you can choose your own fish and have it freshly prepared. They have also shrimp or lobster. Lovely!
TIP: Not sure which food stall to choose? Look where it's busy and many locals are, that's the place to be!
Stroll through the authentic fishing port of Porte de la Marine
The lively and authentic harbor is located just outside the medina and the city walls, at Skala du Port. You will certainly not forget a walk through this harbor. It affects all your senses! Everywhere there is something to see, to smell and you can also taste the delicious fresh fish.
The typical small blue, wooden boats are also a feast for the eyes. Together with the large fishing boats, they sail throughout the day in and out of the harbor and deliver fresh fish.
Be sure to come during the day when you can see the fishermen bringing in the fresh fish. Part of it is then traded in the port and the rest is sold at the fish market just next to the medina.
Visit the Skala du Port
Skala du Port is a historic fortress with a recognizable tower. In addition to the many cannons, you also have a beautiful view of Essaouira and the sea from the fort. You see the fishing port with its authentic blue boats, the minarets in the medina, and the island of Île de Mogador.
TIP: To visit Skala du Port you have to pay an entrance fee, which is quite a lot (especially with a family). However, you also have a nice view of the fort from the fishing port.
Go to one of the trendy bars and restaurants
In Essaouira, there is no shortage of hip, fun places to eat or drink something. In addition, you will of course also find a lot of really local Moroccan restaurants. Here are some of our favorite addresses.
Mandala Society is a great little restaurant, run by a Moroccan-Icelandic couple. A creatively decorated place with delicious (especially cold) dishes! They also have a restaurant in Marrakech.
If you would like to eat Italian, we can recommend Silvestro. We went there for dinner for our youngest daughter's birthday and it was delicious. They also serve alcohol.
Taros Café is a nice bar in the medina with a beautiful roof terrace overlooking the sea and the harbor. In the evenings there are also live performances. Keep in mind that it is not accessible to children.
If you want to sit on the beach, the beach bar Ocean Vagabond is also recommended. This bar (and hotel) is located almost at the end of the beach, so it is a bit of a walk from the medina. You can also take (wind)surf and kite lessons or rent equipment.
The beaches of Essaouira
Essaouira is known for its long sandy beach, Plage Tagharte. At low tide you can walk for miles or ride a horse on the beach. But sunbathing and swimming are not always easy.
Often, out of the blue, a very strong wind or fog can arise, making it no longer pleasant to lie on the beach.
Also pay attention to swimming because the strong wind and current can be dangerous, especially for children. Only swim in the zones that are marked and always follow the guidelines of the locals.
The beaches of Essaouira are loved by the locals for their fine sand. They like to come here to play football, eat together, … Dress appropriately on the beach, and, as a woman, do not wear a bikini here. If you have a hotel with a swimming pool, you can of course do that there.
Romantic walk on the beach at sunset
Since the coast of Essaouira is oriented to the west, you can enjoy beautiful sunsets here. As we said before, it is nice to view it from the city walls.
But a long, romantic walk on the beach is also wonderful, even if the wind is blowing a bit. At low tide, you can walk for miles along the beach, along the dune area.
Horseback riding or walking with camels on the beach
Don't feel like walking? Then you can also choose to ride with a horse or camel. Again extra beautiful at sunset.
There are men along the beach with horses and camels, but of course, you don't know how they are treated here. A nice alternative is Ranch Aftass, with a Moroccan – Flemish couple. They have well-groomed horses, suitable for beginners and advanced riders. If you prefer camels, we can recommend this fun one-hour camel ride, where the animals are also well cared for.
Surfing, windsurfing or kitesurfing
They also call Essaouira 'The windy city of Africa'. It can therefore be very windy, the paradise for windsurfing and kitesurfing.
You can also surf in Essaouira (the waves are best in winter), although the waves can be fierce due to the wind and currents. As a novice surfer, it is therefore better not to venture into the waves alone, but we recommend that you take surfing lessons. The advantage is that there are no rocks in the water.
At 25 km from Essaouira lies the village of Sidi Kaouki, which is known for its perfect surfing beaches. You can also enjoy surfing in Imsouane (2 hours away) (both beginners and advanced surfers). That is where we took our courses!
Read More: Imsouane: surfing, beaches and enjoying the sunset.
Along the beach of Essaouira, you will find several places where you can rent equipment for windsurfing, kitesurfing, or just surfing. This is the case at Ocean Vagebond, among others, and they also offer lessons. After exercising you can have a nice drink in the beach bar.
Game of Thrones in Essaouira
Are you a fan of Game of Thrones? Then you will probably recognize several places in the city from the third season (episodes 1, 3 and 4).
Essaouira was used for the scenes of the city of Astapor, where the Unsullied live. Filming mainly took place on the city walls (Skala de la Ville) and on the fortress Skala du Port, the view from the harbor. You can visit both for free.
Where to stay in Essaouira: our favorite addresses
Although there are a lot of affordable and beautiful apartments to book along the beach, we still recommend that you spend the night in the medina. This way you can really immerse yourself in the Moroccan culture and atmosphere.
We stayed at the affordable Musta's Apartments in a family apartment with a roof terrace. The rooms are authentic but also decorated with a modern touch. In addition, the owner and his mother (who lives above) are very friendly. Ze maakten zelfs een overheerlijke tajine voor de verjaardag van onze dochter. They also organize cooking classes.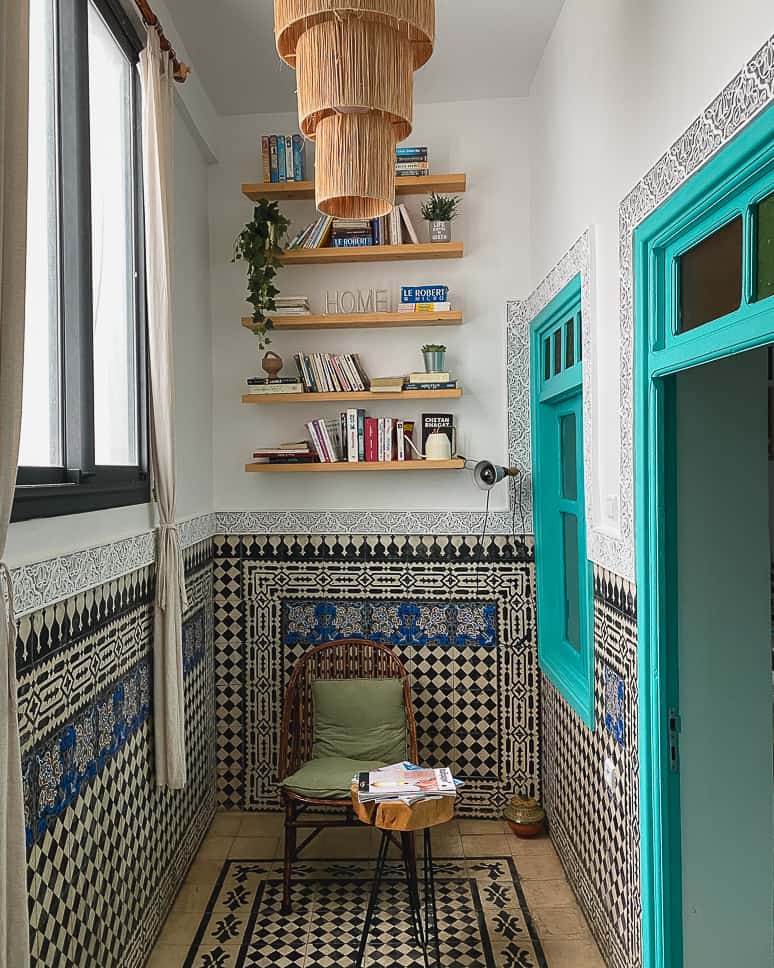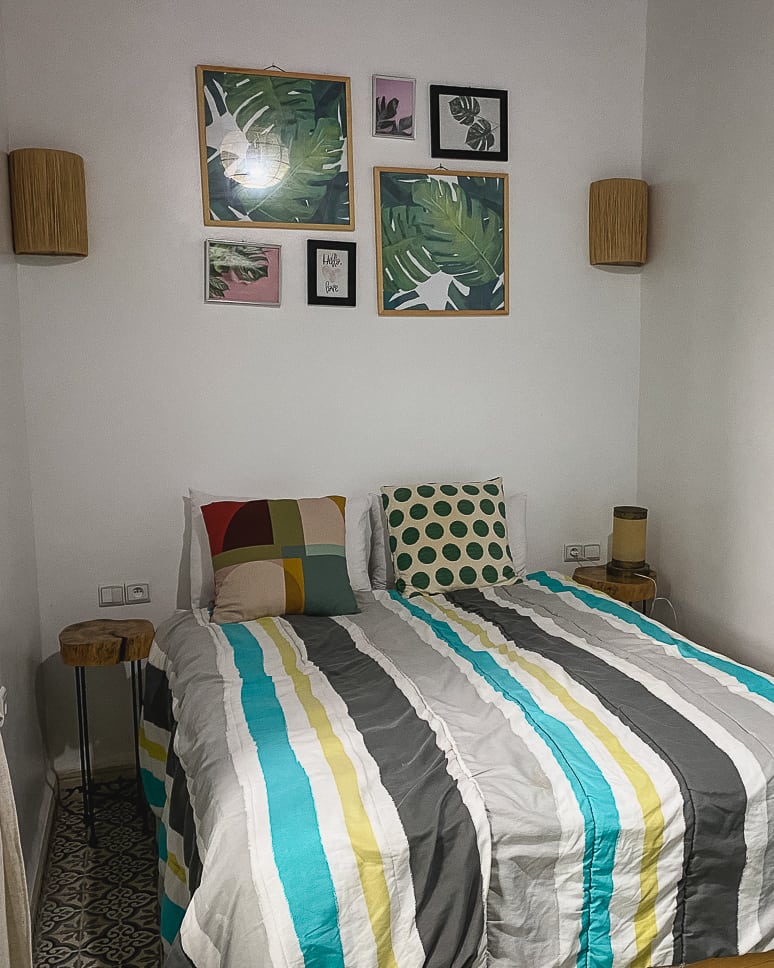 Some other highlights (slightly more expensive) in the medina of Essaouira are Chems Blue (with a beautiful view over the beach and the harbor) and the beautifully decorated Dar Liouba (the former home of the imam).
Would you like a swimming pool or a jacuzzi? Then we can recommend Riad Chbanate (with jacuzzi) and Suite Azur Hotel (with swimming pool) in the medina. Dar Zinzin is a top address outside the center.
Extra tips for a city trip to Essaouira
When is the best time to visit Essaouira?
The best season to come to Essaouira is spring and autumn as in all Morocco. It is then not so busy with pleasant (less warm) temperatures. Keep in mind that you have a higher chance of rain (just like in winter).
In the summer it is usually above 30 degrees in Essaouira and it remains largely dry. Since it is on the coast, it is still a lot more pleasant here than inland. Also a nice period to come, although you have to take into account the large crowds. Many Moroccans then visit this city to find some cooling.
How to get to Essaouira
Essaouira is easiest to reach from Marrakech or from Agadir.
Are you traveling through Morocco? Then you probably rented a car (we rented ours from SunnyCars). By car, it is about 2.5 hours from Marrakech and 3 hours from Agadir. We came from Imsouane (to surf) and then it is a short 2-hour drive to Essaouira.
You can also easily take the bus from Marrakech to Essaouira. There are several buses per day by Supratours and CTM bus. Another option is by bus from Agadir to Essaouira, but there is only 1 per day.
You can also choose to do a day trip to Essaouira from Marrakech or from Agadir, although we really recommend that you stay here a little longer if you have enough time.
And with that, we have given you all our tips for a trip to Essaouira in Morocco. If you have any questions or comments, feel free to let us know.
Have fun traveling!
Save to Pinterest for later.
Our other articles about Morocco may also interest you
What to do in Essaouira: the medina, the beaches and Game of thrones