This post may contain affiliate links. If you make a purchase through one of these links, we may receive a commission at no extra cost to you. Please read our affiliate disclosure and privacy policy for more information
Imperial cities in Morocco: which are they + 7-day itinerary
In this article, we immerse you in the fascinating world of the four legendary imperial cities in Morocco! These are Marrakech, Fez, Meknes, and Rabat. Each of these cities has a historic medina, surrounded by ancient walls.
The easiest way to explore these cities is by renting a car. You can find more information in our article with tips about renting a car in Morocco. We usually rent a car from Sunny Cars. Everything is included (such as insurance, and assistance) and you don't have to worry about the fine print.
Would you rather not rent a car? You can also go by bus or train. The connections between major cities are quite good. On this website about public transport between the royal cities in Morocco, you can find more information.
Finally, you can also choose to arrange private transport or even organized tours (such as this 8-day tour to the imperial cities and the Sahara desert in Morocco) if you prefer to outsource all the organization.
Are you wondering what you should pack and wear for your trip to Morocco? All tips for the right clothes and even a full packing list can be found in our article on what to wear and pack for Morocco.
Fez: an imperial city full of history and culture
Fez is the oldest imperial city in Morocco and we liked it. You will find one of the largest car-free urban areas in the world, the medina of Fez el-Bali. The city has a rich history of more than 1000 years and is considered one of the most important cultural centers of North Africa.
In the medina of Fez, you end up in a real labyrinth. Shops, artisans, riads, and some beautiful religious buildings ensure that you still need a few days to explore this mysterious and enchanting medina.
TIP: If you don't have much time, we recommend that you hire a guide. He will take you to the most important sights in Fez. So you don't need to be afraid to get lost. The advantage is that you will not be bothered by others.
What should you definitely see in Fez?
Visit one of the Koranic schools: Madrasa Bou Inania or Madrasa Al-Attarine. These madrasas are known for their beautiful architecture, carvings, and tiling. Go early in the morning to avoid the tourists.
Go to the Chouara tannery: this is the best-known and largest to visit. You will undoubtedly recognize it from the photos. Try looking for Store #10. That should be the best view, the location can be found on maps.me.
Walk under the blue gate (Bab Boujloud). You can find these here. This is the most famous gate of Fez and perhaps the most beautiful entrance to the medina and souks.
Read more: there is of course much more to see in Fez. You can find more information about Fez in our extensive article with what to do in Fez, sights, and tips.
Spend the night in one of the beautiful Riads in Fez
Looking for a nice riad to spend the night? We stayed at Riad Alassala, a beautiful riad in the medina of Fez. Spacious rooms, a delicious breakfast, and a super friendly staff made for a fantastic and memorable stay in Fez.
Other fantastic stays in the medina are Riad Tizwa (not far from Bab Boujloud), Riad Sidrat (along one of the high streets), Riad Salam Fes (with swimming pool), Dar Roumana (beautiful view over the city) and the luxurious La Maison Maure (a more modern-Moroccan interior).
Looking for something else to stay in? There is still a wide range of accommodations in Fez for all preferences and budgets.
Marrakech: an imperial city full of color and chaos
Marrakech is undoubtedly the most famous royal city in Morocco. It is a bustling city that never sleeps. Locals squabble over prices in the bustling souk, while snake charmers play their flutes in Djemaa-El-Fna square.
In Marrakech, you will find fantastic sights such as palaces, mosques, beautiful gardens, and cozy squares. In addition, there are wonderful Moroccan restaurants. But the real magic lies in getting lost in the small streets and being amazed by all the scenes you encounter.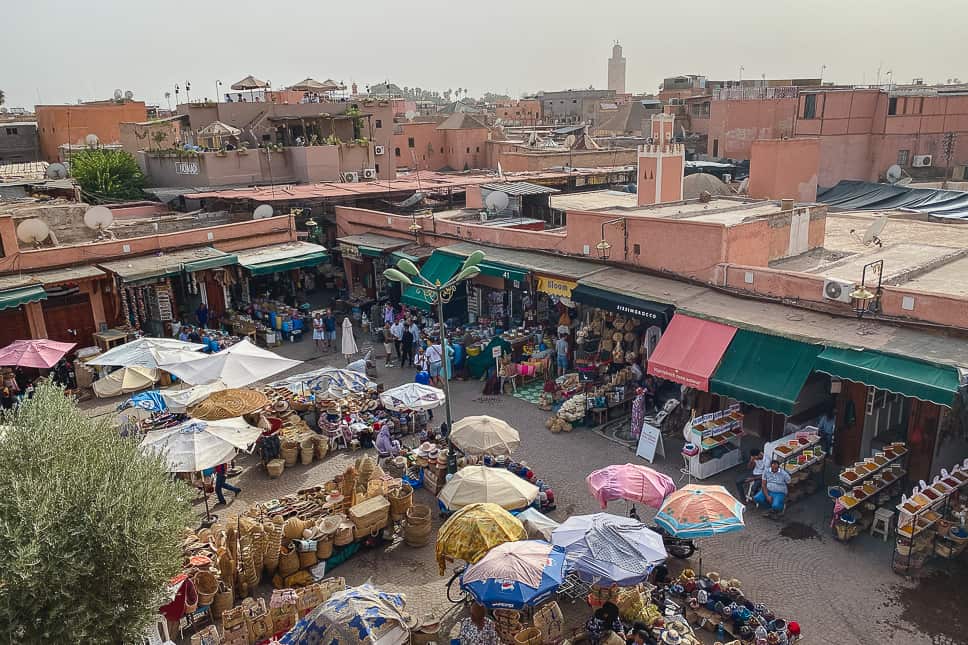 What are the best things to see in Marrakech?
The magical Djemaa-El-Fna square: snake charmers, theater performances, stalls, … There is something to see everywhere. But watch out for pickpockets, unfortunately, there are also.
TIP: Do you want cheap but good food? Then come to this bustling square and eat at one of the many food stalls. Cheap, local and delicious! And also quite an experience.
Visit the beautiful Madrasa Ben Youssef: an ancient Quranic school with beautiful architecture.
Let yourself be enchanted by the beautiful gardens just outside the center, Le Jardin Majorelle. The garden is best known because none other than Yves Saint Laurent spent his last years here. Book your tickets in advance to avoid long queues.
Discover the Bahia Palace, once the residence of the mighty sultan.
Have a drink on one of the many roof terraces, such as Café des Epices.
Read more: In addition to these highlights, there is a lot more to experience in Marrakech. Read our in-depth article on what to do in Marrakech.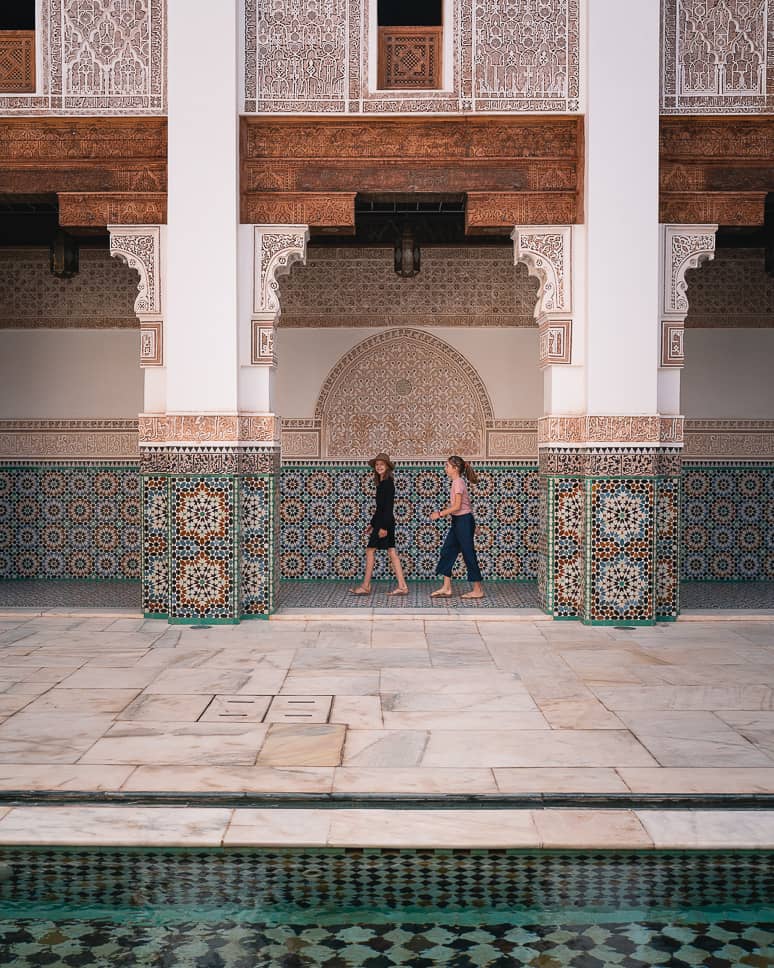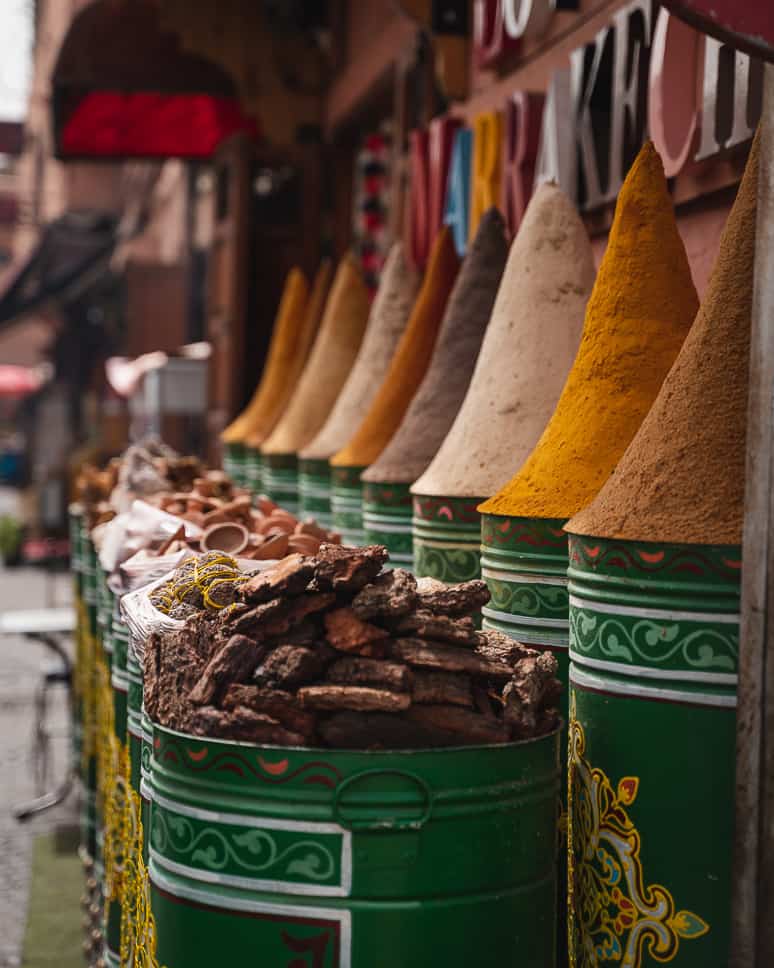 Spend the night in Morocco
TIP: It is best to spend the night in the medina in Marrakech. This way you are close to everything and you can enjoy the atmosphere in this lively part of the city.
We stayed in the luxurious Dar Justo. There is a beautiful swimming pool, a restaurant on the roof and they even have their own hammam, Le Bail Blue.
Other riads worth checking out are Riad Tizwa, Riad l'Oiseau du Paradis and Riad Sakkan.
Read more: still looking for something else? We wrote a full article with the nicest riads in Marrakech.
Meknes: an imperial city with an unforgettable experience
Meknes is a beautiful historic city in Morocco with many fun things to do and see.
Of course, the medina of Meknes is again the biggest attraction. The Old Town of Meknes is a UNESCO World Heritage Site. Just like in the other royal cities of Morocco, you can get lost in the narrow streets and explore the lively markets.
What to visit in Meknes?
Bab Mansour: this gate is the most famous and impressive of Meknes and was built in the 18th century.
Heri es-Souani: a former grain warehouse that served as a storage place for the king's horses. It has impressive underground chambers and an ingenious ventilation system.
Dar Jamai Museum: this museum is a former palace that now serves as a museum of Moroccan arts and crafts. There are several rooms with ceramics, textiles, and other art objects.
Moulay Ismail Mausoleum: an important shrine in Meknes. It is the tomb of the infamous sultan Moulay Ismail, who ruled Morocco in the 17th century.
Where can you stay in Meknes?
Riad Yacout: a beautiful riad with a great view of the old town. The hotel has a traditional Moroccan decor and features a beautiful swimming pool and a restaurant serving delicious Moroccan dishes.
Hotel Transatlantique Meknes: a hotel with an elegant appearance and comfortable rooms with modern amenities. The hotel also features a beautiful outdoor pool, a gym, and a restaurant serving international cuisine.
Palais Didi: this hotel is perfectly located in the heart of the old town and offers a beautiful view of the surroundings. The hotel also has a courtyard with a swimming pool and a nice garden.
Riad Zahraa: this beautiful riad with a traditional Moroccan decor features a peaceful courtyard with a swimming pool and a restaurant serving Moroccan cuisine.
Rabat: an imperial city full of surprises
Rabat, the capital of Morocco, is a beautiful city full of history and culture and also one of the royal cities. It is a nice city and a mix of modern Morocco with old historical buildings.
Like every capital city, the new part has every conceivable, modern shops, administrative authorities, and trendy neighborhoods. In addition, you also have the old medina, which, like the other royal cities, is more chaotic, mysterious, and enchanting.
What should you definitely see in Rabat?
Kasbah of the Udayas: a 12th-century fortress listed as a UNESCO World Heritage Site. It offers a beautiful view of the ocean and has charming streets with white houses and blue doors.
Hassan-toren: a 12th-century minaret belonging to a mosque that was never completed. It is one of Rabat's most iconic landmarks and offers panoramic views of the city.
Mausoleum of Mohammed V: This is the burial place of the former King of Morocco and his two sons. It is an impressive building with beautiful mosaics and lots of marble.
Chellah: an ancient Roman city and later a Muslim cemetery. It has ruins, old walls and towers, and a beautiful garden.
Mohammed VI Museum of Modern and Contemporary Art: This museum has an extensive collection of modern and contemporary art by Moroccan and international artists.
Oudaïa-museum: set in a beautifully restored palace with an interesting take on the history and culture of Morocco.
Jardin d'Essais Botaniques: a beautiful botanical garden with rare plants and trees from all over the world.
Where can you stay in Rabat in Morocco?
There is no shortage of hotels in Rabat. Of course, a lot depends on your budget and your preferences. We give you some suggestions.
La Tour Hassan Palace: this hotel has beautiful architecture and an excellent location in the heart of the city, next to the Hassan Tower. It features luxurious rooms, an outdoor pool, a spa, and several restaurants and bars.
Villa Mandarine: a charming boutique hotel in a quiet area of ​​Rabat with a beautiful garden and swimming pool. The rooms are decorated in a traditional Moroccan style and offer great comfort and privacy.
Sofitel Rabat Jardin des Roses: this five-star hotel offers luxurious accommodations and facilities, including an outdoor swimming pool, spa, tennis courts, and several restaurants. It is set in 17 hectares of beautiful gardens with stunning views of the city.
Riad Kalaa 2: a charming riad in the medina of Rabat offering an authentic Moroccan experience. The rooms are beautifully decorated and there is an incredible roof terrace with a view of the city.
Le Diwan Rabat: Located in the center of Rabat, this modernly designed hotel offers comfortable rooms and excellent facilities, including a spa, gym, and restaurant. It is ideally located for exploring the city and its attractions.
Imperial Cities Morocco 7-day tour: Fez – Meknes – Rabat – Marrakech
We have put together a 7-day itinerary for you along the four royal cities of Morocco. We also pass Casablanca where you can visit the Hassan II mosque.
Day 1: Arrival in Fes.
Explore the old medina of Fez, a UNESCO World Heritage Site. Visit the famous tanneries and stroll through the narrow streets lined with craft workshops and shops.
Visit the Bou Inania Medersa and the Al-Attarine Medersa, two beautiful examples of Islamic architecture.
Stayed overnight for 2 nights in Fes.
Day 2: Fes
Visit the Royal Palace, the Mellah Jewish Quarter, and the Nejjarine Museum of Wood Arts and Crafts. Enjoy Moroccan cuisine and nightlife in the city.
Day 3: Meknes
Depart for Meknes and visit the old medina, the Mausoleum of Moulay Ismail, the gates of Bab Mansour and the Dar Jamai museum.
Stay 1 night in Meknes
Day 4: Rabat
Drive to Rabat and visit the Hassan Tower, the Kasbah des Oudaias, the Chellah Necropolis, and the Old Medina.
Stay here for 1 night in a hotel or a riad.
Day 5: Casablanca and Marrakech
Visit the Hassan II Mosque in Casablanca before continuing to Marrakech, arriving in the late afternoon. Explore the medina of Marrakech and visit the world-famous Djemaa el Fna Square and the Koutoubia Mosque.
Stay 2 nights in Marrakech.
Day 6: Marrakech
Visit the Bahia Palace, the Saadian Tombs, and the Ben Youssef Madrasa. Stroll through the Majorelle Botanical Gardens and admire the colorful architecture. In the evening you can attend a traditional dinner with Moroccan music and dance in a local riad.
Day 7: Departure
Finish your 7-day tour of Morocco's imperial cities with the souks of Marrakech and shop for souvenirs and handicrafts before returning to the airport for your departure.
This is of course an example route that you can fully adapt to your personal preferences. For example, you can also arrive in another city, depending on the prices of the plane tickets.
Read more: in addition to this tour, we also have an "Itinerary for 10 days in Morocco" and an "Itinerary for 7 days in Morocco".
Hopefully, we have been able to inspire you to visit the royal cities in Morocco. If you have any comments or questions, let us know below this article.
Save this article for later on Pinterest
Our other articles about Morocco that may interest you
Explore the beautiful imperial cities of Morocco