This post may contain affiliate links. If you make a purchase through one of these links, we may receive a commission at no extra cost to you. Please read our affiliate disclosure and privacy policy for more information
Are you planning a road trip to Tuscany in Italy? We have put together a fantastic itinerary for 10 days in Tuscany, based on our experiences from several visits and the best activities you can do there.
Tuscany is one of our favorite regions, located in central Italy, and we have been there several times. It is known for its picturesque landscapes, medieval towns, and world-renowned cuisine.
From the rolling hills of Chianti to the stunning coastline of the Tyrrhenian Sea, a road trip through Tuscany is a journey that will leave you with unforgettable memories.
Read more: Our family road trip packing list
We wrote this itinerary based on traveling around by (rental) car. If you don't want to drive, you could also base yourself in Florence and Siena (they are well connected by train), and take organized tours from there to the other highlights.
This 10-day Tuscany itinerary starts and ends in beautiful Florence (so you can follow it both ways). Do you have less than 10 days? You can easily leave out some of the highlights. Mix and match to create your perfect itinerary!
Planning your road trip to Tuscany
When you're planning a road trip to Tuscany, there are several important factors to consider and keep in mind.
What is the best time to visit Tuscany?
Tuscany is a popular destination year-round, so the best time to visit depends on your preferences.
The peak tourist season is from June to August when the weather is warm and sunny. However, this also means larger crowds and higher prices. And sometimes it gets really hot.
In our opinion, spring (April to May) or fall (September to October) is the best time for this 10-day Tuscany itinerary, with milder weather, fewer tourists (although still quite a lot), and somewhat lower prices.
The last time we went to Tuscany was in September. The weather was perfect (not too hot), and we could easily find parking spots everywhere.
TIP: Winter is also a good option for those who don't mind cooler temperatures. There will be considerably fewer tourists and prices will be lower.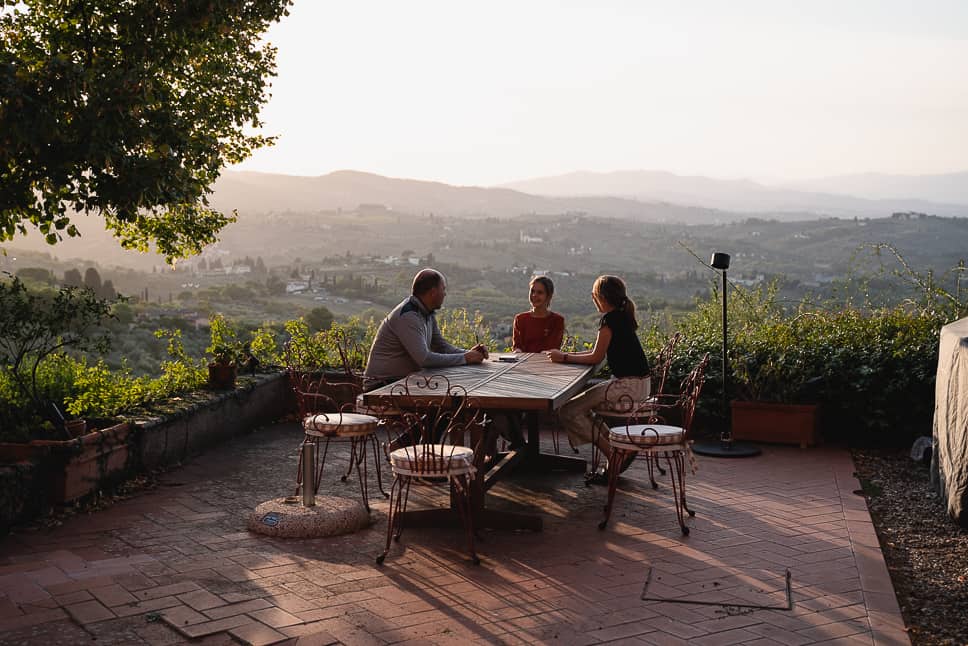 How to get to Tuscany?
Unless you are from Europe or already traveling in Italy, it will be easiest to fly to Tuscany. If you're looking for flight tickets, you can choose to fly to Florence.
TIP: Flying to Pisa can be cheaper. Pisa has a larger airport and is also located on this Tuscany itinerary. If you do fly to Pisa, just start and end there and switch the days of this 10-day itinerary around.
You can compare different plane tickets on Skyscanner.
If you are traveling through Europe, you could also consider traveling by train to Tuscany. It is pretty easy to get around with big connections from Florence to Milan, Venice, France, Switzerland, and Austria.
Budgeting for your trip
Tuscany can be an expensive destination, but there are ways to keep costs under control.
One of the biggest expenses for a Tuscany road trip is transportation, so renting a car is a good option for those who want to explore the region independently.
You can also travel by train between the major cities such as Pisa, Florence, Siena, Lucca, … However, keep in mind that it is more difficult to visit the small towns that way. You could book private tours to visit those more remote places.
Accommodation in Tuscany can be pricey, especially in the major cities and during high season, so consider staying in smaller towns or agriturismos (farm stays) for a more authentic or affordable experience. Check the prices for accommodations in time and book well ahead.
Food and drinks are generally affordable, especially if you stick to local specialties and avoid tourist traps.
TIP: Don't go to the main square for lunch or dinner, but find a local trattoria or osteria in one of the less popular streets. They will have the best food and be way more affordable.
Last but not least, you can also decide to camp in Tuscany to save money. We stayed in hotels, apartments, and in our campervan and loved all of it.
Read more: Check our van life articles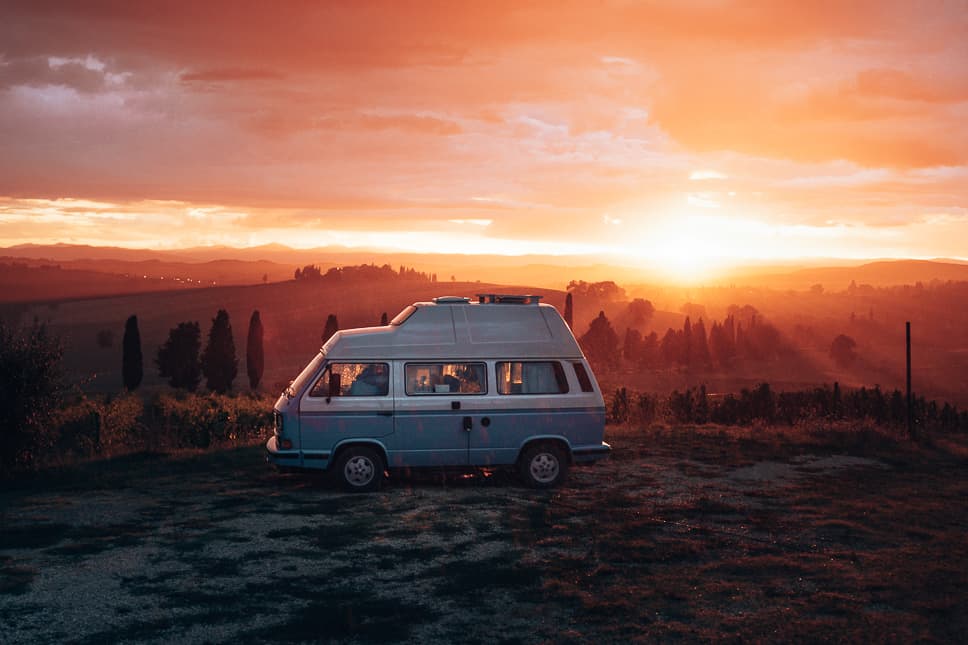 Renting a car in Tuscany
Renting a car in Italy can be a bit of a challenge or chaotic, but it's worth it for the freedom and flexibility it provides.
Make sure you have an international driver's license, a credit card in your name, and a valid passport. You also need to be at least 21 years old (with some companies requiring drivers to be 25 or older).
When you arrive at Florence Airport, take the shuttle to the rental company buildings. They are all located 5 minutes from the airport. You can arrange all the papers in the offices there and collect the car.
TIP: Always check in advance where you can park when you drive to one of the destinations. There are many ZTL areas (zones of restricted circulation) in the cities and you are often not allowed to enter these with your rental car.
We have put together a fun travel bundle with all kinds of games and fun facts with the theme of Italy for children from 7 to 14 years old. You can buy the Italy activity pack on Etsy.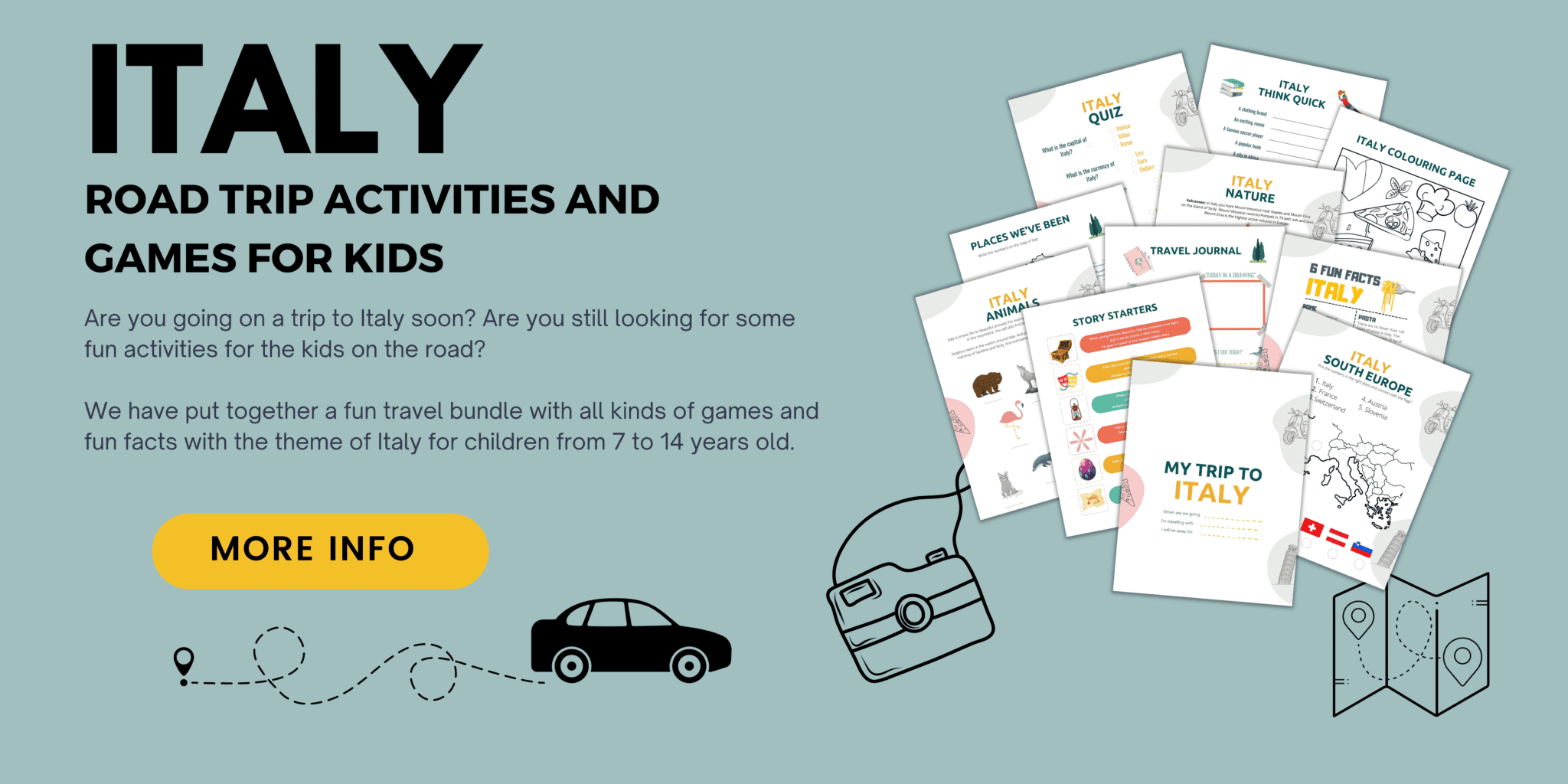 Be aware that driving in Italy can be chaotic, with narrow roads, aggressive drivers, and confusing signage. However, if you stay calm and don't drive too quickly, there is nothing to worry about.
Also, on some main roads, you have to pay a toll.
How many days do you need to explore Tuscany by car?
Although you could visit the main cities in 3-5 days (if you rush through them), we recommend you stay at least one week to 10 days in Tuscany.
If you have one week, you'll be able to discover a bit more of the countryside.
However, we hope you can stay longer. In this Tuscany 10-day itinerary, you can really enjoy and dive deep into what Tuscany has to offer.
As mentioned before, you can mix and match this Tuscany itinerary to adapt it completely to your liking or available days.
Our 10-day Tuscany road trip itinerary
Planning a Tuscan road trip can be challenging, but with the right itinerary, you can make the most of your time in this beautiful region of Italy.
In this 10-day itinerary, we listed our favorite places that you should not miss during your road trip to Tuscany. Do you have less time? Skip a few of the villages in between.
Day 1-2: Florence
When you fly into Tuscany, you will probably start your trip in the capital of Tuscany, Florence. It is one of the most beautiful cities of Italy and there is no way you can miss this gem in any Tuscany itinerary.
We advise you to stay in Florence for at least one full day (more if possible). You can choose to do that at the beginning or end of your 10-day Tuscany itinerary.
TIP: From Florence airport it is easy to go to the city center (take tram 2). If you want to save money and avoid parking problems, pick up your car at the airport on the second day. Renting a car in the city center will be more expensive.
What to do in Florence
During your first two days in Tuscany, immerse yourself in the history and beauty of Florence.
Begin your trip by visiting the iconic Cattedrale di Santa Maria del Fiore (Duomo), climb to the top of the Campanile di Giotto for an unbeatable view of the city, and explore the Baptistery of San Giovanni.
Take a leisurely stroll across the Ponte Vecchio, a medieval stone bridge known for its shops and views of the Arno River. Art lovers should spend time at the famous Uffizi Gallery where you can admire masterpieces by Botticelli, Leonardo da Vinci, and Michelangelo.
For some fresh air and beautiful panoramas, head over to the Piazzale Michelangelo (perfect for a sunset view over Florence) and the adjacent Rose Garden. Don't miss the Palazzo Vecchio and the stunning piazza that surrounds it, the Piazza della Signoria.
TIP: Do you have limited time in Florence? Book your entrance tickets ahead so you can skip the lines and save time.
Where to sleep in Florence
After a long day of sightseeing, get a well-deserved rest in one of these recommended accommodations:
Budget option: Hostel Archi Rossi – This centrally located hostel offers dorms and private rooms at affordable rates. Make use of their free Wi-Fi and relax in the comfortable common areas.
Mid-range option: Globus Urban Hotel – Just a short walk from the Duomo, Hotel Globus provides modern rooms, complimentary breakfast, and friendly staff.
Luxury option: Hotel Brunelleschi – Indulge in the elegance of this 4-star hotel, which boasts a prime location near the Duomo, upscale interiors, and amenities like a fitness center and fine dining restaurant.
Day 3: Florence – Pistoia – Lucca
Today, you will travel from Florence to the charming towns of Pistoia and Lucca, both rich in history, art, and culture.
From Florence, it's a 1-hour drive to Pistoia. From Pistoia to Lucca it's about 50 minutes.
What to do in Pistoia
Pistoia is a lovely, but lesser-known town in Tuscany. It has some of the Florence vibes but without the tourists.
The best thing to do is park your car outside the walls in Pistoia. Free parking is available at Parcheggio Cellini or Parcheggio Pertini.
In Pistoia, start your day by visiting Piazza del Duomo, a picturesque square boasting the beautiful Cathedral of San Zeno and the Baptistery of San Giovanni in Corte. It is possible to climb the bell tower. Don't miss the Ospedale del Ceppo, a historic hospital with a striking facade adorned with colorful glazed terracotta frieze.
You can also arrange a private walk in Pistoia which takes about 3h.
Have lunch in Taverna Gargantuà before you drive to Lucca. This restaurant serves delicious food and is located close to the Piazza della Sella.
TIP: Finding accommodation in Florence can be very expensive, especially for a family. Instead, you could stay here in Pistoia. It is only a 40-min train ride (€5) to the center of Florence but way cheaper. We stayed in this beautiful, central apartment for 4 people with a terrace overlooking an old church.
What to do in Lucca
Next, make your way to Lucca, a well-preserved medieval town surrounded by ancient walls. We love Lucca, it is one of our favorite towns in Tuscany.
Again, park your car outside the city walls as it is cheaper and easier. On this website, you'll find more info about parking your car in Lucca. We parked our car at Parcheggio Carducci, located just outside the walls close to the beautiful Saint Paolino gate.
Walk or rent a bike to explore Lucca's City Walls, which provide a panoramic view of the town below. Visit St. Martin's Cathedral to admire its Romanesque architecture and the stunning Ilaria del Carretto tomb. Wander through the narrow streets and relax in the charming Piazza dell'Anfiteatro.
You can have dinner in Osteria Miranda. A local place with delicious food. Or you can have pizza at Pizzeria Da Felice, in the heart of the city center. We had a delicious pizza at the Pizzeria K2 restaurant close to the Piazza dell'Anfiteatro.
Where to sleep in Lucca
After a long day of exploring, rest your head at one of Lucca's cozy accommodations:
Day 4: Lucca – Pisa – Volterra
On day 4 of our 10-day road trip through Tuscany, we'll visit one of the most famous things to see in Tuscany, the Leaning Tower of Pisa.
However, don't limit your visit to the tower. Take your time to explore more of Pisa.
What to do in Pisa
In the morning, set out from Lucca to Pisa. The drive will take approximately 30 minutes.
Once in Pisa, your primary destination will be the iconic Leaning Tower of Pisa where you can capture some memorable photos. Don't miss the opportunity to climb the tower and enjoy the view.
TIP: The number of people who are allowed to climb the tower are limited. If you want to experience this unique activity, book your ticket well ahead.
Also, next to the tower, visit the Pisa Cathedral, the Baptistery, and the Camposanto, a monumental cemetery, all of which showcase incredible architecture. End your visit with a stroll towards the Arno River.
You can have lunch close to the tower in Kistè Restaurant or like we did at We Love Pasta, next to the Baths of Nero. Order your pasta (7-12€) and wait outside on the terrace. They will call your number when it's ready. Easy, affordable and the food is delicious.
Read more: What to do in Pisa: highlights and hidden gems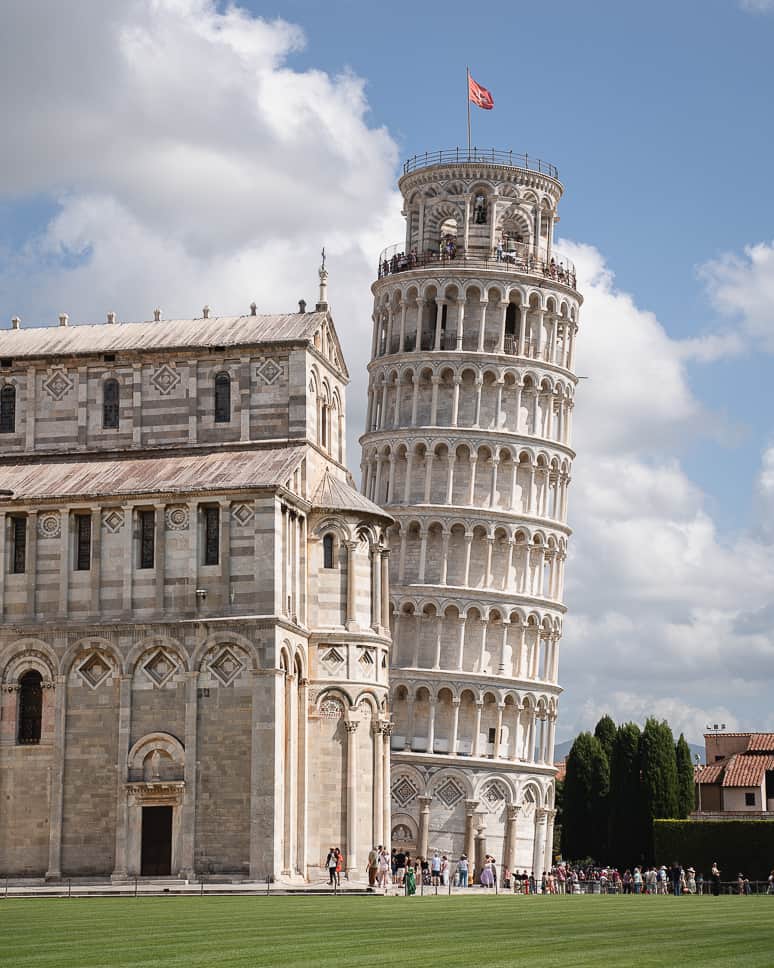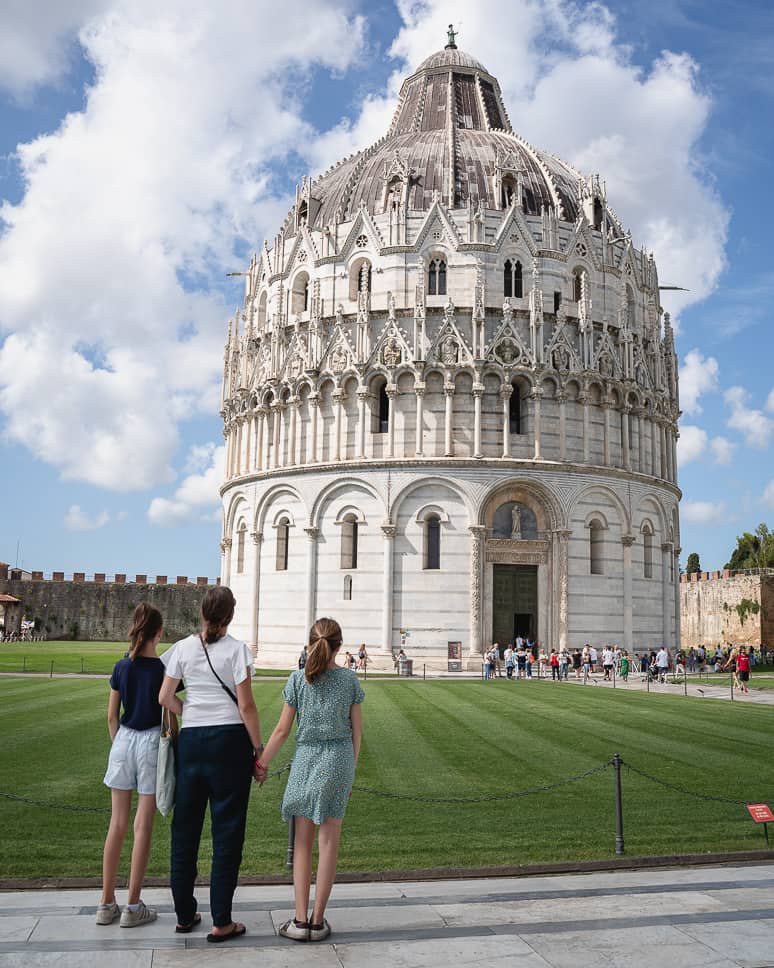 What to do in Volterra
After spending a few hours exploring Pisa, drive to Volterra, which is roughly 1h 30m away. The drive takes you through the beautiful Tuscan countryside.
Volterra is a small, picturesque town rich in Etruscan and Roman history. Start by visiting the Etruscan Museum, which houses a collection of artifacts dating back to the 8th century BC.
Next, head to the Roman Theatre, an impressive ancient structure that still hosts events today. You can buy tickets that give you access to all sites.
Take a leisurely stroll around Volterra's historic center, and admire its stunning buildings like the Palazzo dei Priori, the Piazza dei Priori, and the Duomo, known for its beautiful facade.
The Porta all' Arco is an old Etruscan gate from where you have a nice view of the surroundings and the center of Volterra.
Volterra is also the city of Alabaster, a mineral used for carvings composed of calcium carbonate. There are some nice shops with beautiful carvings.
And what do you think about a truffle hunting experience in the hills of Volterra? You will walk around the woods with trained dogs and a guide to find truffles. Or maybe a cooking class is more your thing?
Volterra has a lovely vibe in the evening. So take your time to enjoy dinner here.
We had a pizza at Pizzeria Da Nanni, a local place and very affordable with friendly owners. But there are a lot of restaurants for fine dining such as LifeBistrot, a plant-based restaurant.
Where to sleep in Volterra
While in Volterra, you have a variety of accommodation options. Some of the top places to rest for the night include:
Day 5: Volterra – San Gimignano – Siena
Start your day in Volterra with breakfast before we leave for San Gimignano. It's about 40min with the car.
You will drive past the birthplace of the world-famous singer Andrea Bocelli, Lajatico. There you will find the Teatro del Silenzio where many performances are given and Bocelli himself performs once a year.
What to do in San Gimignano
San Gimignano is a UNESCO World Heritage site famous for its impressive medieval towers. It can get busy here, so we advise you to come in the morning.
Take your time to admire the striking skyline, and enjoy a refreshing gelato in the picturesque Piazza della Cisterna or Piazza del Duomo.
TIP: On the Piazza della Cisterna, you will find one of the best gelateria in Italy, Gelateria Dondoli, two times world champion.
Although this town is touristy, we loved walking around here. This is what you imagine Tuscany to be.
The views over the surrounding countryside with its rolling hills and cypress trees, are worth the visit alone. Go to the Torre Grossa and to the Rocca di Montestaffoli these amazing views.
After lunch, you can have a vineyard and cellar tour with a wine tasting before heading to Siena, a historical city known for its picturesque streets, art, and wine.
You can choose to visit some attractions in Siena in the afternoon or evening. Or you take it easy and visit them the next day as we stay in Siena on day 6.
Where to sleep in Siena
Budget:
Luxury:
Agriturismo:
Day 6: Siena
What to do in Siena
Start your day by visiting the Piazza del Campo, the main square in Siena, which is home to several historical landmarks.
While sipping your morning coffee in one of the cafes, enjoy the view of the iconic Palazzo Pubblico and Torre del Mangia. You can climb the 400 steps of the tower for a breathtaking view of the city.
Next, head to the majestic Siena Cathedral, an architectural gem that's adorned with intricate carvings and stunning frescoes. Allow yourself some time to explore the cathedral's interior, including the Piccolomini Library and the Baptistry.
Take a leisurely stroll along the narrow streets and explore the many local shops, souvenirs, and art galleries.
Don't forget to treat your taste buds to some delicious local Tuscan cuisine for lunch.
In the evening, enrich your cultural experience by visiting the Museo dell'Opera del Duomo, which boasts an incredible collection of sculptures, paintings, and other art pieces.
TIP: With this ticket, you have entrance to all highlights in Siena.
Where to sleep in Siena
Day 7: Siena – Montalcino – Pienza
Today, on the 7th day of this 10-day Tuscany itinerary we'll head south from Siena to explore the charming towns of Montalcino and Pienza (1h drive).
Your journey will take you through the picturesque hills of Tuscany and the famous Val D'Orcia. This is one of our favorite regions in Tuscany.
What to do in Montalcino
Start your day in Montalcino, a medieval village perched atop a hill, offering stunning views of the surrounding vineyards. Spend a few hours wandering its cobblestone streets, visiting the historical sites, including the 14th-century fortress, Rocca di Montalcino.
Don't forget to sample the town's world-famous wine, Brunello di Montalcino, at one of the many wine shops or cellars. Or you can do some wine tasting in the surrounding vineyards in Montalcino.
What to do in Pienza
In the afternoon, make your way to Pienza, another picturesque village with UNESCO World Heritage status for its historic center.
Explore the enchanting Piazza Pio II, with its beautifully preserved Renaissance buildings, including the Palazzo Piccolomini and Pienza Cathedral. A good place for dinner in Pienza is La Buca di Enea.
Take your time to wander around and take it all in. Don't rush through it. This is as good as it gets, living 'la dolce vita' in Tuscany!
You can buy tickets for the Palazzo Piccolomini and the Palazzo Borgia online.
TIP: Try some Pecorino cheese, the town's signature food. "Pecorino" simply means sheep in Italian. You can smell the cheese everywhere in Pienza.
Where to sleep in Pienza
There are several charming accommodations in Pienza, catering to different preferences and budgets. Here are three recommendations to consider for your stay:
After a pleasant night's sleep in Pienza, you'll be ready to embark on day eight of your Tuscany road trip itinerary.
Day 8: Pienza – Val d'Orcia – Montepulciano
Today we're spending an entire day in Val d'Orcia. It's the most picturesque area of Tuscany and is completely protected by UNESCO.
Distances aren't long, it's only a 25-minute drive from Pienza to Montepulciano. So take your time to discover the best of this region.
TIP: Definitely take the SP146 from Pienza to Montepulciano. It is one of the most picturesque and scenic drives in Tuscany, just like you imagined.
What to do in Val d'Orcia
Begin your day with breakfast in Pienza. Afterward, make your way towards Val d'Orcia, known for its rolling hills and beautiful landscapes.
TIP: Some famous shots from the Gladiator movie were filmed in the neighborhood of Pienza and San Quirico d'Orcia. More info about the exact locations of the Gladiator can be found here.
In Val d'Orcia, you can:
Not traveling by car? Book a day trip from Siena that takes you through Val d'Orcia to Pienza and Montepulciano. And it comes with a wine-tasting.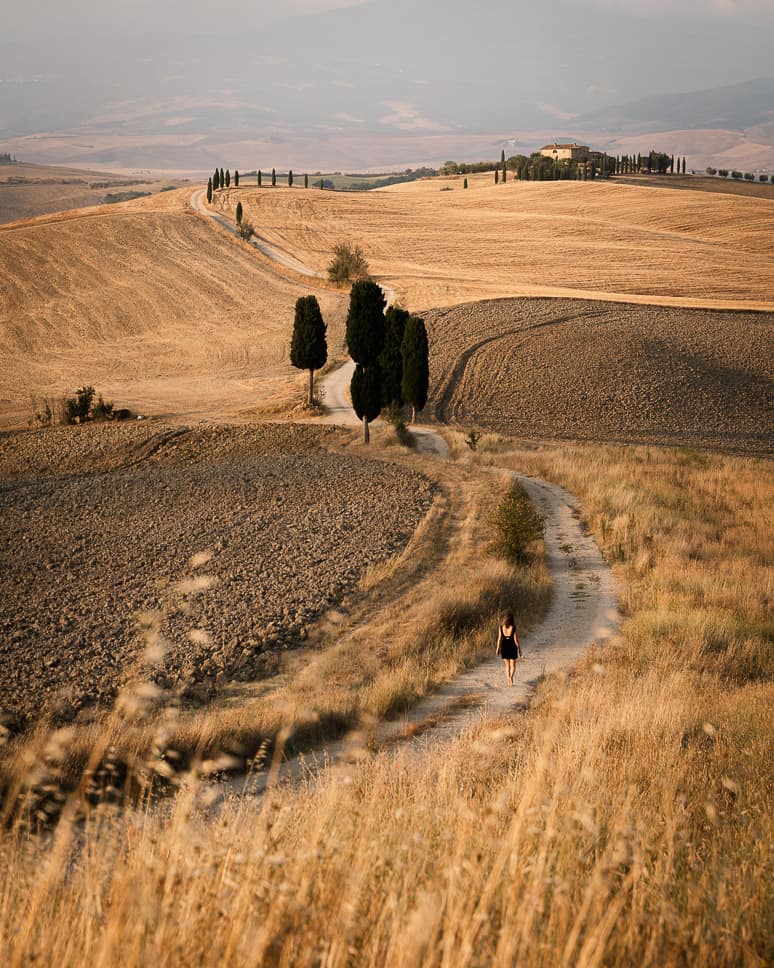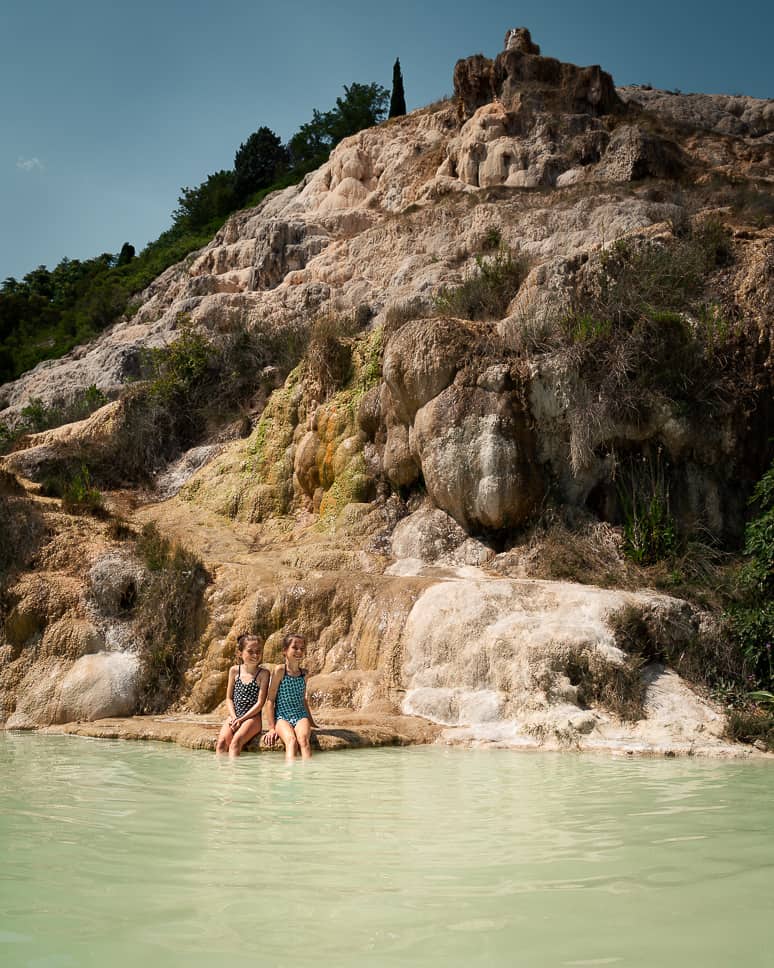 What to do in Montepulciano
Next, head to Montepulciano, lying on top of a hill, famous for its wine, architecture, and beautiful views of the valley below.
Again, take your time to stroll around this beautiful medieval town. Have a gelato, a pizza, or an Aperol Spritz while enjoying the beautiful views and soaking in the Tuscan sun.
In Montepulciano, you can:
Where to sleep in Montepulciano
Montepulciano offers a variety of accommodations to suit your preferences.
Day 9: Montepulciano – Arezzo
On day 9 of these 10 days in Tuscany, you will travel from Montepulciano to Arezzo.
This vibrant city in eastern Tuscany has a rich history. The drive to Arezzo is about 1h. On your way to Arezzo, you can also visit Cortona.
What to do in Cortona
Piazza della Republica is the main square of this beautiful Tuscan town, surrounded by buildings dating back to the 13th century. Among them are a well-preserved town hall, clock tower, and former palace.
This lively piazza is the heart of the town, where locals frequently gather, catch up with each other, and visit their favorite shops.
Check this beautiful article about what to do in Cortona with the best things to do for more information.
What to do in Arezzo
After you have visited Cortona you can drive to Arezzo. Start by visiting the Piazza Grande, the heart of the city. This historic square is surrounded by impressive medieval buildings, perfect for admiring and photographing.
Next, head to the Basilica di San Francesco to admire the beautiful frescoes by Piero della Francesca, a famous Italian painter of the Early Renaissance.
For shopping enthusiasts, the main street of Corso Italia offers a wide range of shops and boutiques.
You can have a guided tour of 2 hours in Arezzo so you won't miss anything.
Where to sleep in Arezzo
When it's time to rest, there are numerous accommodation options to choose from in Arezzo. Here are some suggestions for a good night's sleep:
Day 10: Arezzo – Florence
On the final day of your Tuscany road trip itinerary, you will drive from Arezzo to the stunning city of Florence. This journey should take approximately 1 hour and 15 minutes, covering a distance of about 80 kilometers.
Depending on your first day in Florence you can still visit some attractions or go shopping for some unique souvenirs to bring back home.
We have come to the end of our 10-day Tuscany itinerary. We hope it has inspired you to explore this amazing region in Italy and that you will love it as much as we do! If you have any questions or remarks, let us know in the comments!
Save this on Pinterest for later
Other articles that might interest you
Tuscany road trip: the perfect 10-day Tuscany Itinerary