This post may contain affiliate links. If you make a purchase through one of these links, we may receive a commission at no extra cost to you. Please read our affiliate disclosure and privacy policy for more information
Best things to do in Pisa (in one day)
Almost everybody has heard of the Leaning Tower of Pisa. It is one of the world's most known buildings and you have to visit it to actually believe how tilted it is.
And while you are there, have some fun taking those very cliché but hilarious pictures of yourself leaning against the tower, holding it in your hand, … Or just watching others trying to is equally as enjoyable.
But the Tower of Pisa shouldn't be the only reason why you come to Pisa. There are many more architectural wonders and typical Italian vibes to admire in this Italian historic city.
We think one day is enough to discover Pisa. However, if you want to stay longer, Pisa can also be a great starting point for other day trips or tours. It is very easy to get around by foot. If you'd like to explore a bit further, you could also rent a bicycle.
In this article, we'll give you an overview of what to do in Pisa and why you should include Pisa in your Tuscany road trip itinerary, including some of our best tips for your visit.
Is Pisa worth visiting?
Some people claim you shouldn't come to Pisa because there's not much to see besides the overcrowded leaning tower. In our opinion, this is partially true.
Pisa is probably not the most beautiful city in Italy and there can be many, many people when you visit the tower. However, we totally think Pisa is worth visiting!
Why? Well, first of all, the tower is one of those things you simply have to see. But there are many more astonishing buildings surrounding the tower.
And the city of Pisa definitely has the Italian vibe, with delicious gelatos, nice shops, and terraces where you can enjoy an aperitif or pizza after a day of sightseeing. You can even do a Pisa food tour or cooking class.
Last but not least, Pisa also has a very affordable and big airport. If you want to fly into Tuscany, chances are the cheapest flight tickets will be to Pisa. So you might as well visit the city then.
Read more: a 10-day Tuscany itinerary road trip
What to do in Pisa + our best tips
The Leaning Tower of Pisa
We have to, obviously, start with the famous Leaning Tower of Pisa. It is a unique architectural wonder and one of the must-sees in Italy.
TIP: If you want to avoid the huge crowds, visit the tower in the early morning. There still will be people around, but much less than a few hours later.
Built as a freestanding bell tower, the singular medieval structure combines Gothic and Romanesque elements that contribute to its charm.
Constructed of white marble, the tower began leaning due to an unstable foundation, which only increased its mystique. The building started in 1173, and after a few floors, it already started to tilt. The tower was finished in 1372, but over the centuries kept leaning over more and more.
From 1990 – 2001, the tower was closed because they had to renovate it in order to correct the angle (it was getting too dangerous). They could have completely put him straight but didn't want to because of the appeal to tourists of a leaning tower.
Can you climb the Leaning Tower of Pisa?
One distinctive feature is the spiral staircase that leads visitors to the top. So yes, you can climb the Tower of Pisa.

If you just want to walk around it, you don't have to pay anything. But if you want to go to the top, you do need a ticket. From the tower, you have a beautiful view of the Cathedral and the Piazza Dei Miracoli.
TIP: There are only a limited amount of people per half an hour allowed on the tower. If you want to avoid that all the slots are full or if you want to skip the long cue, it is best to order your tickets in advance. These are usually in combination with a visit to the inside cathedral.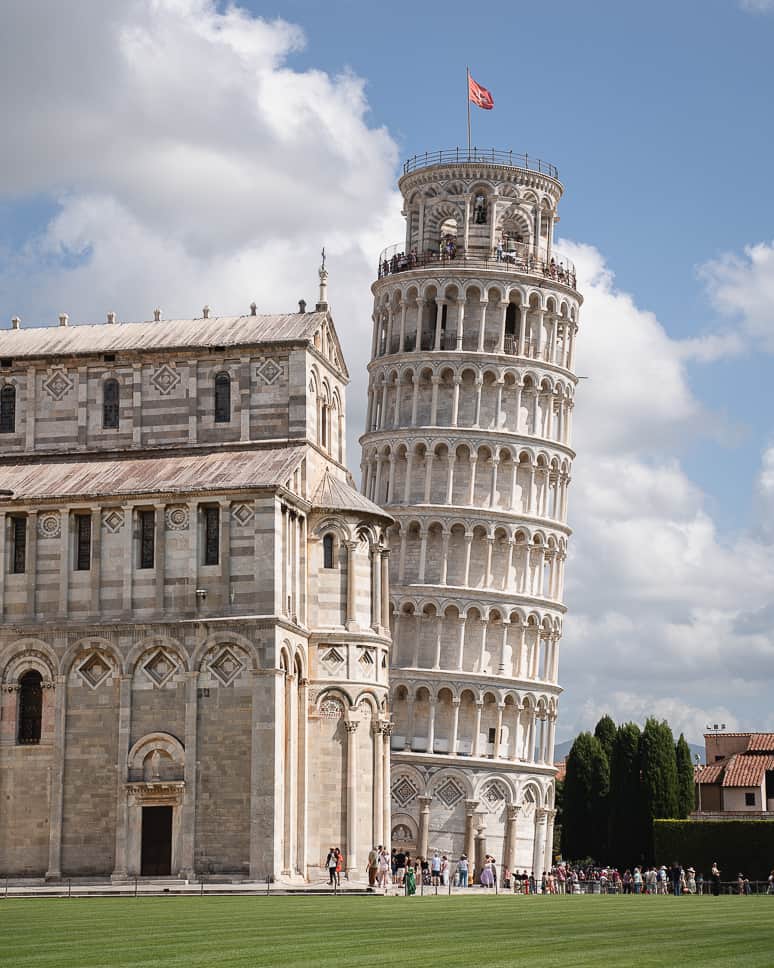 The Piazza Dei Miracoli
The Piazza Dei Miracoli is home to the Leaning Tower of Pisa, the Cathedral, the Baptistery, and the Camposanto. You don't need a ticket to walk around here and see these iconic buildings.
The whole site is UNESCO world heritage. All the monuments are surrounded by beautiful grass, and it's a nice place just to sit down and watch the structures and the people trying to get them in the picture.
TIP: If you want to learn more about the highlights of Pisa and its history, go on a free walking tour with a local. If you liked the tour, you can tip your guide whatever you want.
Magnificent Cathedral of Pisa
The Cathedral of Pisa, also known as the Cathedral of Santa Maria Assunta, is the centerpiece of the Piazza Dei Miracoli. This magnificent structure showcases Romanesque architecture with bronze doors and an impressive apse.
Some people are so distracted by the tower, that they just walk right past it. But it is a stunning building in itself with its white marble shining in the sun and deserves a bit of your time.
When you enter the cathedral, you will be captivated by the beautiful mosaic adorning the apse, which is a testament to the mastery of its creators, Nicola Pisano and Giovanni Pisano.
The entrance to the Cathedral is included with the ticket for climbing the Leaning Tower of Pisa.
TIP: Do you want to see all of this from a different angle? Go for a walk on the Pisa city walls, some of the best preserved in Italy. The main entrance is at the Torre di Santa Maria.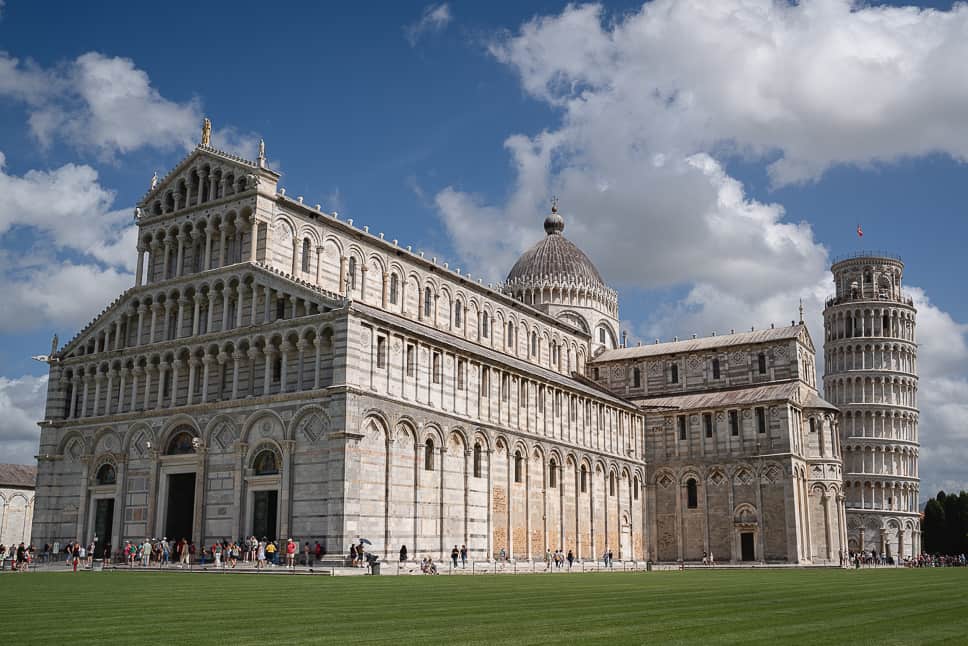 The Holy Camposanto
The Camposanto, referred to as the "holy field," is another highly-regarded site in the Piazza Dei Miracoli. Often called the Campo Santo or Campo Dei Miracoli, this ancient cemetery is surrounded by a beautiful cloister featuring stunning frescoes that depict various scenes from the Bible.
The historical significance of the Camposanto is evident in the sacred soil that fills the cemetery, which was believed to have been brought from the Holy Land during the Crusades. Some very famous people are buried here, such as Fibonacci (from the Fibonacci sequence you've probably learned about at school).
Impressive Baptistery
Next to the Cathedral of Pisa is the Battistero San Giovanni. This beautiful baptistery is the biggest one in the world. It is 54m high and has an impressive dome.

The circular construction has three levels, with each representing a specific period in history. The lower level showcases Romanesque-style architecture while the upper levels reflect Gothic elements. It took them almost 200 years to build it.
You can also enter the baptistery. The inside is a little bit less impressive than the facade, but from the rooftop, you have a stunning view over the leaning tower and the cathedral.
TIP: When you go up, look for the window that faces the cathedral and tower for one of the best views and photo spots around here.
By the way, did you know that the baptistery is also tilted? It leans over just like the tower, but not as much obviously.
Read more: The best travel photography gear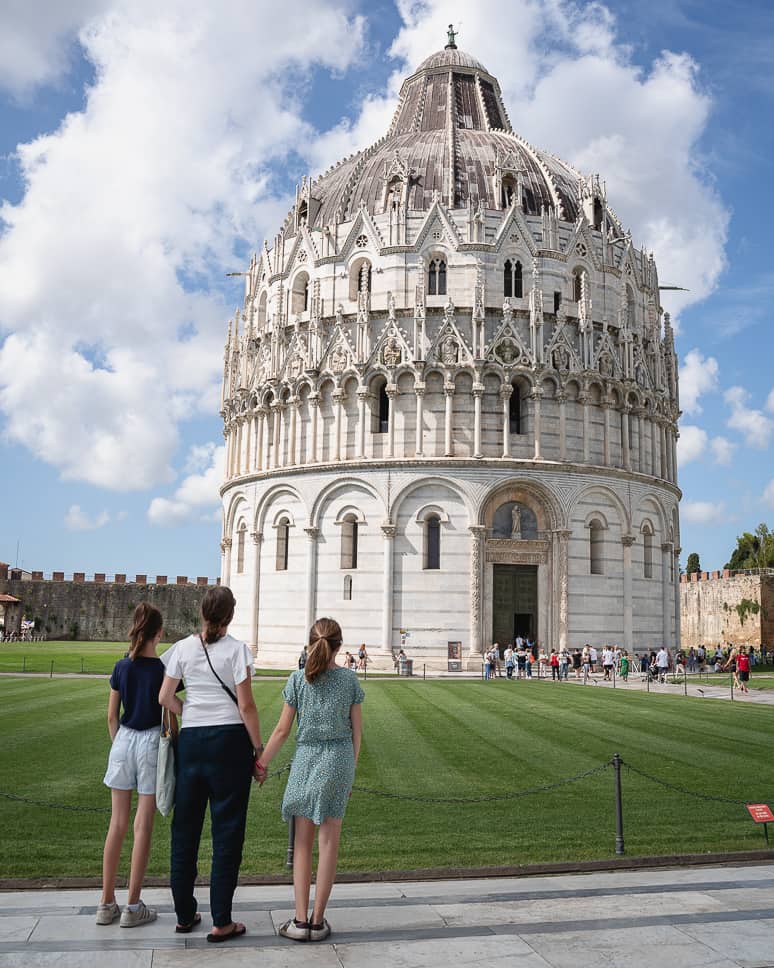 Museo Nazionale di San Matteo
The Museo Nazionale di San Matteo is another one of the best things to do when visiting Pisa. This museum houses a vast collection of sculptures, paintings, and manuscripts, showcasing the rich artistic heritage of the region.
Here are a few highlights to look forward to in the Museo Nazionale di San Matteo:
Medieval sculptures and paintings
Works by incredible masters such as Giovanni and Nicola Pisano
An extensive collection of illuminated manuscripts
Chiesa di Santa Maria della Spina
From the Ponte Solferino, you have a beautiful view of the Arno River and the beautiful church Santa Maria della Spina. In the background, you can also see the Apuan Alps.
The church was built in 1230 and has undergone a lot of renovations because it is so close to the river. You can marvel at the stunning Madonna of the Rose by Andrea and Nino Pisano, as well as other original furnishings that remain in the church.
You will pass it when you walk from the train station towards the Leaning Tower of Pisa. Definitely worth a look, just because of its unique setting along the river.
Galileo Galilei
No visit to Pisa would be complete without acknowledging the impact of Galileo Galilei. He was an important figure born in Pisa and made significant contributions to the fields of astronomy, physics, and the development of scientific methods.
While exploring the city, you'll notice how Galileo's story has been woven into the fabric of Pisa's history.
A notable example is the Keith Haring Mural titled "Tuttomondo," which pays tribute to Galileo. This large-scale mural captures the creative spirit of the city and recognizes Galileo's role in shaping our understanding of the world.
Take a Pisa food tour or cooking class
Are you an Italian food lover? Then you don't want to miss this food tour. You'll have the opportunity to eat the best Tuscany has to offer, together with a local who will take you to the most popular eateries and gelaterias in town.
Or maybe you'd rather learn how to cook the food by yourself? You can also book a cooking class where you'll learn how to make Italian pasta and a delicious dessert such as tiramisu. And you won't leave with an empty stomach, obviously.
Borgo Stretto
Pisa is not just about the famous Leaning Tower. The Borgo Stretto is a picturesque street that dates back to the Middle Ages.
It is lined with elegant shops and cafes, perfect for a leisurely stroll or shopping spree. Look around every corner and go to some of the beautiful squares to discover some of the hidden gems.
Piazza dei Cavalieri
The Piazza dei Cavalieri, also known as Knights' Square, is a historic square, once the political center of Pisa during the Middle Ages. Today, it is home to many important buildings, including the Palazzo della Carovana, which houses the Scuola Normale Superiore di Pisa.
The square is just a fun place to hang out and watch all the people go by. In the center, you can also admire the stunning statue of Cosimo I de Medici.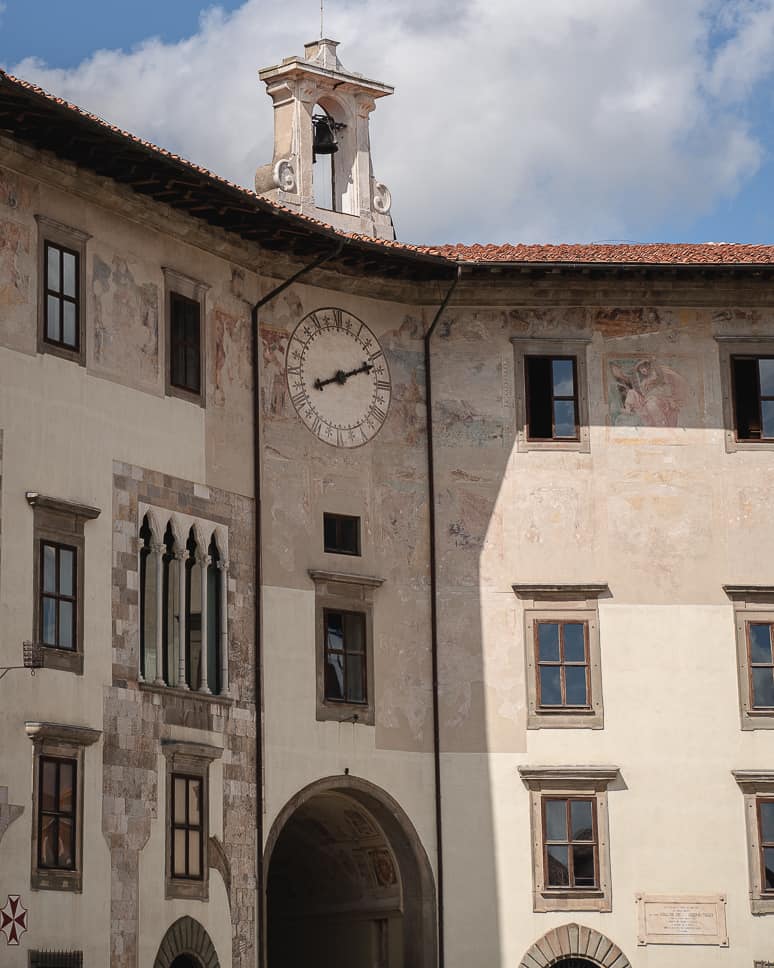 Orto e Museo Botanico and Parco di Bosco
The Orto Botanico di Pisa, or Botanical Garden of Pisa, is a hidden gem in the heart of Pisa. Founded in 1543, it is one of the oldest botanical gardens in Europe and has a rich history of scientific research and discovery.
You can explore the garden's extensive collection of plants and trees, including rare and exotic species from around the world. In the museum, you can find botanical specimens, scientific instruments, and some historical artifacts.
Another great place to go for a relaxing picnic after a busy day is the Parco Don Bosco. Here you can also find remains of old Roman structures.
Best places to eat in Pisa
I bet you'll be hungry after visiting all of these highlights and hidden gems in Pisa. Fortunately, there are a lot of nice restaurants in Pisa and, of course, amazing gelaterias as well. Here are some of our favorites.
We Love Pasta: if you are looking for very affordable but delicious pasta, come to this restaurant. No fancy plates or settings, but friendly service and good food. What more do you need?
Il Peperoncino: they have some of the best food in town! And if that isn't enough, the owner is also the most friendly guy, talking to everyone.
Trattoria Sant'Omobono: a place the locals love with authentic food and a great atmosphere.
Vegan Come Koala: for vegan lovers, head over to this place for a delicious vegan sandwich.
Pasticceria Dolcepisa: this restaurant also has some good vegan and gluten-free options.
La Bottega del Gelato: if you love the real Italian gelato, this is where you need to come.
TIP: If you don't want to run into a tourist trap, try to stay away from the restaurants that are close to the Leaning Tower. They are overpriced and usually don't have the best food. Wander off into the smaller streets and squares to grab a delicious and more affordable meal.
Best places to stay in Pisa
There are a few districts where you can stay. If it is your first time in Pisa, it is nice to stay in the Santa Maria neighborhood. It is closest to all the famous things to do in Pisa.
However, if you want the cheaper options, look at the Sant'Antonio neighborhood, around the train station. It is still a short walk from all the major highlights, but you'll pay less.
Here are some of our favorite places to stay in Pisa.
Budget:
Hostel Pisa Tower: This hostel is located just a few minutes from the famous Leaning Tower of Pisa and offers affordable dormitory-style accommodations.
Check other affordable hostels below.
Mid-range:
Rinascimento Bed & Breakfast: this beautiful and traditionally styled hotel, is located perfectly in the center of town. Add the friendly owners and lovely eye for detail to that, and you'll have a great stay here.
La Lu Cosy Rooms: a charming B&B with beautiful and affordable rooms, perfect for couples or friends. You can have a delicious breakfast in the morning before you visit Pisa (only a short walk away).
Hotel Bologna: this lovely hotel is located in the heart of Pisa's historic center and offers comfortable rooms with traditional decor. They also have rooms for families and breakfast is included.
High-end:
The Rif – Boutique Hotel: a stunning boutique hotel with refined rooms (also for families), located near all the major highlights. The hotel also offers a parking lot in the back.
How to get to Pisa
There are many different ways to reach Pisa. As mentioned before, if you are flying to Tuscany, chances are rather high that you will arrive in Pisa.
Pisa International Airport is the biggest airport in the area and usually has the cheapest flight tickets. From the airport, you can easily rent a car to start your Tuscany road trip.
If you are traveling by train, get off at Pisa Central Station. Pisa is also connected to all major cities in Italy. You can easily buy tickets at any train station.
TIP: Do you only want to visit Pisa for one day? You can leave your bags at Stow your bags for the day.
Are you doing a Tuscan road trip? Then you're probably arriving in Pisa by car. There are many parking areas you can use. Check this article for free and paid parking lots in Pisa.
That's a wrap! We hope this article was helpful and that you are excited to visit Pisa. If you have any more questions or if you want to share your experience, let us know in the comments.
Save this article for later on Pinterest
Other articles that might interest you