This post may contain affiliate links. If you make a purchase through one of these links, we may receive a commission at no extra cost to you. Please read our affiliate disclosure and privacy policy for more information
During our Italy road trip with our VW T3 Bus, we took a detour to Procida, a small island off the coast of Naples. Although we love to sleep in our van, we found a far better alternative on the island. We stayed at Procida Camp Resort, one of the finest glamping resorts in Italy.
Why you should go to Procida Island
Procida is still reasonably unknown to the big crowds. It's a true gem, lying only one hour away of Naples by ferry. Forget about its famous neighbours Capri and Ischia! This is where you need to be if you look for authenticity and a taste of the real Italian island life!
We spend four days on the island, staying at Procida Camp Resort. As Procida is quite small, we got to explore every corner of the island and loved every minute of it.
Wandering around its colourful streets, watching the fishermen repair their nets, spending the afternoon on the beach and having a delicious dinner in one of its restaurants. Procida island has it all!
Glamping in Italy: our stay at Procida Camp Resort
Arriving at Procida Camp Resort
The streets on Procida are small and there are plenty of busses, scooters and bikes on the island. So after leaving our bus behind, we took the ferry from Naples to Procida and arrived at Porto Marina di Procida or the Marina Grande, as they call it.
We immediately got a nice taste of what the island had in store for us. The colourful pastel houses and little terraces looked very inviting. But there was another surprise waiting on the quay… The staff of Procida Camp Resort came to pick us up with their green vintage VW jeep. The kids were over to moon! A very stylish way to make our first ride on the island.
After a pleasant drive, we arrived at the glamping resort. Procida Camp Resort is located in the heart of the island, close to shops, restaurants, the beach and all the highlights. When we drove behind the white walls, the beautiful secret garden and amazing glamping tents and lodges revealed themselves.
Choose between a safari tent, airstream caravan, Nordisk village tent or garden suite
As a family, we have camped a lot but never tried out glamping in Europe before. Being able to experience luxury camping in Italy, is a dream coming true. Even more so, because at Procida Camp Resort, you can choose between different types of glamping.
They offer the traditional (African inspired) safari lodge, the vintage Airstream glamping caravan, the stylish Scandinavian Nordisk village tent and the garden suite, in the lovely Procida island style. All of these are suitable for families! It was a hard choice, but in the end, we went for a stay at the safari tent.
We loved every minute of our stay. In our safari tent, we had two bedrooms, a kitchen and outside sitting area. Together with our private bathroom, outside shower and beautiful garden surrounding us, all the glamping essentials were right there. Nothing more we could ask for.
In the morning, breakfast was served by the friendly staff. During the day, there are many restaurants to choose from, but as we also like to cook ourselves, we soon tested out our own kitchen. No problem to buy your ingredients, there are many grocery shops just outside of the resort.
There is only one thing left for us to do… We'll have to come back to experience one of the other glamping sites! I think we'll choice the Airstream then.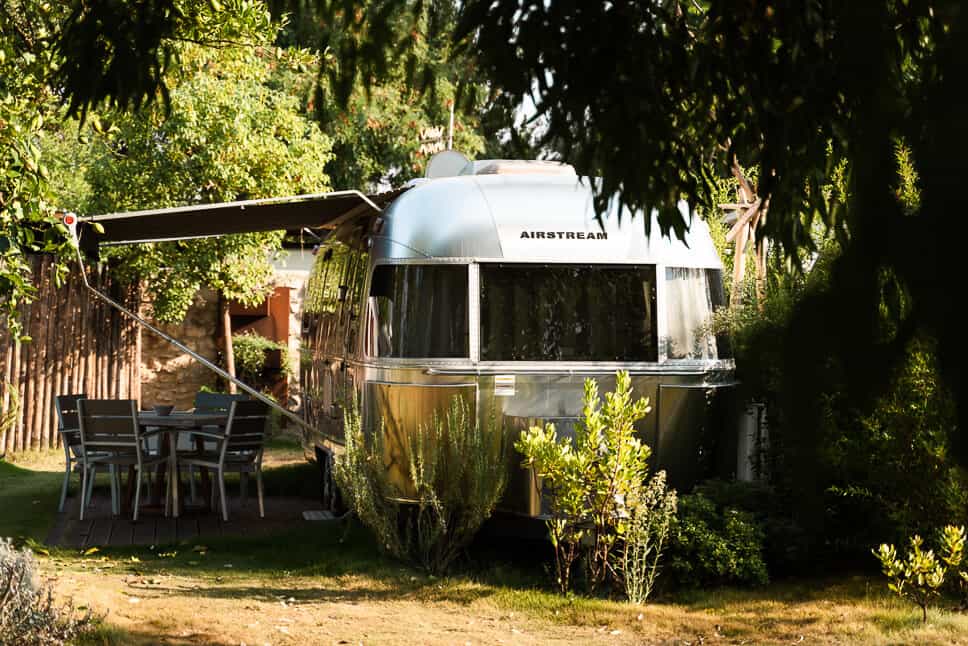 The garden
We're big lovers of nature. And we have to say, the island of Procida is beautiful, but mainly for its villages, people and the sea. You don't come here for big parks. Procida Camp Resort, however, is an exception. Their garden, hidden from the street behind white walls, is truly breathtaking!
Mediterranean herbs, flowers, landscaped paths, secret corners, an Airstream bar and then the pool, of course! We adored the garden as much as our tent. It's a peaceful place, where you can have a swim, enjoy a drink or even work if you are a digital nomad like we are. But most of all, it's a place to relax!
Activities and services around the campground and island
Although we could have spent all of our time at Procida Camp Resort, we also wanted to explore the island, of course. It is possible to take a public bus or rent a scooter, but Procida Camp Resort offers another fun option. They offer e-bikes, with backseats for kids.
It was our first e-bike experience and we had a blast! Being able to go wherever we wanted, whenever we wanted, suited our family perfectly! We used our bikes during the full length of our stay. And we were very glad they were electric! Although Procida doesn't really have mountains, there are some very steep streets.
We already miss riding around the colourful streets, looking over the amazing viewpoints, spotting vintage Vespa scooters and Fiat 500's and pull over for a cosy terrace.
At the resort, you can also arrange a yoga session or a boat tour around the island or to nearby islands. We didn't try this out, but are sure this will be an amazing experience. Another reason to come back some day.
Glamping with kids
Romantic glamping breaks are often the only kind of glamping that is promoted. Understandably, luxury camping in a breathtaking, romantic environment is fantastic for couples. But so it is for families.
As we said before, our family loves to camp. But no denying, it's a lot of hassle as well. Which is why family glamping offers the perfect combination! A sense of luxury but still the charm of camping.
Therefore, we were so happy to discover that Procida Camp Resort also offers glamping for kids, giving families with (young) kids the opportunity to enjoy the benefits of glamping as well. The combination of regular beds, a normal table, more space, the beautiful garden and the pool, make this resort ideal for families who want to enjoy the kids' glamping experience!
Our final thoughts on Procida Camp Resort
At Procida Camp Resort, they have thought about every little detail, incorporating the best glamping ideas. The combination of luxury camping, the lush garden and its location, perfect for exploring Procida island, make this an experience you can't miss if you're visiting this part of Italy.
We enjoyed every minute of our stay. From now on, we're a glamping family too! If there is one negative thing to say, it would be that Procida is quite busy with locals driving everywhere around the island. Which means there can be noise from the streets during the evening and night. If you're a light sleeper, you might want to bring earplugs or choose to sleep behind the walls of the Airstream or garden suite.
But don't let this hold you back! Truly, you'll have the time of your life! The staff is so friendly, the drinks that are offered taste amazing, the garden is perfect, the pool relaxing and your accommodation will blow your mind! Furthermore, we can definitely recommend to rent those e-bikes and let the island surprise you.
Thank you Procida Camp Resort! We hope to come back some day!
Although our stay at Procida Camp Resort was gifted, this article expresses our own opinion, as always.
Share on Pinterest
Save this article for later or share it with your friends by clicking here or on the picture.