This post may contain affiliate links. If you make a purchase through one of these links, we may receive a commission at no extra cost to you. Please read our affiliate disclosure and privacy policy for more information
Travel itinerary Thailand for 1 month.
If you're looking for an adventurous trip, a month-long tour of Thailand might be for you. Thailand is known for its beautiful beaches, rich culture, delicious food, and friendly people. If you take a month-long tour of Thailand, you can discover a lot in this beautiful country.
During your itinerary in Thailand, we visit the bustling cities of Bangkok and Chiang Mai, but also the quiet beaches of Krabi and Koh Lanta (or Koh Samui). The menu includes temples and historical sights, as well as adventurous activities such as rafting, diving, and even elephant care.
When you are traveling for 3 or 4 weeks you will have the freedom to explore the country at your own pace and enjoy everything Thailand has to offer.
It is important to be well prepared. Make sure you plan well, arrange your accommodation and transport in advance, and make sure you are aware of local customs and customs. In this article, we give you tips about the things to do in Thailand, transport, accommodations, and other activities you can do along the way. If you have kids, you should also check our printable activity pack for Thailand.
We also have another itinerary for the south of Thailand. It's a 2-3 week itinerary with a lot of beautiful islands!
Bangkok (3 days)
Bangkok is the vibrant capital of Thailand and is a must-see. Filled with beautiful temples, markets, restaurants, and sky bars, Bangkok has something for everyone.
You will probably arrive at Suvarnabhumi Airport, from there you can either take the Airport Rail Link (every 15 minutes) or take a taxi to the center of Bangkok. You can also book private transport in advance.
What to do in Bangkok
On your first day in Bangkok, you can do the following activities:
Check out our article on what to do in Bangkok for more information. You can end your evening with a river cruise on the Chao Phraya River, for example.
TIP: You can also hire a private guide and do the three main activities with them. Tickets for this tour can be found here. Included in the tickets are the Royal Palace, Wat Pho, and Wat Arun.
On your second day, you can choose from the following activities:
From Bangkok, you can also visit the Damnoen Saduak floating market, a 1-hour drive away.
We end our day with a visit to the King Power Mahanakhon, the highest observation deck in Thailand. You can buy tickets here.
Where to sleep in Bangkok
There are plenty of options for accommodation in Bangkok, from budget hostels to luxury hotels. There are many hostels near Khao San Road and Soi Rambuttri. These are especially popular with backpackers.
If you're looking for something a little more luxurious, there are also plenty of hotels and resorts in Bangkok. You have the Siam district, the Sukhumvit Area, and the Riverside Area.
Ayutthaya (1 Day)
Ayutthaya was once the capital of Thailand and is now a city full of temple ruins and historical sites. This is about 75km from Bangkok. You can choose to rent a car at the airport or go by train/bus.
You will need a full day to explore all the temples on this UNESCO site. For example, you can rent a bicycle (most hostels or hotels provide this) or you can rent a scooter/tuk-tuk for a day.
The most notable temples and ruins are Wat Mahathat, Wat Phra Si Sanphet, and Wat Chaiwatthanaram. The temples are open from 8 am to 6 pm. You can buy a pass that is valid for 1 month with which you can visit the most important temples. That costs 220 BATH or $5.
TIP: Bring plenty of sunscreen, water and mosquito repellent
You can also book a day trip to Ayutthaya from Bangkok. Possibly followed by a river cruise with a buffet (at sunset). This way you also see the temples from a different angle.
Accommodation in Ayutthaya
Here you will find an overview of all accommodations in Ayutthaya that you can book during your Thailand tour.
Sukhothai (2 days)
Sukhothai is the next city on our itinerary in Thailand. Sukhothai is located 350km from Ayutthaya. You will need 1 day to get here. On the second day, you can visit the historical park of Sukhothai (UNESCO).
How to get to Sukhothai?
You can choose to take the direct bus from Bangkok (6 hours) or opt for a train ride to Phitsalunok (4 hours) and a bus ride (1 hour). You can book your transport here.
What to do in Sukhothai
The best way to explore Sukhothai during your tour in Thailand is to rent a bicycle. If you have your car you can drive from one zone to another. There are parking lots everywhere. Or you can also rent a tuk-tuk that will take you everywhere.
The entrance ticket to the 3 main temple zones: Central, North, and West is 100 Baht ($3) per person. Admission is free to the South and East zones, but there is not much to see there. More information about the park can be found on the UNESCO site.
Near Sukhothai, you can also visit an organic farm (Organic Agriculture Project) where you can help yourself for half a day. There are also two other archaeological sites nearby if you have more time: Si Satchanalai Historical Park and Kamphaeng Phet.
Accommodation in Sukhothai
Below you will find some of the nicest accommodations in Sukhothai.
Chiang Mai (4 days)
If you are following our 3-4 itinerary of Thailand, the north of the country is an area that you should not miss. Chiang Mai is often considered the cultural capital of the country. It is a city full of temples, markets and the famous festival of lights (Lantern Festival).
The easiest way to get there from Sukhothai is by bus (6h) or train (via Phitsalunok). You will be traveling for a full day.
What to do in Chiang Mai
We start the first day by visiting the Old Town and all the temples. In addition to the temples, you can also visit the Night Bazaar (open from 5 p.m. – midnight) or the Sunday Walking Street.
You can choose to take a guided walk through the old city with a guide. Or a foodie tour with all the local dishes.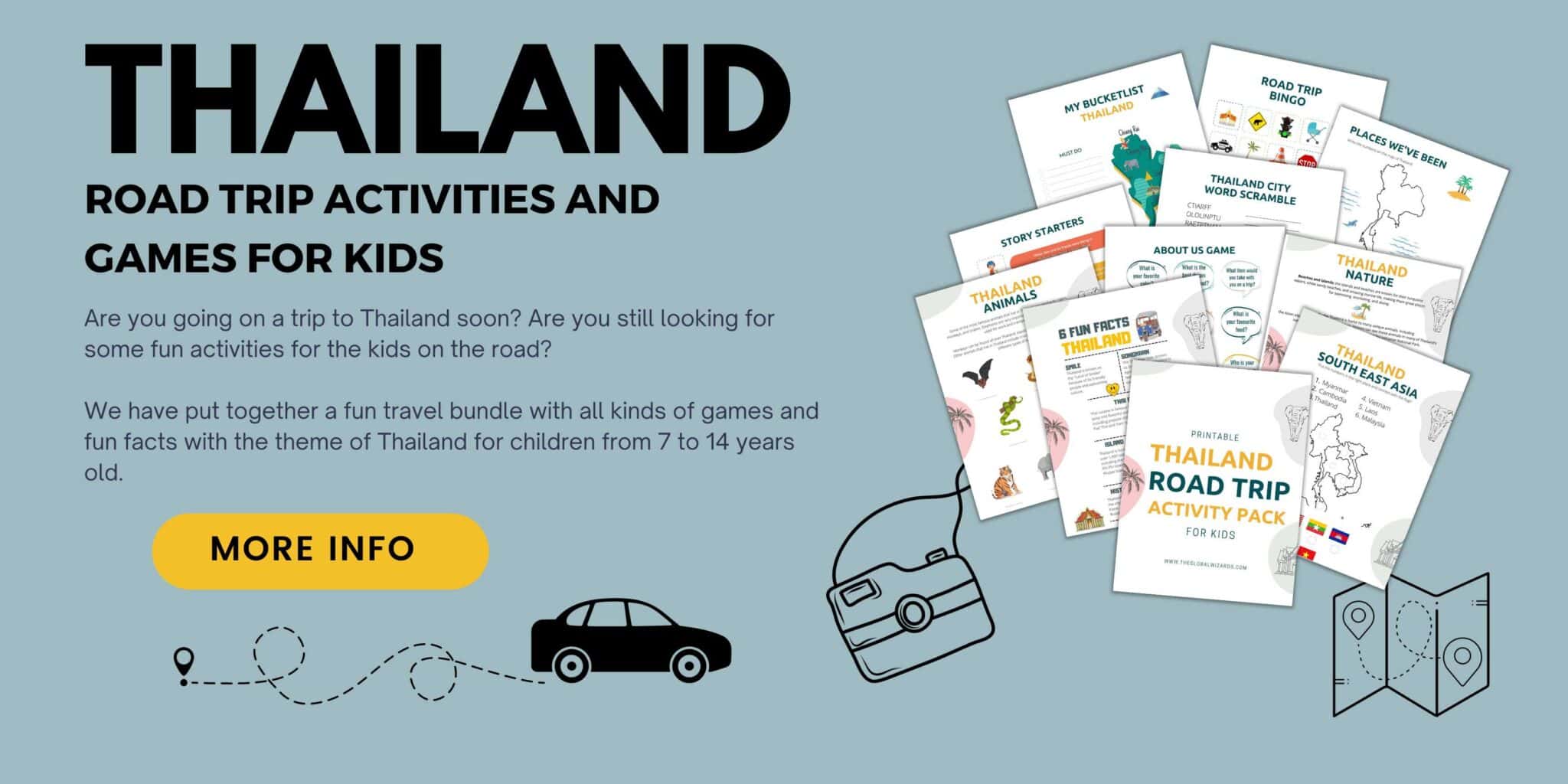 The next day you can explore Doi Suthep National Park. You can do this on your own or by scooter. You can also go on an organized trip from Chiang Mai. You will also find a beautiful temple here with a fabulous sunrise. Something for the early birds 🙂
On your last day in Chiang Mai, you can choose from several other fun activities.
Where to stay in Chiang Mai
You can choose to spend the night in the old city between the city walls or one of the more modern neighborhoods in the center.
Chiang Rai (3 days)
From Chiang Mai to Chiang Rai, you can count on a journey of approximately 200km or 3h30. You can do this by bus or with your own transport or a taxi. It is nice to have your own transport or to hire a driver in the Chiang Rai area.
Located in the infamous Golden Triangle, Chiang Rai has a rich history and culture, with many temples and historic buildings dating back to the Lanna period. Wat Phra Kaew and Wat Phra Singh are two of the city's most impressive temples, with beautiful architecture and works of art.
Other activities you can do in Chiang Rai
In addition to the temples, Chiang Rai also has several museums, such as the Oub Kham Museum and the Hill Tribe Museum, where you can learn more about the history and culture of the region. And if you love nature, you will enjoy the beautiful landscapes of Chiang Rai. The Mae Kok River flows through the city and there are several waterfalls and mountain peaks in the area for you to explore.
Also, take a look at:
There is also a Night Bazar in Chiang Rai where you can buy nice souvenirs.
End your visit to Chiang Rai with the White Temple or Wat Rong Khun, one of the most famous temples in Thailand.
TIP: Visit the White Temple or Wat Rong Khun first thing in the morning because in the afternoon it will be packed with tourists.
In the afternoon you can plan a few more activities, such as:
Accommodation in Chiang Rai
Phuket (3 days)
The fastest way to get to the paradise islands during this tour through Thailand is to fly. From Chiang Mai, you can easily take the plane to Phuket. The price of the tickets is not too bad, but be sure to book them in advance. You can also take the night train, but it will be at least two days of travel.
It's time to take out your snorkels and swimsuit!
We find Phuket itself very touristy, but it is the ideal base to visit the famous Similan Islands and the world-famous island of Koh Phi Phi (The Beach). You can also visit the Surin islands, which are a little further north. In addition to all those amazing islands, you will also find Khao Sok National Park (one of our favorite parks in Thailand).
Activities you can do in Phuket
Anyone who enjoys snorkeling or diving should undoubtedly visit the Similan Islands. You can get there in 75 minutes by speedboat. You can snorkel in Donald Duck Bay and then have lunch in Honeymoon Bay. With this tour, you leave very early (4 a.m.) but you are ahead of the crowds.
Maya Bay on Koh Phiphi is famous for the film 'The Beach' with Leonardo Di Caprio. It is currently closed again because there were simply too many tourists.
TIP: You can also visit Koh Phi Phi on the way to Koh Lanta and stay here for 1 or 2 nights. The accommodation may be slightly more expensive here than in Phuket. We stayed not far from the center at the Phi Phi Villa Resort.
But there is much more to see around this archipelago. You can enjoy snorkeling there and hike to the most beautiful viewpoint on the island from where you have a beautiful view of the islands. You can take a tour or book a ferry from Phuket yourself. Once you arrive on Koh Phi Phi you can also book a tour on-site.
North of Phuket you will find the beautiful Khao Sok National Park. Now it is one of the biggest attractions for nature lovers. It cannot be missed during your tour in Thailand. It is one of the oldest rainforests in the world with sky-high mountains.
You can do this as a trip from Phuket, but you can also spend the night at one of the many floating hotels. In Khao Sok, you can choose to do various activities such as kayaking, trekking or further exploring the lake.
In addition to the Similan islands, you can also visit the Surin islands. These are slightly higher and therefore further away from Phuket. Then you first have to go to Khuraburi and arrange transport from there. Or you can go on a tour. The Surin Islands are less visited than the Similan Islands but are more beautiful and even more unspoiled. You can also spend the night there.
Accommodations in Phuket
Koh Lanta (4 Days)
From Phuket, we take the ferry to Ko Lanta, for us the most family-friendly island in the south of Thailand. To do this, first, take the boat to Koh Lipi and from there another boat to Ko Lanta.
You can also go directly to Ko Lanta by speedboat, but these places are limited and you should book in advance.
Activities in Ko Lanta
Accommodations in Ko Lanta
Krabi (5 days)
From Ko Lanta, it takes about 2h30 to reach Krabi by boat. From Ko Lanta, it takes about 2h30 to reach Krabi by boat. You can book this ferry here. Ao Nang and Railay Beach are two of the most famous beaches in Krabi.
Activities in Krabi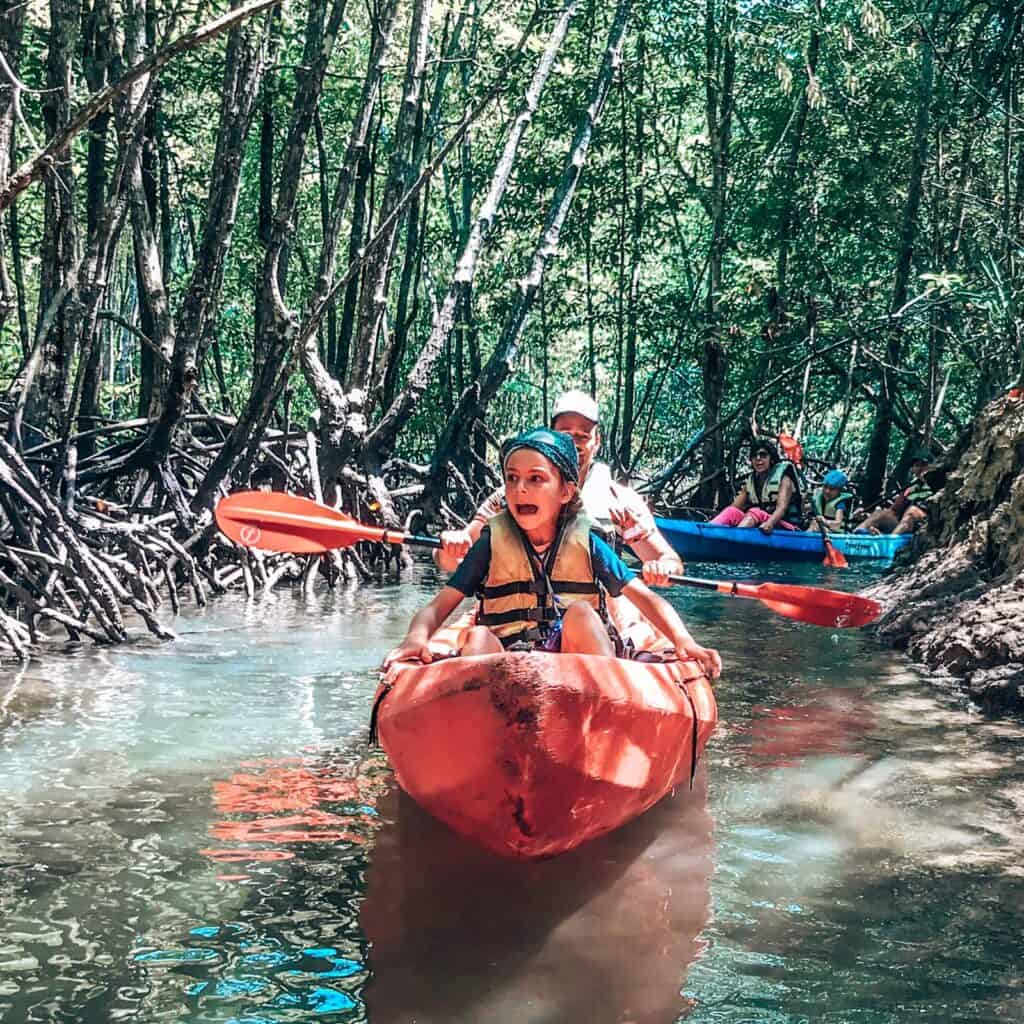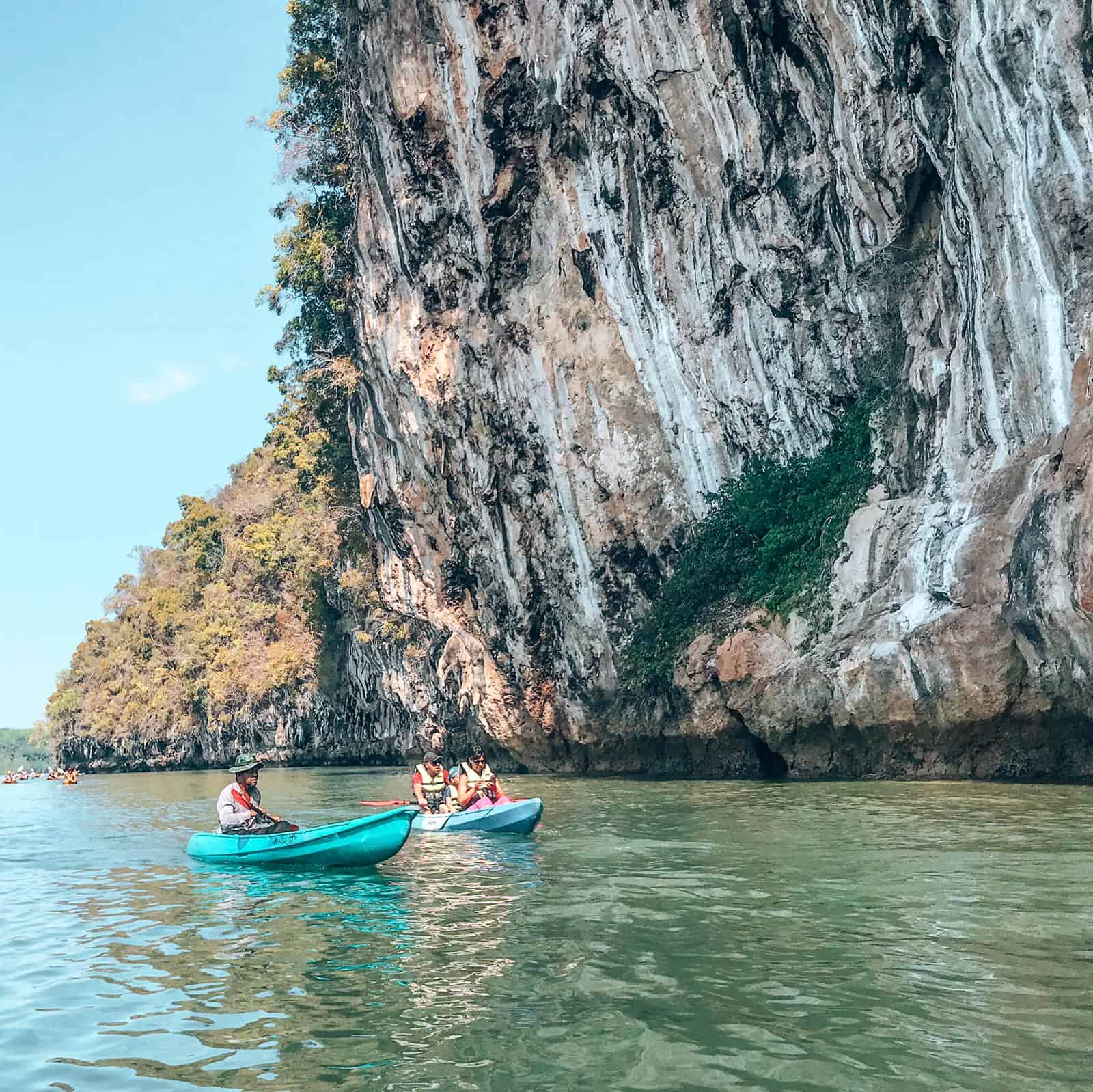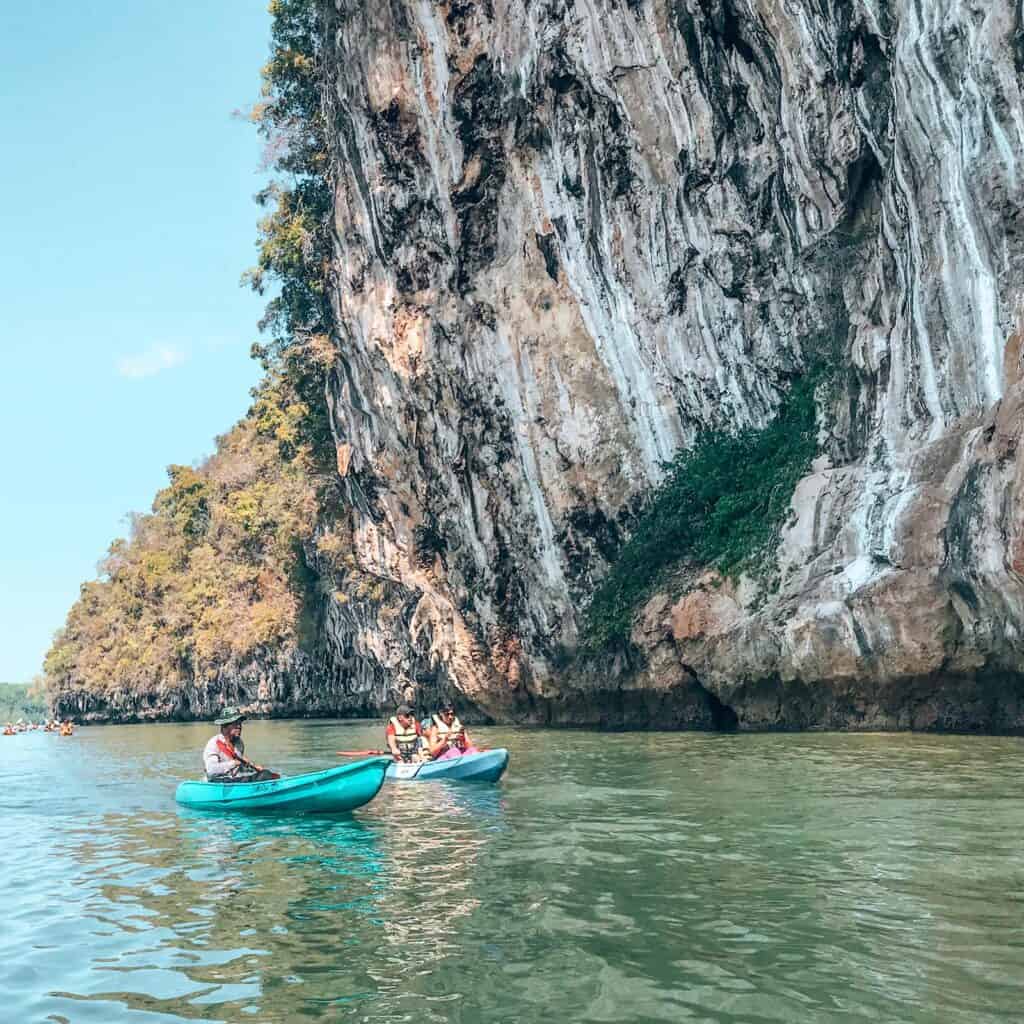 Accommodation in Krabi
Do you have more time left during this tour in Thailand? Then you can choose to go to Koh Samui and Koh Tao, for example. From Krabi, you have to go to Surat Thani where you can take the ferry.
Returning to Bangkok can be done from Krabi or Surat Thani by plane or bus/train. Check skyscanner.com for the cheapest plane tickets or 12Go.Asia for other transportation.
We hope that this article will help you plan your future trip to Thailand 3-4 weeks ahead. You are welcome to contact us if you have any questions.
Share this article on Pinterest
Other articles about Thailand
Itinerary for a 3-4 week tour of Thailand