This post may contain affiliate links. If you make a purchase through one of these links, we may receive a commission at no extra cost to you. Please read our affiliate disclosure and privacy policy for more information
What to do in Bangkok + Tips
Bangkok, the bustling capital of Thailand, is a city that you should definitely put on your bucket list. This city has everything you look for in an Asian metropolis: from delicious food to impressive temples and from modern shopping centers to lively street markets.
Bangkok is a city that never sleeps and where you will never be bored. Whether you are looking for culture, adventure, or relaxation, Bangkok has something to offer for everyone.
In this article with the best sights in Bangkok, we take you on a journey of discovery through this fascinating city. If you have kids, check our printable activity pack for Thailand.
Bangkok is also the start of our one-month itinerary in Thailand.
What to do in Bangkok
Explore Bangkok by bike
A unique way to explore Bangkok (and Thonburi) is by bike with Co van Kessel. During this bike tour, you will discover the city in an active and adventurous way. You cycle through narrow alleys, through local markets, and along the city's beautiful canals.
The experienced guides from Co van Kessel will show you the most special places in Bangkok and tell you everything about the history and culture of the city. The bike tour is suitable for all ages and levels and is a fun and unique way to explore the city. There are child seats that can be mounted on the back of the bicycle. You will also cross the river by ferry.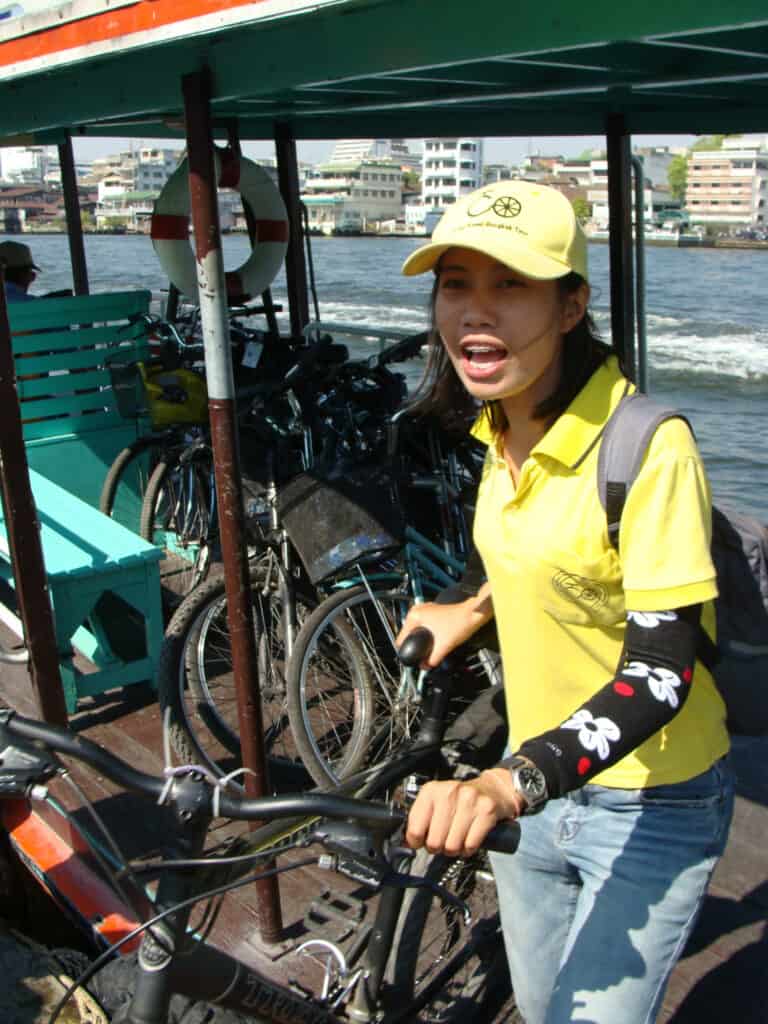 Visit the Royal Palace
The Royal Palace in Bangkok or Grand Palace is one of Bangkok's main attractions and attracts thousands of visitors every year. To visit the palace, you must adhere to some rules. For example, it is mandatory to wear appropriate clothing. It is also important to behave respectfully and not be too loud.
The Royal Palace in Bangkok is open daily from 8:30 AM to 3:30 PM. The entrance fee is 500 baht per person. It is recommended to go early in the morning so you can avoid the crowds. Please note that the palace may sometimes be closed due to royal ceremonies or events. More information about the Royal Palace of Bangkok can be found on their website.
The Royal Palace is easily accessible by public transport. You can take the bus or boat across the Chao Phraya River. You can also take a taxi or tuk-tuk. Please note that some tuk-tuk drivers want to take you to other tourist attractions instead of the palace. Wees dus alert en geef duidelijk aan waar je naartoe wilt. Also, watch out for scammers outside the palace, you only have to pay when you actually go inside.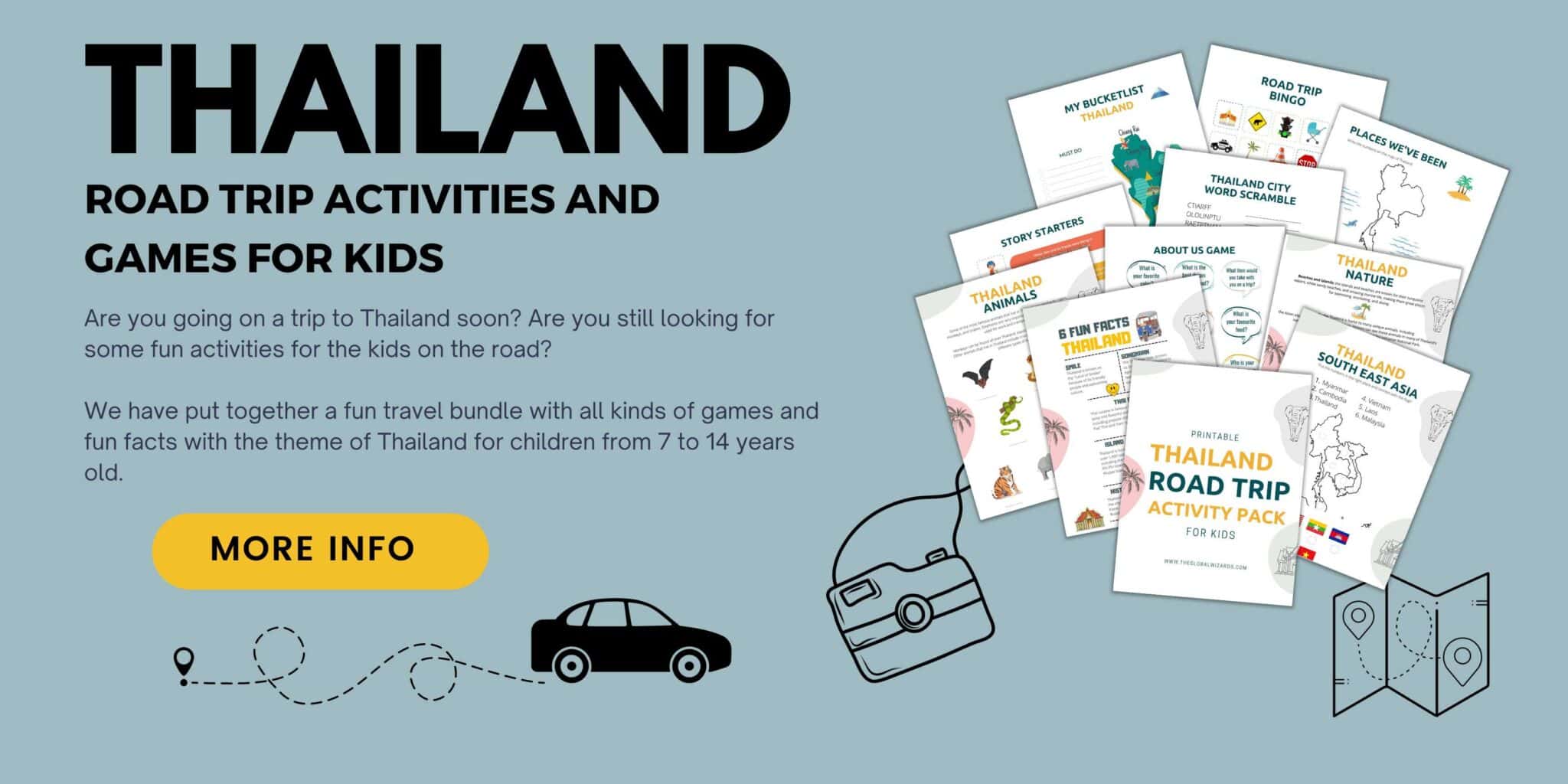 Look for the reclining Buddha at Wat Pho
The Reclining Buddha is one of the most visited and impressive sights in Bangkok and a must-see for every visitor. The reclining Buddha is located in the Wat Pho temple and is no less than 46 meters long and 15 meters high. The statue is covered with gold.
The reclining Buddha is an important religious symbol for the Buddhist community and is considered one of the most important Buddha images in the world. The statue represents Buddha's transition to Nirvana, the ultimate state of enlightenment.
In addition to the reclining Buddha, you can also visit the rest of the Wat Pho temple. You will almost 1000 Buddha statues there. Wat Pho Temple is open daily from 8:30 AM to 6:30 PM and the entrance fee is 100 baht per person. It is advisable to wear appropriate clothing and behave respectfully when visiting this sacred site.
TIP: Cover your shoulder and knees when you enter Also, take off your shoes/slippers when you visit the temple. And never point your feet at a Buddha statue.
Take a boat trip on the Chao Praya River
A boat trip on the Chao Praya River cannot be missed on your list of things to do in Bangkok. During the boat trip, you will sail past beautiful temples, and colorful markets and you will see the traditional houses on the banks of the river. Tens of thousands of people take this ferry every day.
There are different types of boats available, from simple ferries to luxury cruise ships. You can rent a boat yourself or take part in an organized boat trip with a guide. A popular route is the trip from Saphan Taksin to the old city, passing sights such as the Royal Palace and Wat Arun along the way.
You can buy a ticket when you enter the boat. You can also explore the canals and klongs of Thonburi with a long-tail boat. You can buy a ticket for those tours here.
TIP: If you are staying on Khao San Road the nearest stop is Phra Artit.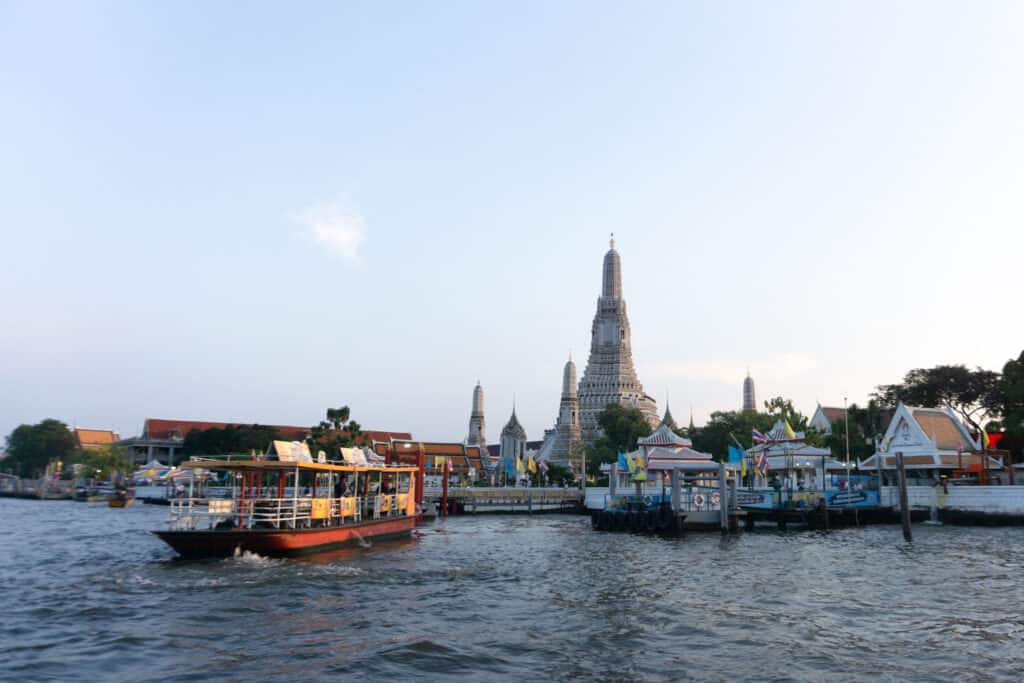 Visit the beautiful Wat Arun temple
The Wat Arun Temple, also known as the Temple of Dawn, is one of Bangkok's most iconic landmarks. The temple is located on the west bank of the Chao Phraya River and is best known for its beautiful Khmer architecture. The central tower of the temple is a whopping 79 meters high and is decorated with thousands of pieces of porcelain and glass that together form a beautiful mosaic.
The Wat Arun Temple is especially impressive during sunset, when the light reflects on the porcelain pieces and the temple takes on a magical appearance. Climbing the central tower is a popular activity among tourists, but be careful because the stairs are steep.
Wat Arun Temple is open daily from 8 am to 6 pm and the entrance fee is 50 baht per person. Again, wear appropriate clothing to visit this temple.
How to get there? From Wat Pho which is at the Tha Tien Pier or also called Pier 8. You can go there by boat. From this crossing point on the Chao Praya River, you can also easily reach Wat Arun.
Get lost in Chinatown
Chinatown in Bangkok is a bustling district full of colorful markets, restaurants, and temples. The district is best known for its delicious street food, where you can enjoy a wide variety of dishes. From exotic fruits to spicy noodles and from fried insects to delicious dumplings, you will find it all in Chinatown in Bangkok.
One of the highlights of Chinatown is Yaowarat Road, a busy street lined with shops and stalls where you can buy everything from jewelry and clothing to electronics and souvenirs. There are also numerous temples in Chinatown, such as Wat Mangkon Kamalawat, a beautiful Chinese temple dedicated to Guan Yu, the god of war.
Chinatown is especially lively in the evening when the many restaurants and food stalls open their doors and the streets are filled with the delicious smells of street food. It is therefore the ideal base for taking a street food tour.
Chinatown is easily accessible by public transport. You can take the subway to Hua Lamphong Station or take the bus to Yaowarat Road. You can also take a taxi or tuk-tuk.
Go shopping at the Chatuchak weekend market
The Chatuchak weekend market is one of the largest markets in the world and is located in the north of Bangkok. Please note that it is only open during the weekend. With more than 15,000 stalls you can find everything here, from clothing and jewelry to antiques and handicrafts.
One of the highlights of the Chatuchak weekend market is the food court, where you can enjoy delicious Thai dishes and international dishes. There are also numerous bars and cafes on the market.
In addition to the stalls, you can also enjoy street performances, have a portrait made by a local artist or buy souvenirs.
Be sure to allow enough time for this fun weekend market in Bangkok.
Walk along Khao San Road and Soi Rambuttri
Khao San Road and Soi Rambuttri are two popular streets in Bangkok that are best known among backpackers and budget travelers.
Khao San Road is a bustling street full of shops, restaurants, and bars, where you can enjoy cheap food and drinks. You can also book all kinds of tours there and you will find cheap accommodations. Keep in mind that it can get noisy in the evenings.
Soi Rambuttri is a quieter street running parallel to Khao San Road and is best known for its relaxed atmosphere and cozy cafes. This is a quieter alternative to Khao San Road.
Both streets are easily accessible by public transport or by taxi (Grab).
Go to Damnoen Saduak & Maeklong Floating Market (Railway Market)
Damnoen Saduak Floating Market and Maeklong Railway Market are two well-known markets near Bangkok.
Damnoen Saduak Floating Market is the most famous and popular floating market near Bangkok. This market is of course touristy. You will find countless boats full of fresh vegetables, fruit, herbs, and souvenirs. This is a 1-hour drive from Bangkok, but it has become very touristy. Here you can arrange food for the market.
The Maeklong Railway market is another market near Bangkok. This market is known as the "railway market" because the market stalls are located on the track and the traders have to move their wares as the train passes. It is an impressive sight to see how the traders quickly clear their stalls and set them up again when the train has passed.
This market is located 1h30 from Bangkok. The train passes there 8 times a day 🙂
You can book a tour through Viator to visit both markets from Bangkok. Count on $25 pp.
Enjoy a delicious meal with a night food tour
A night foodie tour in Bangkok is an absolute must-do for every foodie. During this tour, you will have the chance to taste the most delicious and authentic Thai dishes.
Thai cuisine is at the top of our list (next to Italian and Mexican…)
During such a night foodie tour you will go out with a local guide and visit various food stalls and restaurants where you can enjoy the most delicious dishes. From spicy noodles to exotic fruits and from fried insects to delicious curries, you will taste it all during this tour.
TIP: Never eat fruit that has already been cut open. We always prefer to see the meat being fried. We are also careful with ice. We always make sure that it is industrial ice (with a hole in it…)
Enjoy the sunset at one of the sky bars
One of the most popular rooftop bars in Bangkok is the Sirocco Sky Bar, located on the 63rd floor of the Lebua State Tower hotel. The Sirocco Sky Bar offers breathtaking views of the city and is best known for the scene from the film The Hangover Part II, which was filmed here.
The bar has a luxurious and chic appearance. The perfect moment to visit this bar is at sunset when the Bangkok sky turns into a beautiful mix of colors. It is best to book in advance, as the bar is often busy and a dress code sometimes applies.
Another nice rooftop bar is the Vertigo and Moon bar. Here you have 360° of Bangkok. You can find this at the Banyan Tree Hotel.
Relax in the Lumpini park
Do you feel like relaxing and escaping from busy Bangkok? The Lumpini Park is a beautiful park located in the center of Bangkok. Do you feel like relaxing and escaping from busy Bangkok? The park is named after the birthplace of Buddha in Nepal and is an oasis of peace in the busy city.
You can go jogging, cycling, practice tai chi or yoga. There are also several sports facilities, such as tennis courts, football fields, and a gym.
You can also see the Lumpini clock tower, the Bodhi tree, and the King Rama VI statue.
Lumpini Park is open daily from 4:30 AM to 9:00 PM and admission is free.
Overnight stay in Bangkok
We have divided everything into the most popular arrondissements in Bangkok. These are Silom, Sukhumvit, and the Riverside area in Bangkok. There are also nice hotels in the area of ​​Khao San Road.
Silom
The Silom district is the business district of Bangkok. You will find skyscrapers, shopping centers, and many nice hotels. You can easily get there via public transport. It is a little less authentic, but you will find everything you need there. If you fancy street food you can go to the Soi 20 morning market. And since 2018 you will also find a new skywalk there: the Mahanakhon Skywalk.
Sukhumvit
Sukhumvit Road is a commercial street and one of the busiest streets in Bangkok. The advantage is that the BTS Skytrain runs here. You will also find tuk-tuks on every corner that can take you anywhere. Later in the evening, you will find many popular bars and restaurants here.
Riverside area
This is mainly the area around the Chao Praya River. From here you can easily take the taxi boat to the famous temples and the Royal Palace. The contrast between the ancient temples and the 5* luxury hotels is great.
Some more tips for Bangkok
Transport in Bangkok
Here are some tips for getting around Bangkok:
BTS Skytrain: The BTS Skytrain is a fast and efficient way to get around the city. It has two lines: the Sukhumvit Line and the Silom Line. It is especially convenient for traveling to busy areas such as Siam Square, Chatuchak Weekend Market, and the Chao Phraya River.
MRT Metro: The MRT Metro is another fast and efficient way to get around the city. It is convenient for traveling to areas such as Chatuchak Weekend Market, Hualamphong Train Station, and Lumpini Park. You can transfer to the BTS Skytrain at three places (Chatuchak and Sukhumvit soi 21 (Asoke) and Silom/Saladeang.
Tuk-tuks: Perhaps not the most environmentally friendly option, but it is fun to do once for a short trip. Make sure you agree on the price in advance before you get in.
Taxi's of GRAB: Taxis are a convenient option if you want to get somewhere quickly and comfortably. Other apps are BOLT and Indrive. Make sure when you need to take a taxi, it has a meter and that it is used to avoid overpaying. If you use the GRAB app, you have agreed on a price in advance and you will be picked up at your location, which is super convenient.
Boat: The Chao Phraya Express boat is another fun way to see all the sights in Bangkok. From the boat you have a beautiful view of the city from the river. It is especially convenient for trips to the Grand Palace, Wat Arun and Chinatown.
Bicycle: Cycling is a fun and environmentally friendly way to explore the city. There are several bicycle rental companies in Bangkok, especially in the old city and along the river.
Some more hip bars and restaurants
The Rocket Coffeebar is a hip café known for its delicious coffee and healthy dishes. You can enjoy a cup of coffee or brunch.
The Commons is a hip food court-like concept in Thonglor. It has several restaurants and cafes under one roof. The interior is modern and industrial, and the atmosphere is lively and cozy. You can really find anything there.
The Never Ending Summer is a delicious Thai restaurant on the banks of the Chao Praya River. You will find Thai dishes with a modern twist.
The House on Sathorn: The House on Sathorn is a beautifully restored mansion that now serves as a restaurant and bar. The interior is stylish and elegant, with many historical elements and modern accents. Not cheap but very tasty.
Save this article on Pinterest
Other articles about Thailand
What to do in Bangkok