This post may contain affiliate links. If you make a purchase through one of these links, we may receive a commission at no extra cost to you. Please read our affiliate disclosure and privacy policy for more information
How to rent a car in Morocco, what does it cost and is it dangerous
Are you planning to travel to Morocco? And you wonder whether it is best to travel around by car or rather opt for organized tours or public transport? In this article we give you all the information about why and how you can rent a car in Morocco.
We were in Morocco for more than 4 weeks and drove more than 3000 km (1865 miles) through the entire country with a rented car. It's a fantastic destination for a road trip! You will pass the beautiful mountain landscapes of the (high) Atlas, vast deserts, green oases and the most beautiful (mountain) villages.
Read more: Morocco 10-day itinerary
But is it safe to drive a car? Especially since it is also possible to travel through Morocco by bus or tour.
However, in our opinion, traveling through Morocco by car is much more pleasant. You have much more freedom, can also visit hard-to-reach or lesser-known places and stop where you want.
So be sure to read on for all our tips about renting a car in Morocco.
Why should you choose to rent a car in Morocco?
As we wrote before, it is (if you ask us) much more fun to discover Morocco with a rental car.
First and foremost, some places are just more difficult (or impossible) to reach by public transport. There are also train connections between the larger cities, but if you want to go to the remote desert in Merzouga, Aït-Ben-Haddou, or the Todra gorge, for example, it becomes a lot more difficult.
Morocco's blue city, Chefchaouen, is also an example. Buses drive there, but you are often on the road for a long time. You can also book a tour, but that will cost you a lot more, and often you cannot spend the night (which we really recommend here).
A second reason is that you have freedom with a car. You can visit the country at your own pace and stop where you want. This is how we discovered some gems and met nice people along the way. We were amazed every time we drove through an authentic village.
Is renting a car and driving in Morocco safe?
When you say you want to rent a car in Morocco, you will soon hear stories about corrupt cops and unsafe roads. So many people wonder if it is safe to do a road trip in Morocco by car.
The short answer is yes, it is definitely safe to self-drive with a rental car. It is also the way most travelers discover this beautiful country.
There are perfectly maintained highways (paying) between the major cities, but the smaller roads are also in good condition. The mountain passes can be challenging at times, but pose no problem at all for an experienced driver.
Avoid traveling in the dark as much as possible. Crossing animals, poorly lit cyclists, or pedestrians can cause dangerous situations.
You might have to get used to the chaotic traffic (especially in the cities). Keep in mind that everyone drives in all directions does not stay on their section, and can make sudden maneuvers 🙂 Children, goats, cyclists, carts, … can also suddenly cross the road. But if you don't drive too fast in the villages and towns, there is no problem.
As for the police, we have not come across a single corrupt cop. A lot of speed checks and checks when driving in and out of each city. But again, if you stick to the speed, as a tourist you don't have much to worry about.
What rental car do you need in Morocco?
You don't have to immediately book a 4×4 to cross Morocco unless you plan to drive off-road through the desert. A regular rental car cannot and may not drive there. We also had a normal car to do our entire travel route through Morocco.
For example, if you want to visit the desert in Merzouga, you can also do so with a normal car. The asphalt road runs into the city and from there you can book tours for activities or overnight stays in the desert.
Read more: Discover the Sahara desert in Morocco – Merzouga
When you rent a car, especially with a family, take into account the sometimes limited luggage space in the smaller cars. Certainly, if, like us, you also buy a carpet and a few footstools.
Try to book a rental car that can pick you up and drop you off at the airport. For a surcharge, you can usually also deliver the car to another airport if you want to depart from somewhere else.
How much does a rental car cost in Morocco?
Compared to European countries such as Italy or Spain, the cost of renting a car in Morocco is not too bad. The prices of course depend on which season and how early you book.
TIP: Keep in mind that due to the pandemic, rental companies all over the world are short of cars, and with the energy crisis on top of that, prices have gone up a lot. So be sure to look online well in advance to rent your car in Morocco. Don't wait until you get there.
We always book our car through Sunny Cars. They may be slightly more expensive than some other providers, but they are also a very reliable party. No fine print and no hassle. Something that is not superfluous in countries such as Morocco.
For example, they always offer fully covered insurance (all-inclusive), something we find very reassuring. You can always have damage or problems along the way. In addition, they also have a Dutch-speaking helpline (24/7) and you can change the booking for free. At the moment (due to the pandemic) there is even a Flex Service that allows you to cancel for free.
TIP: If the local rental company tries to sell you extra insurance on arrival, refuse it if you have taken out all-inclusive insurance (for example with Sunny Cars). You definitely don't need that insurance.
Park your car in Morocco
As we mentioned in our article with the best travel tips for Morocco, we recommend that you book a hotel or riad in the medina in the larger cities. But since they are usually (partially) car-free, it is sometimes difficult or impossible to park near your accommodation.
Fortunately, there are several car parks just on the edge of the medina. Ask your accommodation which parking is best for you. You can also search on Google Maps. The accommodation often sends someone to show you the way afterward. If they don't, keep in mind that you may have to give someone some money to show you the way.
There are usually parking attendants at the car parks who will give you directions Usually (not always) they wear a fluorescent vest. Count on a small fee, for example, 10 dirhams, for short-term parking and 40-70 dirhams for a whole night. Feel free to ask for proof that you have paid.
Navigating Morocco
If you plan to explore Morocco, use your own navigation and save yourself expensive surprises. You can download user friendly apps like Maps.me and Google Maps that you can use offline.
We bought a SIM card at the airport so that we were able to use the Waze app while on the road. Moreover, it was also easy to communicate via Whatsapp with the hotels we had booked.
Traffic rules in Morocco
In Morocco, you drive on the right and the priority of the right rules also apply here. Keep in mind that it is a lot more chaotic than with us anyway
You have to watch out for unexpected oncoming traffic, such as a camel crossing your path calmly or maybe even herds of sheep and goats walking past. Not to mention a local's horse or some kids you pass.
You also come across more unexpected maneuvers and people don't always stick to their lane. But once you understand all this, it is quite easy and comparable to drive in Morocco.
What is different from ours are the rules at a roundabout. You really have to watch out for that! Sometimes the drivers on the roundabout have priority, and sometimes those entering it. Traffic signs and traffic lights indicate who has the right of way.
If a traffic light turns orange, you are also obliged to stop! And in Morocco, they also use their horn for everything! So don't be afraid to use it yourself.
Police checks and fines in Morocco
When entering and leaving a city there is almost always a police check. Make eye contact with the officer to indicate whether you can continue or not. Usually, you can just keep going. Sometimes they check your driver's license or papers (so make sure you always have them with you, including your passport).
The police in Morocco like to give fines, but only if you really do something wrong. You must also immediately pay those fines in cash. So always try to have some cash with you.
Here are some things to watch out for:
There are speed traps everywhere. Driving in Morocco can therefore sometimes be difficult. Especially since the speed limits are constantly changing (from 80 to 60 to 40 within a few hundred meters). They often stand a few hundred meters in front of their vehicle with a manual speedometer, so you cannot easily see them.
So stay vigilant and stick to your speed. Fortunately, many drivers use their lights to warn cars in the opposite direction of possible checks on the road.
Wearing a seat belt is mandatory in Morocco. So fasten your belts if you want to avoid a hefty fine and of course, also put your own safety first.
In Morocco, even one drink can be too much. Driving under the influence of alcohol is illegal and anyone breaking this law risks a prison sentence. So definitely think twice before having a drink.
Resist the temptation to use your cell phone while navigating. Look somewhere in a shop if you can't find a cheap cell phone holder. Or bring one from home.
So remember that the police are your friend and will help you if you have a problem. Just avoid breaking the law.
Extra tips for driving and renting a car in Morocco
What about refueling and fuel?
First and foremost, in Morocco they mainly use the French names, sans plomb (petrol) and gazole (diesel). So make sure you fill the right tank.
When you do a road trip through Morocco, top up your tank regularly, especially if you are in the Atlas or remote areas. There are a lot of gas stations, but in some areas such as Merzouga, they are scarcer.
Shell, Total, BP, and Afriquia are all reliable gas stations that deliver high-quality petrol. You don't have to worry about pollution from small unknown sellers there. At some gas stations you can only pay in cash, so always have enough cash on hand.
What do you need to bring to rent a car in Morocco?
Have you rented a car in Morocco? Then don't forget the following documents:
Driving license (national, from your own country)
Passport
Credit card
The main driver must bring a valid credit card in his name to pay the rental deposit. If you forget them, they will not give you the car. If you don't have one, it's best to buy one.
Do you or can't you have a credit card? Then you can search Sunny Cars through their system for cars that you can rent without a credit card (although there is a chance that there are none for Morocco). This will be a bit more expensive than renting a car in Morocco with a credit card.
TIP: You don't need an international driver's license to rent a car in Morocco. If your normal driver's license does not have a photo, it may be a good idea to purchase an international driver's license.
Are you under 25 and need a rental car for your next Moroccan adventure? Then check per company because the rules may differ. Some rent from the age of 21, 23, or 25. Some companies therefore also welcome drivers under the age of 25, but with an extra surcharge.
Collection and return of your rental car
As indicated earlier, we recommend that you rent a car from Sunny Cars. No hassle, no small print, and everything is fully insured.
If you do rent from another company, you can compare prices on Rentalcars.be. Read the reviews of the various rental companies and the contract carefully, because sometimes there are scams.
TIP: Rental companies often try to charge a cleaning fee when returning a car. If they are not in your contract, you do not have to pay them. Sometimes it says that you have to return the car in the same condition, so if it is very dirty they can charge a cleaning fee.
Before you start your road trip through Morocco, also take a few photos or videos of your car. This way you can prove that any damage was not caused by you!
Be sure to plan your rental car pick-up and drop-off times carefully! If you're not careful, returning a car just an hour later can cost you twice as much. For a surcharge, you can usually also deliver the car to another airport if you want to depart from somewhere else.
Keep in mind that you often get a different car than the one you booked. As long as he's not smaller, there's normally no reason to make a fuss about it.
That was all we wanted to tell you about renting a car in Morocco. Do you have any questions? Let us know below this article.
Have fun traveling!
Save for later on Pinterest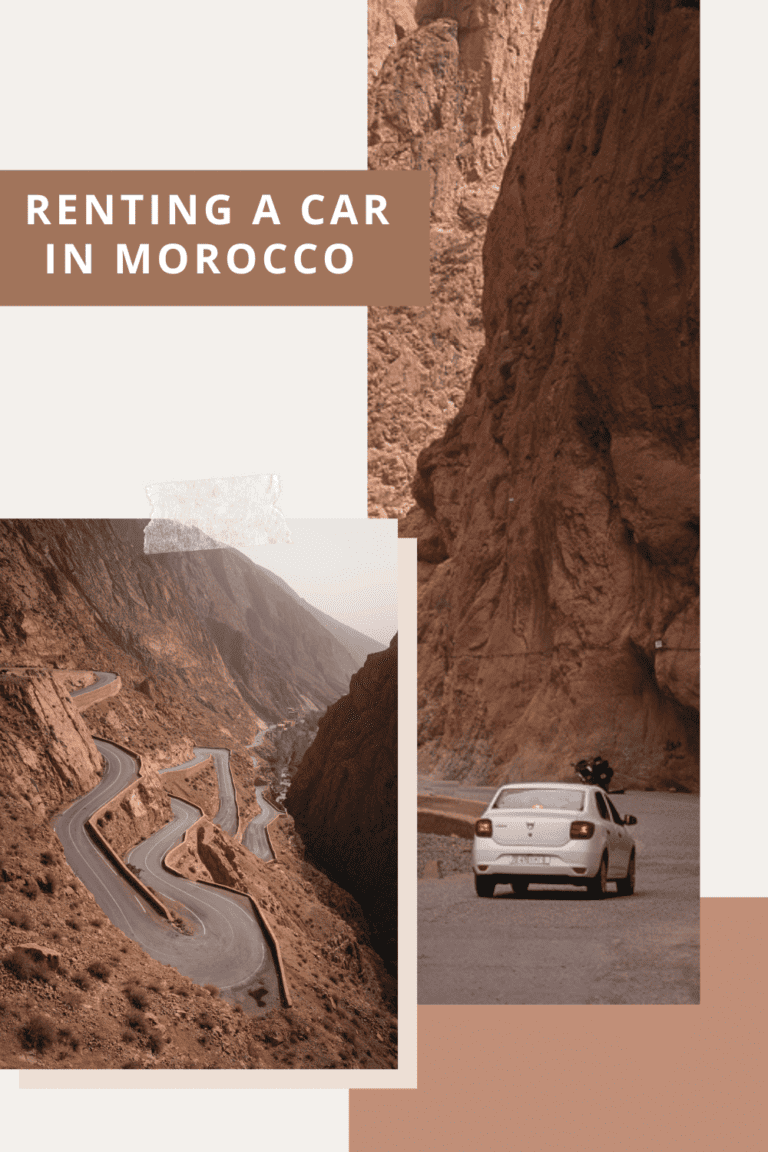 Our other Morocco articles that may also interest you
Check out all our articles about Morocco here.
Tips for renting a car in Morocco