This post may contain affiliate links. If you make a purchase through one of these links, we may receive a commission at no extra cost to you. Please read our affiliate disclosure and privacy policy for more information
What to pack for Marrakech and Morocco for your next trip
Are you planning a trip to Morocco (or maybe only to Marrakech) and wondering what to wear while being there? When we started to pack for our Moroccan trip, it was definitely something we struggled with.
Considering what to pack for travel is often hard enough, but as Morocco is a Muslim country, can be very hot, and is very diverse, you might want to give it some extra thought, especially as a woman.
Also, depending on the season, the places you are visiting, and the activities you'll be doing, it can be extremely hot, surprisingly cold, or very dusty/dirty. So you want to bring enough practical clothing and not only beautiful skirts that skim the ground everywhere.
Read more: What to do in Marrakech: highlights and tips
In any case, planning what to wear in Marrakech and Morocco requires some consideration. Take some time to prepare your Morocco packing list. That's why in this article we'll give you all of our best tips on what to pack for Marrakech and Morocco in general.
Things to know when packing for Morocco
How much do you need to cover up in Morocco
While there is no law saying you can't wear certain clothes, in our opinion, you need to respect the local habits and customs. And those are that women (and men) don't show too much skin.
Read more: Things to know before you go to Morocco
So don't be fooled by the many Instagram pictures of women being dressed in beautiful clothes and showing a lot of skin. First of all, these are not practical in the dusty streets, but they are also frowned upon by the locals.
It can be hot in Marrakech and Morocco, which makes you want to wear your shortest summer clothes. When you walk the streets of Marrakech, you see tourists in tank tops and shorts, which don't leave much to the imagination. But it's not because they do that, you should too!
When you reveal too much, it is a form of disrespect for the Moroccan culture. And you'll definitely draw a lot of (negative) unwanted attention (especially as a woman). In the more remote villages, they are definitely not used to this kind of clothing.
Instead, make sure to cover your shoulders and wear dresses, trousers, or skirts that cover the knees, at least. In Marrakech or the more touristy places, it can be a little less strict. In the more remote villages, you'd want to cover up to the ankles and wrists. Men can wear shorts but local people don't.
When you choose the right fabrics (such as linen), you won't be too hot. And they protect your skin from the burning sun. Bring a scarf, as you can always use it to cover your shoulders and arms. In your accommodation or riad you can take this a little less strict.
Read more: Where to stay in Marrakech: the best riads in the medina
Consider the time of the year you are going
One of the reasons for the popularity of Marrakech is the sunny and nice weather year-round. The same goes for the rest of Morocco, although you have to be aware that the weather in the desert and the mountains can be more extreme.
That being said, you have to take the seasons into account when planning what to wear in Marrakech and Morocco.
The summer months can be really hot, even during the night. You want light and flowy clothes that protect you from the sun. However, don't forget a warmer outfit if you go to the mountains.
The nicest times are spring and summer when the temperatures are enjoyable without being too hot. In the evenings you'll need a sweater and warm pants. Don't forget a raincoat as it can rain (especially in November but we also got some rain in September).
During winter, you still get a lot of sunshine and nice temperatures, but it can get cold as well. Especially if you go to the mountains and desert, be prepared to bring warm layers.
Consider the places you are planning to visit in Morocco
In Marrakech (or any other city in Morocco) you have to be aware that the streets can be very dusty or dirty. Keep that in mind when you pick your shoes or before you bring beautiful white long skirts or trousers that skim the ground while walking.
Although most people start their Moroccan trip in Marrakech or another big city, Morocco is so much more than that. So when you're there, we can highly recommend you to go explore this beautiful destination.
Read more: What to do in Morocco: the best highlights
The country is extremely diverse. You have beautiful cities such as Marrakech and Fez, but there is also the desert (e.g. Merzouga), the Atlas mountains, and the ocean (e.g. Essaouira).
Being that diverse, also means you will encounter different weather conditions during your trip. Depending on the season, it can be extremely hot in the city, but rather cold at night in the high Atlas mountains or the desert.
So when you're wondering what to pack for Morocco, layers are key! You'll want to bring very light clothing for warm conditions, but some warm layers for the colder nights in the mountains or the desert.
So now, let's dive into what you should pack for Marrakech or Morocco in general!
What to wear in Marrakech and Morocco (as a woman or a man)
Scarves
One of the essentials when wondering what to wear in Marrakech and Morocco is a scarf. As a woman, you can use it to cover your shoulders and arms when necessary or even over your head when you're entering a mosque.
In the desert, a scarf will protect women and men from the burning sun and the dust or sand when it is windy. In the evening and night it can get quite cold and a scarf will give you some extra warmth.
And last but not least, they are a great prop to have when taking those nice desert pictures ;-).
Trousers
In the hot summer months, bring loose and flowy trousers (preferably made of linen fabric), capri pants, or a chino. They will protect you from the sun, follow local customs, and are the best kind of clothing when the temperatures are really high. Men can wear shorts, although it's not what Moroccan men wear.
You can bring your jeans, but in the summer they will be too hot during the day. For the colder evenings, other seasons, or certain activities such as camel riding, they will be handy.
Bear in mind that, as a woman, it's better to wear a loose-fit model over skinny trousers, as it reveals a lot. The same goes for leggings. You can wear them, but even though they cover your legs, they show all of your curves which is not usual in Morocco. If you wear them, combine them with a loose top or kaftan.
One last thing, make sure they are not too long, as the streets are dirty and you don't want them to skim the floor when you are walking.
Tops
Don't wear tank tops, crop tops, or tops that show too much cleavage. Perfect are T-shirts that cover the shoulders and the belly.
Another essential piece is a light and flowy blouse, preferably made from linen, that covers up your arms. Great for sun protection and it totally respects the local culture. Make sure it's not see-through unless you were a T-shirt underneath.
Skirts and dresses
As we said before, to respect the local culture, ensure you don't wear short skirts or dresses. Preferably, they should be knee-length or longer. Midi and maxi skirts and dresses are the way to go!
On the other hand, make sure they are not longer than the ankle, as they will get very dirty on the dusty streets in Marrakech and Morocco.
Linen skirts and linen dresses will be the best ones to wear in Marrakech and Morocco during the summer months when it gets really hot. Light, flowy jumpsuits are also great.
Marrakech and Morocco are quite affordable, so bring a fancy dress or skirt if you want to go out for a nice dinner. If you are staying at the hotel, then you can be a bit less strict and wear a shorter dress or skirt, such as a kaftan.
Shorts
As we said before, it's not that you can't wear shorts, but we wouldn't advise it for a woman. Definitely do not wear hot pants. For men, try to have shorts that are knee-length or longer.
At the hotel, however, there is no problem to wear shorter shorts while lying at the pool or walking around.
Shoes
Bring comfortable and sturdy shoes, such as sneakers, as you will walk a lot, even if you are not leaving Marrakech. If you're exploring more of the country, you'll definitely need them or maybe even some walking shoes for the mountains.
Even when you're not leaving Marrakech, the cobbly and dirty streets are not made for high heels. You'll want to leave them at home unless you are planning a really fancy dinner in your hotel.
Some people say you have to wear closed-toe shoes in the medina of Marrakech or any other big city, as the streets can be very dirty from all the animals and garbage (especially when it rains). Sneakers or classic flats are great for that.
Although that is definitely the case, I also wore sandals and didn't have any problem. Your feet are just a bit dirtier by the end of the day. It didn't rain though when we were in Marrakech, so I can imagine it gets way worse when it does.
A sweater, coat, or jacket
Depending on the season, it can get cold or rainy in Morocco. And even in high summer, you'll need a sweater or coat in the evening if you're high up in the mountains or in the desert.
So if you're wondering what to wear in Marrakech and Morocco, definitely pack a warm sweater or cardigan. Again, layers are key!
We were in Morocco in September/October and also brought a simple raincoat. It protected us from the cooler ocean breeze in Essaouira and even from some rain in the desert (can you imagine that!).
If you plan to visit Morocco in the winter, bring a warm coat or woolen hat if you want to go to the mountains.
Swimwear
It gets hot, so if your hotel has a swimming pool, you'll definitely want to swim in Morocco. Inside the hotel, it's not a problem to wear a swimsuit or bikini. However, don't wear those on the public beach.
If you plan to surf (e.g. in Imsouane or Essaouira) rules are a bit less strict. You see many western tourists in bikinis or swimsuits. However, this doesn't mean it isn't frowned upon by the locals. So you can always try to wear a suit less revealing or take off your wetsuit in private.
Other things to pack for Morocco
Besides the right clothing, you'll also want to pack some other essentials for your Moroccan trip.
Bring along a bag that you can use when wandering around the streets and souks of Marrakech and Morocco. A light linen or cotton tote bag fits very easily in your suitcase. Try to choose one that is secure as pickpocketing is common in Marrakech.
If you're planning to do some real hiking in the mountains, bring a decent travel daypack to carry some of your stuff.
A reusable water bottle so you don't have to buy plastic bottles all the time. Most hotels and accommodations provide drinkable water refills. We actually have an insulated water bottle, which keeps our drinks cold in the summer and hot in the winter.
We swear by our packing cubes. They have been a lifesaver for packing and traveling. We usually have a different color for each family member. If you choose the compression packing cubes, they make you gain even more space, especially when flying with only a carry-on.
An empty suitcase ;-)! Trust me, we were in Morocco for 5 hours when we already had both a rug and a cushion. Normally we don't buy big souvenirs, but the stuff in Morocco is just too beautiful to not buy.
Your camera, as Morocco is the perfect place to take some stunning pictures! Don't bring your drone though! You're not allowed to enter or fly with a drone and they will confiscate it at the airport.
Read more: What's in our camera bag
Check our Morocco packing list at the end of this article for an even more complete overview of what to pack for Morocco.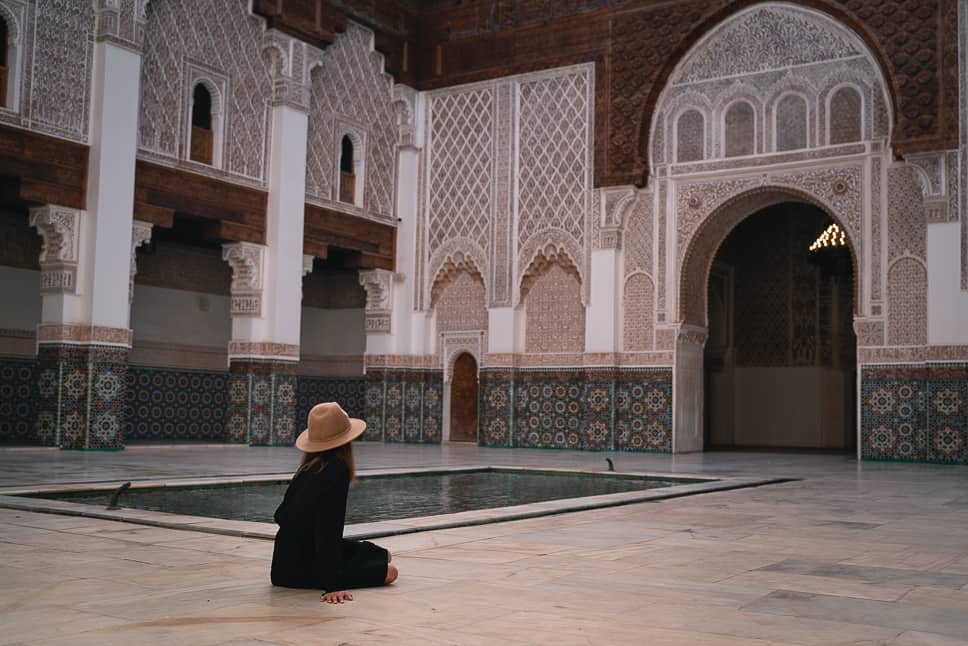 What not to wear in Marrakech and Morocco
We gave an overview of what to wear in Marrakech and what to pack for Morocco. But because most of us are especially wondering what NOT to wear in Marrakech and Morocco, here's an overview below.
Avoid anything that shows too much skin. Don't show your shoulders, belly, or too much leg (anything above knee length). Tank tops, crop tops, and short shorts are off the table.
See-through clothing or tops with too much cleavage are a definite no. It will draw a lot of unwanted attention.
Try not to wear clothing that is too tight or reveals too much of the body's curves. If you wear leggings, for example, combine them with a loose blouse.
It gets hot in the summer so you want to choose the fabrics of your clothing wisely. Avoid man-made fabrics as they will make you feel way too hot and sweaty. Instead choose natural fabrics such as cotton, linen, …
Again, there are no laws that forbid you to wear anything in Marrakech or Morocco, but it is just a sign of respect to follow the advice above.
Packing list for Morocco (and Marrakech)
We want to make sure you don't forget anything! So to help you out when you're actually packing for Marrakech or Morocco, we've created a FREE downloadable and printable Morocco packing list for you!
If you are wondering what to wear in Morocco in summer or winter, this detailed checklist contains all the necessary items for a successful trip. Besides everything mentioned in this article, you'll find a few extra things you don't want to forget.
That's all for this article on what to wear in Marrakech in Morocco. Let us know if you have any questions or remarks in the comments.
Happy travels!
Other articles about Morocco that might interest you
Check all of our articles about Morocco here.
What to wear in Marrakech: Morocco packing list