This post may contain affiliate links. If you make a purchase through one of these links, we may receive a commission at no extra cost to you. Please read our affiliate disclosure and privacy policy for more information
Imsouane in Morocco: a real surfer's paradise!
Imsouane Morocco is a small fishing village located on the Atlantic coast of Morocco, about 1.5 hour's drive from Essaouira. It is known as a paradise for surfers of all levels. You can find both beginner-friendly waves and challenging breaks for experienced surfers.
In addition to the great waves, Imsouane is also known for its beautiful beaches, friendly people, and beautiful sunset. The village has just over 1,000 inhabitants, many of whom are fishermen or involved in tourism in some way.
Almost everyone in the village speaks English, which makes it easy to communicate with the locals, even if you don't speak Arabic or French (the other two main languages ​​spoken in Morocco)
There is a very relaxed atmosphere. Perhaps not the most authentic Moroccan, due to the many (Western) surfers, but very pleasant and relaxing due to its small scale (unlike Taghazout).
In a few years, you will also find a lot of restaurants, hostels, and hotels, some of which also offer surfing lessons.
Read more: Morocco 10 day Itinerary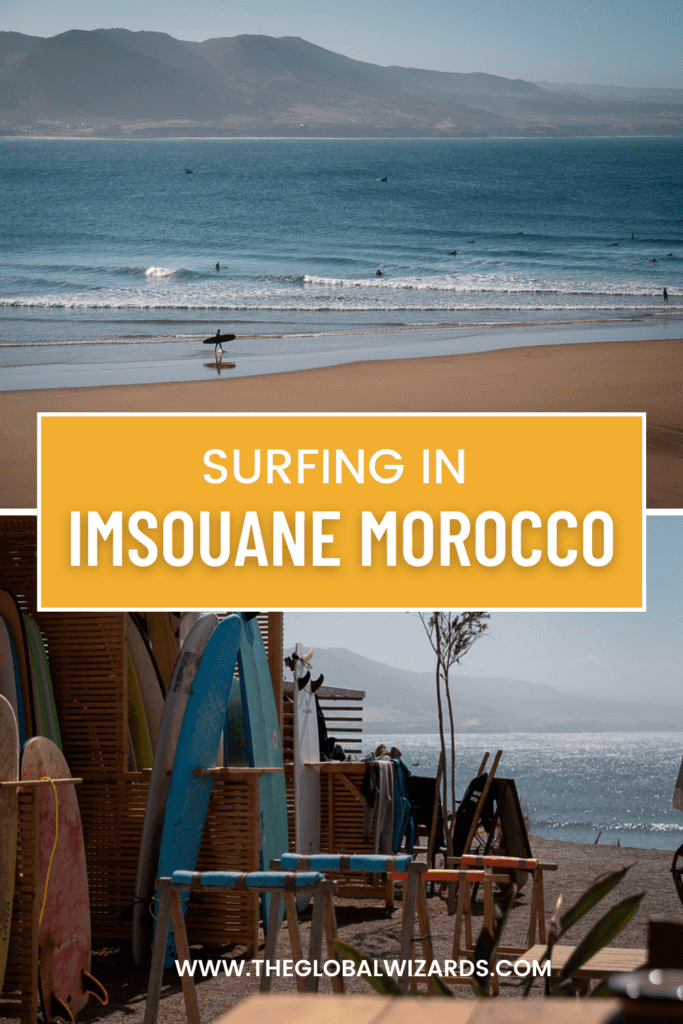 How to get to Imsouane?
Imsouane is located on the coast of Morocco, about halfway between the cities of Agadir and Essaouira. The city is located on a beautiful stretch of beach, with the Atlas Mountains in the distance.
Taghazout, which is even more frequented by tourists and surfers, is also just an hour away.
TIP: Taghazout is less small-scale than Imsouane with, among other things, large hotel chains. In our opinion, Imsouane is therefore a lot more pleasant.
If you have rented a car for your tour in Morocco, you can easily drive to Imsouane yourself.
TIP: Renting a car in Morocco? Then we can highly recommend SunnyCars. When you rent a car from them, everything is always fully covered and you no longer have any extra costs. Moreover, you can always reach someone in case of problems.
If you don't have a car, it's a bit more difficult. There is no direct connection between, for example, Essaouira and Imsouane. You can possibly take the bus to Tamanar and then take a taxi or immediately take a taxi.
Read more: Essaouira things to see
The waves in Imsouane
Normally the best season for surfing in Morocco is from November to April. But Imsouane is blessed with good waves all year round.
There are two main breaks in Imsouane. The first is The Bay. It is located on a long sandy beach with not too many rocks.
The waves here are perfect for novice surfers. And they go on for hundreds of yards, ideal for learning to go along with the wave. This is also where most surfing lessons are given. You don't have to walk far to reach the beach.
On the other side is Cathedral Point, which is reserved for the experts. It has big, fast and dangerous waves that are only for the most experienced surfers. Read this article for the best forecasts and surfing conditions in Imsouane.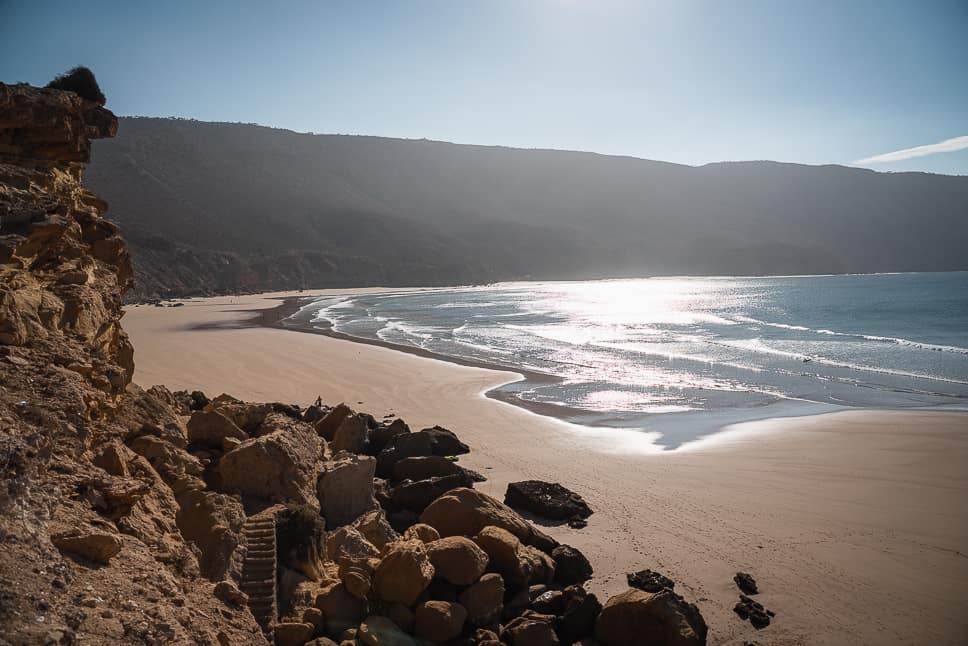 Take a surf lesson in Imsouane
Imsouane is a great place to surf whether you are a beginner or an experienced surfer. There are plenty of surf schools and shops where you can rent gear so you don't have to worry about bringing your own.
We received surfing lessons at Olo Surf & Nature. They have some fantastic instructors and also a beautiful building that sits on the edge of the cliffs within walking distance of the beach. You can also spend the night there and enjoy delicious food in their restaurant with a view of The Bay.
After a thorough review of the basics in English (we used to have surf lessons in Australia and at Surf Synergy in Costa Rica) we went into the water. It was our first time in colder water, but thanks to the wetsuits it was a very pleasant experience.
After a few attempts and with the good advice of our instructor, we managed to stand upright. Being carried away by the waves that kept going, was a wonderful feeling!
TIP: Just watch out for the weever fish. Yuna unfortunately stepped on it and had to get out of the water early. If you get stung by the Weever fish, put your foot in warm water (40gr) as soon as possible. Also make sure there are no spines left in your foot. The people of Olo Surf & Nature took good care of her!
You are not obliged to take surf lessons if you don't have any gear with you. You can also rent a surfboard in Imsouane at most surf schools and surf shops for only 6 euros per day.
Dinner in Imsouane
You will find many restaurants and cafes on the main street. Our favorite address was Tamazight. You will find delicious Moroccan food for a reasonable price. It is also possible to pick it up. Locals even bring a piece of meat and have it prepared for them.
Other recommendations are The Brothers Fast Food and nearby a street food stall that sells delicious pancakes, small snacks, and drinks.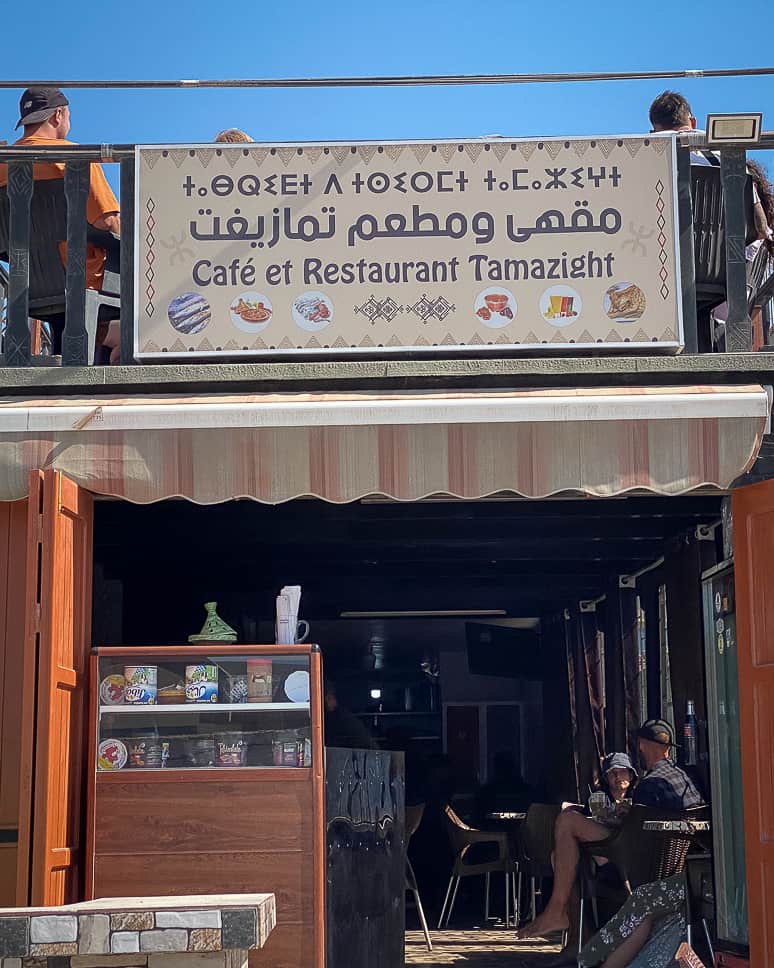 TIP: There is no ATM in Imsouane, so make sure you have enough cash with you before you come here. In some shops or restaurants, you can pay with a card.
Another nice place is of course the restaurant of Olo Surf & Nature where they have delicious Western and Moroccan dishes. Of course, you pay a little more here than in the local restaurants.
Sleeping in Imsouane
In Imsouane you will find more and more accommodations for tourists. If you follow a surf camp, you can usually also spend the night at the surf school, as is the case at Olo Surf & Nature.
We stayed at the cozy and affordable Tigmi Blue – Imsouane Surf et Océan. It is run by a French couple and is not far from the beach. From the blue roof terrace, you have a beautiful view of the sunset. The breakfast is also very tasty.
More questions about Imsouane? Let us know in the comments!
Have fun traveling!
Save for later on Pinterest
Our other Morocco articles that may also interest you
Or check all our articles and tips for Morocco here.
Imsouane Morocco: beaches, surfing, and enjoying