This post may contain affiliate links. If you make a purchase through one of these links, we may receive a commission at no extra cost to you. Please read our affiliate disclosure and privacy policy for more information
Best tips to plan your Morocco family trip
Are you planning to visit Morocco with kids? Many people might think of Morocco as a destination for adults because they wonder if Morocco is safe for families. We can assure you, Morocco is an excellent place to travel with children.
It is a fascinating country (and gateway to Africa) that offers a unique blend of history, culture, and adventure, perfect for families. If you're flying from Europe, it's only a few hours away but you will arrive in a different world.
From the blue streets of Chefchaouen and the bustling medinas of Fez or Marrakech to the dunes of the Moroccan desert, surfing beaches, and the adventurous Atlas mountains, Morocco is a country that has a lot to offer kids and families. Not to forget the amazing experience of sleeping in an enchanting riad or desert camp.
One of the best things about traveling to Morocco with kids is the opportunity to introduce children to a new culture, meet the friendly family-minded Moroccan people, and explore the country's rich history. Kids will be fascinated by the stories of sultans, warriors, and merchants that have shaped Moroccan history.
We did a road trip of over a month through this fantastic North African country and can easily say it has become one of our favorite destinations to visit with children.
There are just so many things to do in Morocco with kids, which we'll explain in this article. But first, let's go over our best planning and travel tips for a family holiday in Morocco.
Read more: 10-day itinerary through Morocco perfect for kids
Why should you be visiting MOrocco with kids
There are so many countries to travel to. Why should you choose Morocco for a family holiday?
Well, first of all, the weather is amazing in spring and autumn, which makes it a fantastic destination if you live in Europe or the Northern Hemisphere in general. Be aware that summers can get very hot, so that might be a challenge if you go with young children.
Secondly, it is a very affordable destination, perfect for a family holiday as costs quickly add up when you're with 3 people or more. Although some accommodations and tours can be quite expensive, it's still way cheaper compared to other countries.
Read more: How to travel on a budget as a family?
But besides that, most importantly, a family vacation in Morocco with children has a ton of experiences to offer your kids! They'll be able to explore the food, the unique culture, and the lovely shops in each medina.
The outdoor adventures, however, will probably be their favorite. From camel rides and sleeping in the Sahara to hiking or riding a mule in the Atlas Mountains, there are plenty of opportunities for families to get out and explore the country's natural beauty.
Not to forget the ocean, of course. With its sunny climate and beautiful beaches, Morocco is the perfect place to relax and unwind by the seaside after a day of adventure (for example, in the lovely beach town Essaouira). Or maybe you want to go surfing with your family?
Read more: Our family surfing adventure in Imsouane, Morocco
Is Morocco safe for families and kids
One of the first things you hear when you tell people you planned a family trip to Morocco will be, is it safe to travel Morocco with kids?
Although it's impossible to promise you a completely safe destination, in our opinion Morocco is a very safe country to visit with kids of all ages. Moroccans are peace-minded and friendly people. And the country has been a politically stable kingdom for decades.
We've never felt unsafe in any way during our 5-weeks trip through the entire country with our kids. Especially the more inland you go, towards the Berber people, the more genuinely welcome you'll feel.
However, like any other country, Morocco does have some issues you need to be aware of:
The country suffers from small crimes such as pickpockets or scams.
In some cities, tourists can be harassed by touts and salesmen, especially women.
With children, look out for motorbikes that come through the small streets (especially in Marrakech) with astonishing speed.
It's also a good idea to have a plan in case your kid gets lost or separated in the bustling and crowded streets.
As always, it's best to take some precautions to ensure a safe and enjoyable trip. Here are some things to keep in mind when you visit Morocco with kids.
General Safety Tips
Always supervise your kids, especially in crowded areas or busy streets.
Keep your valuables, passports, and other important documents in a secure place.
Be aware of your surroundings and avoid walking alone at night.
Use licensed taxis or private transportation arranged by your hotel or tour operator.
Be cautious of strangers who approach you with unsolicited offers or requests.
Respect their culture
Morocco is a Muslim country, so it is important to dress modestly, especially when visiting mosques or other religious sites.
Avoid public displays of affection, as this is considered inappropriate in Moroccan culture.
Be respectful of local customs and traditions, such as removing your shoes before entering a home or mosque.
How do Moroccans treat children
Moroccans are generally very warm and welcoming towards children. Children are seen as a blessing and a source of joy, and they are treated with great care and respect.
In fact, it is not uncommon for strangers to stop and admire a child, or to offer them a sweet or a piece of fruit. t sometimes might even be a bit overwhelming for very young children.
Moroccans are also very family-oriented, and children are considered an integral part of the family unit. They are included in family gatherings and celebrations and are often given a lot of attention and affection.
In public spaces, children are generally treated with patience and kindness. It is not uncommon for shopkeepers and vendors to engage with children, offering them a sample of their wares or simply chatting with them. However, parents should always keep an eye on their children, especially in crowded areas.
In restaurants, children are usually welcomed with open arms. Many restaurants have high chairs and booster seats available, and some even have play areas or activities to keep children entertained.
TIP: Is your child a picky eater or can't eat certain food? Moroccans are very accommodating when it comes to dietary restrictions or preferences, and will often go out of their way to ensure that children are happy and well-fed.
Overall, Moroccans treat children with kindness, respect, and affection. Parents traveling with children can expect to feel welcomed and supported during their stay in Morocco.
What is the food like in Morocco for kids
Moroccan cuisine is a unique blend of flavors and spices that is sure to delight the taste buds of both adults and children. The country's location on the coast of North Africa has influenced its food, which features a mix of Mediterranean, Arabic, and Berber tastes.
Because there are so many choices and different dishes, Moroccan cuisine has something for everyone, even for the pickiest eaters. And as mentioned before, Moroccan people will do a lot to make sure your kids eat something they like.
You can also buy almost anything in the supermarkets and local food stalls in the medina.
TIP: Don't be shy to eat in the local restaurants. They usually have the most delicious food (also for children) and it is very affordable, which is perfect for families. We always almost ate local.
Our children loved the popular tagine, a slow-cooked stew made with meat, vegetables, and potatoes. It is typically served with couscous or bread. You can also find almost everywhere chicken or beef skewers, served with delicious fries!
There are fresh orange juice stalls everywhere, and for a quick snack buy one of the pancake-like flatbreads. And in the bigger cities, you'll find Western food as well.
For those with a sweet tooth, Moroccan pastries are a must-try. These include chebakia, a honey-soaked pastry made with sesame seeds, and kaab el ghazal, a crescent-shaped pastry filled with almond paste.
TIP: Is it safe to drink water in Morocco? The general advice is to drink only bottled or filtered water and avoid tap water, ice cubes, and uncooked foods that may have been washed in tap water.
OTHER Advice and Tips for Traveling to Morocco with Kids
Visiting Morocco with kids will definitely be a fun and educational experience for the whole family. However, there are a few extra things to keep in mind to ensure a safe and enjoyable trip.
Read more: 7-day itinerary for Morocco, 3 different holidays perfect for kids
What is the best time to travel to Morocco with kids?
Morocco is a great destination for families with kids, but you have to consider the climate. It's important to choose the right time of year to travel.
The best time to visit Morocco with kids is between March and May, or between September and November. During these months, the weather is mild and pleasant, making it easier to explore the cities and attractions.
Morocco can get quite hot during the summer months, so it's important to plan your trip accordingly. Be sure to pack sunscreen, hats, and light clothing to protect your family from the sun.
What's the best way to get to Morocco?
The best way to get to Morocco with kids is by plane. There are several airlines that fly to many different cities in Morocco, such as Marrakech, Casablanca, Agadir, Rabat, and Tanger.
TIP: When you're looking for a flight to Morocco, it can be cheaper to fly somewhere else than Marrakech. If you're doing a road trip, adjust your itinerary according to the most affordable city to fly to.
It's important to book your flights in advance to get the best deals and to make sure you have enough time to plan your trip.
It is also possible to travel overland through Spain and take the ferry from Gibraltar to Tanger to enter Morocco if you want to come by your own car or camper.
What to pack for a family trip when traveling to Morocco
When traveling to Morocco with kids, you have to think about what to pack for your family vacation. Besides the typical things you need, there are some special tips to consider.
TIP: Be aware that the weather can vary a lot. During our weeks in Morocco we wore a warm sweater and long trousers in the Atlas mountains (even necessary during summer). And we even had rain in the desert!
Read more: What to wear in Morocco + packing list
First of all, because of the weather, it's important to pack light and bring comfortable clothing. Layers are the key, as always!
Other essentials include a first-aid kit and water bottles. As mentioned before, however, don't fill those water bottles with tap water. If you don't want to buy bottled water, a solution could be to buy a water filter bottle.
Don't forget to bring some basic medications with you, such as pain relievers, antihistamines, and anti-diarrhea medication.
If you are traveling with babies or young children to Morocco, we advise you to bring a carrier instead of a stroller. In the old medinas, the streets can get busy and very small. And if you want to hike in the mountains or have a desert adventure, a stroller won't be of any use anyway.
You don't need to bring nappies or milk for babies, as you can find those easily in supermarkets in all towns in Morocco.
TIP: For the kids, it can be nice to bring a wetsuit (although surfing and water sports clubs usually provide them). The Atlantic Ocean can be rather cold and a lot of swimming pools aren't heated.
Are you going on a road trip through Morocco? Don't forget to bring entertainment for the kids! We've designed a road trip activity pack for Morocco, filled with fun games for your children on the road.
What's the best way to get around with kids in Morocco
There are several ways to travel around Morocco but in our opinion, the best way is by hiring a car. It allows you to travel at your own pace and stop whenever you want, which is perfect for kids.
We wrote an entire article on renting a car and driving in Morocco if you would like more information.
Read more: A family road trip packing list
If you are traveling with smaller children, you might wonder if a car seat is required in Morocco. Although the law says you need to have a car seat for your child, you'll see many locals driving around without them. However, we do advise you to use one. As renting on arrival is quite expensive, we suggest you bring your own travel booster seat.
Another way to travel around Morocco with kids would be by private transport, which will be more expensive, or by public transport. Buses and trains in Morocco are well organized (especially between the bigger cities) and cheap, but it will take you longer and you're less flexible. It all depends on what your family feels up to.
If you don't feel up to driving or organizing everything yourself, you could always choose to book an organized tour around Morocco.
Last but not least, as mentioned before, you can come to Morocco with your own car or campervan when you take the ferry from Spain. Camping is a fantastic way to travel with kids. We saw many campgrounds along the way and as a van life family, we definitely want to come back to Morocco to test that out.
Be Mindful of Cultural Differences
Morocco is a predominantly Muslim country, and it's important to be respectful of the local culture. The local people will treat you accordingly. Here are some general tips:
Dress modestly, especially when visiting religious sites. Rules are less strict for children, but if your girls are reaching teen ages, try to avoid showing too much skin as well.
Avoid public displays of affection. It's OK to hug your kids, but not for adults to show affection between them.
Be mindful of your language and behavior. If you act friendly and don't lose your temper, they will be very friendly too. Educate your kids accordingly.
Plan Activities Ahead of Time
Morocco has a lot to offer for families with kids, but it's important to plan ahead to ensure everyone has a good time. Especially if you're traveling in high season, a lot of tours and accommodations will be fully booked.
Consider booking a guided tour of the medina in Marrakech (which often makes you skip the lines) or a camel ride in the Sahara desert. There are also many kid-friendly museums and parks to explore.
Travel insurance, vaccinations, and visa requirements for Morocco
Normally, for Morocco, you don't need a visa if you don't stay longer than 90 days.
Concerning the vaccinations, you don't need any special vaccinations for Morocco, as long as your kids are up to date with their normal vaccination scheme in your home country. However, always check the latest health advice for Morocco.
We do advise you to have travel insurance when you come to Morocco. Unexpected events can always happen and the general health service isn't fantastic. This means you'll probably go to private hospitals or doctors, but those can be very expensive without insurance.
Things to do in Morocco with kids
Morocco is a great destination for families with kids. From exploring the vibrant cities to riding camels and sleeping in the Sahara Desert, there are plenty of family-friendly attractions to enjoy. Here are some of the top attractions for families in Morocco.
Marrakech
You might wonder, is Marrakech good for families? In our opinion, it definitely is. Marrakech is an amazing city that offers a mix of history, culture, and entertainment for kids and their parents.
Be aware though that Marrakesh is a busy city and might sometimes be a bit overwhelming for (small) children and even adults. Make sure you have a nice family-friendly accommodation such as Riad Zineb or Riad Africa where you can escape the hustle and bustle or heat and enjoy some relaxing hours by the pool.
Read more: Best riads to stay in Marrakech
The city's main square, Jemaa el-Fnaa, is a great place to start. Here, families can enjoy street performers, snake charmers, and food stalls. Go shopping with your kids in the surrounding souks.
Other family-friendly attractions in Marrakech include:
Majorelle Garden: a beautiful garden with exotic plants.
Bahia Palace: a 19th-century palace with stunning architecture and gardens.
Oasiria water park: a fun water park with slides, pools, and other attractions.
Ourika Valley: a fun day trip from Marrakech to enjoy the outdoors.
Read more: What to do in Marrakech
Fez
Fez is another great city to visit with kids. The city's medina is a UNESCO World Heritage Site and is one of the largest car-free urban areas in the world.
We advise you to stay in a family-friendly accommodation inside the old medina, such as Riad Alassala (where we stayed) or Riad Zitouna. That way you are within walking distance of everything.
Here are some family-friendly attractions in Fez:
Bou Inania Madrasa: a beautiful 14th-century madrasa with intricate tile work and architecture.
Fez El-Bali (the old medina): a maze of narrow streets and alleys with markets, shops, and something to see around every corner. Or let the kids do a donkey ride.
Diamand Vert: a fun waterpark, close to Fez Airport.
Jnan Sbil Gardens: if you want to escape the bustling streets of Fez, come here to have a picnic or let the kids run around.
Read more: What to do in Fez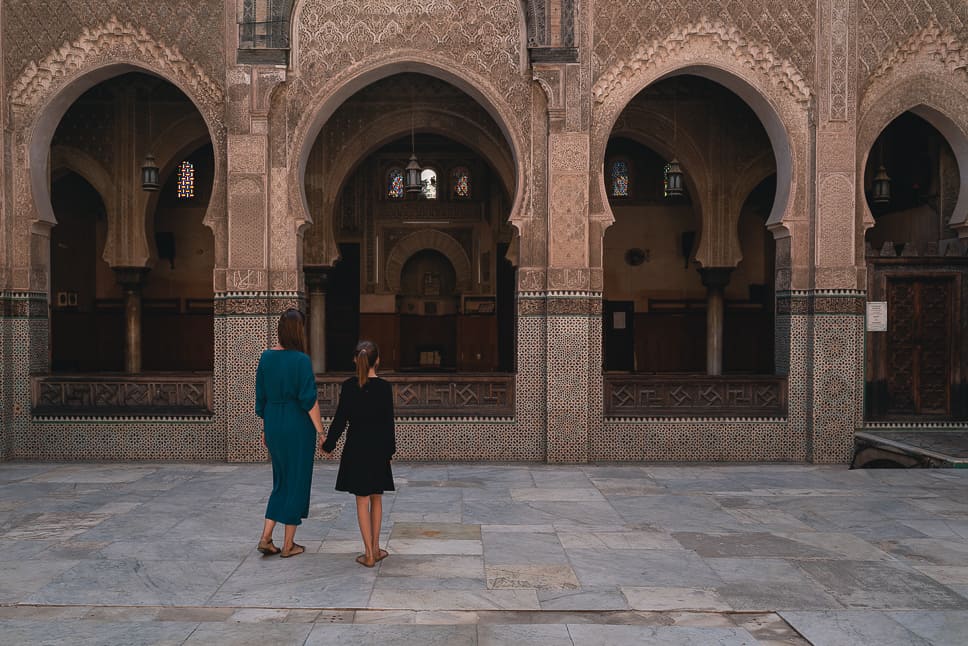 Essaouira
Essaouira is a laid-back coastal town that is perfect for families who want to relax and enjoy the beach.
Here are some family-friendly attractions in Essaouira:
Essaouira Beach: a beautiful beach with calm waters and plenty of space for families to relax and play. You can ride horses, camels, and even quad bikes along the beach, also during sunset.
Skala de la Ville: a historic fortification with great views of the ocean and the city from the ramparts.
Essaouira Medina: a charming medina (our favorite one in Morocco) with markets, shops, and historic buildings. It's a bit less chaotic than the medinas of Marrakech and Fez so perfect for children to run around.
Essaouira Fishing Port: a bustling port where families can watch the fishermen bring in their catch of the day.
Read more: What to do in Essaouira, Morocco
For your hotel, you can choose a traditional stay inside the medina, for example in Riad Jade Mogador, or a holiday home more towards the beach, such as Vent des Dunes.
Essaouira is also known for its water sports such as kite surfing and regular surfing. There are plenty of clubs offering lessons for families.
Another option is going to the small surfing town of Imsouane, about 1,5 hours from Essaouira. In Imsouna, we took a family surfing lesson and loved it.
Merzouga and the Sahara Desert
The desert is always a fun place for kids and the Sahara Desert in Morocco is no exception. Our kids loved the entire experience and can't wait to go back.
Merzouga is a great place for your Moroccan desert adventures. You can either choose to stay in one of the beautiful hotels in Merzouga itself, such as Kasbah Mohayut, or you can stay in a desert camp, such as Beldi Camp, and really soak up the adventure. We did both and think it's a good combination.
Read more: What to do in Merzouga and the Moroccan Desert
Here are some family-friendly activities to do around Merzouga:
Camel riding: almost all accommodations offer camel rides in the desert. If you sleep in a desert camp, that's usually how they will take you there. A fantastic experience in Morocco with kids!
Fossil hunting: around Merzouga, there are many fossils to be found. Go and try to find some yourself with your children or visit one of the museums.
Sandboarding: a fun activity to do with kids, usually offered by the desert camp you're staying.
The Atlas Mountains
Morocco has many different sceneries and you definitely need to explore the Atlas Mountains with your kids. There are many very family-friendly trekkings in this area and usually, you can book a mule for your kids.
Imlil is a town, just an hour away from Marrakech, and close to the Toubkal, the second-highest mountain in Africa. We stayed at the Berber Family Lodge, a fantastic place that your kids will love. The owner arranged a hike for us (with a muke) towards a nearby waterfall.
Our kids loved the whole experience and we can highly recommend you to come here with your family!
Family-Friendly Accommodations in Morocco
When planning a family vacation to Morocco, finding the right accommodation is crucial to ensure a comfortable and enjoyable stay.
Read more: Where to stay in Morocco, our favorite riads and accommodations
Luckily, Morocco offers a variety of family-friendly accommodations to choose from, including riads, villas, and more adventurous options.
Stay in a riad with your kids
Riads are traditional Moroccan houses that typically feature a central courtyard (sometimes with a pool) and a rooftop terrace.
Many riads offer family rooms or suites that can accommodate several people. Some riads also offer babysitting services, making it easier for parents to enjoy some time alone.
Staying in a riad is a magical experience, taking your children to the world of 1001 nights. They are often a little paradise, hidden behind high walls, offering peace and tranquillity away from the hustle en bustle of the chaotic medina.
Stay in a private home or villa
Villas are a great option for families who want more space and privacy. Many villas in Morocco come with private pools and gardens, providing a relaxing retreat after a day of exploring.
Some villas even come with a chef or a maid, allowing families to fully relax and enjoy their vacation.
Especially around bigger cities and close to the seaside, you can find many fantastic private homes to spend your family holiday in Morocco.
Glamping
For families who love the outdoors, glamping is a unique and exciting option. Morocco has several glamping sites that offer luxury tents or eco-lodges.
Glamping sites typically offer activities such as camel rides, hiking, and stargazing. Some glamping sites also offer family-friendly amenities such as playgrounds and swimming pools.
We stayed in one of those amazing luxury desert camps around Merzouga, but also in the Agafay desert (closer to Marakech) you can find many options.
No matter what type of accommodation a family chooses, it is important to ensure that it is family-friendly. This means checking that the accommodation offers amenities such as high chairs, cribs, and child-friendly menus. It is also important to check that the accommodation is located in a safe and convenient area.
We hope this article gave you many tips and above all, excitement to go to Morocco with your children. It is a great destination for families with kids who are looking for an exciting and educational adventure. With its rich culture, delicious food, and beautiful landscapes, it is sure to be a memorable trip for everyone.
Do you have any questions or remarks, let us know in the comments!
Happy travels!
Save on Pinterest for later
Other articles about Morocco that might interest you
Or check here all of our articles and best tips for Morocco!
Morocco with kids: how to plan a great Morocco family vacation