This post may contain affiliate links. If you make a purchase through one of these links, we may receive a commission at no extra cost to you. Please read our affiliate disclosure and privacy policy for more information
Tips for visiting Merzouga and the desert in Morocco
Always dreamed of a real desert experience? Then you should definitely come to the desert in Merzouga, Morocco! The red sand dunes of the Erg Chebbi desert (part of the Sahara) appeal to everyone's imagination!
In addition to all kinds of desert activities such as camel rides, quad biking and jeep safaris, you can also spend the night in the desert in original or luxurious Berber tents, the ultimate glamping feeling! Add endless starry skies and music around a campfire and the picture is complete.
You should definitely not miss this amazing experience in the desert of Morocco during your tour of Morocco! And Merzouga is the ideal base for it!
In this article, we tell you everything you need to know about Merzouga and the desert of Morocco. How to get to Merzouga, how best to arrange your overnight stay between the sand dunes, what you should bring with you, and what there is to do. And of course, we also give you our best tips and our own experiences!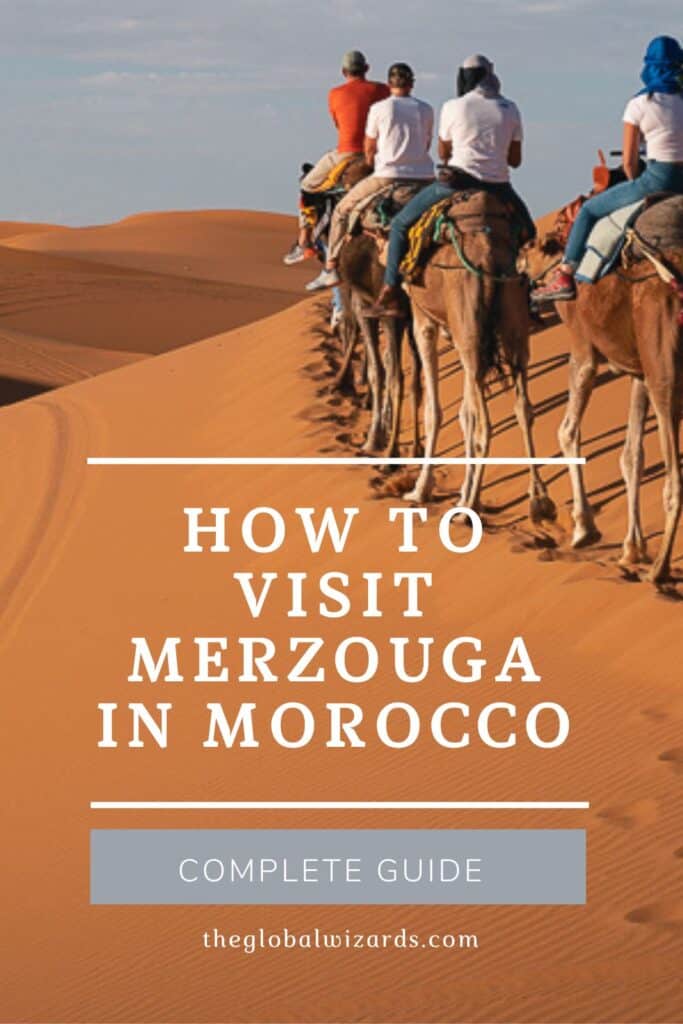 Which desert to choose in Morocco: Erg Chebbi vs Erg Chigaga vs Agafay
In Morocco, there are several places where you can experience the desert (all part of the Sahara). But where is the best place to go for a camel ride and an overnight stay and what is the difference? Here's a brief overview.
Erg Chigaga
This lesser-known desert in Morocco is located near Zagora/M'hamid. There is no asphalt road leading here, so you can only get there with a 4×4.
This makes this piece of the desert more adventurous, less touristy, and more authentic, but also more expensive to visit. The downside is that the dunes are a bit lower in the beginning, so a trip with dromedaries is less impressive here.
However, the deeper you go into the desert (for example by jeep), the more beautiful and higher they become. The Erg Chigaga desert seems to be really impressive and has the highest sand dunes in Morocco!
Nice places to spend the night in the desert are Authentic Berber Camp and Mhamid Luxury Camp. The road there also takes you past the Draa valley, with tribes with turbans and colorful clothing, they seem to come straight from the Sahara.
If you do not have your own transport, you can also choose to book a multi-day tour to the Erg Chigaga from Zagora or a tour from Marrakech to the desert with a visit to Aït Benhaddou.
Erg Chebbi desert
This is the desert that we will be talking about in this article. With Merzouga, which is accessible via an asphalt road, as a base, this desert is easily accessible.
As soon as you enter the desert for 10 minutes by dromedary, quad, or jeep, you are in the middle of the meter-high dunes. Perfect also for children, because it is comfortable to travel.
All this beauty makes Merzouga a popular destination, with many (luxurious) tented camps and activities that can be booked. Alone you will therefore rarely be, but the experience remains great in any case! And also for taking pictures this is a fantastic place!
Agafay
The Agafay desert is only half an hour's drive from Marrakech and is therefore very popular with people who do not have a lot of time in Morocco.
Here you will not find sand dunes but mainly rocky dunes. This desert is therefore not really comparable to the other two, but that does not mean that the experience is less fun.
Here you can also drive a quad or jeep and sleep in a (luxurious) tent camp. Nice addresses here are Oxygen Lodge Agafay and Emeraude Camp Agafay. A little further but with magnificent views over the snowy peaks of the Atlas, you will find the beautiful Nkhila Lodge.
How to reach Merzouga
Merzouga is located in southeastern Morocco, about 50km of 34mi from Erfoud (known for its fossils) and close to the Algerian border.
You have to drive a long way to get there yourself anyway. As part of our tour of Morocco by car, we came from Fez (and before that Chefchaouen, the blue city) and which is a drive of about 8 hours. Then we drove to the Todra (Todgha) gorge and Dadès valley.
If you come from Marrakech to Merzouga, you have a drive of about 9 hours ahead of you. It is about a 5-hour drive from Ouarzazate.
TIP: Do you want to rent a car just like us to travel around Morocco? As far as we are concerned, the ideal way. It gives you more freedom to visit everything at your own pace. We booked our car with SunnyCars because it always comes with all-inclusive insurance. So no hassle, ideal for a country like Morocco.
It is also possible to get to Merzouga by bus, but then it will take you a long time. From Marrakech to Merzouga by bus, it is easily 12 hours or more.
Is driving through Morocco not quite your thing? Then you can also book a multi-day tour from Marrakech to Fez or from Fez to Marrakech. A round trip from Marrakech to Merzouga is also an option. That way you also see other highlights along the way such as the Todra gorge and Aït Benhaddou.
Merzouga: the perfect place for your visit to the desert in Morocco
Merzouga is a small village deep in Morocco. In the village itself, there is not really much to do. But it is mainly a famous tourist attraction because it literally borders the Erg Chebbi desert.
Since the asphalt road now also runs to Merzouga, the village is very easily accessible. In the past, you could only get there with a 4×4. In high season it can get quite busy here during the day with all tours.
If you want to spend the night in the desert or do a fun desert activity, you almost always have to leave Merzouga. We explain further how you can arrange the trip to the tent camp or activity.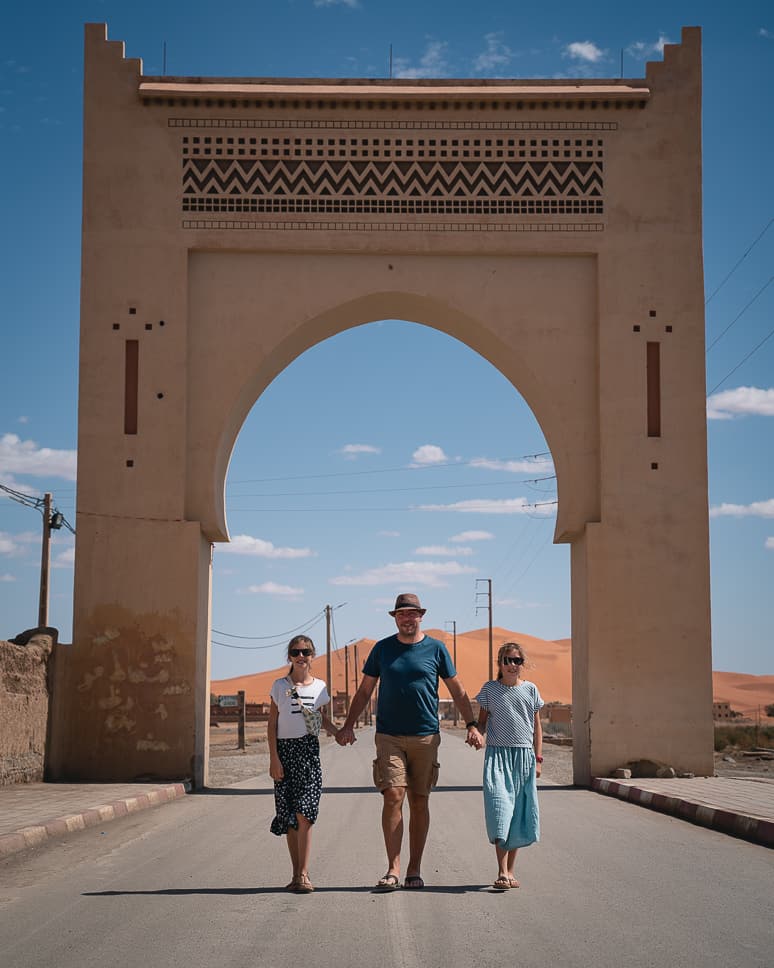 There are various possibilities. Either you arrive (with a tour or with your own car) and immediately head into the desert on your way to a tented camp.
Or you decide to spend a night in Merzouga itself and then go to the desert the second night. During the day you can enjoy the pool and possibly do an activity in the desert such as driving the quad or jeep. Or explore the area by car. At sunset, you then leave for the tent camp with a camel or jeep.
TIP: If you come by car from Fez (like us) or from Marrakech, you will have a long journey. In that case, we recommend that you first stay overnight in Merzouga itself before entering the desert. This way you can recover from the long drive and get the first impressions of the desert.
A very nice and affordable accommodation in Merzouga itself is Kasbah Mohayut. This renovated kasbah has a lot of charm and is located next to the dunes. They have a nice pool, great food, and spacious rooms.
What to do in the desert in Morocco
The desert is something very special. And especially when you see the colors change from a dune at sunset, it gives a magical feeling.
But of course, you came here to really see, feel, and experience the desert! That's why we have an overview of what you can do here.
Sleep in a tented camp
This is one of the main reasons why many people come to Merzouga and the desert in Morocco. Spending the night in the desert is really a unique experience that you should not miss.
You can choose a more basic experience, with traditional Berber tents, such as those at Kasbah Mohayut. However, many tourists stay in the more luxurious tented camps, which are fully equipped.
You usually leave with the dromedaries towards the camp at sunset. Then you stay there for dinner, enjoy Berber music and the starry sky and return the next morning by dromedary or jeep.
More about which tent camp to choose later in this article.
Take a dromedary ride
A trip with a dromedary (no camels here;-)) through the desert is a very nice experience. Especially at sunset and sunrise because then the light and the colors are fantastic and the temperatures are a lot more bearable! Bring a warm sweater because once the sun has gone it can get very cold.
Usually, you can do a dromedary ride at sunset on the way to the tent camp where you will spend the night. If you don't feel like staying a night in the desert, you can simply book a day trip (also possible at sunset) which will then take you back to your hotel in Merzouga.
If you ask us, a dromedary ride is much better for the environment than with the quad or jeep, which are very loud (also for the people who live nearby). Check the reviews in advance to see if the camels are being treated well.
Enjoy the starry night sky
Once the sun has set, the fun is not over yet because then the starry sky shows itself in all its glory. And what a beautiful sight! You see an infinite number of stars and the Milky Way is also easy to see. A unique experience!
This is also the time to get out your camera and practice night photography. Since there is no light pollution, you can take beautiful pictures here. Unfortunately, there was too much sand in the air with us, but for that reason alone we will have to go back.
Read more: Travel photography, what's in our camera bag?
Sand board down a sand dune
You may have already seen the images of people sliding down a sand dune with a snowboard. That is sandboarding! And you can do that here in the desert of Morocco.
Most tent camps have a sandboard and they also usually have a sandboard with you on the dromedary tours so that you can slide down a high dune at sunset. A magical experience!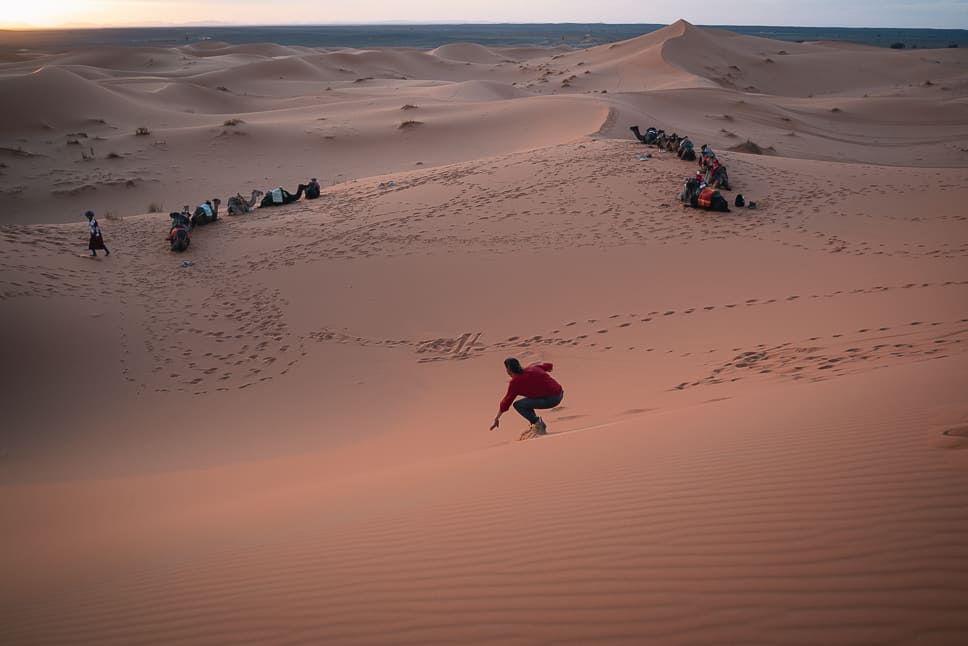 Drive a quad bike or 4×4 through the desert
Do you like roaring engines and a little more speed? Then you can make fun trips with a guide and quads or with 4×4 jeeps. When you do this around sunset, it's extra magical.
There are also day trips with jeeps where you go much further into the desert and visit the nomads. Here too you can combine this with an overnight stay in a luxury tent camp.
Climb sand dunes
Would you like to keep it a little cheaper? Or have some movement in between? Then you can simply climb the dunes yourself. The highest is over 100 meters.
Don't underestimate them, it's a tough journey. Also, make sure you have enough water with you and don't have to find your way back at night.
If you prefer someone to show you the way, you can also book a walk at sunset with a local guide.
Visiting Merzouga and Rissani
If you have some time left, you can certainly explore the area a bit more. There is not much to do in the villages of Merzouga and Rissani themselves. But you can eat cheap and delicious food and also visit the local market.
About 7 km from Merzouga is the village of Khamlia, known for the Gnawa music group. They are known all over Morocco and are happy to play a bit when you pass by. Their traditional music sounds very different from the typical Arabic music, definitely worth checking out.
Finally, there is also the salt lake Dayet Srji. It is located west of Merzouga and is about a 45 minute walk. In the summer it has often dried up, but in the winter you can spot camels that seek cooling, but also flamingos and other special birds.
Tips for spending the night in the desert and choosing a tent camp
Which camp is best for you
When you want to stay in the desert in Morocco and start looking for tent camps in Merzouga, you soon notice that there are a lot of choices. Which camp is best to choose and what is the difference between them?
First of all, you have to make the choice whether you want to go to a more luxurious camp or not. The luxurious tent camps have beautifully decorated tents, often with their own bathroom and toilet. The more traditional tented camps have simply furnished tents, often with communal toilets.
We have tried both and found the luxurious to have something special. Often they are also still very affordable, so we can highly recommend them. Of course, the simpler tent camps are still great fun too.
In addition, you should also pay attention to whether meals are included or not. Most include breakfast and dinner, some also include lunch if you stay longer.
TIP: Are you planning your visit to the desert in Morocco in the summer or winter? Then be sure to check whether your tent has air conditioning or heating. No superfluous luxury then, because it gets very hot in the summer and very cold in the winter. Most luxury tented camps provide this. You can also have sand storms and then it is nice if the tents are a bit more equipped while you sit out the storm.
We stayed at the luxurious tented camp Beldi Camp and can highly recommend them! Their tents are beautifully decorated (each in a different way) and the main tent where you can also eat is simply magnificent with carpets, seats, beautiful lamps and lots of cushions. And the food we were served with them was some of the best we ate in all of Morocco!
How does your stay look like?
When you have booked an overnight stay in the desert, you will normally be picked up at a specific point. Sometimes this can be a hotel, where you can also wait during the day, lie at the pool, or eat something if you are too early. Here you can also safely leave your car (and suitcase) while you are in the desert.
Then you leave from there by jeep or dromedary to the tent camp. This is often in the early evening so that you are in the desert by sunset and can admire the spectacle from a dune.
Once you arrive there, you can install yourself in your tent and then eat in the communal tent. After that, most camps provide Berber music around the campfire or in the tent (depending on the weather).
Then it is time to go to sleep, but not before you have enjoyed the beautiful starry sky! Keep in mind that you don't always see the stars. When we were there it had stormed a lot and there was a lot of sand in the air so you couldn't see the stars properly.
The next morning you can either leave at sunrise by dromedary, return to the hotel where your car is parked, and have breakfast there. At other camps, you can wake up quietly, have breakfast there, possibly do another activity (such as driving the quad) and then return.
TIP: Do you have enough time? Then book two nights in the desert! It's a fantastic place to stay, so one night may feel too short for many people. When you stay in a more luxurious camp, there is often enough to do in and around the camp to not get bored.
Don't expect the camps to be completely remote. Usually, they are close to the edge of the desert. Staying in the center of the dunes is no longer allowed due to a law that was introduced some time ago. Yet you don't really notice this once you are in the camp and it feels like you are in the middle of the desert.
How best to book your unique desert experience
There are several ways to book such a nice overnight stay and some activities in the desert.
You can go to Merzouga and book an overnight stay in the desert and activities in the village. However, we don't really recommend this. When we arrived in the village of Merzouga, they all started approaching us to book an activity, and they were quite pushy. Which is not a nice feeling so we were happy that everything was arranged.
A better choice is to book an overnight stay at a tent camp in advance via booking.com and once you have booked it, you can agree with them on how to get there (for example with a camel ride) and which extra activities you can / want to book. This is how we arranged it with Beldi Camp.
A third option is to book accommodation in Merzouga itself via booking.com and book a camel ride, activities, and overnight stay in the desert through them, as we also did at Kasbah Mohayut.
Finally, you can also book various tours including an overnight stay via Getyourguide or Viator. There are day tours and multi-day tours that depart from Merzouga, but also multi-day tours from Fez or Marrakech to the desert in Morocco.
What to bring with you?
Taking the entire suitcase with you on the dromedary is a bit difficult ;-). You can choose to leave it in your car or give it to the people at the tent camp who will take it by jeep.
What should you definitely bring?
A scarf or headscarf against the sun or against the sand when the wind blows hard. A cap is also possible, but a scarf helps against the blowing sand.
Sun cream
Light long trousers and a long shirt protect you against the sun and the wind and closed shoes are useful (but not necessary).
A thick sweater and warm pants because evenings in the desert can be cold, especially when you are here in autumn, winter, or spring.
Camera and possibly charger. The more luxurious camps have electricity.
You should not normally take food with you unless you want specific things.
Best time to travel for the desert in Morocco and Merzouga
In the summer it can get very hot in the desert (up to over 40 degrees). If you still want to come here in the summer, make sure you book a tented camp with air conditioning, otherwise, it will be very hot to sleep in.
The best time to come to the desert is in autumn and spring. The winter (from October to February) is also good, although it can get very cold at night (around the freezing point). Then try to have tents that also provide heating.
In the spring you have a slightly higher chance of sandstorms. We were there in September and also had to deal with a sandstorm and even a little rain.
And with that, we have told all about Merzouga! Hopefully, we have inspired you to plan and book your own experience in the desert of Morocco. Be sure to let us know in the comments if you have any questions or concerns!
Have fun traveling!
Save to Pinterest for later.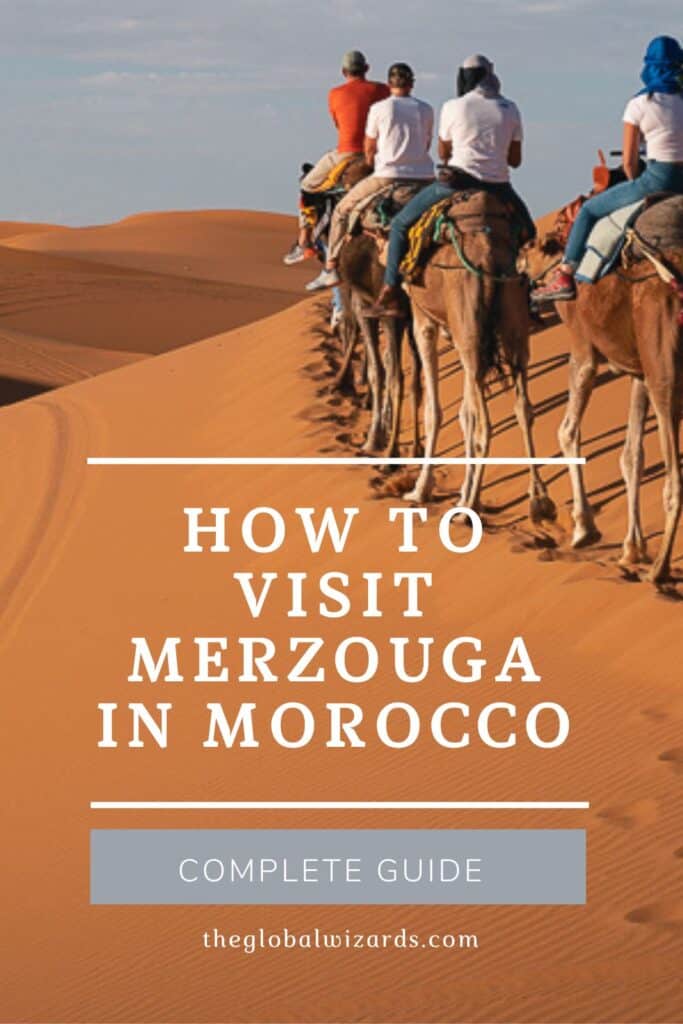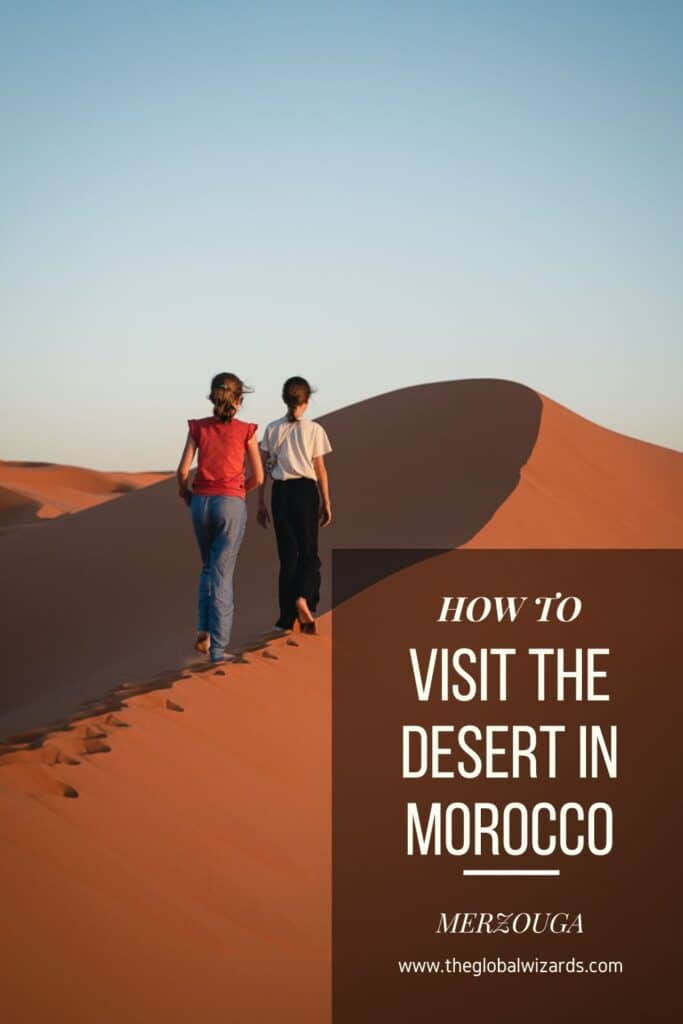 Our other articles about Morocco
Merzouga: Discover the Sahara desert in Morocco