This post may contain affiliate links. If you make a purchase through one of these links, we may receive a commission at no extra cost to you. Please read our affiliate disclosure and privacy policy for more information
Visiting Iceland in April: what to expect?
Traveling to Iceland in April? But not sure what to expect? What will the weather in Iceland in April be like? Is it still winter? What are the road conditions in Iceland in April? What are the best things to do in April in Iceland? Read on, we've got you covered in this article!
April is a fantastic month to visit Iceland! We've traveled through Iceland for 4 weeks in April and loved the whole experience! If you only have one week to spend in Iceland, we have written this ultimate 7 days in Iceland itinerary for you.
First of all, the amount of daylight is increasing rapidly in April. Sunrise is around 6 am and sunset around 9 pm. You'll have plenty of time to explore the many highlights of Iceland!

Secondly, you're off-season which means that it will be less expensive to book accommodations, plane tickets, and a car or campervan. Be aware of the Easter holidays, however!
And last but not least, you can enjoy the best of both worlds. Winter comes to an end, but in the first half of April, you still can see the northern lights or visit an ice cave. And the summer season is slowly coming back, which means the grass is turning green, snow is melting and the waterfalls are back to their most impressive selves!
Weather in Iceland in April
Temperatures in Iceland in April
Temperatures start to rise, as summer is coming closer. However, this is Iceland! So you need to be prepared for anything! It can feel like summer and winter on the same day.
The average temperatures in Iceland in April evolve from just below 0°C/ 32°F by the beginning of the month to around 2,5°C / 37°F by the end of the month. However, when we were there in April, we had -15°C / 5°F up north and 7°C / 44°F down south.
The temperature of the seawater is rather cold, around 6°C (42,8°F). Still, with the right gear, you can go kayaking, snorkeling, or diving. And, there are lots of hot springs and lagoons with warm water in Iceland.
Rainfall and wind in April in Iceland
April can get pretty wet, although it's supposed to be better than March. Both rain and snow are possible. When we were in Iceland in April we almost got no rain, just some snow at the beginning of the month.
Normally, there is around 20mm of rainfall and about 18 days of rain. The average sunshine in April is 5 hours per day, so you should have some sunny pictures ;-).
The biggest issue, however, concerning the weather in April in Iceland is the wind. The wind in Iceland is fierce and makes everything feel much colder. Especially when the wind is combined with rain or snow. Prepare yourself and make sure you know what to pack for Iceland in April!
Download our packing list for Iceland winter (October – April)!
Driving and Road conditions in Iceland in April
When we were planning our trip to Iceland in April, one of our biggest concerns was whether a road trip around the entire island would be possible. What would the road conditions be like in April in Iceland? Would it be safe to drive the ring road in April?
We've talked about the weather conditions. Be ready to expect anything! Snow, rain, ice, and perfect roads, it's all possible.
Around Reykjavik and in the southern part of Iceland, the roads are usually well maintained. If you drive the entire ring road, as we did, you probably encounter snowy and icy roads.
So yes, it's definitely possible to do a road trip in Iceland in April, but be prepared for all kinds of conditions. Always check the road conditions on road.is or safetravel.is before you leave! If you are looking for a good rental site, check Rentalcars.com.
We wrote an entire article about driving in winter in Iceland, so check it out if you want all the information.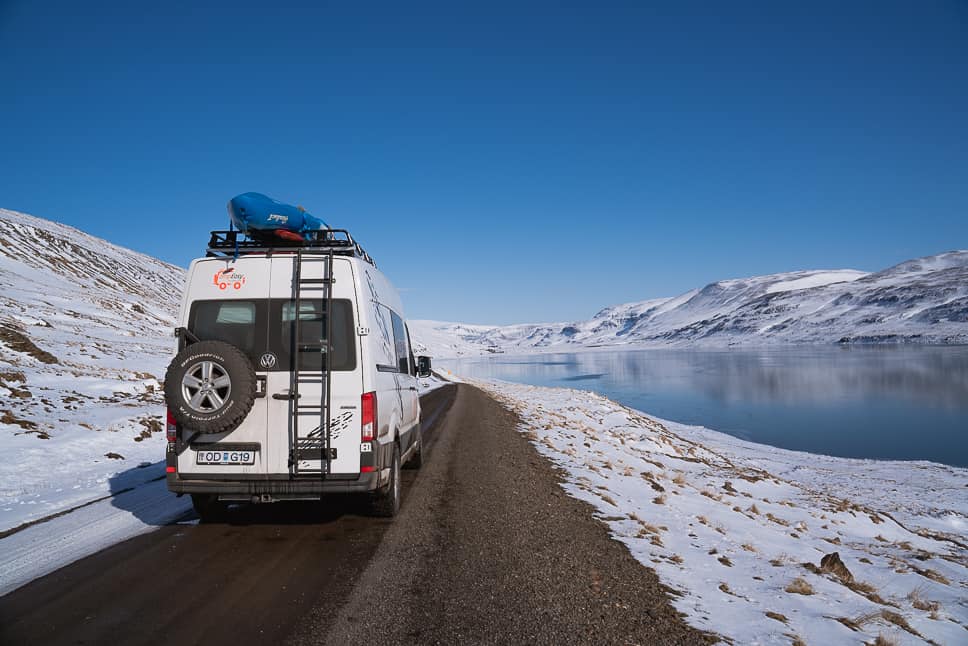 Things to do in Iceland in April
April is a fantastic month to visit Iceland! Most summer activities are possible again, but you still get to enjoy some of the winter activities in the first two weeks of April, such as seeing the Northern lights and exploring an ice cave.
Below, we've listed the most exciting activities in April in Iceland for you! Some of them are perfectly doable on your own, for others you'll want or have to book a tour. Book them well upfront as they tend to get full quickly!
See the Northern lights in Iceland in April
Until around the 15th of April, it is possible to see the Northern Lights or Aurora in Iceland. After that, the days are too long and there isn't enough darkness anymore.
To avoid light pollution, try to go to the countryside. Sometimes it's better to join a tour if you don't know where to look. They'll also teach you some tricks on how to discover the magical light and how to capture it!
Read more: Travel photography gear, what are the essentials?
Visit an ice cave in April in Iceland
If you want to visit an ice cave inside a glacier in Iceland in April, you'll have to plan at the very beginning of the month. As temperatures start to rise, the ice caves can become unstable and therefore too dangerous to visit.
You can only explore an ice cave with a certified guide, which means you'll have to book a tour. We booked ours with Glacier Adventure and loved it!
Whale watching in Iceland in April
You can see whales all year round in Iceland, but in April (especially by the end of the month) the season starts again, and your chances of seeing one increase considerably! The humpback whale, orca, dolphin, and lots of other whales can be seen.
One of the best spots in the world to spot whales is Husavik, in the northern part of Iceland! To get there, you either drive the ring road or take a plane to Akureyri. If you don't get there, you can also book tours around Reykjavik and the Snaefellsness peninsula.
We went to Husavik and booked a tour with North Sailing. They provide special thermal suits, hot chocolate, and cookies during the trip. It wasn't our lucky day as we didn't spot any whales. But we did see the first puffins of the year. If you don't see any whales, you get a new ticket for another whale spotting tour.
Go puffin spotting in April in Iceland
The stars of Iceland are the puffins. For some, they are the national symbol of Iceland, although they're not. These funny but beautiful little birds arrive in Iceland every year around April. They come ashore to mate.
The best places to spot them are, for example, the Westfjords or Vestmannaeyjar in the south of Iceland. You can book a tour (if you want to increase your chances of seeing them) or rent a car to get on an expedition.
Some tours start from Reykjavik, but you can also book them locally.
Get on a glacier in April in Iceland
The glaciers are covered with snow and ice all year round but in April, when the weather improves, it might be more comfortable to hike or snowmobile on a glacier.
Don't go there by yourself! Glaciers are dangerous environments and change every year. You have to book a tour with an experienced guide who knows the glacier by heart!
Go horse riding in Iceland in April
The Icelandic horse is another iconic animal that lives on this island. If you visit Iceland, you'll definitely want to book a horseriding tour!
Besides the fact that these horses are known for their very gentle character, riding them through the Icelandic landscape is an experience you'll never forget! And if you book a tour, you'll learn a lot about their history and why they are so special.
We booked our tour with Icelandic Horseworld and loved it! April is a great month as the temperatures start to rise, which makes it more comfortable to do a horse riding tour.
Go kayaking, snorkeling, or diving in April in Iceland
You probably think I'm mad for suggesting water activities in April, but yes, you can go kayaking, snorkeling, or diving in Iceland in April. Will it be cold? Yes! Will it be doable with the right gear? Yes! Will it be a magical and once-in-a-lifetime experience? Absolutely yes!
When you rent a campervan with CampEasy, you can bring along a kayak, as we did. They also give you drysuits and everything you need to make it an enjoyable experience!
Or you could book a kayak tour. One of the most known ones is around Sólheimajökull Glacier, where you can kayak between icebergs.
Snorkeling and diving in Iceland is a magical experience. You'll find some amazing spots and tours within easy reach of Reykjavik. The Silfra Snorkeling pond, close by the Golden circle is fantastic too!
Snowmobile ride in April in Iceland
As there is still a lot of snow on the glaciers and higher plains, you can book a snowmobile tour in Iceland in April. It will be an unforgettable experience! Most tours are combined with other snow or glacier activities. The tour companies will provide you with thermal suits, so you won't get cold.
Dive into the hot springs
Always bring your swimsuit with you when exploring Iceland. The country is full of hot springs. Some of them are free, but for most of them, you need to pay a (small) entrance fee.
There are of course the Blue Lagoon and the Myvatn Nature Baths, which are very popular. But you'll want to look further than that and find those hidden gems.
Here are two we can highly recommend, both beautiful hikes to reach them! One of them was in Reykjadalur which is a hot spring thermal river. You can start from the parking lot and after 1,5 hours you reach the river where you can take a well-deserved bath. The higher you go, the higher the temperature. You can change your clothes but don't expect too many luxuries. If you come in April, don't forget crampons, the path is icy!
The other hike we did was to Seljavallalaug hot pool. They say it's the oldest swimming pool in Iceland, made by men and provided with fresh hot water. It's an easy walk and not far from the ring road. The water is a bit dark and the changing rooms are dirty but the view is unbelievable.
If you'd like the whole picture, check this map with all the hot springs in Iceland.
Drive the Golden Circle in Iceland in April.
The Golden Circle is within easy reach of Reykjavik, and something you definitely can't miss! Although we highly recommend exploring the rest of Iceland as well, if you don't have a lot of time, it is a fantastic start to see some highlights of Iceland.
You could either book a tour from Reykjavik or drive the Golden Circle yourself. By April, most of the roads will be cleared, so you'll be fine. However, you can always expect some snow or ice.
The landscapes are just unforgettable and you get to see geysers, waterfalls and hot springs. The golden circle is about 300km or 190miles long.
Here are the three main sites you have to visit:
Thingvellir National Park: This is the place where the history of Iceland began. The first parliament was held here. It is also a nature park where you can stand and dive between the two continental plates. Click here for the website of the national park with all info about its history and nature.
Geysir: This is a hot spring area with boiling mud pits. About every 12 minutes, the biggest geyser erupts. Be careful, the water is extremely hot and you can burn yourself.
Gullfoss: This is one of the most impressive waterfalls in Iceland and easy to reach with your car. The waterfall has two stages, the first is 11 meters (36 feet), and the second is 21 meters (69 feet). The canyon walls reach heights up to 70 meters (230 feet), descending into the Gullfossgjúfur canyon.
If you'd rather not drive, here are some great tours for visiting the Golden Circle.
Drive the entire ring road in Iceland in April
If you have enough time, we can highly recommend you to drive the entire ring road of Iceland in April. As mentioned before, you'll have to check the road and weather conditions regularly, but it's so well worth it to get a full impression of this fantastic island! Be aware that the highlands and Westfjords will still be inaccessible in April.
If you're not up to driving the ring road yourself, you could book full-day tours from Reykjavik to catch most of the highlights. The far east and north will not be possible, however. You could also fly to Akureyri, the biggest city in the northern part of Iceland, and book tours from there (such as whale watching in Husavik).
Festivals in Iceland in April
When you're visiting Iceland in April, there are some fun festivals you don't want to miss.
The first day of summer
This day is always the last Thursday of April, which is the first day of summer in Iceland. They only have two seasons, winter and summer. Energy is coming back for all Icelanders after the dark winter months.
Street parades are held and people wear their summer clothes. And all exhibitions and museums are open and can be visited for free!
AK Snowboarding festival
In the North of Iceland, you will find the lovely town of Akureyri. Right next to it, is the Hlíðarfjall ski resort. Every year they have a 4-day snowboarding and music festival, the AX festival. A lot of fun with the best snowboarders and music players in Iceland.
The Children's Culture Festival
This festival sets in Reykjavik, by the end of April. During the Children's Culture Festival, you can find many organized activities for kids throughout the city, such as workshops, dances, exhibitions, …
WHERE TO STAY IN ICELAND IN APRIL
Camping in Iceland in April
When we were in Iceland in April, we booked our campervan with CampEasy and camped the entire time. Winter camping in Iceland is possible! When you rent a camper with CampEasy, you'll get a GPS with all the information on the campgrounds that are open, inside your vehicle.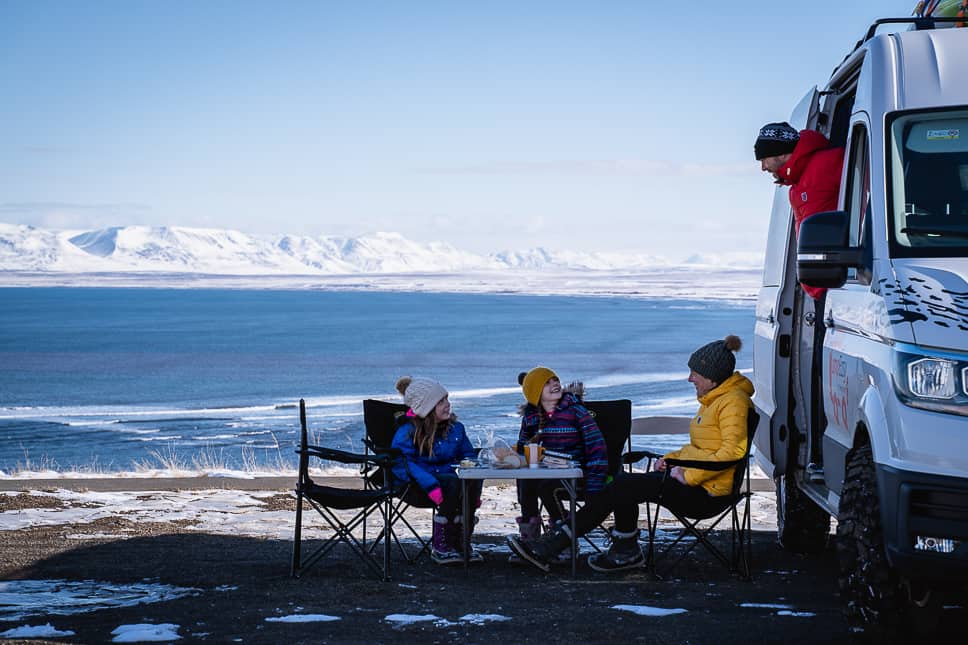 April is a fantastic month for camping, as most campgrounds will open again after a long winter. The grass is getting green again, the weather is improving. It's a great way to explore Iceland on a budget.
Read more: must-haves for your next campervan trip
Booking accommodation in Iceland in April
There are many, many options for accommodation in Iceland. Most of them are around the Reykjavik area and the Southern part of Iceland. Although April isn't high season, you'll want to book well upfront.
If you travel on a budget, don't worry. There are definitely budget options for hotels, apartments, or guesthouses. But you'll also find many cool places to stay in Iceland, once-in-a-lifetime experiences.
Read more: How to travel on a budget with kids
Check booking.com or Airbnb. If you book an apartment or hotel, check the distance to the ring road. Don't get too far into the countryside during winter or in April as you might get in trouble or get stuck due to the road and weather conditions.
SAVE ON PINTEREST
Did you find this article interesting? Save it to Pinterest for later!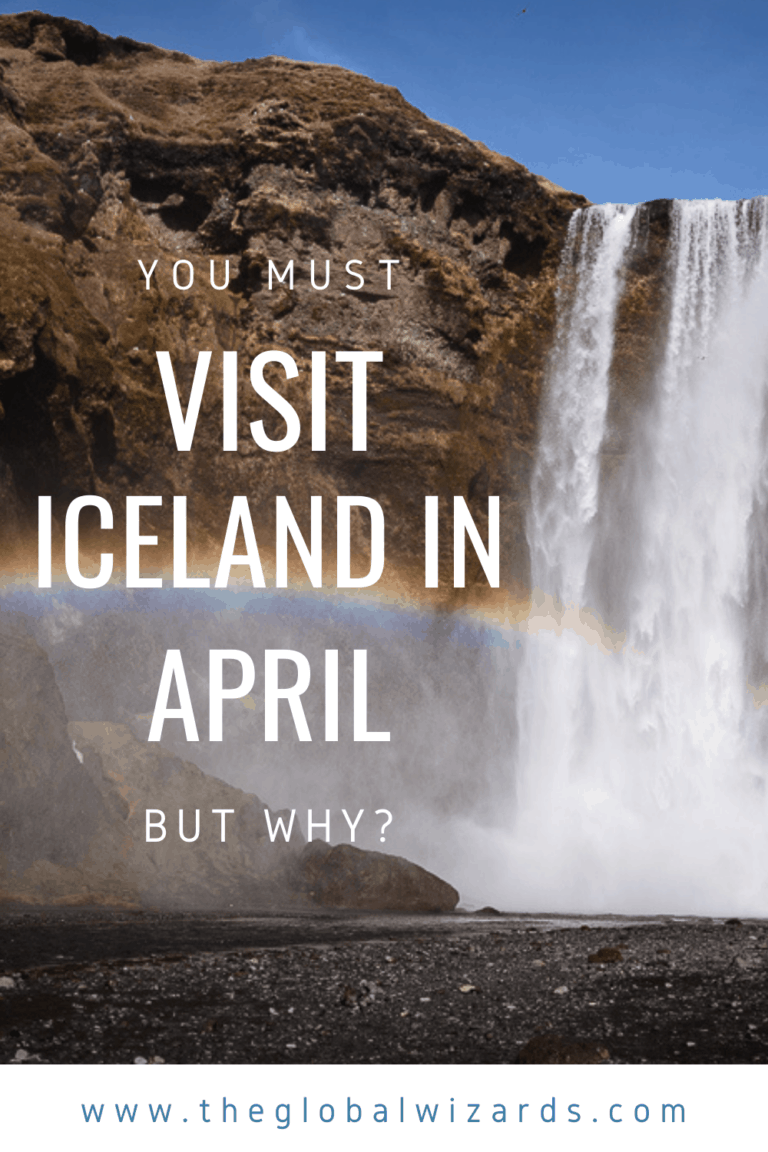 Other related articles you might find interesting
Iceland in April: weather and things to do