This post may contain affiliate links. If you make a purchase through one of these links, we may receive a commission at no extra cost to you. Please read our affiliate disclosure and privacy policy for more information
Top Activities and attractions in Iceland
Iceland is one of our favorites when it comes to travel. We immediately fell in love with it. Beautiful landscapes, untouched nature, and also a lot of culture. We have summarized the best things to do in Iceland in this article.
In Iceland, you will find captivating landscapes, ranging from volcanoes and glaciers to geothermal hot springs and black sand beaches. As a result, Iceland boasts an assortment of activities and experiences that are sure to leave visitors in awe.
Visitors can venture to the famous Golden Circle or walk among the striking basalt columns at Reynisfjara Beach. Other must-sees are the Jokulsarlon Glacier, the Blue Lagoon, and/or Sky Lagoon.
We went whale watching in Husavik and did a guided tour of one of the Ice caves. We didn't do the Silfra snorkeling because the kids were too young but we would definitely recommend it.
Additionally, Iceland's rich cultural heritage, which includes the well-preserved history of the Vikings, is certainly something worth delving into during one's stay.
You can plan activities depending on which season you visit Iceland. In winter the Highlands are closed. If you go in winter check our article about visiting Iceland in winter. We also have a 7-day itinerary or 10-day itinerary Iceland which will take you to some of the best things to do in Iceland.
Reykjavik
Reykjavik, the capital city of Iceland, is a hub for amazing activities and incredible experiences. This section lists some of the best things to do in Reykjavik and its surroundings. We also dedicated a complete article about what to visit in Reykjavik.
Reykjavik City
Reykjavik City is the cultural, economic, and governmental center of Iceland. It offers numerous activities, such as:
Explore the artistic streets of downtown Reykjavik. Discover Laugavegur and Rainbow Street.
Visit the iconic Hallgrímskirkja church
Enjoy the nightlife and Icelandic cuisine in a variety of bars and restaurants
Visit the Perlan Museum, Wonders of Iceland
Thingvellir National Park
Thingvellir National Park is a UNESCO World Heritage Site and an important historical and geological location in Iceland. It is a must-see destination for those interested in the Earth's tectonic forces. Walk along the Rift Valley, where the Eurasian and North American tectonic plates are moving apart.
You can also visit the Öxararfoss waterfall.
Silfra is a unique snorkeling spot located in Thingvellir National Park in Iceland. It is considered one of the top diving and snorkeling sites in the world due to its crystal-clear water and incredible visibility, with visibility up to 100 meters. The water in Silfra comes from the nearby Langjokull glacier and is filtered through porous lava rock, creating a pristine and otherworldly underwater landscape.
Snorkeling in Silfra is a once-in-a-lifetime experience that offers a unique opportunity to explore the underwater world in a way that few places on Earth can match. Whether you are a seasoned snorkeler or a beginner, Silfra is an experience not to be missed.
Accommodations:
Geysir and Strokkur
Geysir and Strokkur are two of Iceland's most famous geysers. Located in the Haukadalur geothermal area, Strokkur erupts every 4-10 minutes, reaching impressive heights of around 30 meters (98 feet).
Gullfoss Waterfall
Gullfoss Waterfall, situated within the Hvítá glacial river, is one of Iceland's most iconic waterfalls. The two-tier waterfall offers breathtaking views and is a must-visit destination on the Golden Circle route.
A good place to spend the night is Hotel Gullfoss. It is located just 1.2 kilometers from Gullfoss, this hotel provides a convenient and comfortable stay.
Blue Lagoon
The world-famous Blue Lagoon is a geothermal spa renowned for its healing properties and exceptional experiences. Soak in vivid blue waters, packed with minerals like silica and sulfur, which are known to alleviate various skin problems.
You can spend the night in Grindavik in the Northern Light in, located near the Blue Lagoon, offering comfortable stays and a complimentary shuttle service to the spa.
South Coast
Seljalandsfoss and Gljúfrabúi Waterfalls
The South Coast of Iceland offers numerous breathtaking attractions, including the famous Seljalandsfoss and Gljúfrabúi waterfalls. At Seljalandsfoss, visitors can take a unique walk behind the 60-meter-tall waterfall, experiencing a stunning panorama of the surrounding landscape.
Just a short distance away is the lesser-known Gljúfrabúi, a hidden gem situated within a narrow canyon.
Skógafoss Waterfall
Another must-see destination is Skógafoss, a mighty waterfall with a width of 25 meters and a drop of 60 meters. With its captivating beauty and accessible viewing platforms, Skógafoss offers both a top-down and ground view of the waterfall, making it a perfect spot for photography enthusiasts.
Reynisfjara Black Sand Beach
The iconic Reynisfjara Black Sand Beach is a mesmerizing sight with its striking black sand and unique basalt column formations. This beach is also home to the massive Reynisdrangar sea stacks, which nestle amidst roaring Atlantic waves.
Visitors should be aware of the dangers posed by the big waves that can occur on the beach. These waves are often unpredictable and can be much larger than they appear, sweeping unsuspecting visitors out to sea. It is important to always keep a safe distance from the water's edge and to never turn your back on the waves.
Dyrhólaey Arch
Dyrhólaey Arch, a majestic basalt arch perched at the edge of the sea, provides panoramic views of the coastline, black sand beaches, and a nearby puffin nesting site. Ensure to visit during daylight hours for crystal-clear glimpses of the surrounding landscapes. You can see them from April to August.
Check this article about the puffins at Dyrhólaey Arch and how you can see the puffins in Iceland.
Jökulsárlón Glacier Lagoon
The stunning Jökulsárlón Glacier Lagoon is a must-see and one of the best things to do in Iceland. It's boasting massive icebergs that break off from the nearby glacier. To make the most of this captivating lagoon, take a boat tour and immerse yourself in the surrounding icy wonderland.
Places to sleep:
East Iceland
Vatnajökull Glacier
Vatnajökull Glacier is not only Iceland's largest glacier but also the largest ice cap in Europe. Visitors can explore this magnificent natural wonder through organized glacier hikes, snowmobile tours, and ice cave experiences. These activities often depart from Skaftafell in the south, which offers various accommodation options, including campsites, guesthouses, and hotels.
We went on a guided Glacier hike which took about 4h. The hike was suitable for all levels. They provide all the necessary equipment.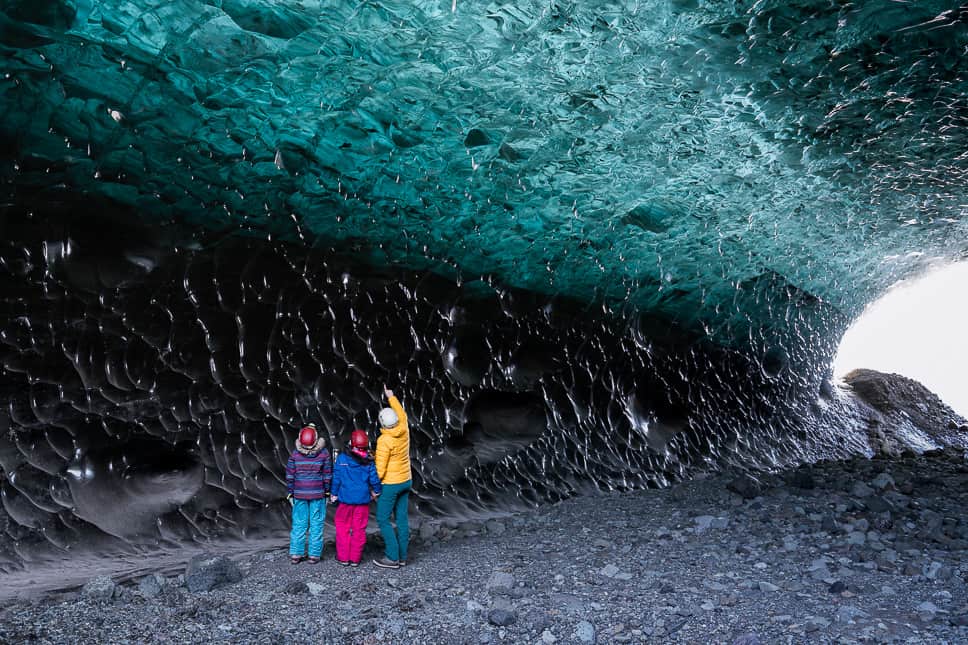 Seyðisfjörður Town
Seyðisfjörður is a charming and picturesque town located in a beautiful fjord. This vibrant and artistic community is known for its:
Colorful wooden houses
Unique arts scene
Music events and festivals
Hiking trails, with varying levels of difficulty
For a comfortable stay, consider booking at the Hótel Aldan. You can choose to stay in the Old school, Post Office or Bank.
Stuðlagil Canyon
Stuðlagil Canyon has gained popularity in recent years due to its impressive basalt columns, which create a stunning backdrop for photography enthusiasts. Visitors can appreciate its beauty by its hiking trails that lead to the canyon.
To stay nearby, look for accommodation options in Egilsstaðir, where you'll find hotels, hostels, and guesthouses. Egilsstaðir is also a good place to buy groceries and stuff.
Hengifoss Waterfall
The majestic Hengifoss Waterfall is the third-highest waterfall in Iceland, with a drop of 128 meters. The trek to reach Hengifoss is worth the effort, as it offers scenic views that showcase spectacular geological formations. In Egilsstaðir, you can find accommodations like hotels, guesthouses, and hostels for a convenient base to explore the area.
Borgarfjörður Eystri
Borgarfjörður Eystri is a remote and tranquil village that is best known for its abundance of puffins and remarkable hiking trails. Among the best things to do in Iceland, visiting this area provides visitors with the opportunity to observe puffins up close.
North Iceland
Goðafoss Waterfall
Goðafoss is often referred to as the "Waterfall of the Gods," and is one of Iceland's most iconic falls. Visitors can take in the sights either from the east or west side of the river Skjálfandafljót, and even dine at the nearby restaurant overlooking the waterfall.
Nearby accommodations include Hotel Godafoss Fosshóll and the Fljotsbakki hotel.
Mývatn Lake
Mývatn Lake is a geothermal wonderland lying within a volcanic landscape. Visitors can hike around the area, explore the steam vents and mud pots, or relax at the Mývatn Nature Baths. Consider staying at Sel-Hotel Mývatn, which offers stunning views of the surrounding scenery.
Dimmuborgir Lava Fields
The remarkable Dimmuborgir Lava Fields are a must-see in North Iceland. These unique rock formations were created after a volcanic eruption when lava flowed over a wetland thousands of years ago.
Hiking trails are available to explore the fascinating formations. Nearby accommodations include Hótel Laxá and Dimmuborgir Guesthouse.
Húsavík Town
Húsavík Town is the whale-watching capital of Iceland, offering boat tours to catch a glimpse of these magnificent mammals. With its picturesque harbor and colorful houses, the town itself is worth a visit. Salka Restaurant is a pleasant spot for a meal, and for accommodations consider Húsavík Cape Hotel.
Read our complete guide about whale watching in Iceland if you're interested to discover this part of Iceland.
Ásbyrgi Canyon
Ásbyrgi Canyon is an awe-inspiring horseshoe-shaped canyon within Vatnajökull National Park. Visitors can hike leisurely trails or challenging paths taking them to the canyon's cliffs for stunning views.
We found this article very interesting for visiting the Canyon.
West Iceland
Snæfellsnes Peninsula
Snæfellsnes Peninsula, often referred to as "Iceland in miniature," offers a diverse range of attractions and activities. Visitors can explore the Snæfellsjökull National Park, home to the famous glacier-capped volcano.
Hiking, birdwatching, and taking scenic drives along the coast are some of the popular activities in this area. While in Snæfellsnes, consider staying at the Hellnar Guesthouse or Fosshotel Hellnar for a comfortable night's rest.
Kirkjufell Mountain
Kirkjufell Mountain is undoubtfully one of the best things to do in Iceland. It is located near the town of Grundarfjörður and is one of Iceland's most iconic and photographed landmarks.
The 463-meter high peak is perfect for hiking and capturing stunning photographs, especially when accompanied by the beautiful nearby Kirkjufellsfoss waterfall. If you go hiking you need a guide.
Nearby accommodation is the Kirkjufell Guesthouse.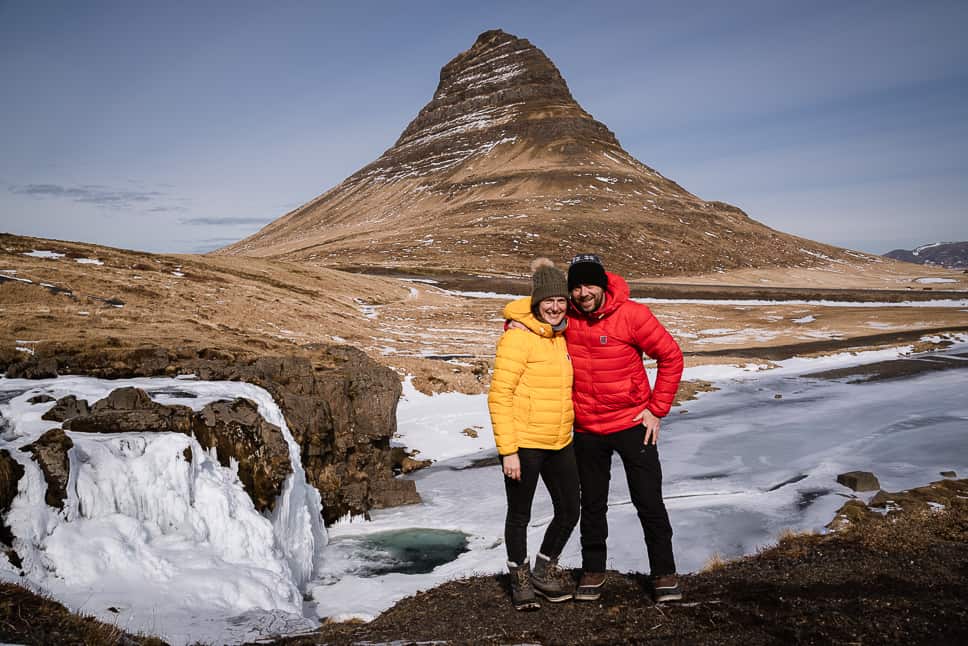 Hraunfossar and Barnafoss Waterfalls
Hraunfossar and Barnafoss waterfalls, situated close to one another, are must-see attractions in West Iceland. Hraunfossar is known for its series of small waterfalls streaming through the lava field, offering a unique and picturesque view.
In contrast, Barnafoss, also known as the "Children's waterfall," features a powerful, rapid flow through a narrow gorge. The area offers walking paths, making it easy to experience both waterfalls in a single trip. Lodging options nearby include Hotel Húsafell and Hraunsnef Country Hotel.
This was our article about the best things to do in Iceland. As you can see, there is a lot more to discover than just the Golden Circle.
If you're planning your next trip to Iceland be sure to check our other articles.
The Best things to do in Iceland
Save this article for later on Pinterest
Our other articles about Iceland