This post may contain affiliate links. If you make a purchase through one of these links, we may receive a commission at no extra cost to you. Please read our affiliate disclosure and privacy policy for more information
Our complete camping in Iceland winter guide (with a 4×4 campervan)
Is it possible to travel to Iceland in winter? What about camping in winter in Iceland? Can it be done? And is driving in winter in Iceland safe?
If you are planning a trip to Iceland in winter (October – April), you probably have asked yourself one or more of these questions.
We traveled through Iceland for two months during the winter and drove and camped along the entire ring road with our 4×4 camper van from CampEasy for almost 4 weeks.
If you have less time, you could also do this 7 days in Iceland itinerary suitable for winter, which doesn't cover the entire ring road as that is not possible in 7 days during the winter months.
So yes, it most definitely is possible and safe to go camping in Iceland in winter! But, you need to be well prepared.
In this article, we'll give you all of our best advice for a winter camping trip to Iceland. That way you'll experience the best of winter in Iceland!
Why travel to Iceland in winter
You might ask yourself, why would I want to travel to Iceland in winter when it's so cold? And even more so, why would I consider winter camping in Iceland? Let's go over some pros and cons.
Advantages of Iceland winter travel and camping
Prices are more affordable
Iceland is an expensive country, and renting a campervan is one of the cheapest ways to get around. Winter in Iceland is the low season, which means prices are cheaper to rent a campervan in Iceland.
Other tourist attractions, tours, and highlights might also be cheaper for the same reason.
There are fewer tourists
The ring road can feel very crowded in the summertime in Iceland. There are people everywhere, visiting the main attractions, and walking the hiking trails, …
In winter you'll have the waterfalls and scenery to yourself. Perfect for taking in the beauty of this country and being able to take pictures without any people in it.
Winter is beautiful
You can't deny that winter scenery has something special.
Frozen waterfalls, snowy houses, and stunning landscapes covered with ice and snow, … You'll encounter the most epic winter wonderlands during your Iceland winter camping trip.
Thanks to the shorter days, the sun doesn't rise high which means you get a golden hour effect during most parts of the (short) day, especially in November, December, and January.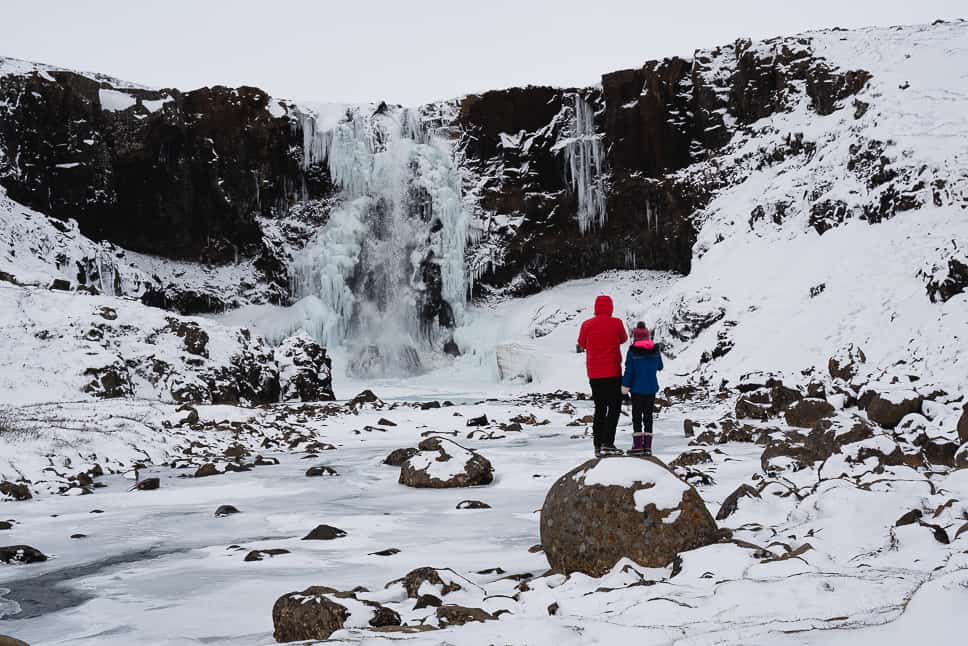 You can see the northern light & visit ice caves
Probably two of Iceland's most famous attractions are the Northern Lights and the ice caves.
Seeing the northern light dancing in the sky is a unique experience. You can see them from September to mid-April. Because it's dark a large part of the day, your changes are biggest in the high winter months.
Another fantastic experience is walking in an ice cave. For example, under the Vatnajökull glacier, winter creates stunning ice caves out of the frozen underground rivers. Glacier guides are searching every year to find the best ice caves.
Disadvantages to a winter Iceland (camping) trip
Weather
It can be very cold and windy during the winter in Iceland. However, also in summer, the weather can be rough. Read the next chapter on how to deal with the Icelandic weather.
Darkness
During winter the daylight is limited. The shortest day is December 21st and has only 4 hours of daylight.
Therefore, if you want to visit Iceland in winter, February and March are great months. Days start to get really long again, but you still have affordable prices and the option to see the northern light or visit ice caves.
Cancellations
Because of the weather, it is possible that some activities will get canceled last minute. When there is too much wind or it gets too cold, for some activities it's impossible to take place.
No access to the F-roads (Highlands and Westfjords)
During winter, a lot of roads are closed due to the snow and ice, especially the F-roads. The highlands and Westfjords are almost impassible during that time.
Even some parts of the ring road (in the east or north) can be hard to pass during wintertime. However, there's always a way to drive the entire ring road during winter.
Is it safe to travel in Iceland in winter
Weather in Iceland
The winter season in Iceland lasts from October till the end of April. Winter in Iceland can be cold and windy but above all, very unpredictable. The weather can change completely in just a few minutes.
Be prepared for (icy) rain, snow, not a lot of sunshine, and a lot of wind! Trust me, you don't want to underestimate the wind in Iceland.
Usually, winter in Iceland isn't even that cold, with averages around the freezing point or even a bit higher. A lot of the time, temperatures don't go extremely low. It's the wind that makes it feel colder. When we were there, however, they went down to -15°C (5°F), so again, be prepared for everything.
That means you need to bring suitable winter clothes and need to take the winter road conditions into account. In the next chapters, we'll go over everything you need to know about driving in winter in Iceland and what to wear in Iceland in winter.
The best official weather website is vedur.is. Always check the weather conditions before you leave in the morning. You can get their app on the Apple App Store or in the Google Play Store.
In the end, don't forget that the Icelandic weather is part of the experience of traveling to Iceland. Embrace it, make it an adventure, be prepared, and above all, respect it!
Winter road conditions, can I drive anywhere in Iceland in winter
Driving in winter in Iceland can be a challenge. There is less daylight but you want to avoid driving in the dark. You also have to be aware of icy roads and very windy conditions.
Sometimes it might not even be possible to get to your destination because of roads being closed. They can be temporarily closed due to weather conditions or closed all winter, such as almost all the F-roads (to the Highlands and Westfjords). Even a 4×4 won't take you there. The only way to go there is with a super jeep tour.
Another issue is the fact there is sometimes too much wind. Especially when you're traveling in a high camper van, you're even more vulnerable to the wind. Just stay calm and slow down, even stop if necessary. Wait it out for some time and then hit the road again. Flexibility is key!
The best websites to monitor the road conditions in Iceland are road.is and safetravel.is. Safetravel has a new app that provides you with the most accurate and critical information about road safety in Iceland.
PRO TIP: Always check these websites before you leave in the morning and be flexible in your schedule when you drive in Iceland in winter!
Remember that it is not allowed to stop in the middle or on the side of the road to take pictures. And the lights on the car need to be ON at all times, all year round.
Keep 112 in mind, that is the emergency number in Iceland (they also have an app that you can download). The app allows you to send your location and notify emergency with a single tap.
Although it can seem daunting to conquer the Icelandic roads in winter, don't let fear put you off. If you are well prepared, there is no problem. We wrote an entire guide on winter driving in Iceland to help you out!
More great route planning tools:
Other safety tips
Leave a travel plan: make sure that somebody knows where you're heading. You can submit it to safetravel.is as well.
Fill up the car at the gas station when your meter is halfway. Check the website Gasvaktin to know where the nearest gas station is.
Park your car with its nose into the wind and hold your doors with both hands when getting out of the car. You wouldn't be the first one to have your door blown off.
Keep a physical map in your car

. Technology can fail, or sometimes you just don't have any connection.

Respect the road signs. If it says a road is closed, it is closed. Don't take it. Conditions in Iceland are not to be underestimated.
Don't underestimate the natural features. Use a guide when walking on glaciers or explorings caves. Be aware of the waves on some of the beaches, they can be dangerous.
Make sure you have enough time. Winter can be unpredictable with roads being closed or the weather being impassible. You don't want to drive in unsafe conditions or during darkness just to catch up on your schedule.
Can you camp in winter in Iceland
First of all, yes, you can! We've been there camping for almost 4 weeks and absolutely loved the experience!
But we highly recommend you rent a camper van and not a car with a tent.
It is possible to camp with a tent during winter, but I would only advise that for experienced winter adventurers who are used to camping in cold conditions. Here's an article on camping with a tent in Iceland if you're interested.
As far as we're concerned, renting a camper for an Iceland winter trip is the best option.
Should I rent a 4×4 campervan in Iceland in winter
This is one of the top questions most people ask themselves when researching the options of renting a camper van in Iceland. Do I really need a 4×4 camper van for Icelandic winter?
The short answer is no. Especially if you're planning to stay in the southern part of the country you don't really need a 4WD camper. The roads there are well-maintained and regularly cleared of snow and ice.
For example, for this one-week itinerary in Iceland, a 2WD camper van works perfectly. Even when you travel the entire ring road during winter, it is possible in a normal camper van, although you'll have more icy roads to deal with.
However, from the moment you want to leave the big roads, which you sometimes have to for certain highlights, a 4×4 campervan comes in handy in Iceland. Also, some campgrounds have a lot of snow which makes the risk of getting stuck bigger without a 4WD.
Therefore, if your budget allows you, we highly recommend you rent a 4×4 camper van in Iceland for a winter camping trip.
The only thing you need to be aware of is not to become overconfident because you're driving a 4×4 car. You still need to be cautious, use common sense and follow the rules.
There are a few other things you need to take into account if you want to travel with a campervan in Iceland in winter. We'll go over them in the next section with our CampEasy campervan in Iceland review.
Rent a (4×4) CampEasy camper van for Iceland winter travel: our review
We chose the Easy Viking 4×4 campervan from CampEasy, perfect for families with four sleeping spots and enough space! We loved this 4×4 campervan and it was our ideal companion for our Iceland winter camping trip!
Here are a few things you need to pay attention to when renting a camper in Iceland in winter.
If you want to camp in Iceland in winter, it can get cold. Therefore, you must be sure your campervan can be heated.
All CampEasy campervans are equipped with a Webasto heating system. Because there is an extra-strong alternator and a strong main battery, they can heat for at least 12 hours in a row without driving. While driving, the batteries are charged so you don't have to worry.
Their camper vans are also well insulated. They have thick plates of wool behind every carpet layer. Ambient noise at campsites and road noise is also reduced because of that.
Winter tires are another must during winter in Iceland and are provided on all vehicles of CampEasy.
Each camper is provided with an Easy guide tablet. You can chat directly with the CampEasy staff and receive live warnings about weather or road conditions. They also provide WiFi via the Easy Guide.
Because we had a 4×4 campervan, we didn't need to worry about too much snow on the campgrounds and could easily drive on less perfect roads. However, always stay careful and use common sense!
Winter campsites in Iceland
Most of the campsites in Iceland are only open during summer. You will need to check the campsites that are open all year.
The advantage of camping in winter is that you don't need to book in advance.
These were our favorite winter campsites:
CampEasy provides all camping locations in the included tablet and if they are open in winter or not. Below you can find a map with all Winter camping locations in 2022. The map has the latest information about the campgrounds.
Another good source is this article about winter camping in Iceland. I do recommend giving them a call in advance. Especially when it's bad weather you don't want to drive 50 km (31 miles) extra to end up on a closed campground.
Is wild camping in Iceland legal?
Iceland is one of the most beautiful countries in the world, and it's no wonder that camping is such a popular activity here. With its rugged landscapes and unspoiled nature, Iceland offers a unique experience for outdoor enthusiasts.
However, camping in Iceland can be expensive, and many campgrounds require advance reservations (especially during high season).
Fortunately, there are still some places where you can camp for free. Here are a few tips for finding free camping in Iceland.
You could try wild camping, but it is only allowed in certain areas of Iceland (check with the authorities before you set up camp). Ask locals for recommendations. People who live in Iceland know the best spots for free camping.
The most popular areas for wild camping are along the F-roads, which are roads that lead into the interior of the country. There are also a number of campsites located in the National Parks.
Campers must also be sure to leave no trace of their stay and to take all their rubbish with them when they leave.
What to wear and pack for Iceland in winter
When you're visiting Iceland in winter you want to be prepared for any weather or outdoor activity without being cold. It can make or break your vacation.
We wrote an entire article on the best clothing for winter in Iceland + packing list.
Layering is the key principle for outdoor activities:
a base layer close to your body
a mid-layer for insulation
an outer layer to protect you from water and wind
Having waterproof/windproof clothing is essential for your Iceland packing list. When water or wind finds its way through your clothing, you will be cold and miserable.
Packing list
We list some of the essentials here, but in our full article as mentioned above, you can find all of them.
Water and windproof jacket: always buy one with a hood though, you can use the extra layer when the weather gets extreme.
Casual pants/top
Wool socks: together with waterproof Icelandic winter boots, wool socks are key to protecting your feet from the freezing wind. You can also use warm ski socks.
Swimwear: Iceland is known for its hot springs and warm pools, so don't forget to add swimwear to your packing list.
Waterproof winter/hiking boots: frozen feet are painful, we chose to wear Sorel winter boots. We like the Caribou or Carnival line. They are waterproof which makes them perfect for snow and rain.
Extra equipment to bring with you for Iceland winter camping
Headlamp or a good flashlight
Snack bars and water
First aid kit
Matches / lighter (maybe even waterproof)
Extra battery/phone charger
A compass if you plan to hike deserted areas
Download our printable packing list for Iceland by clicking on this link.
Things to do in Iceland in winter
Admire the Northern Lights
The best time to see the northern light in Iceland is between September and April.
You can hunt for the northern lights in the town where you're staying, from your campground, or take a northern lights tour.
Some of the best places to see the northern light are the Westfjords (but those are not reachable during winter) and South Iceland (Vik).
Even if you're visiting Reykjavik it is possible to see the Northern light (find a park where you can minimize the light pollution).
If you decide to do a northern light tour you will be under the care of an aurora expert and don't need to worry about driving in the winter conditions. And they can take you to the most beautiful places and landscapes.
Explore an ice cave
During winter, ice caves are formed in glaciers by water running under the glacier. Most of them can be found under the Vatnajökull glacier.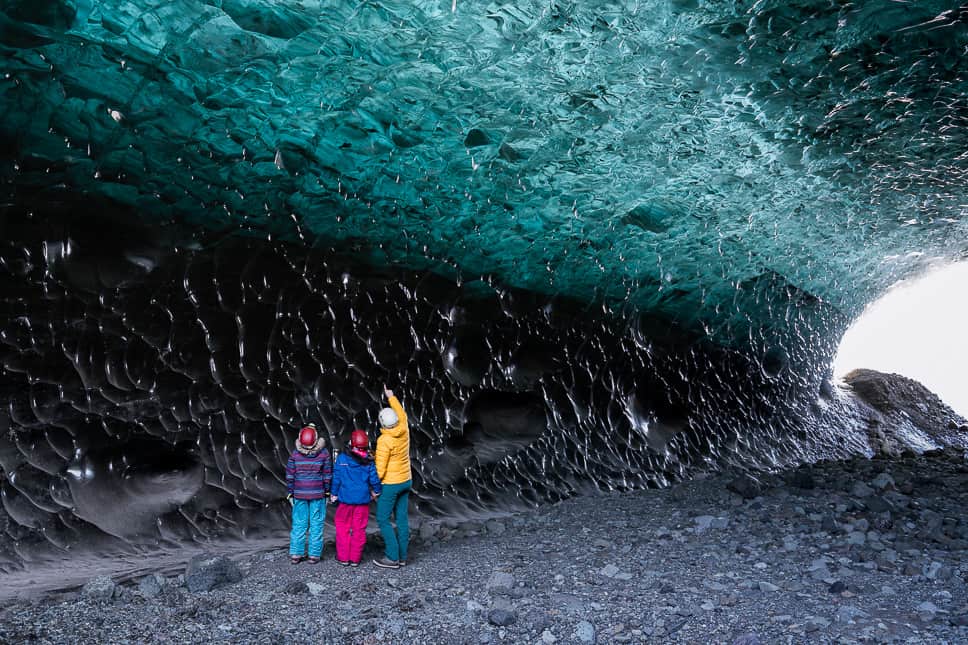 To reach a glacier and its ice cave, you will need a guide and/or a super jeep. When you do a tour you will be provided with crampons and a helmet. Just don't forget to take warm clothes.
We did a tour with Glacier Adventure and loved it!
Go glacier hiking
Glacier hiking in Iceland is possible in summer and winter. However, this is not something you can do on your own. You need a guide and special equipment to walk on the ice.
Everybody in good physical condition can do a glacier hike (kids from 8y). We had to skip this one as our youngest was not old enough but will be back to do this as a family!
The best places to do a glacier hike are the Solheimajokull Glacier, the Svinafellsjokull Glacier, or the Jökulsárlón Glacier lagoon.
We found this article about glacier hiking in Iceland very interesting.
Explore with a snowmobile
Iceland is a snow-covered wonderland, and there's no better way to explore the stunning scenery than by snowmobile.
You'll be able to travel across snow-covered plains, through forests of snow-covered trees, and over frozen lakes and rivers. And, of course, you'll have the opportunity to see some of Iceland's famous glaciers up close.
There are many tour companies that offer snowmobile tours in Iceland, and they cater to all skill levels. Whether you're an experienced rider or a complete novice, you'll be able to find a tour that's perfect for you.
Do a super jeep tour
A super jeep is a four-wheel drive, all-terrain vehicle equipped with massive suspension systems and big tires.
They are used to discover the rough terrain of Iceland. Glaciers, and mountain routes, these vehicles can handle everything, even during wintertime.
You can do a super jeep day tour of the glaciers or for example the Porksmork nature reserve in the highlands.
Dive or snorkel in Iceland
Snorkeling is available for everyone, for diving you must be qualified as a PADI Open water Scuba Diver. It is also possible in winter, depending on the weather conditions.
We recommend that you choose a registered tour operator as some dive sites require higher levels of qualification.
The Silffra Fissure is the most famous site and one of the top 10 dive sites internationally. It is located in the Pingvellir National Park in the Mid-Atlantic Dorsal Rift. It has a gentle current, snorkelers don't need to worry because the drysuit makes you buoyant on the water's surface.
Go hiking
Hiking is one of the best ways to explore Iceland. But when you're in Iceland during winter circumstances might be too hard to enjoy multiday hiking tours.
You can do some (short) day walks when the weather is fine but always check the weather forecast before you leave.
We did a few hikes with our kids when the weather was great and loved it! Be aware that some paths are very icy and too dangerous during winter. You might want to bring crampons too!
Our winter Iceland itinerary (2-3 weeks)
We went to Iceland in March/April and rented an Easy Viking 4×4 Campervan with CampEasy. They are in Keflavik, next to the airport. The van is fully equipped, with a raised chassis, larger tires, a 4×4 spare, and a mounted spare. Perfect for camping in Iceland in winter!
In this article, we give a brief summary of our winter camping trip in Iceland on the entire ring road. We'll give you the most important sights and some nice campsites. We mainly followed the ring road but occasionally deviated from the beaten track. The ring road itself is 1322km. In the end, we had almost 3000km…
During winter, you need enough time to drive the entire ring road. Because of the weather, darkness, and road conditions, you can't always drive quickly from one place to another.
If you don't have 2-3 weeks, we advise you to stick to the southern part of Iceland and maybe also the Snaefellsness peninsula, as described in this Iceland itinerary for 7 days or more.
South Iceland (8 days)
After picking up our 4×4 Viking campervan in Keflavik we drove straight to Grindavik because a volcano was erupting! For the moment, however, the volcano is quiet but it is still possible to visit the site.
The Reykjanes peninsula is a good start for your Iceland winter camping trip anyway.
The campground in Grindavik was one of our favorite stops! We promised the owner to mention the campground on our blog, so… here you go.
From Grindavik you can take route 427 to Eyrarbakki – Selfoss and head further to the south coast of Iceland. We stayed in Selfoss and at a campground next to the Seljalandsfoss waterfall, but we've heard that one is closed now.
Waterfalls, glaciers, and of course the famous black sand beaches can be found on the south coast of Iceland. You need at least one week to visit all highlights in the South.
Vestrahorn of Stokksnes is also located in the southeast part of Iceland, but not a lot of people stop here. There is a nice camping spot next to the Viking Cafe in Stokksness (they also have a guesthouse).
It was here that we used the CampEasy portable barbecue for the first time at a temperature of -15 degrees. The burgers were delicious, the view was unforgettable!
East Iceland (2 days)
After Vestrahorn, you drive up north along the east coast. This was the windiest part of our journey. We were happy to arrive safely in Egilsstadir.
We found a nice campground next to the supermarkets, this one is open all year long. They claim on their website that they are the happiest campsite in Iceland so don't hesitate and get over there.
This is also close to Seydisfjordur, which is worth a visit. When you take the ferry from Denmark, you will arrive in Seydisfjordur. If you want to see the famous puffins you can drive to Vopnafjörður but check in advance if the puffins have arrived already (only from late April to late August).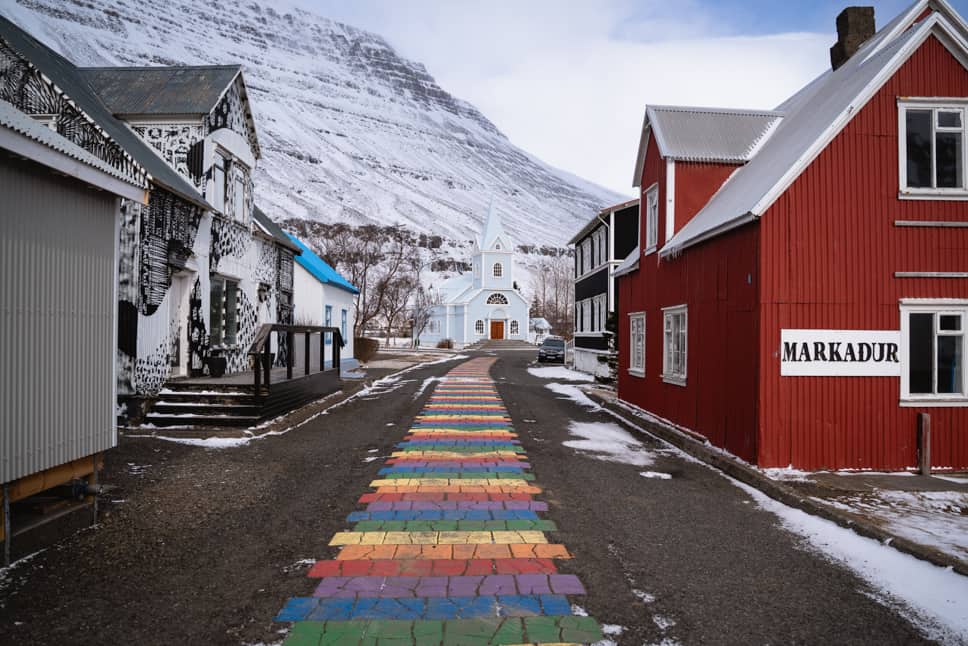 North Iceland (4 days)
Because of the weather conditions, we had to skip some parts of the arctic coast way in the North.
We first headed to Husavik to catch a glimpse of the whales with Northsailing. Unfortunately, April seemed too early but we'll be back for another try!
After Husavik you can't miss the second biggest town in Iceland, Akureyri. Keep an eye on the traffic lights as we were charmed by the different shapes :).
We couldn't go to the Westfjords because too many roads were still closed. We opted for the Snaefellsnes Peninsula above Reykjavik.
West Iceland (2 or 3 days)
The Snaefellsnes Peninsula has a volcano, a glacier, lava fields, waterfalls, and killer whales…
Our first stop was the Stykkishólmur campground from where you can visit the lighthouse. After Stykkishólmur you can head to the Kirkjufell mountain, probably the most famous mountain in Iceland.
You can follow the coast road, and visit Skarðsvík Beach (golden beach), the Öndverðarnesviti, and the Svörtuloft Lighthouse. From these viewpoints, it is sometimes possible to see killer whales.
After these, drive to the Saxhóll Crater and climb on top to have a splendid view of the surroundings.
From there we drove straight to the Golden Circle. The last part of our winter camping trip in Iceland.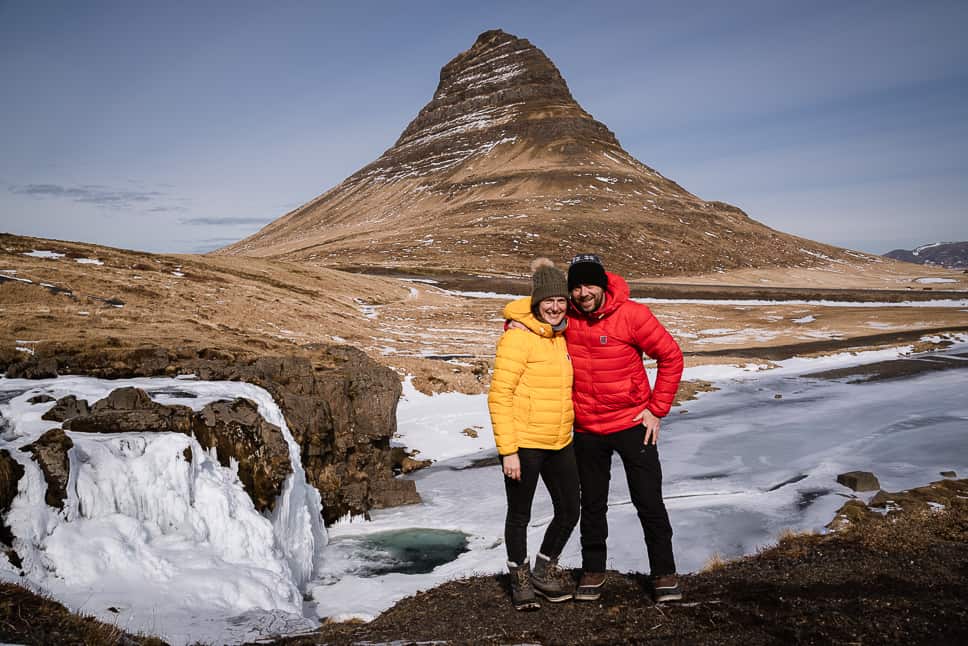 The Golden Circle (4 days)
When you are visiting Iceland for the first time, you can't skip this part. The golden circle (250 km or 155 miles) is the most famous of all scenic routes in Iceland and combines historically significant places with waterfalls and geysers!
It is close to Reykjavik which makes it perfect to end your Iceland camping trip.
It is easier here to find a campground during winter as more tourists do this scenic route. We stayed at the headquarters of the Thingvellir national park.
We hope you found this article on winter camping in Iceland interesting. If you have any questions, suggestions, or remarks, please let us know in the comments.
Time to book that trip and discover the best Iceland has to offer in winter! You won't regret it! Have fun and enjoy!
Other articles on Iceland you might be interested in:
Iceland in April: weather, things to do, road conditions and so much more
What to wear and pack for Iceland in winter (October – April)
Driving in winter in Iceland: the complete guide
Road trip essentials for families: a packing list with what to bring if you're planning a family road trip
Must-haves for travel photography
Save and share on Pinterest
Did you find this article interesting? Save it for later on Pinterest!!
Winter camping Iceland: 4×4 camper van adventure with CampEasy