This post may contain affiliate links. If you make a purchase through one of these links, we may receive a commission at no extra cost to you. Please read our affiliate disclosure and privacy policy for more information
Unique hotels in Costa Rica: What are the Best PLaces to stay in Costa Rica.
In February / March 2022 we traveled around with our kids. We had an incredible time there. Costa Rica is famous for its biodiversity, nature preserves, and of course the "Pura Vida". Costa Rica is also called the Switzerland of the Americas because of its mountainous geography and there is no army.
You will also find beautiful beaches, beautiful national parks, volcanoes, and, of course, unique places to spend the night. That is why we have drawn up this list based on our own experiences.
We traveled around by public transport. You would do well to find everything well in advance. During our trip, we traveled through San Jose no less than 3 times. In San Jose, you can easily rent a car to explore Costa Rica, but keep in mind the distances in the country. You also have the option of boarding domestic flights.
The high season begins in November and ends through early May. Prices will be a lot higher for accommodations, rentals, and transportation.
Below you can find our list of 10 unique places to stay in Costa Rica. Some of them are boutique hotels in Costa Rica.
Finca Rosa Blanca Coffee Farm & Inn is the creation of three generations of the Jampol family. Finca Rosa Blanca combines a sustainable, luxurious inn and a coffee farm set in the beautiful mountains of Costa Rica. Their staff is 100% local.
They care a lot about sustainability. They support conservation and regeneration, focused on reforestation and organic agriculture. They have an educational, organic coffee farm tour with a tasting that is recognized for its beauty and biodiversity.
At the heart of Finca Rosa Blanca you can find 14 villas, suites, and studios – each unique, each a work of art.
Check here for prices and availability in the Finca Rosa Blanca Coffee plantation & Inn.
El Remanso is one of the best places to stay if you like spotting wildlife and deserted beaches. El Remanso is located on the borders of the Corcovado National Park in the Southern part of the Osa Peninsula. The closest main town is Puerto Jimenez.
On the property of El Remanso you can find ocean tide pools, waterfalls, and dense forest trails. They provide activities such as ziplining, birdwatching, or a guided visit to the national park of Corcovado.
They have 14 eco-luxury villas, bungalows, and rooms. You can choose which view you desire such as dense rainforest, wildlife corridors, or the Pacific Ocean. All accommodations are 100% solar-powered. You can charge your devices, and take warm showers beneath starry skies. Any time of day or night.
Check here for prices and availability in El Remanso Lodge
The lodge is located on the bank of the Tortuguero River, 1 mile from the mouth of the river and about a ten-minute boat ride from the town of Tortuguero. There are no roads, so you can only get to Tortuguero by boat or plane.
The rooms are beautiful, all with river views, feature plush pillow-top beds, and elegant décor. They have private terraces, nightly turn-down service, and free WiFi. Sixteen new suites and a spectacular villa, inspired by the Caribbean Victorian style of architecture, have greatly expanded their lodging options.
The Green Turtle Restaurant at Tortuga Lodge is beautifully designed. They serve an a la carte menu featuring authentic Costa Rican Caribbean dishes and fusion specialties.
Check here for prices and availability in Tortuga Lodge Tortuguero
This is undoubtfully one of the best glamping stays in the world. Isla Chiquita is located in the picturesque Gulf of Nicyoa. Glamping is a term used for accommodations that combinate 'glamour' and 'camping'.
The luxury glamping tents are located on the ridge so everybody gets to enjoy a splendid view of the bay. All tents have their own bathroom with a shower and toilet. In the tent, there are amazing beds, a minibar, and a deck with comfortable chairs so you can enjoy the view.
Harry's bar and restaurant is an experience on his own. The food is delicious, the view from the terrace unforgettable. You can enjoy lunch and dinner there.
One of the activities you can do is kayaking around the island.
Check here for prices and availability in Isla Chiquita Glamping hotel.
The lodge is located on an 840-acres private reserve in the heart of the Talamanca Mountains. The main house is built in the style and craftsmanship of Caribbean-inspired architecture, just like the 20 stand-alone suites and villas.
On the property, you can find a secluded and peaceful riverfront spa and a remarkable infinity swimming pool emerging from the rainforest.
If you like outdoor adventure, the Canyoning Tesorito Creek Gorge, which includes breathtaking rock climbing, ziplining, and rappelling down a refreshing waterfall might be perfect for you. This is one of the best places to stay in Costa Rica.
Check here for prices and availability in Pacuare Lodge
The Hotel Arenal Springs Resort & Spa is located in Fortuna, a 20-minute drive from the Arenal Volcano site. You can enjoy the views of Arenal Volcano and the garden from all the accommodations. All rooms have a terrace.
The on-site restaurant offers buffet services as well as à la carte dishes. Hotel Arenal Springs Resort & Spa has an Italian restaurant, as well as one specializing in international cuisine, plus a sushi bar.
Check here for prices and availability in Arenal Springs Resort
According to the well-known magazine Travel and leisure, this is the number 2 in the world! It is located in the Arenal National park. For us, one of the most unique places in the whole world!
You will sleep in a clifftop tent with the vibrant rainforest below you. We stayed in one of the tents on top of the hill and had an unforgettable view. The tents are a mix of sustainable luxury with a "Pura Vida" vibe. It's a great place to reset and recharge, close to nature.
The tent has a plunge pool fed by the natural mineral hot springs. You can have breakfast on your terrace or in the fantastic restaurant.
Check here for prices and availability in Nayara Tented Camps in Arenal National Park
If you are looking for a hotel close to the beach, this is the one. It is close to Jaco beach where you can do horseriding and the Carara National Park. They have a private beach and an on-site golf club.
Check here for prices and availability in Los Suenos Marriot
This is the best place to stay in Guanacaste. Relax, reconnect, recharge, and stimulate your senses at this Guanacaste luxury resort. It offers three beaches, world-class golf, and an extensive activity program.
The hotel is located on a pristine 1,400-acre private peninsula. You can take a private boat to the beach club on Nacascolo beach, 15 minutes away. They offer beachfront dining, you can expect locally inspired salads, tacos, burgers, and fresh fish grilled outdoors. Tropical drinks, beach activities and games, and a local Tico vibe await your discovery.
On the main site, you can find 3 other restaurants. One of them is the Ostra restaurant, my personal favorite. It focuses on fresh seafood and is well known for ceviche, the chef's specialty.
Check here for prices and availability in Andaz resort.
Margaritaville Beach Resort Playa Flamingo is located between lush mountains and the Pacific Ocean on the pristine sands of Flamingo Beach.
You can relax in beautiful rooms and suites, including the specialty family suites who are overlooking the tropical gardens, the oversized pool, and the Pacific Ocean.
Take in a spectacular sunset over the ocean while enjoying international cuisine infused with Costa Rican flavors in one of three restaurants. Or you can reserve their private yacht, Endeavour, for a sunny morning cruise to spot dolphins and manta rays!
Check here for prices and availability in Margaritaville Beach Resort.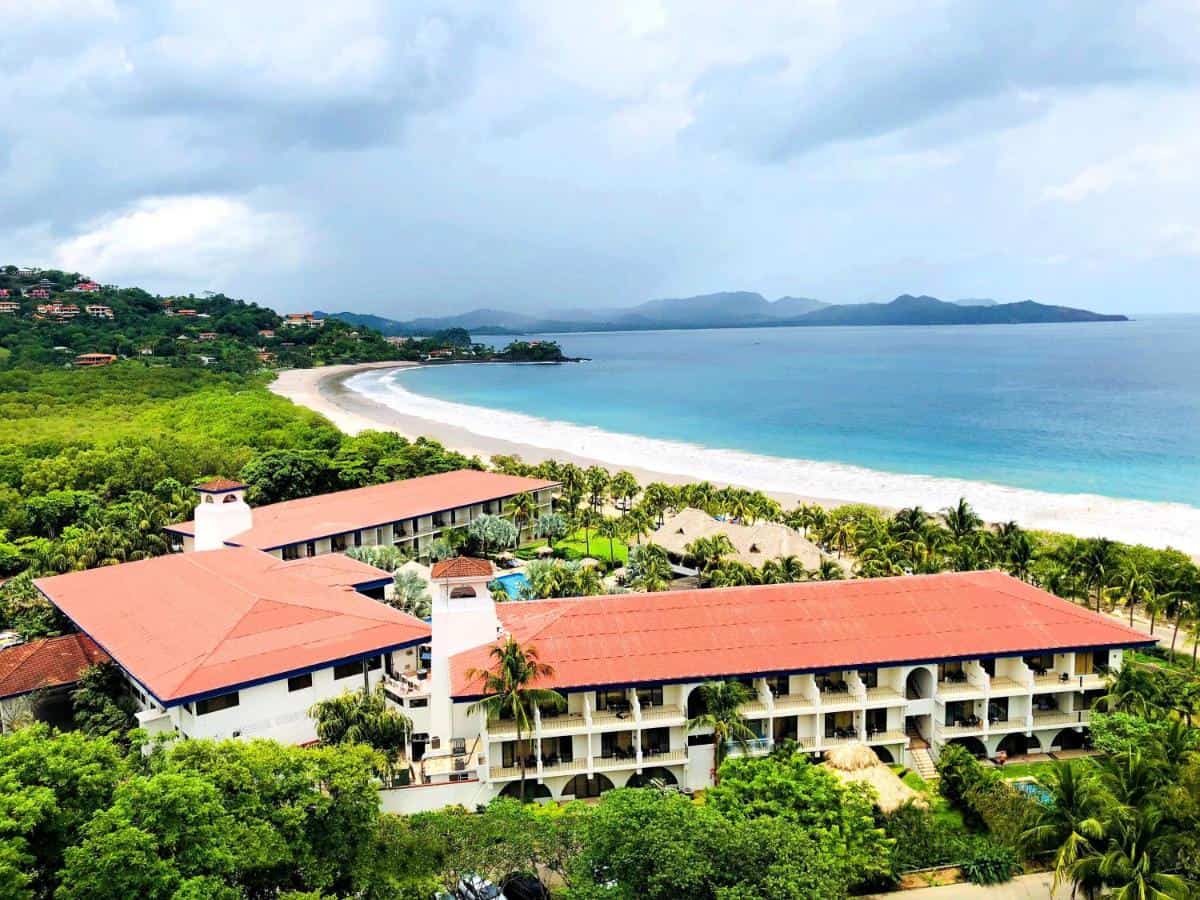 Didn't find what you were looking for? Then take a look below to see if there is something to your liking.
Map with unique hotels in Costa Rica
Share on Pinterest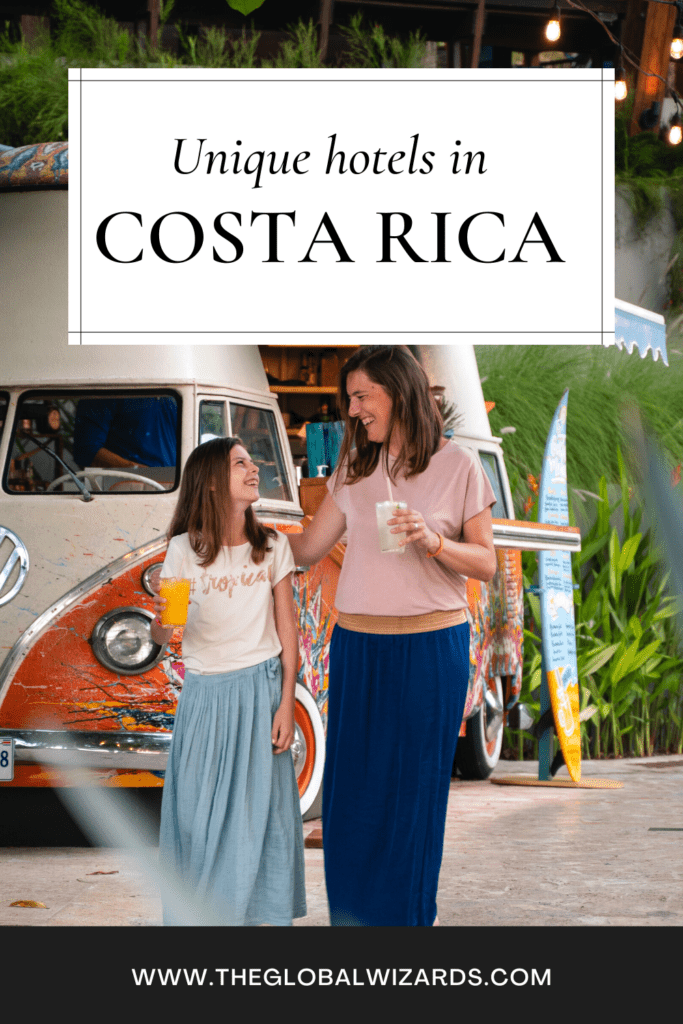 Unique hotels in Costa Rica: What are the Best PLaces to stay in Costa Rica.
Other articles about costa Rica