This post may contain affiliate links. If you make a purchase through one of these links, we may receive a commission at no extra cost to you. Please read our affiliate disclosure and privacy policy for more information
Everything you need to know for driving in Iceland in winter
Planning a road trip to Iceland in winter? Wondering what the road conditions in Iceland will be like? Let me first tell you, winter road trips in Iceland are fun! However, driving in winter in Iceland is something you need to prepare for! So if you're planning on driving in Iceland between October and April (or even May), this guide is for you!
We've been driving in Iceland in March and April for 3 weeks with our two kids. We rented a campervan in Reykjavik (I know, we camped in the winter in Iceland!) and drove the entire ring road. Yes, it was cold, icy, and windy but it was also magical!
Read more: 7 days in Iceland itinerary for a self-drive road trip
During winter, you get to see things such as ice caves and the northern light. There are way fewer tourists and it's great for your budget!
However, the biggest question we had before we took off was, how safe is it to drive in winter in Iceland? Will there be ice on the roads? Will it be slippery?
It might surprise you, but winter temperatures in Iceland aren't really extremely cold. They normally range from -5 to 10°C or 23 to 50°F, except when we were there and it was -15°C/5°F 😆. This means that roads often will be freezing or defrosting.
The perceived temperature, however, is often a lot colder because of the ice-cold wind, which causes more ice. on the roads, as well. So be prepared, both for your clothing and for driving in Iceland in winter.
Read more: What clothes to wear during winter in Iceland
In this article, we'll give you our experiences and everything there is to know to prepare for your winter road trip to Iceland!!
This post may contain affiliate links. If you make a purchase through one of these links, we may receive a commission at no extra cost to you. Please read our affiliate disclosure and privacy policy for more information.
Winter road conditions in Iceland
The winter season in Iceland is longer than in other countries and lasts from October till the end of April. When you are visiting Iceland in winter, it will be totally different experience than summer.
For an Iceland road trip in the wintertime, you need to be prepared for icy roads! They call Iceland the country of fire and ice for a reason. Many roads will be perfect to drive on, but we've had everything, from soft snowy roads to hard icy surfaces. Sometimes you even don't see the icy spots, so always drive carefully!
But the biggest problem we encountered was the wind. The wind in Iceland is fierce, especially in winter! The wind can break your doors, push you over ice roads. The number one advice for driving in the hard wind is to slow down, even stop if necessary.
As we were traveling in a campervan, which is high and takes a lot of wind, we needed to stop a few times next to the road and wait for the wind to calm down a bit.
Therefore, before you leave in the morning, always check the weather conditions. You can have four seasons in one day. So don't think it will be a good day when the sun is shining in the morning!
Besides the official weather website vedur.is, the best websites to monitor the road conditions in Iceland are road.is and safetravel.is. They tell you how much wind there will be, if the road is icy, almost impassable, or even closed. You can also call 1777 for road information. Let's hope you don't need it, but 112 is the emergency number in Iceland (they even have an app you can download).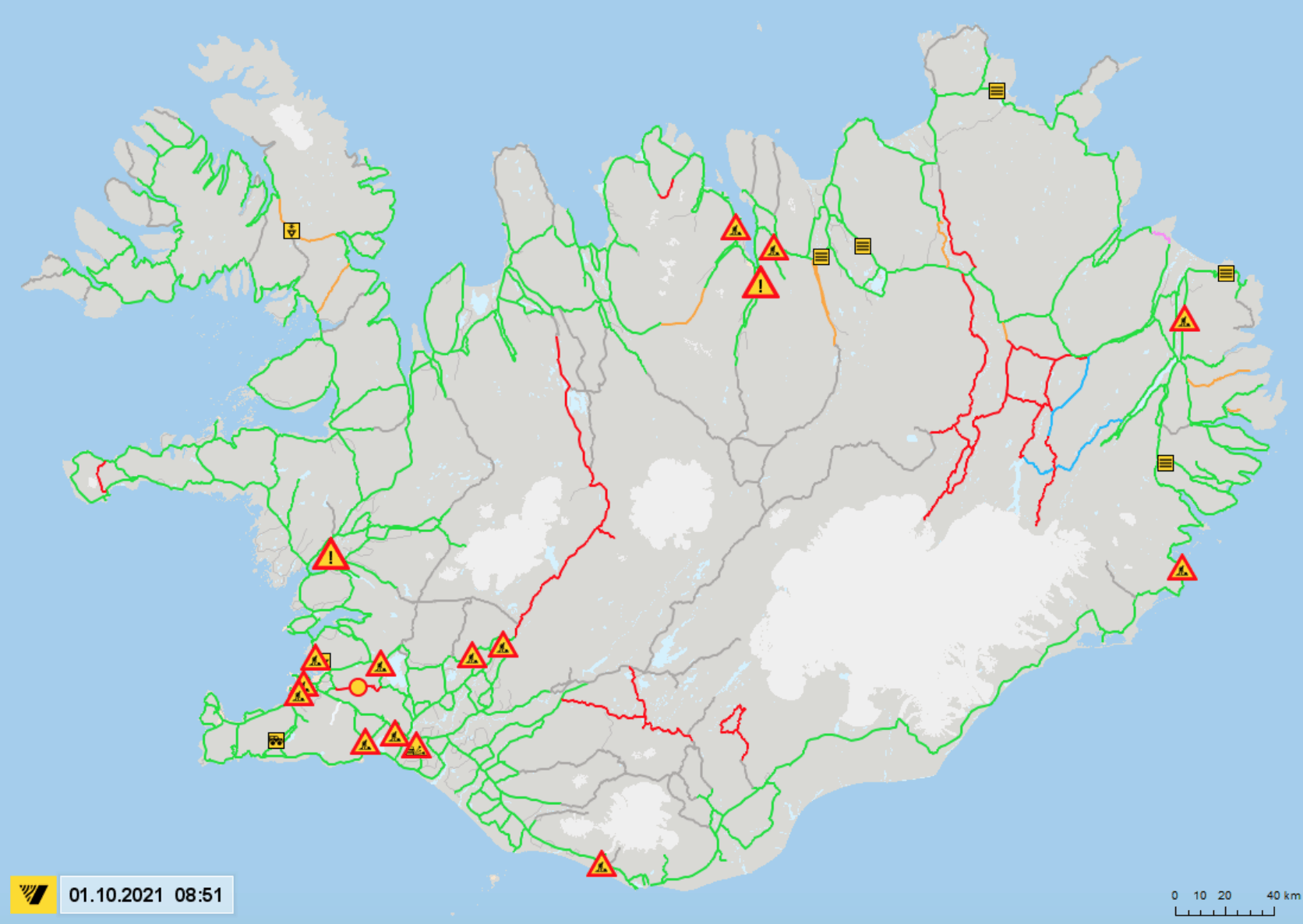 The highlands will probably be closed all winter. When we were in Iceland in March and April, the roads in the Westfjords were closed, as well, so we decided to stick mainly to the ring road.
Anyway, just as a reminder, never underestimate the weather and road conditions in Iceland!
Is it safe to drive in Iceland during the winter?
This is a hard question to answer. Roads are icy, the wind can be dangerous. BUT, if you don't try to be smarter than the conditions, it is safe to drive in winter in Iceland. Here are our best tips for a safe winter road trip through Iceland.
Things you should know for driving on slippery roads. Don't make sudden moves such as a hard break, turning your wheel too quickly, … Everything should be a bit smoother when driving on ice. Slow down and increase your breaking distance.
Take your own experience into account. If you are a very confident but precautious driver, don't be afraid to drive in Iceland, even without a lot of winter experience. However, if you're not an experienced winter driver or easily panicking, you might want to book a tour instead. Many tours leave from Reykjavik to the most reachable highlights around the golden circle and in the south.
We said it before, and we'll say it again: take the weather conditions into account! Check the forecast every morning before you leave. Don't underestimate the weather, ever!
Make sure to bring some extra food and an extra blanket with you. The weather in Iceland in winter can change very quickly. We don't want to scare you but sometimes the conditions will force you to stay put and just sit it out. However, during our trip we never had to change our plans and we drove around for three weeks.
Don't wait to fill up your tank! If you are self-driving in Iceland and your tank is half empty, fill up when you can. The distance between the gas stations can be long.
Be flexible in your schedule and calculate some extra time. You'll drive slower than anticipated and you might have to stay put if the wind blows too hard or there is a snow blizard.
Don't drive too long or too much in the dark. Road conditions are already difficult enough without having to worry about daylight or getting too tired to drive.
Look for the yellow or red poles on the side of the road. They show you the edge of the road.
Download road maps or have a physical map with you. The GPS signal may not work everywhere.
Driving the ring road in winter
What is the ring road in Iceland? This road goes around the entire island and is about 1330 km long. You can choose to drive it clockwise or counterclockwise. We drove it counterclockwise, going south first, and all the way around.
Is it possible to drive the ring road in winter in Iceland? Yes, it is! We did the whole tour in about 3 weeks. The largest part of the road has two lanes, but if you want to see the highlights, you sometimes have to do a piece of gravel.
Most of the highlights are in the south and that is also the part of the ring road that is best maintained in winter. They clear it almost immediately after a snowfall or freezing temperatures. You certainly don't have to drive all the way around. If you're not comfortable with driving on icy roads, or don't have a lot of time, you could just stick to the southern part and drive back.
If you want to drive all the way around, which we can recommend, you need to be prepared that not all parts of the ring road are easy to drive on or well maintained. In the northern part, some stretches may be closed or very icy. However, if you have time, you can definitely make it all the way around. Most roads in the Westfjords and all F-roads are closed during wintertime.
If you want to do the entire ring road in winter, we would certainly recommend at least 14 days. Partly because of the road conditions, partly because you want to have some time to visit all the amazing things Iceland has to offer!
You can, of course, go faster, but you can't control the weather conditions and you don't want to drive too quickly on icy roads to catch up with your schedule.
F-roads in Iceland during winter – The highlands
What are the F-roads in Iceland? You might have heard of them before, or not. The F-roads in Iceland are mountain roads. They are mostly gravel, not really maintained, and a lot harder to drive. This is why you need a 4×4 car to tackle these bumpy, uneven roads.
Can you drive the F-roads into the highlands during winter in Iceland? The answer is quite simple, no you can't… The roads are closed and you will see signs that it's forbidden to cross. Those roads are very narrow, steep, and have river crossings, which you often can't see because of the ice.
Unless you're doing a tour with a super jeep you're not getting into the highlands during the winter months. Just don't take the risk and come back in the summertime.
Most of the rental car companies won't allow you to drive the F-roads in Iceland, anyway. Not during the winter but some of them not during summer as well. Make sure to check before you rent a car.
If you want to visit Gulfoss waterfall, which is usually open all year round, you have to take a small piece of the F35. However, this road is quite good and you can make it to the parking lot in a normal car.
The traffic rules in Iceland
There are some general rules and regulations you should be aware of when you're driving in Iceland in winter (and the rest of the year too).
Drive on the right side of the road.
When you come to a bridge first, you have priority to cross it.
Don't stop by the side of the road, only on designated areas! Off-road driving is forbidden in Iceland.
Seat belts must always be worn.
Speed limits are 50km/h in urban areas, 80km/h on gravel roads and 90km/h on the big roads. Speeding camera's can be found anywhere.
Don't drink and drive! Blood alcohol limit is 0.5 but it's best not to drink at all when you're driving.
Vehicle headlights should always be on.
Wild camping is illegal because of the impact on the environment. However, during winter, exceptions are possible. For example, because of the weather conditions or because campgrounds are closed.
What kind of car should you rent in Iceland in winter?
You could choose not to drive in winter in Iceland and book a tour from Reykjavik to some of the highlights. However, this will cost a lot! Renting your own vehicle will be much cheaper!
Most people rent a car when they come to Iceland. Some rent a campervan, as we did. But what should you pay attention to when you rent a vehicle in Iceland during the winter months (from October to April)?
Renting a car in winter in Iceland
If you're planning a road trip through Iceland during wintertime, you can choose to rent a car and sleep in hotels or an Airbnb. Most people rent a car at Reykjavik – Keflavik Airport. You don't need an international driver's license for Iceland, but it never hurts to bring one with you. We always use rentalcars.com.
Normally, all cars for rent in Iceland will have good winter tires, but check it, just to make sure. If they offer studded tires, we can highly recommend them. They are perfect for driving on roads covered completely in ice.
Do you need a 4WD? No, you don't. But, if the price is reasonable, we highly recommend a 4-wheel drive vehicle, especially for inexperienced drivers. Some highlights are only reachable by gravel roads who can be very bumpy. Especially when there is a lot of snow on the road, a 4-wheel drive will help you to have more grip on the road.
Take full coverage insurance to protect yourself against high costs. Gravel roads cause little stones to hit the car, bumpy roads can damage the bottom of the car and if you do slip on an icy road you can damage the bodywork.
Rental cars often forbid certain roads (F-roads, gravel roads, …). You are not insured if you take them unless you bought extra insurance. Don't underestimate these roads as the probability of damage is real.
A lot of damage is caused by doors that slam open due to the fierce wind. Always hold your door when opening it!
Renting a campervan in Iceland in winter
For our Iceland winter trip, we rented a campervan that was specially designed for Icelandic winter conditions with CampEasy.
Normally, the rental company will make sure you're campervan is fit for winter, but the same things apply to a campervan. You want to have winter tires, preferably a 4WD, and full insurance coverage.
Before you leave the rental company, check if everything works fine. If the pipes or drains have been frozen they could have leeks. Read the manual about how to drain the water tanks.
As we mentioned, we worked together with Campeasy and rented their VIKING 4×4. This campervan is as good as it gets for winter driving in Iceland with a camper! It has a huge battery which allows you to be off-grid and load everything (laptops, phones, …). It has a great heater so you won't get cold at night and the blankets are super! We didn't feel cold even though it was -15 degrees.
The camper can handle almost any road! The biggest problem with such a high camper is the wind. If the weather forecast gives a lot of wind, you might want to wait it out or drive very slowly.
Finding a camping spot in the north and east can be challenging but most of the time we found a good spot! CampEasy has an integrated GPS with all info about campings, roads, and highlights during your road trip in Iceland in winter.
You can check their site for availability and prices here.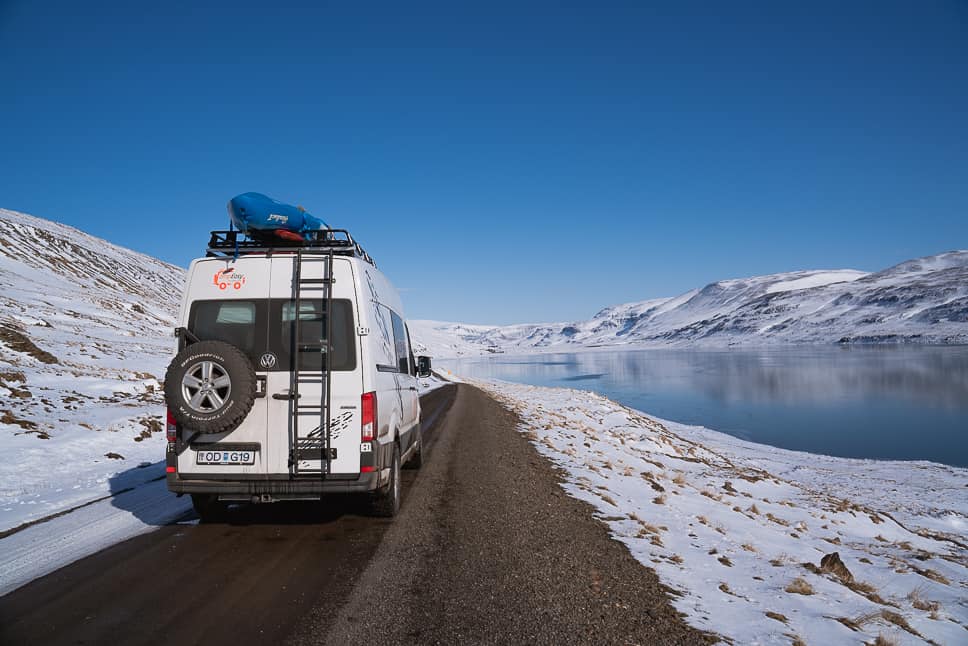 Other related articles for winter driving in Iceland
We hope we have tackled all the questions you might have about driving in winter in Iceland. If not, or if you have any other questions, let us know in the comments! We'll be happy to answer them!
Here are some related articles you might find interesting.
Don't have much time to spend in Iceland? Check our ultimate Iceland 7 days itinerary for an amazing week filled with glaciers, black sand beaches, waterfalls and so much more!
It gets cold in Iceland in winter, so you want to be prepared for the weather conditions. In our article on the best clothing for Iceland in winter, we give you all the tips you need to enjoy your winter road trip and keep yourself warm and dry.
Are you looking for cool places to stay in Iceland? We summarized our top 10 of the best hotels you can find in Iceland. Or maybe you'd prefer to camp in Iceland in winter?
Are you planning to visit Iceland in April? We've devoted an entire article on what to do in Iceland in April and the weather and road conditions.
We have a lot of experience in living the van life and driving around with a campervan. So this article on must-haves for a campervan might be interesting for you.
Do you want to check if there is any whale watching possible in winter? This article about whale watching in Iceland might be helpfull for you.
Road-tripping with kids? Check our complete family road trip packing list.
SHARE THIS WINTER DRIVING ICELAND GUIDE ON PINTEREST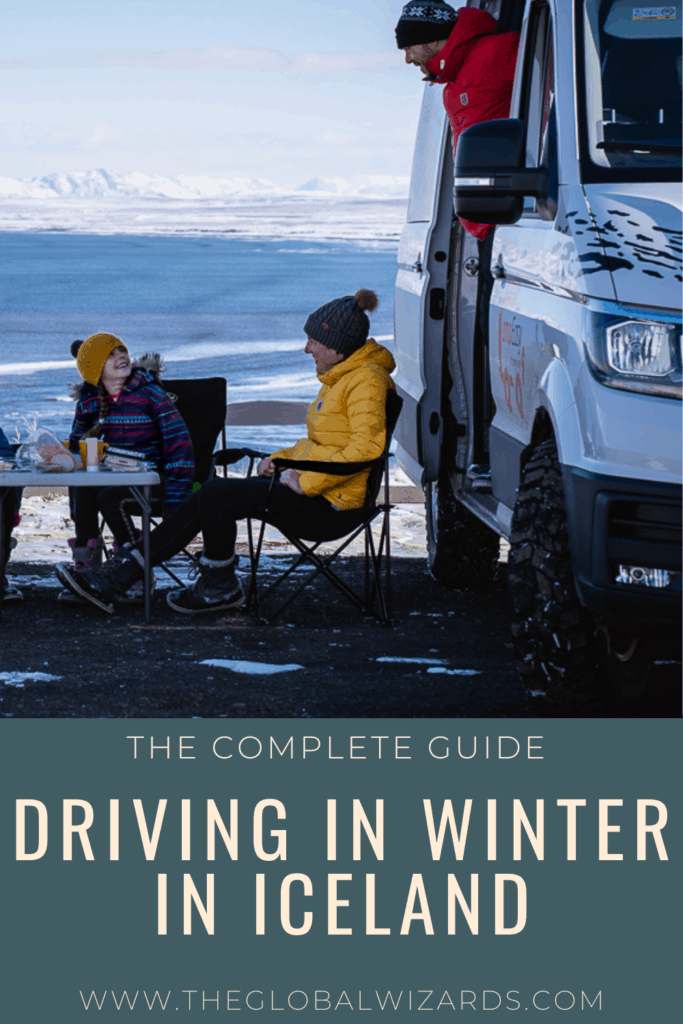 Driving in winter in Iceland: the complete guide