This post may contain affiliate links. If you make a purchase through one of these links, we may receive a commission at no extra cost to you. Please read our affiliate disclosure and privacy policy for more information
And so we arrived at part 4 of our travel diaries from the Southern Island of New Zealand. Unbelievable how much there is to see on one island! After discovering the south-east with Lake Tekapo an Mount Cook, the most southern part with The Catlins and Milford Sound and the south-west with Queenstown and the glaciers, it is now time for the upper part of the Southern Island. We will have to travel a little faster because our time here is running out. So we leave Hokitika, past the Pancake Rocks and briefly skip the north-western part because we first have an invitation to go kayaking in Havelock.
Pancake Rocks
With a little pain in our hearts, we leave our delightful stay in Hokitika (check our previous travel diary). But we can look forward to many beautiful things ahead! First stop is the Pancake Rocks, which have not stolen their name. It seems as if they consist of different layers of pancakes that are stacked on top of each other. It has clearly become a tourist attraction along the west coast! After the tranquillity of Hokitika, we suddenly end up among a lot of (crazy) tourists. We do understand why. The rocks are absolutely unique and it is wonderful to walk around them.
There are also blow holes to discover. A kind of holes in the rocks where the waves break in and then the water is injected into the air with a lot of force. You have to be there at the right time to admire them (high tide) and we are just a little too late to see their full power. But we are still treated to a smaller show.
And one more thing that we want to share. There were signs everywhere along the hiking trails to be careful when taking photos. Signs with the inscription: "A beautiful photo is not worth your life! Do not go over the closure! " Apparently there have been several incidents, even with fatal consequences, of tourists who want the perfect "Instagram" photo! We are also very active on Instagram, but it is incredible that people actually risk their lives to have the perfect photo!
Havelock – Malborough
A stopover at Murchison
After the Pancake Rocks, we leave the coast and take the road inland towards Havelock. We are invited there for a kayak tour, so we will be doing the northern part a little bit later. However, it is a long way, so we have to look for a nice campsite in the middle. And we find it in Murchison at the Riverside Holiday Park. We can set up our tent surrounded by nature. And there are horses in the meadow next to us, much to the delight of Yuna!
The campground is next to a river so in the evening daddy takes a dip in the rather cold water together with the kids. He treats us on a real "elegant" Tarzan swing into the water! A wonderful evening and another proof of how beautiful New Zealand is. Even in this absolutely non-touristy place, it is fantastic!
Kayaking with Pelorus Eco Adventures
The next morning we leave on time because tonight we have to be in Havelock. We can stay the night at the Blue Moon Lodge of Pelorus Eco Adventures and do a family kayak trip on the Pelorus River the next day. We are looking forward to it because, after a week or two camping in often cold weather, a night in a normal bed will undoubtedly be very satisfying. Check here our full review and more pictures of our experiences with Pelorus Eco Adventures.
When we arrive at our stay, The Blue Moon Lodge, we are so excited! Lovely beds and a beautiful view over the port of Havelock. We stick to a quiet afternoon playing monopoly and preparing our dinner. Havelock is home to the green mussel! As Belgians, who love to eat mussels, we can't leave without trying that! So Jurgen prepares delicious green mussels with fries accompanied by a local white Malborough wine! One of our more expensive meals, but it has to be said, it tasted fantastic! And we couldn't visit this region without tasting a glass of wine and eating some mussels.
The next morning we are ready for our kayak adventure. The children are looking forward to it! For Hanne, kayaking was number one on her list. Some scenes from the Hobbit films have been recorded here, so during our journey, we look for these places. We paddle quietly, jump into the water, admire a small waterfall and the lovely surrounding nature and especially enjoy the tranquillity of the river! A wonderful morning! In the afternoon we continue our journey through the Malborough region and admire the vineyards on our way to our next stop in the northern part of the Southern Island.
Nelson – Golden Bay
Our campground at Ruby Bay
Through the app Wikicamps, we found a very cheap campsite on the coast, just past Nelson. On the way there, we see smoke from afar. Apparently, a bush fire has just started not far from Nelson (it is extremely dry). By the time we arrive at our campsite, the narrow plume of smoke has grown to a gigantic size. Luckily, we are not in danger ourselves, but it is scary to hear that people are losing their homes and how much they are struggling to control the fire. In the end, it will last almost a week.
Our campsite itself,
McKee Memorial Reserve
is fantastic. We camp close to the beach, there is a nice playground, basic facilities and it's only $ 6 a night.
On our way to Farewell Spit
The next day we leave by car for a long drive to the far north of the Southern Island. We drive past the Abel Tasman National Park. Unfortunately, we can't visit it. It seems to be one of the absolute toppers, but you can only visit it on foot or by kayak. The walking tours are too long for our girls, especially since we haven't prepared them in advance. We will have to come back for that.
The goal of our road trip is Farewell Spit, a headland in the northernmost point of the Southern Island. This sandbar is the largest in the world and is a true paradise for birds. Occasionally large groups of whales also wash ashore. The weather is not very pleasant, the wind is strong, it rains from time to time and it is cold. But that actually does justice to nature over here even more. The rugged coast of New Zealand at its best. After a rather short walk along the beach at the start of the sandbar, we leave the cold weather and go for a nice hot drink in the local Farewell Spit Cafe.
Wharariki Beach
After Farewell Spit, we stop for a final highlight, the Wharariki Beach. A walk through the rolling grassy fields full of sheep (the typical image of New Zealand) takes us to a beautiful white sandy beach.
The wind is playing with the gigantic sand dunes and the girls love it! They drop, roll down, run up again… Nature at its best and we are enjoying every inch of it! Absolutely one of the most beautiful beaches we have already been to. We've heard and seen online the large rocks in the water are beautiful during sunset. But it is a bit too cold to wait until then. So, tired but satisfied, we crawl back in our car and head over to our campsite, because the next day we have a long drive ahead of us to Kaikoura.
Kaikoura
Kaikoura is located on the east coast of the Southern Island. That means we have a long drive ahead of us from Nelson to there. We pass Havelock again and continue towards the Queen Charlotte Drive. This is a road that runs along the Queen Charlotte Sound, one of the top routes in New Zealand flanked by fjords and cliffs. The ride is indeed fantastic, although we had imagined something more. Or are we getting spoiled?
Earthquakes
As we approach Kaikoura, it gradually becomes clear what happened here a few years ago. In November 2016, a major earthquake occurred in this part of the Southern Island. New Zealand is located on the Ring Of Fire, a major fault line that runs through Indonesia, New Zealand and Hawaii, among others.
The earthquake had some serious consequences. The roads to Kaikoura were completely destroyed, the coastline actually moved a few meters further into the sea, hills were split into two, … It is something we can hardly imagine in Europe. The entire surface that shifts a few meters in one night!! The road was closed for a long time, but luckily it recently opened up so we can pass through. Although they are still working everywhere, installing safety walls, reconstructing the railway, … It must be hard for the people living here, knowing there probably will be another earthquake in the future.
Discovering Kaikoura
In Kaikoura, we find a nice campsite, again with a playground and close to the sea. Everyone comes to Kaikoura to spot dolphins and whales. It is a true maritime paradise here. You can look for whales by plane, go on a boat, … But we decide to go to the dolphins.
Although we really want to see whales, we fear that it will cost us a lot of money to see maybe 1 whale (you get your money back if you don't see any). Looking for dolphins, there is a much greater chance that you will see large groups. And the girls have been asking to see dolphins throughout our entire trip! They even offer to swim with the dolphins, but unfortunately, that is fully booked. If you just want to watch, there luckily is still a spot on the boat 2 days later.
So while we wait to see the dolphins the next day, we first have a relaxing day. We go for a walk along the coast of Kaikoura, which is again breathtaking. Beautiful paths lead us along the rocky coast and then on top of the cliffs. We spot seals, all kinds of birds, cracks in the cliffs caused by the earthquake and the rugged coast of New Zealand. In the meantime, we see boats sailing off the coast and planes flying over, so we can't wait to go out to the sea the next day ourselves. For the dolphins, Dolphine Encounter Kaikoura sails 3 times a day (they are the only ones offering a dolphin tour). We have opted for the boat trip at sunrise so we have to get up early, around 4.30 am!
Looking for dolphins
At dawn, it's a bit difficult to crawl out of our tent and it is very cold, but we are looking forward to what's about to come. We drive to the base of Dolphin Encounter and are being prepared. The people who swim with the dolphins receive an extra briefing. The funny thing is that they have to sing underwater and make sounds because then the dolphins will keep swimming around them.
And then it's time to leave. The sun is almost rising, I think they left a little late but okay. We are just at sea when she squeaks above the horizon and at that moment a large royal albatross is flying by! What a beautiful animal that is!
The search for dolphins is exciting! They are still wild animals, so it's always uncertain how many you'll see. There are two species swimming in these waters, and they live in large groups of several hundred dolphins per group. And then it's suddenly time! The first dolphins pop up for the boat and before we know it they are everywhere! The swimmers go into the water and we enjoy watching those playful dolphins!
The dolphins are swimming everywhere, we're surrounded! And they treat us with all kinds of somersaults (forwards and backwards). I did not know those dolphins in the wild do that too! While the boat sails off looking for the next group, the dolphins swim full speed in front of the boat! The children love it (and we do too). Especially if they jump out of the water just before the boat! In the meantime, we enjoy some hot chocolate.
After a good hour of spotting dolphins, we return to the coast completely satisfied. That is without the fact that in the meantime, half of the boat is sitting with a bucket in their hands, including Heleen and Yuna. For mama, holding on the bucket is as far as it goes luckily. Yuna, however, has to throw up. Probably just a little too much of that delicious warm chocolate milk. And of course, the constant staring at the waves, will not have helped. Despite this, it was definitely a fantastic experience, one that we will never forget!
Banks Peninsula – Akaroa
After Kaikoura, we continue our journey to Christchurch, where our loop from the Southern Island will be completed. But first, we want to visit the Banks Peninsula. An old volcanic peninsula near Christchurch that is supposed to be beautiful! After a long journey from Kaikoura, we arrive on the peninsula and indeed, the views are stunning!
We have found two nice campsites and drive to the first one, right by the sea. Unfortunately, it is full, so we drive to the other side of the Banks Peninsula. The second camping, Onuku Farm Hostel, is a bit of a hippy campground, but it turns out to be fantastic! It is located high in the hills with beautiful views over the water. We have everything we need, camping just next to a beautiful wooden chalet with seats, a kitchen, hammocks and a few sheep that roam freely.
The next day we visit Akaroa, the largest town on the peninsula and it turns out to be very pleasant. The town is full of old picturesque buildings and houses, a bit in the old English style with lots of flowers everywhere! It is great to walk around and since the weather is better, we decide to stop over at the beach for a while. The children have earned some playtime after discovering so much! We love it there, although it's also the mooring place for large cruise ships of which the passengers flood the town.
So after wandering around for a few hours, we return to the tranquillity of our campsite. From there we have a beautiful view of the cruise ship that lies in the bay. Hanne can watch it for hours, she has been slightly fascinated by cruise ships since we started travelling. We will have to include a cruise in our future travel planning!
Christchurch – Picton
Our second visit to Christchurch
After two wonderful days on the Banks Peninsula, we arrive in Christchurch again. We find a wonderfully quiet campsite, Christchurch Top 10 Holiday Park, with green grass and lots of space and playgrounds for the children. Something we were definitely not expecting in such a big city.
It will be our last camping spot because in 2 days we can pick up our mobile home (another one of Hanne's dreams). Hiring a mobile home for the full duration of our stay was too expensive. But we are going to do a "relocation". The company has a mobile home in Christchurch and needs it to be in Auckland for the next customer. They pay the ferry from the Southern Island to the Northern Island and we only have to pay $ 5 dollars a day. We have 5 days to take him to his destination. A perfect deal for us!
First, we have another day of discovery in Christchurch, because we did not really visit the city in the beginning. It's wonderfully quiet here, with great buildings, green parks and a beautiful river that runs through it. We walk past a free museum and although it is almost closing time, we quickly go through it! We also walk past the cathedral, which was completely destroyed by an earthquake in 2011 (with many deaths as a result). Again, it is clear how nature in New Zealand actually controls the country. After a wonderful day, we happen to pass by a food festival in the evening. A few snacks later we crawl into our tent for the last time.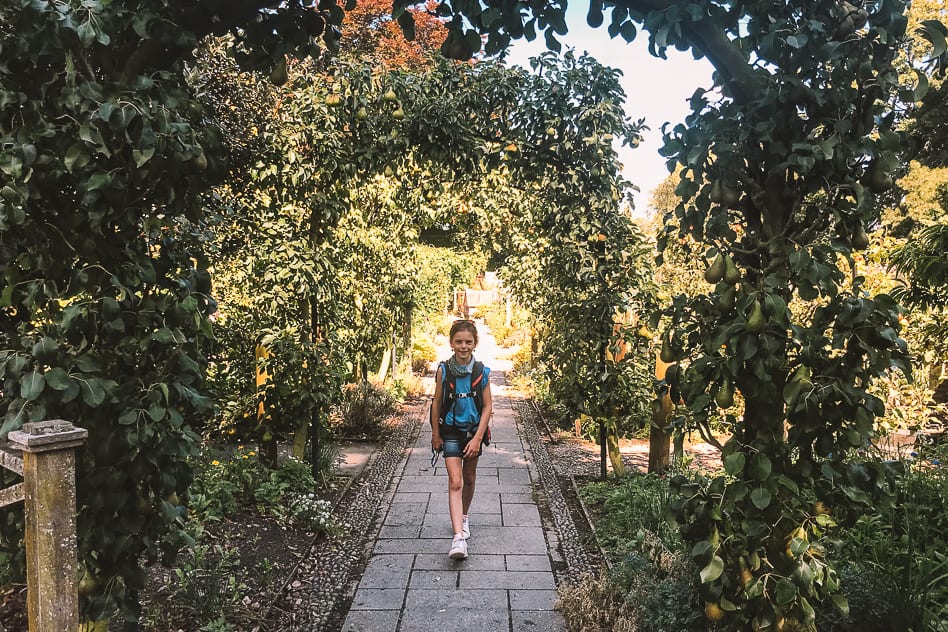 Our new house, a campervan
The next morning we return our rental car and pick up our campervan from Maui. Of course, that does not go incredibly smoothly and after a few hours of waiting, we finally can leave. The children love every part of it! From their own bed that comes down from the ceiling to the table, they are sitting at. It's our own house on wheels.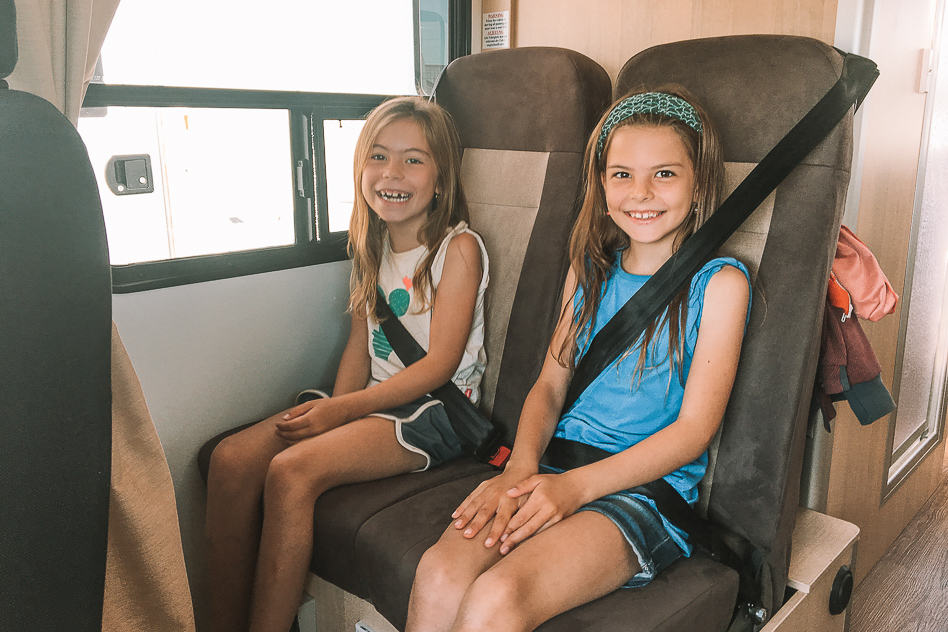 We quickly drive to Picton (all the way back to the north of the Southern Island) where our ferry to the Northern Island leaves tomorrow. Upon arrival in Picton, we discover a bakery with Dutch roots, where they sell delicious 'pies'. A kind of warm puff pastry cake with a filling of your choice inside. They have stew, Thai curry, cheese and chicken, … Delicious! Why haven't we discovered that earlier!!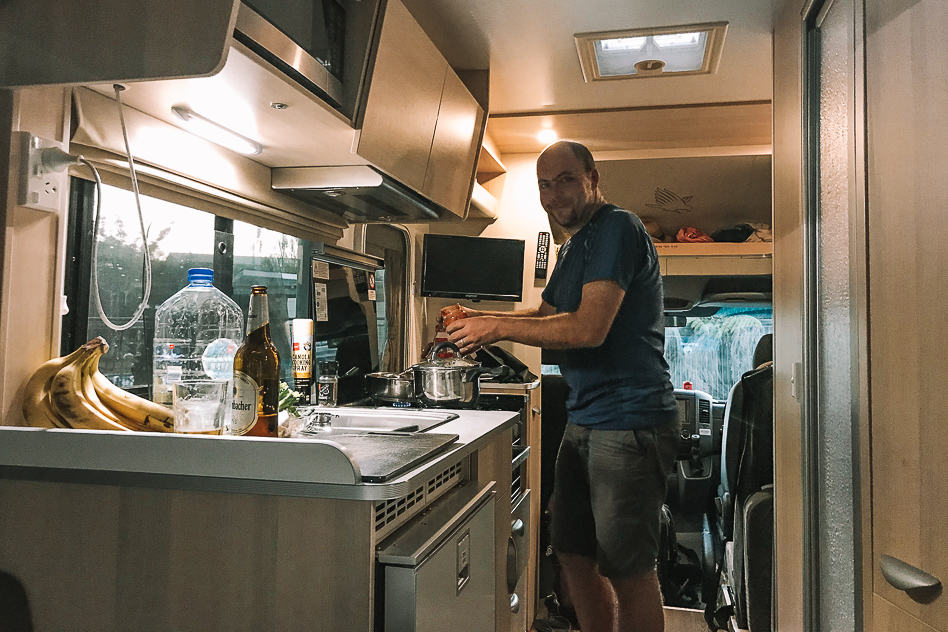 We find a place on a campsite that is way too small and after some manoeuvring back and forth, we get the mobile home parked. When we want to leave the next morning, the campervan gives an alarm (which can be heard throughout the entire campsite). The parking brake is down, but he says it isn't. The panic is already affecting us (our karma with cars is not so good, remember our breakdown in Australia) and we fear that something is broken and we'll miss the boat. We call the helpline and luckily she can help us. After turning the car on and off, applying and releasing the parking brake again, it is solved. Phew… Northern Island, here we come!!