This post may contain affiliate links. If you make a purchase through one of these links, we may receive a commission at no extra cost to you. Please read our affiliate disclosure and privacy policy for more information
The Gold Coast
With the holiday season coming up, we found two houses in the suburbs of Brisbane through Aussie Housesitters. The concept is that we look after people's house and their pets while they are travelling. Since many Australians visit their family or travel during their summer vacation and the holidays, we quite easily find a stay in Brisbane. But first, we want to visit the Gold Coast for a few nights, a beautiful stretch of coast only one hour from Brisbane. Ideal as the last stop before we go into our first housesitting experience. We decide to drive directly from Sydney to The Gold Coast, a long 9-hour drive.
Broadbeach
Our hotel is located a few hundred meters from Broadbeach. We actually stay at a kind of apartment, but with a communal pool. We love it! It feels like a little holiday, even being on a big trip. The children swim for hours in the pool! And they always seem to surprise us how much they take in while travelling. During our Australian trip, they have slowly learned their first words in English. Here on the Gold Coast, while I was upstairs for a moment, they started their first real conversation in English with two New Zealanders. I came downstairs and they knew everything about our trip! No idea how they explained it, but so proud of those two little girls in Australia being all independent!
We enjoy a few quiet days here, working, teaching and playing and walking on the beach. The Gold Coast is best known for surfing. Since we have no idea how to do that, we buy ourselves a bodyboard in the local supermarket and there we go, hours of fun in the waves!!
Surfing with Go Ride a Wave at Surfers Paradise
We briefly jump two weeks ahead in time. Thanks to our Instagram page and our blog we can follow a free family surfing lesson on the first Sunday of January with Go Ride A Wave at the Gold Coast. And even at Surfers Paradise, one of the places in Australia to go surfing! We could only schedule this while we were already staying in Brisbane. But by train and tram, we are back at the golden beaches of this surfers Mecca within 1.5 hours. Check our full report on our first surfing experience here.
After two hours the lesson is over and we go back to the beach. We're all very tired but we will never forget that day! Heleen did get a jellyfish sting, but after a few hours, the annoying feeling went away. We end our day in McDonald's, for a well-deserved hamburger. The fries tasted twice as good that day!
Housesitting and celebrating the holidays in Brisbane
Our first house is located in Lutwyche, only a fifteen-minute drive by bus from the centre. It is a typical Queenslanders home, ie. built entirely out of wood and on stilts. So everything happens on the first floor. We must make sure that the cat (Leroy) and the three chickens survive a week with us … The house itself is super cosy, totally our taste and we feel at home immediately. There is a pool but … it is located in the neighbours' garden ?. Fortunately, there is a beautiful terrace overlooking the garden, ideal to celebrate Christmas Eve and New Year!
Christmas at 30 degrees Celsius
On Christmas Eve, we choose to prepare ourselves a delicious stew with baked potatoes. It feels strange to celebrate Christmas Eve at a temperature of 30 degrees. So to keep our traditions high, we choose a winter meal. We open all the cards we received from Belgium (thanks for that!) and think of all our family and friends. Missing them is just a bit harder this evening.
On Christmas Day we go to the artificial beach of the South Bank. We have been here once before this week and of course now it is a bit busier. The South Bank is fully equipped for picnics, barbecues, swimming, playing at beautiful playgrounds, etc … and everything is free! The children are completely in their element. In the background is the skyline of Brisbane. This is undoubtedly one of the highlights of Brisbane for the children and for us.
We also want to mention the bus network of Brisbane which is the most modern of Australia. There are even separate roads constructed only for buses. We reach the city center in no time, without any traffic jams. Would be a good example for Brussels!
Getting some work done and visiting a museum
During our stay we try to work as much as possible. Jurgen must finish a couple of websites and Heleen tries to catch up on the blog and Instagram. Meanwhile, we also have to prepare our trip to New Zealand, book tickets to Thailand, and actually start planning our trip to Indonesia in April … so enough work. Oh yes, and Yuna and Hanne get homeschooling too, although they get some rest now. In Belgium it's Christmas break after all. Meanwhile, they can play and occasionally watch a movie. It is not always easy to work during the day, especially for Heleen who still watch the kids in between.
To break up the stay in the house a little, Heleen decided to go to the centre of Brisbane with the girls. We visit a museum where children can draw and craft for free. Then a bit of shopping, and another visit to the South Bank. Swimming remains the top activity for Yuna and Hanne. Oh yes, and in the meanwhile we have established contact with the neighbours and the kids may swim several times in their pool. Friendly people those Australians!
New Year's Eve down under
On New Year's Eve we have a barbecue. A tradition in Australia that we are very willing to try out. We start quite early at 14h so we can go to the South Bank for the fireworks. Jurgen is not very anxious to leave, because they expect as many as 85,000 visitors. But we go on time and get some very nice spots. The amazing thing here is that they also have a show at 20:30, the 'family' fireworks, and that's the same show as the one at midnight. Ideal for us, something they'd better do in Belgium! We enjoyed the fireworks and the kids still went to bed at a decent hour.
Promptly at 20:30 the fireworks start over the full length of the South Bank. From 5 different boats simultaneous fireworks are fired! Just beautiful !! The kids are very impressed and honestly we are too. The wait was more than worth it. We are even a bit emotional! Celebrating New Year's Eve here is on the one hand super special and the other, we miss our friends and family. 2018 was again a special year for us … On to 2019!
The Gap
After an Uber cab ride we arrive at our next house in The Gap, one of the districts of Brisbane. Along the way we notice that it is a lot greener and above all, much steeper … We are welcomed by two lovely cats, Jade and Xavey. At least in the beginning we were excited …
These two lovely cats actually go to the regular toilet … never experienced that. The result is that Jurgen can quickly deplete his first visit to the toilet because Jade just needs to do a pee. Oh yes, because they can not flush themselves we have to do it. The lady and gentleman will not, however, go on a dirty toilet, so if we forget to flush, they do their business just next to the toilet. They are indoor cats, letting them outside is not an option. We lost count how many times that happened…
Fortunately, there are this time a lot of toys and the kids go exploring. Soon they find dolls, games and a game boy. Especially the latter proves to be a hit when we find Mario Karts on it.
Our first night turns out to be hellish thanks to Xavey (the grey one). He begins to meow loudly around 23h and goes on the whole night. We can't let him outside and don't really know what's wrong. Maybe he misses his owner? Maybe he's sick? The next day we sent a message to the owners and we receive instructions to spray the cat with a water jet… he should stop then.
Of course, the water jet is filled the next night and ready to use on our nightstand. Jurgen is also alert for any possible meow from 23h on and yes, here we go again. The water jet works as promised, for 10min… then he starts again. Fortunately, it does not run out of hand but the cap of the water jet breaks at 4 am and Jurgen has no weapon anymore. I didn't imagine our nights to be like this here.
Downstairs in the basement, Jurgen finds a bag with as many as four spare waterspouts, that says enough! These are all made ready throughout the house. The next night we remain alert and spray a lot. Sometimes it goes wrong however… In the middle of the night, Jurgen holds the spray the wrong way and he gets the water all over his face. Another time he attacked Hanne with the spray. She was going to the toilet and he reacted too quickly… I guess you all feel it, the struggle was mainly between Jurgen and the cats: score 0-10. Heleen and the children tried to sleep despite all the commotion. Oh yes, some other animals did steal our hearts! Every morning and evening cockatoos came out to the terrace to eat the bird seeds the kids put there for them! Beautiful birds!
What are our thoughts on Brisbane?
Dankzij het moderne busnetwerk en de vele voorzieningen voor kindjes lijkt Brisbane ons een zeer leefbare stad met een super klimaat. Het was twee weken rond de 30 graden en het heeft maar af en toe gedruppeld. We kunnen ons voorstellen dat je hier gerust voor langere tijd kan werken en leven.
Thanks to the modern bus network and the many facilities for children, Brisbane seems a very liveable city with a great climate. It was two weeks around 30 degrees and it has only occasionally rained. We can imagine that you can work and live here for a long time.
Glass House Mountains
During our last week in Australia, we wanted to continue to go up north towards the Great Barrier Reef. Unfortunately there is just a cyclone with offshoots over northern Queensland, Airlie Beach and the Whitsundays. Therefore we have to leave the reef for now, and keep it for our next visit. We want to come back for Queensland and Western Australia anyway. We haven't seen those states and we have heard they are absolute top destinations!
So we decide to drive up to the Glass House Mountains, a mountain range close to Brisbane and then continue up north just until Bundaberg.
At Royston, in the Glass House Mountains, we have booked an Airbnb, Kirar Nulla. The pictures looked promising but when we arrive, it is even more wonderful. 20 years ago they bought a piece of land here and in the meantime they have planted more than 2,000 trees, bamboo and built a beautiful house on it. Our room in a side wing and is beautiful. We immediately get a tour of this beautiful estate. There is a small creek where you can swim, a river, chickens, African cows, etc … and they're still working on the rest of the property. Highly recommended if you want some rest.
From here we visit the Glass House Mountains, where we climb Mount Ngung Ngung. Not very high but still it takes us about 1 hour of climbing before we reached the top. Time to take some great pictures and to fly the drone. Then we drive back towards the valley and our room at Kirar Kulla where the kids spend a few hours of playing in the creek. Too bad actually that we can not stay here a bit longer. We get the feeling we could unwind here completely!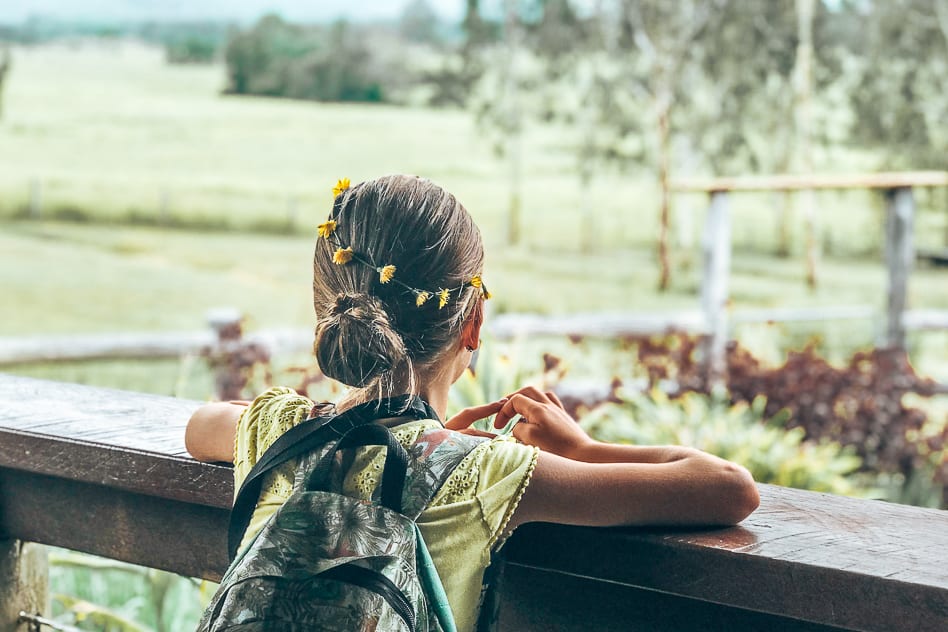 Bundaberg – Mon Repos Turtle Centre
Bundaberg you can find the Mon Repos Turtle Center. Mother turtles come ashore here and lay their eggs under the sand of the beach. Some time later, the baby turtles hatch and try to find their way to the sea. This beach is closed from 6 pm to give the turtles some peace and silence. You can visit it, but you need to book tickets at the reception. That way they try to control the flow of tourists and they fund the center to protect the turtles.
Unfortunately, the tickets are already sold out until the 22nd of Januari, which is two weeks later. We decide however, to go over to the beach by ourselves. They only close it after 6pm. We arrive around 4:30pm and we're lucky. Some baby turtles just hatched and begin their long road over the beach to the sea. We did not know they are so small! The children can't believe their eyes!
In the evening we discover Domino's pizza for the first time during our stay in Australia. Our favourite is  the pizza with chicken and guacamole. If only we had discovered this one a bit earlier, or maybe it is for the best! The next day, on the way to our final destination, Hervey Bay, we visit a local market. The region around Bundaberg is known for fruits, vegetables and sugarcane. All along the road you can see the farms and plantations! Bundaberg has also a famous rum brewery. But it is time to move to Hervey Bay, so we'll have to visit it a next time.
Hervey Bay
Normally everybody comes here during the whale season, because this is one of the most famous spots to watch the humpback whales during their annual migration. But unfortunately we are too late for that. When we arrive in Hervey Bay, we enjoy a great barbecue overlooking the bay in one of the parks. It continues to amaze us how these barbecues are provided in public and picnic areas. Usually there is also a playground nearby. The Australians really are equipped for the outdoors and enjoying life!
Hervey Bay Eco Marine Tour
To close our chapter in Australia, we wanted to do one more trip. With this Turtle Tour you go at sea on a glass bottomed boat for four hours. We book this tour because we want to see some more wildlife and the area. Hervey Bay is at the very tip of the Great Barrier Reef. You won't see the big corals here, but there are turtles and dolphins. Here you can find a report of our full day and many more photos.
After we get the right fins for snorkelling, we leave for open sea. It soon becomes apparent how shallow it is here. After a few km the sea is still only 2m deep. We see many corals, but as yet no turtles or dolphins. When we stop to snorkel, we dive into the water but still need to get used to those fins. After a 30min snorkel we go back on the boat. It was nice, but not top and unfortunately we did not see any turtles or dolphins. Someone did see a sea snake and large ray.
There is tasty fruit provided on the boat and in the meantime we sail to an island where we get a demonstration of the Aborigines. Around the island we can swim and snorkel and take some drone pictures. Afterwards there is a dance and we can dance along, hop with those legs. Heleen plays a little didgeridoo and we continue our search for turtles.
Probably because it is just rampant, we do not get to see any turtles. A pity because we have been looking forward to this. And the dolphins appear to be on a school trip today. Anyway, it's wildlife for a reason. Despite the fact that we didn't see a lot of wildlife, this was a nice tour for our last day in Australia. In our apartment (Whalecove Resort) we go for a swim and reminisce. We work late in the evening to finish off a bunch of stuff, including planning for New Zealand.
On our way back to Brisbane we pass along Noosa Heads. It seems very beautiful but touristy. And we do not have enough time to explore it all because we still have to pick up some mail, return our car, check into our hotel and pack everything for our flight to Christchurch (New Zealand).
Bye bye Australia…
En zo komt er een einde aan onze 3,5 maanden in Australië. We zijn van plan nog een volledig artikeltje te wijten aan wat we van Australië vonden, de voordelen en de nadelen. Maar we kunnen nu al zeggen dat we het land gaan missen. Ondanks dat we hier een dieptepunt van onze reis meegemaakt hebben, door de autopech en de financiële zorgen daardoor, hebben we een fantastische tijd gehad. Het doet ons alleen maar beseffen dat we zeker nog eens terug willen komen. We hebben nog maar een stukje van dit gigantische land ontdekt, en enkele topstreken hebben we nu nog links moeten laten liggen.
This put an end to our 3.5 months in Australia. We plan still caused a complete article on what we found in Australia, the advantages and disadvantages. But we can already say that we will miss the country now. Although we here have experienced a low point of our trip, the breakdown and the financial worries therefore, we have had a fantastic time. It does just realize that we definitely wanted to come back. We have just discovered a piece of this huge country, and some stops strokes we still should shun.
Tijdens ons verblijf hebben we fantastische mensen ontmoet en prachtige plaatsen gezien. Het is eigenlijk één van de eerste landen die we bezocht hebben waarbij we echt het gevoel hebben dat we er zouden kunnen wonen. Jammer dat het zo ver van huis is, of we zouden niet twijfelen denk ik. Bye bye Australia, maar het is tot ziens en niet vaarwel.
During our stay we met wonderful people and saw beautiful places. It is actually one of the first countries we have visited where we really feel that we could live there. Too bad it's so far from home, or we would not doubt I think. Bye bye Australia, but it's goodbye, not goodbye.