This post may contain affiliate links. If you make a purchase through one of these links, we may receive a commission at no extra cost to you. Please read our affiliate disclosure and privacy policy for more information
Visiting Kuala Lumpur with kids is a very nice start or end to your vacation in Malaysia. It's also possible that you are using Kuala Lumpur as a transfer hub, maybe because you are flying Air Asia, the low-cost carrier based in the capital of Malaysia.
If so, try to stay in the city for a couple of days. You won't regret it! Kuala Lumpur has some great things to offer for every family, whether your kids are toddlers or getting in their teenage years. We were in the city for an entire week (read here our travel diary) and had great fun exploring the bustling capital of Malaysia.
Kuala Lumpur offers the perfect mix for every family vacation. You can taste some real South East Asian culture by walking its streets or visiting its temples, cool down in one of the huge shopping malls, go and eat some delicious food, and lay back in your apartment with the pool after a day in one of its theme parks.
With this guide we want you to get an overview of what you can do with your kids in Kuala Lumpur. We haven't visited all the places by ourselves but will try to give some useful information based on what we read or links to other people who have visited the place.
For families on a budget, we will also give some nice experiences that are completely free. We realize the list won't be complete, as the city is huge and there is so much to do. But it will be a good start for every family vacation here. If you have extra information for us, please leave us a comment. We highly appreciate it!
Furthermore, we'll give you some information on nice family accommodations, places to eat, how to get around, and other useful tips when visiting this amazing city right in the heart of South-East Asia.
Top attractions in Kuala Lumpur with kids
Aquaria KLCC
This amazing aquarium lies right in the center of the city in the Kuala Lumpur Convention Centre (KLCC), next to the Petronas Towers. Through a covered walkway, you can walk straight to the Twin Towers or the Suria KLCC shopping mall.
The aquarium gets great reviews and especially the aqua tunnel is a highlight. You get to see stingrays, sharks, jellyfish, sea snakes, and so many other colorful fish. It is one of the most popular attractions in Kuala Lumpur and not without reason.
The touch pool is also a hit with the kids. There are even some reptiles, but is mainly for the ocean life you are coming!
Try to come early, it gets crowded. Check when they feed the fish. There are some daily feedings, but on a couple of days in the week, they feed for example the sharks.
Ticket price: Adult RM50, child (3-12y) RM40, <3y free. You can buy tickets here.
Opening hours: daily 11 am – 8 pm
Petrosains Discovery Centre KLCC
On the fourth floor of Suria Shopping Centre in the Petronas Towers, you can find this fun and interactive Petrosains Discovery Centre. It is an awesome experience for all ages, although the little ones won't understand the science part.
But they still will discover a lot and can play the whole time. Your kids (and you as well) will have hours of fun in this huge discovery center. Be sure to plan enough time, before you know you will be hanging out here for the entire day.
You do have to realize this center is owned by the oil industry (Petronas), so your kids will see some company promotion and explanation on the oil industry (all put in a positive way).
The Science Discovery Center is right in the Suria shopping mall, so it is easy to get some food when you're getting hungry after all those experiments. There can be long waiting queues. Especially if you want to go out for lunch. Be prepared. You can buy your tickets in advance.
Ticket price: adult RM35, child (3-12y) RM20, <3y free
Opening hours: Tuesday-Friday 9:30 am-5:30 pm; Weekends and public holidays 9:30 am-6:30 pm
Petronas Towers
Our kids just love to go up the highest buildings in the world. We skipped this one for now, as we just visited the Shanghai Tower, but we will visit the twin towers when we come back to Kuala Lumpur. Walk on the world's highest two-story sky bridge at a staggering 170 meters above the ground and go further up to the 86th floor to get some breathtaking views of Kuala Lumpur.
Come by the time the sun is setting, you will get the best of the sunset and KL by night.
You can buy the tickets online and make sure you are in the time slot of your choice. However, if the tickets are sold out, you can still try to go to the counter. For visits within 24 hours, you need to go to the counter anyway.
Ticket price: Adult €28, Child (3-12y) €15, <3y free<
Opening hours: daily (except on Mondays) 9 am – 9 pm (closed between 1 pm and 2:30 pm on Friday)
Menara KL Tower
A nice alternative to the Petronas Twin Towers is the Menara Tower in Kuala Lumpur. He is not as high, but the views of Kuala Lumpur are equally as stunning and you get a 360-degree view. Again, come by the time the sun is setting and get the best of the sunset and Kuala Lumpur by night.
Good to know:
On top of the tower, you can eat something in the turning restaurant Atmosphere 360 while enjoying the amazing view of the city.

Book your tickets here for the restaurant.

The tower is next to a piece of rainforest (KL Eco Forest) where you can walk and have a wonderful time with kids. Check out our review of this experience further on in this article.

The view is the main asset of the tower, there is not much else to do. So remember to come when it is nice and clear weather.
Sunway Lagoon
We've spent two entire days in this park. Check out our full review here. You are in a very hot country, so this water theme park can be a nice way to cool down a bit! There are 6 different zones with slides, pools, and attractions for all ages. The Sunway Lagoon Park offers more than just water experiences.
You can see animals, there is an amusement park with rides and some extreme experiences as well. Definitely visit the Nickelodeon Lost Lagoon, your kids will love it! You can stay here for at least a day, but that might even not be enough.
The water park is quite close to the airport. Are you only stopping by for 1 or 2 days? Check one of the hotels near the park. There is the Sunway Pyramid Hotel, the Sunway Resort, and the Sunway Clio Hotel.

You can buy tickets online, they are a bit cheaper that way. Don't forget to print them out. Visit the waterpark first, it can get crowded as it gets later. Next to the Sunway Lagoon is the Sunway Pyramid Shopping Mall. You can easily spend half a day or more here. There is a cinema, bowling, ice skating, an indoor play center and more!
Check here for discount tickets)
Opening hours: Monday, Wednesday – Friday 11 am – 6 pm, Saturday and Sunday 10 am – 6 pm.
Berjaya Times Square Theme Park
Within the Berjaya Times Square Shopping Centre, which is the biggest one in Kuala Lumpur, lies this indoor theme park on the fifth floor. There are two zones, a kids zone and an adult zone with some thrilling rides. This indoor park is, of course, smaller than the outdoor parks you are used to, but it is a nice alternative for a rainy day.
Good to know:
This park is especially nice for smaller children, teenagers,

and adults. There is an age in the middle where they don't like the attractions for the smaller kids anymore, but they don't have the height for the adult attractions.
Ticket price: Adult RM60, Child (3-12) RM50, <3y free
Opening hours: Monday – Friday 12 am – 8 pm, Saturday and Sunday 11 am – 8 pm
Kidzania
There are Kidzanias all over the world and also in Kuala Lumpur. Do you know the concept? Kidzania is an imaginary town where kids can pursue a career of who they want to be when they grow up. They can be a fireman, cook, assembly line worker, doctor, nurses, police, photographers, …
The fun thing is they can earn Kidzos (the fake currency of Kidzania) as well. There is a big educational aspect to it with an amazing level of detail for each career. Your kids will love this and it is absolutely one of the nicest things to do in Kuala Lumpur with kids.
Good to know:
They will work hard for their money. However, it's not that they can buy much with it. The focus lies on the careers themselves, not so much on the outcome.

It is perfect for primary school children. Some professions have age limits. The smaller ones will enjoy it as well,

however.

It is cheaper if you buy your tickets

online

.
Ticket price: Adult $18, Child (4-17y) $30
Opening hours: Sunday – Friday 10 am – 5 pm, Saturday/School holiday/National holiday 10 am – 7 pm
Indoor playgrounds
Almost every big mall has its own indoor play center. Just what you need on a rainy day or to escape the heat. Or maybe you just want to let the kids run around and play for a couple of hours. Digital nomad family? Pick a table, sit down have a drink while working, and let the kids play for hours.
Good to know:
They are required

to wear socks, so don't forget them. If you do, most playgrounds let you buy some at the counter. If not, you still are in a shopping mall.

An entrance fee is charged, but mostly the parents don't have to pay and the fee for the kids is reasonable (somewhere between RM20 and RM50 depending on the age and day you are coming).
Some of the indoor playgrounds we came across or heard good reviews about:
Kid's E World is situated in the Gardens Mall (10 am – 9 pm).
Dreamworld Playland in the iOi city mall (10 am – 10 pm).
Jungle Gym in the Bangsar and Atria shopping malls (10 am – 9 pm).
JKids are located in 5 different locations, check them on their website (10 am – 10 pm).
Mega Kidz World, located on the top floor of the Mega Valley Megamall is permanently closed sadly enough.
Butterfly Park
The Butterfly Park is situated at the Lake Gardens, this nice park enables you to meet hundreds of butterflies, which is still a small piece of the more than 1000 butterfly species found in Malaysia. Because it is quite big, the butterflies have more space and are less likely to land on you. It will only take you 0,5-1h to visit the place.
Good to know:
They charge RM5 for a video camera

Ticket price: Adult RM30, Child (2-11y) RM18, <2y free
Opening hours: Daily 9 am – 4.30 pm
KL Bird Park
The KL Bird Park is situated at the Lake Gardens as well and can be easily combined with the Butterfly Park. It is divided in 4 zones and offers a very enjoyable environment to wander around and watch all the birdlife. They have over 3000 birds and you can feed some of them. Kids will especially love all the peacocks that are walking around. It will take you about 2-3 hours to visit the park.
Ticket price: Adult RM76, Child (3-12y) RM54, <3y free
Opening hours: Daily 9am – 6pm
Top free experiences in Kuala Lumpur with kids
When you look into activities in Kuala Lumpur with kids, you'll find a lot of lists on the top theme park attractions in the city. However, when travelling on a budget, these experiences tend to get really expensive.
So we listed up some great things to do with your kids in Kuala Lumpur that are completely free! And even if you are not travelling on a budget, they are so nice you just want to go over there.
KLCC playground
We actually discovered the KLCC playground by coincidence. We confes, we should have read about it before planning our trip, but anyway, we got there :-). And the kids absolutely loved it! It is a huge playground with a free water park next to it! Ideal to cool down a bit after a hot day! It's a little kids heaven right in the middle of the city. So after some sightseeing come here and let them play for hours.
Come in the late afternoon, as the playground is simply too hot otherwise.
It can get crowded but is so big there is enough place for everyone.
Only for older kids the playground might bore after a while, but they still have the pool to cool down and the magnificent Petronas Towers to look at.
KLCC fountain light and sound show
Another amazing attraction at the KLCC which is completely free, is the KLCC Lake Symphony fountain show. Every night, the fountains and the music put up a beautiful show in all the colors of the rainbow. The kids were totally amazed and actually didn't want to leave even though it was getting late.
It is the perfect end of a day with the kids around the KLCC area or just the perfect end of any day actually. The moment where we sat down watching the show with the Petronas Twin Towers in the back, was a moment to treasure.
Good to know:
The showtimes are daily at 8 pm

, 9 pm and 10 pm

.

Every half an hour in between the showtimes, the fountains keep on dancing but without music.

It can get quite crowded. If you want a prime spot at the base of the towers, come a bit earlier.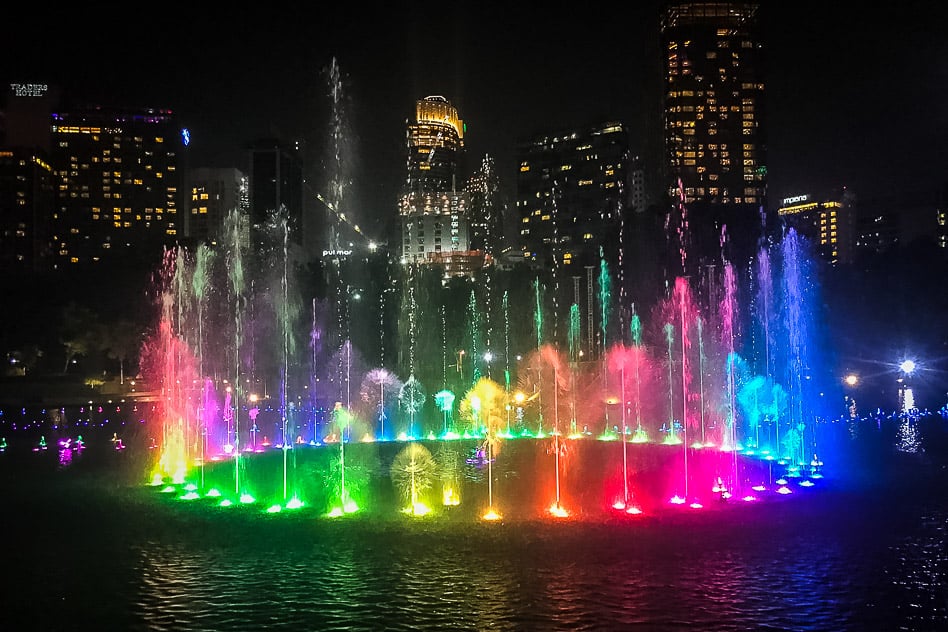 KL Eco Forest Park
A real tropical forest right in the middle of the city!! At the base of the Menara tower, you can find this nice piece of nature, also known as the Bukit Nanas Forest Reserve. It is a great place to discover with kids. You can try to spot some wildlife (birds, snakes, insects and a group of monkeys) but the real fun part is the canopy walk. An absolute hit with the kids! If it were up to them, we would have done it three times.
At the office, you get some useful information on the park, as well as some fun stuff to discover with the kids about the ecology and the animals. It is small, but it is nice enough to pay for a visit. From there, you can start exploring the park. Choose a walk and don't forget the elevated walking paths!
Everything is really well indicated. We stayed here for over 2 hours. After that, you really want to go for a swim, it is sweaty out here ;-).
Good to know:
It is a tropical rainforest, so remember to bring walking shoes as you don't want an insect to bite in your toes…

Bring mosquito repellent and enough water, it gets really hot out here!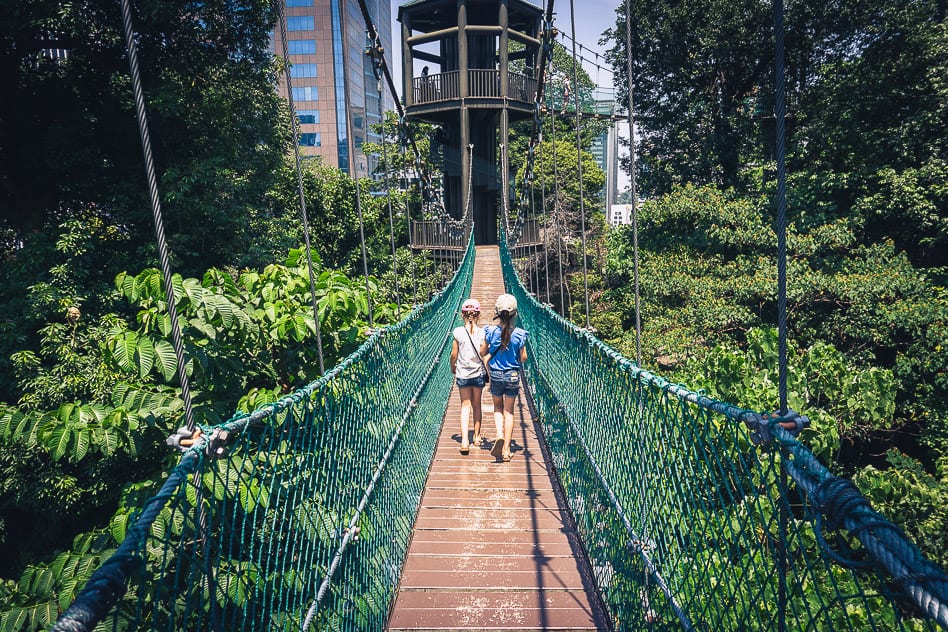 The Central Market
Maybe not worth a trip on its own, but when you visit Chinatown, be sure to pay the beautiful Central market a visit! I admit, with 3 girls in the family, we might be a bit biased, but even daddy enjoyed it. The building has some magnificent tiled floors and there is just an amazing atmosphere.
The shops have some really beautiful souvenirs, much better than the cheap stuff in Jalan Petaling. Although now it is the parents speaking, as the kids loved the cheap stuff as well of course.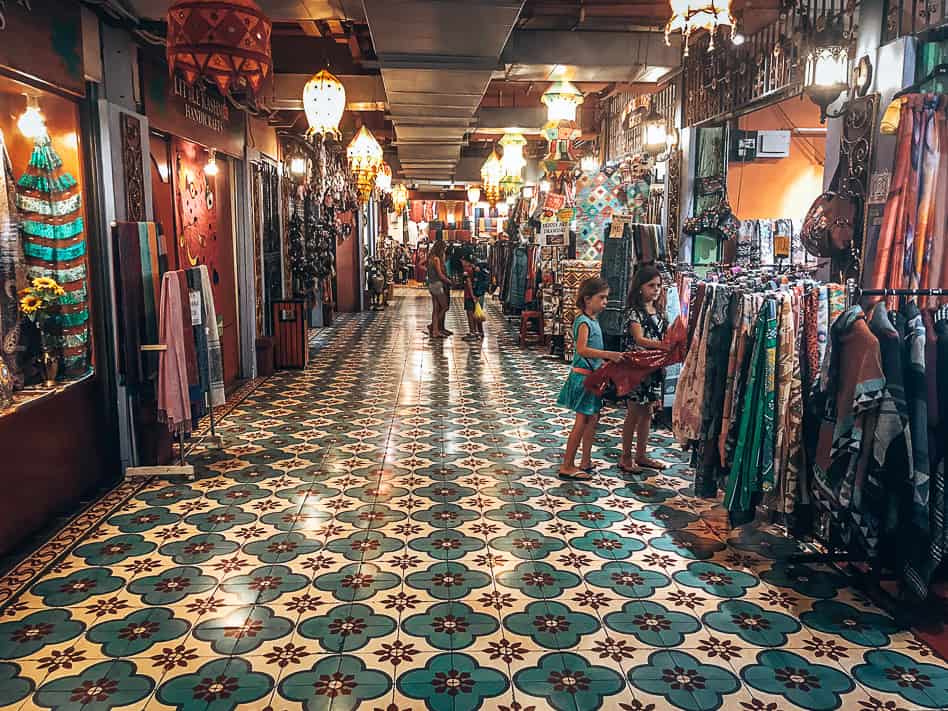 Sri Mahamariamman Temple
This beautiful Hindu temple, the oldest in Kuala Lumpur, lies at the edge of Chinatown and is worth a visit with the kids. It is sightseeing of course, but our kids really liked all those colourful statues and shrines. The temple is free to enter.
Remember however to cover arms and legs (you can borrow a sarong for a small fee) and to take off your shoes. If you come around the hour of prayers, the experience will even be more rememberable.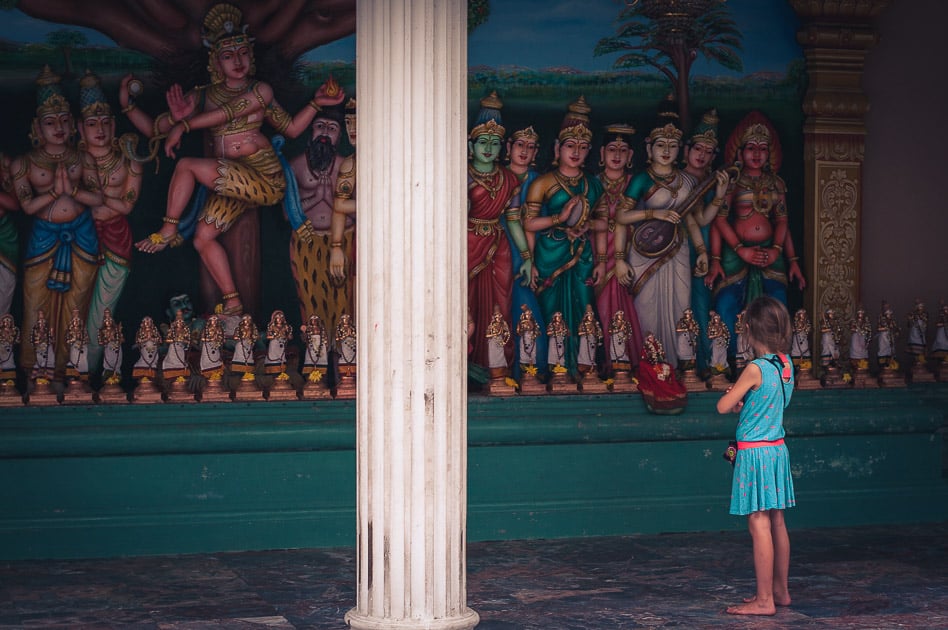 Walking the River of Life
The River of Life is a nice place to wander around, especially during the sunset and at night with all the lights. Situated around the Masjid Jamek Mosque, the oldest mosque in KL, and where the two rivers Klang and Gombak converge, the city recently tried to revive this area.
Come in the evening and you will be able to enjoy another light and sound show with hundreds of fountains. But evening during the day, it is still a nice place to walk around. Be sure to check out the beautiful complex of Sultan Abdul Samad as well. It feels a bit like entering 1001 nights. The kids started to fantasise immediately and telling stories about sultans, robbers and princesses that needed to be rescued.
Check out what others had to say about the River of Life.
Batu Caves
A little bit outside of the centre, you can find this amazing Hindu complex. Just take a Grab and you will reach the site within 15 – 20 min. Even if your kids aren't into sightseeing, they will love this! Our girls were totally fascinated by the temples and statues, the beautifully dressed Hindu people and their habits and of course all those colours!
The stairs on their own are a big attraction! Especially with the groups of monkeys living there. Be careful however not to go near them or trying to touch them, they are still animals.
Good to know:
It can get really crowded and hot, so try to come in the morning or late afternoon.

Don't bring food along, as the monkeys will find it! Or at least, make sure it is put away in a backpack.

Remember to be dressed appropriately, it still is a religious site.

The main temples are free. Only if you want to visit the Dark Cave and some others, you will pay a fee. You can do guided tours in the Dark Cave, also with kids.
Read all about the Batu Caves in our separate post dedicated to this magnificent temple complex in Kuala Lumpur.
Best family accommodations
One of the reasons Kuala Lumpur is so great with kids are all the fantastic family accommodations that can be found here. And best of all, there is something great for every budget!
Read more about this topic in our post on family accommodations in Kuala Lumpur. We looked up the best guesthouses, hotels and apartments for you. From low budget to the very high end, Kuala Lumpur has some amazing accommodations to offer! Did you stay in a place we should include in our list? Please leave us a comment!
What to eat with your kids?
As in every major city, there are lots of places to eat something in Kuala Lumpur. You can find a lot of Asian food, but if the kids are not (yet) up to that, there is plenty of Western food as well. Of course, the fancier and/or more western you go, the higher the charges will be.
The nice thing about eating in Malaysia is that all the different cultures living in this country are translated into the food. Our girls learned to eat Indian here, Malaysian, Chinese and we do admit we also went for fries now and than.
Little India is a great place to get some roti with banana or egg and a banana lassi, the favourite non-western breakfast of our kids while being in Malaysia. Western food or big chains can be found in almost all shopping malls. This is Malaysia, you won't be hungry :-).
Street food
Our kids really enjoyed the street food, for example in Jalan Alor food street. The nice thing about street food is they have typical Asian dishes, but also lots of fried stuff or other snacks that our youngsters will enjoy. They can choose between some fried rice, non-spicy noodles (or spaghetti as we sold it to our kids ;-)), french fries, chicken satays and lots of other delicious bites.
So even if your kids are not into rice or noodles yet, head to one of the food streets. Although your kids may surprise you. Hanne here favourite dish soon became Nasi Lemak, one of the local Malaysian dishes. The juices were a big hit as well! You can find them in all the colours of the rainbow: apple, orange, kiwi, dragonfruit, watermelon, pineapple, … Another highlight for our girls was the sweet corn. You find them all over the city and they are delicious!
Good things to know:
When traveling

with babies or small toddlers, most places provide baby chairs. Although they often don't have straps so better be prepared.

Food in Malaysia can be very spicy. Sometimes when you ask it not to be spicy, it can still be too much for the kids. So you really have to say it can not be spicy at all! As for ketchup,

they often use chili sauce, so be sure to ask for regular ketchup or no sauce at all before you order a burger.
Getting around in Kuala Lumpur with kids
Walk
Kuala Lumpur actually isn't very big. A lot of attractions and places of interest are easily accessible by foot. But don't forget it gets very hot during the day. And a big downside in the whole of Malaysia is the absence of descent walkways.
A nice solution for that are the elevated walkways. They take you across all the busy roads and get you safely to another part of town. For example between KLCC and Bukit Bintang you can find a great one.
Grab – Uber
Our personal favourite was Grab. We used it for all our transport and it got us around town and even to the Batu Caves for a very low price (less than RM10 downtown and RM17 to the Batu Caves). Especially when travelling with a family, booking a car really pays off as you are already with more than 2.
You almost never have to wait longer than 5 minutes and it's very easy for example with strollers. Just download the app (it works best however if you have a Malaysian SIM card) and you can go. An alternative to Grab is Uber. We didn't use it but is said to be great as well. We wouldn't recommend regular taxis as they are more expensive and there can be more discussion on prices, metres, … With Grab or Uber, the price is fixed.
Monorail
Another nice and cheap alternative is the Monorail. We paid RM8,9 for two kids and two adults. For younger kids it's even free. It will take you almost everywhere. The downside is it can get very crowded and it is less handy with a stroller.
Go KL City Bus
The purple hop-on-hop-off Go KL City Busses are also a nice way to get around town. It s completely free and gets you to most places downtown.
Other useful information
Try to plan your day so you can do most activities in one location. Kuala Lumpur can be very hot, so you want to avoid walking around too much. However, there is always a Grab or Uber just around the corner.

The people are very friendly. Our kids were a hit over here (a lot of people thought they were twins). They try to help you, start talking to you about the kids, sometimes give them little presents and want to take pictures of them (after asking).

Best time to visit Kuala Lumpur: there are two seasons in KL, the rainy season (November – April) and the dry season (May – October). Any time is great to visit the city because it is always warm. But you do need to realize you will have a daily shower in the rainy season and more often a grey sky. Sometimes the rain only lasts for 15 minutes, other times it can be a few hours. Because of the heat, however, it feels sometimes like

a relieve to get some rain. And when it is raining there still is enough to do inside.

Kuala Lumpur has some great hospitals in the unfortunate case something happens or you need a doctor. They aren't expensive (at least the public ones) but be critical

about what they prescribe you. This

article

gives an overview of the best hospitals in Kuala Lumpur and

this one

gives more information on medical care in the city.

Malaysia is a quite developed country. You can find almost everything you need for babies, toddlers and kids. Nappies aren't a problem. They have formula as well, but of course, be aware it won't be the same as you are used to backing home.
What are our thoughts on Kuala Lumpur with kids?
You probably could tell by reading this article, but we totally love Kuala Lumpur and we think it is an amazing city to visit with children of all ages. Don't use KL just as a hub for getting to another country or exploring the rest of Malaysia. Take your time to discover the city as well. You will love it! We will definitely go back!
Do you want to discover more of Malaysia? Read our other posts on this amazing country! Or interested in our journey? You'll find all of our travel diaries here.
Do you have some other useful information on visiting Kuala Lumpur with kids? Please let us know! We would love to update this article frequently! Was our guide helpful to you? Give us a sign, we love to hear from you! Have fun visiting this amazing city!!
Share on Pinterest: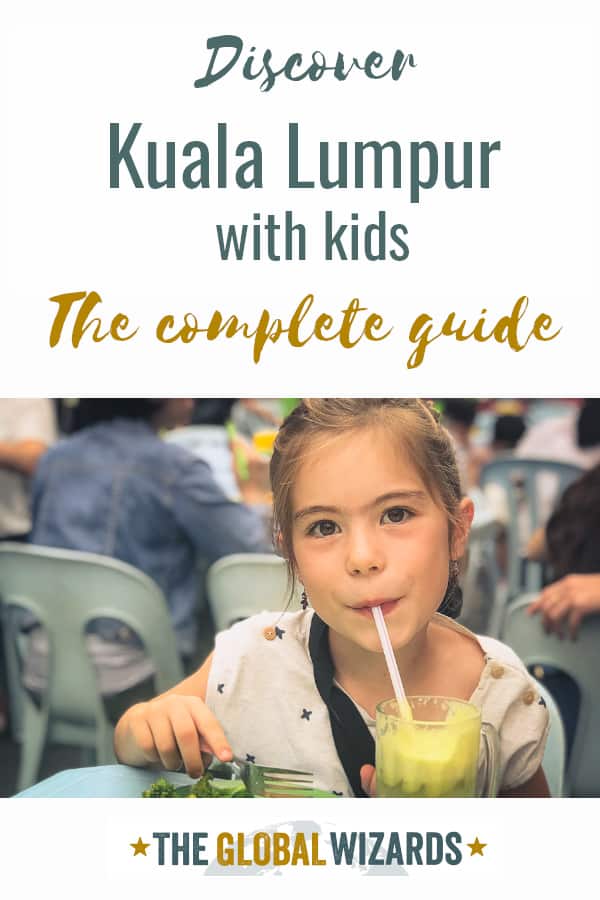 Other articles about Malaysia
What to do in Kuala Lumpur with kids